For affiliate links and as an Amazon Associate I earn from qualifying purchases.
Today I'm sharing a newly created treat with you. Maple Caramel Candy Chews.
Son was rifling through our refrigerator the last time he was home for a visit. You know how young males tend to do that, right?
He came across a fairly new container of Medjool dates. After asking what they were (he'd eaten dates in food, but had never seen them "whole," as other than tasty brown flecks), he pitted one and gave it a try.
He raved over how sweet they were, calling them "candy." Yes, dates are indeed one of nature's varieties of "candy" and it was at that moment that the idea for this recipe for Maple Caramel Candy Chews came to me. They're gluten-free Maple Caramel Candy Chews, of course, as is every recipe on gfe.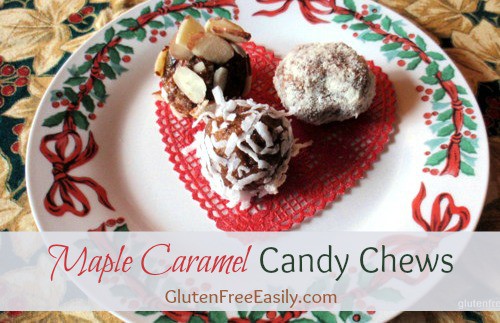 Caramels are those ready-made candies that can be quite addictive when one consumes them. I'm talking about the kind of caramels that are square and come in plastic wrappers in a bag. The ones that contain "Corn Syrup, Sugar, Milk Skim, Palm Oil, Whey from Milk, Salt, Flavor(s) Artificial, and Soy Lecithin."
You can make wonderful traditional caramels with your favorite ingredients, of course. There are some amazing dairy-free and refined sugar-free caramel recipes online.
But I wanted something simpler. Much simpler. So I used only two ingredients to make the "base" of these Maple Caramel Candy Chews and then used another ingredient for their coating.
Non-fresh dates and maple syrup create a lovely maple caramel effect and you can use any ingredients of choice (one or more) for the coating.
And yes, I said non-fresh dates. As in sort of dried up.
Really fresh dates can actually be too soft to give you the proper chewiness. They can also be too strong in flavor in my opinion.
When I go on a sabbatical from eating desserts as I do from time to time my dates suffer—hehe. Those are the best dates to use to create these treats.
So while you can use the plump fresh dates in this recipe, I think dates that have dried out some work best. If you only have fresh dates, leaving them out on the counter (versus in your refrigerator or freezer) will expedite them reaching the drier, chewier stage.
The only mistake I made with these treats was to make them too large. Yes, these Maple Caramel Candy Chews look great in the photos and are pretty much the standard size for balls and truffles, but they are naturally rich in flavor, so the size shown is larger than needed.
I would eat half of one and come back much later (or even the next day) to eat the other half. So I recommend making them about half to two thirds the size shown. Think malted milk ball size. (By the way, you know that malted milk balls are not gluten free, right? "Malted" means barley malt, one of the ingredients that contain gluten).
So roll your Caramel Candy Chews about the diameter of a nickel. And to be honest, I think you could even get away with chews as small as the diameter of a dime.
They are that rich and that satisfying. I consider that a very good thing!
These Maple Caramel Candy Chews make delicious, yet healthy treats for the holidays or any time of year. They're naturally gluten free, dairy free, refined sugar free, vegan, and paleo, so they'll make everyone who visits happy!
And tomorrow is National Maple Syrup Day so you have to make them to celebrate, right?
More Gluten-Free Healthier Treats
~ Almond Coconut Chocolate Truffles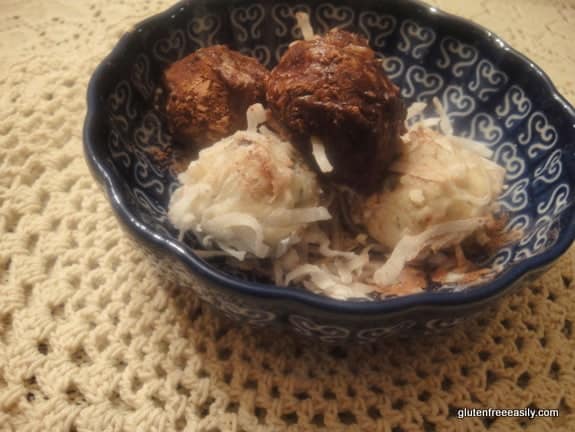 ~ Double Nutella (Chocolate Hazelnut Almond Spread)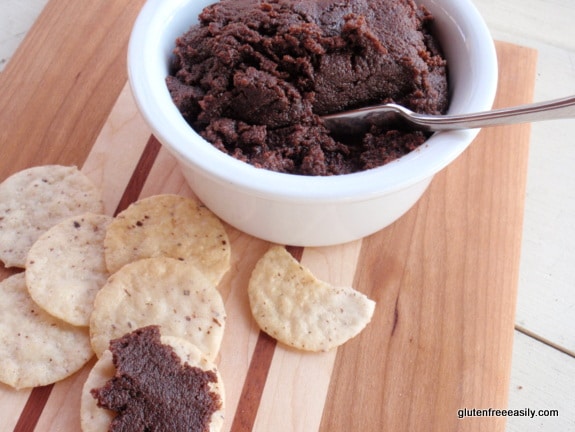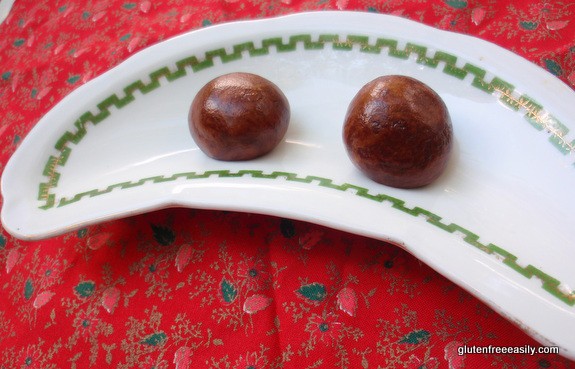 ~ Paleo Triple Chocolate Fudge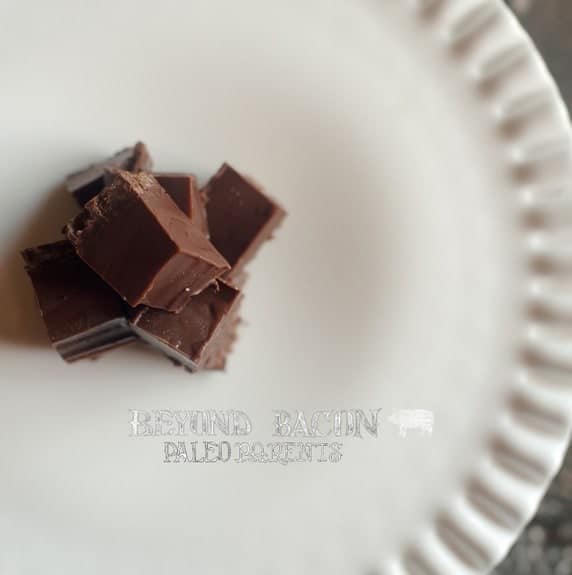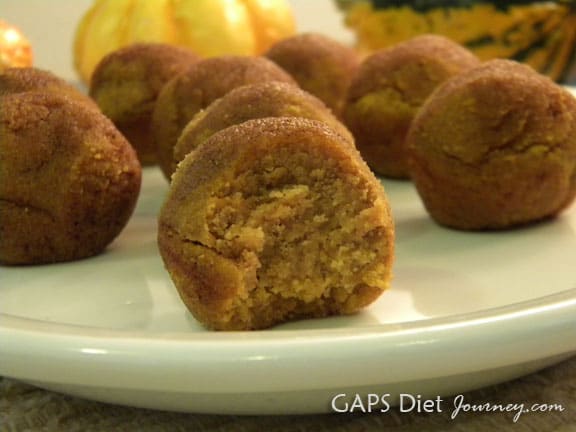 ~ Semi-Sweet Mint Truffles (4 Ways)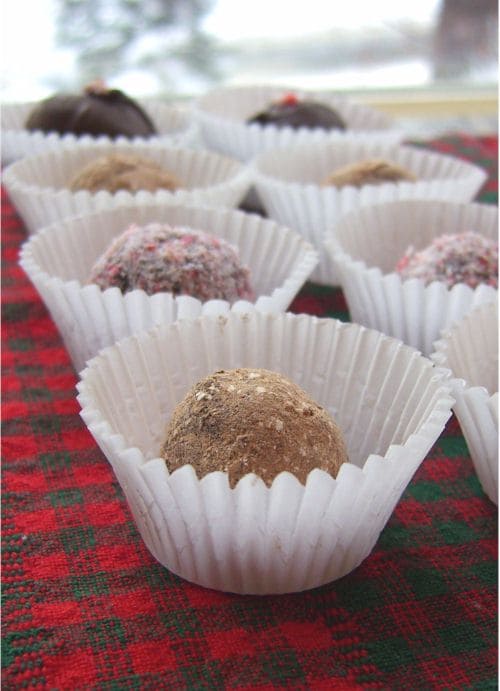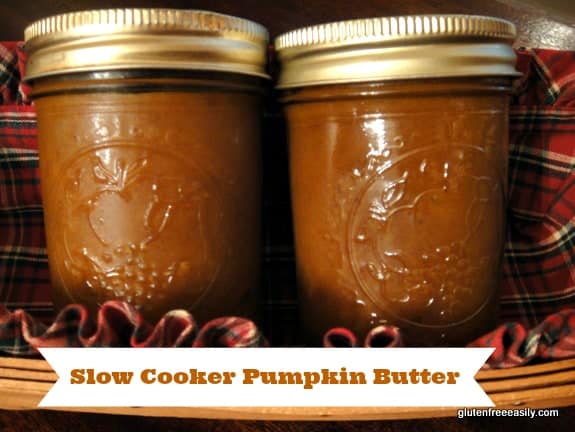 Maple Caramel Candy Chews Recipe
Yield:
Three-Ingredient Maple Caramel Candy Chews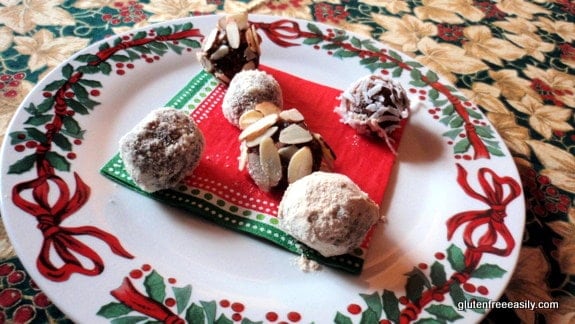 Ingredients
1 ½ cups Medjool dates; pitted, loosely packed, and preferably on the dry side (about 19 to 20 dates)
1/8 cup (2 tbsp) maple syrup (I used Grade B maple syrup)
Almond flour, coconut flour, raw cacao powder, cocoa powder, finely crushed nuts, finely crushed sunflower seeds, finely crushed pumpkin seeds, hemp seeds, chia seeds, etc. for dusting/coating
Instructions
Add dates to food processor. Process for about 30 seconds to a minute in spurts. (Note: The dates won't process into fine pieces if they are dry, but that's okay.)
Drizzle maple syrup into the food processor while it's running. Process another 10 seconds or so. Use a spatula to scrape the sides of the food processor bowl, so that the dates are covered with maple syrup.
Let all sit for 10 to 15 minutes.
Process date and maple syrup mixture another 30 seconds or so, until most of the mixture turns into ball. The ball can be as smooth as you like. I left mine with some chunks (i.e., 1/8-inch chunks) of dates here and there.
Wet palms of your hands slightly and then roll mixture into balls about the diameter of a nickel (or size preferred).
Roll in coating (or coatings) of choice noted above or choose your own. (I really liked single coatings of coconut flakes, sliced almonds, and almond flour, but hemp seeds, almond flour, and cocoa powder was also a great combo!)
Chill, if desired. Store in loosely covered container; they firm up on their own overnight.
Makes about 10 walnut-sized treats or 15 or more smaller sized-treats.
 Originally published December 16, 2013; updated December 13, 2018.