For affiliate links and as an Amazon Associate I earn from qualifying purchases.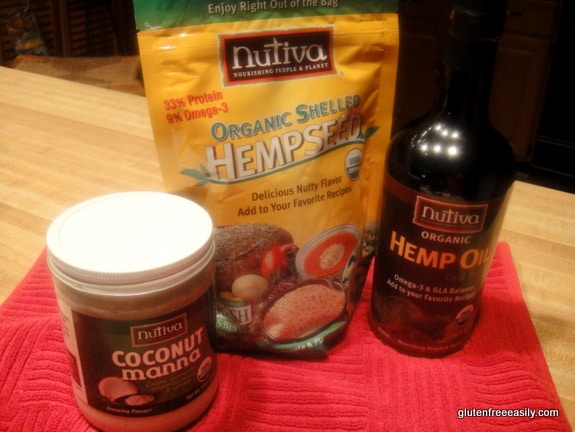 Okay, today, I'm getting all "crunchy granola" on you … going from the mainstream stuff to products that a few of us have come to use fairly often, but many still consider a little out there—a little crunchy granola, if you will. I'm talking about Coconut, Hemp, and Chia. Is it just me or does that grouping sound like a new-age version of The Three Stooges? Maybe it was just the fact that hemp reminded me of Shemp,  plus chia always makes me laugh (all those Chia Pet commercials!), and coconut … well, coconuts are just plain fun (lots of songs have played with the sounds of those three syllables over the years). They'd make great names for celebrity's kids, too. But, I digress.
When I say coconut, hemp, and chia, more specifically, I'm talking about Coconut Manna™ (organic whole coconut), Hemp Seed, Hemp Oil, and Chia Seed—all from Nutiva. Nutiva is a company that only sells organic, non-GMO products. Their motto is Nourishing People & Planet. You can read more about Nutiva,  their history, and company mission here.
But, let's get to the really good stuff—the products I reviewed. First, there's Coconut Manna™. What is it? It's simply organic whole coconut, in a jar, all ready for you to use. No machete or other forceful methods necessary to open a whole coconut. Hey, don't laugh. Mr. GFE used a machete once to open a whole coconut. We were on the totally charming and stunningly beautiful island of Sandy Cay in the British Virgin Islands. The machete worked, but I held my breath until the coconut was opened, the machete was set aside, and it was determined that all of Mr. GFE's limbs were intact. And, then, after all that, the coconut wasn't even ready to eat.
You don't have to worry about any of that using Coconut Manna™; it's good to go. As stated on the jar, Coconut Manna™ is great for adding to smoothies, sauces, dressings, desserts, icing, and ice cream. Already getting ideas? Here's a recipe below for Nutty Coconut Chocolate Drops that I made using Coconut Manna™. Incidentally, I didn't feel guilty using this product because it's 16% fiber and 7% protein, with the nourishing fats that coconuts offer. One of these drops is very satisfying and good for you! Of course, I used honey from our bees instead of maple syrup, but I would like to try maple syrup for a slightly different flavor. (Grade B maple syrup, of course, has its own health benefits.)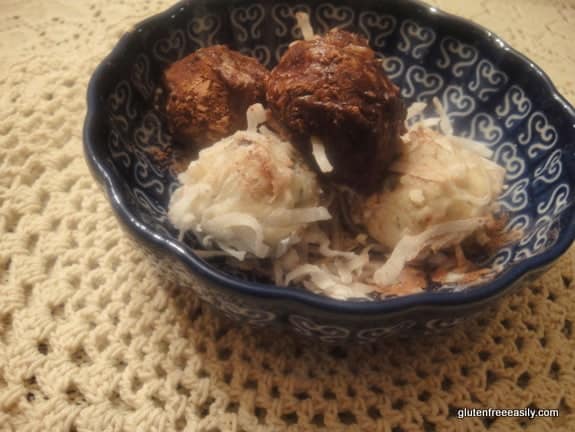 Yield:
Almond Coconut Chocolate Truffles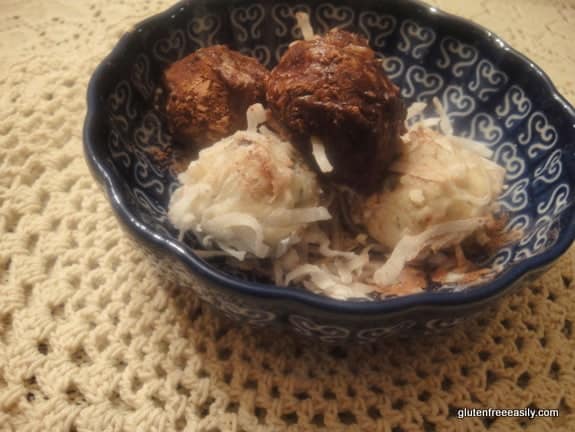 Adapted from recipe on back of Nutiva Coconut Manna™ jar.
Instructions
Mix all together and roll into 1-inch balls.
Roll into cocoa powder, coconut flakes, or finely chopped nuts, if desired.
Store in refrigerator when not being served. You may need to warm to room temperature slightly before serving.
Hemp seeds have made their way into my smoothies many times. I've also used them in Linda's (Kitchen Therapy) Gluten-Free Wonder Buns in place of sesame seeds. My dear friend, Jennifer, uses hemp seeds to make these amazing salmon cakes. Unfortunately, per my understanding, hemp seeds lose some of their nutritional value when cooked, so using them raw is best, but they sure are tasty either way.
The hemp oil is wonderful for simple salad dressings. Like the hemp seeds themselves, it has a pleasant nutty, slightly sweet flavor. It's light green in color. A basic salad dressing recipe comes on the bottle:
Yield:
Zesty Hemp Dressing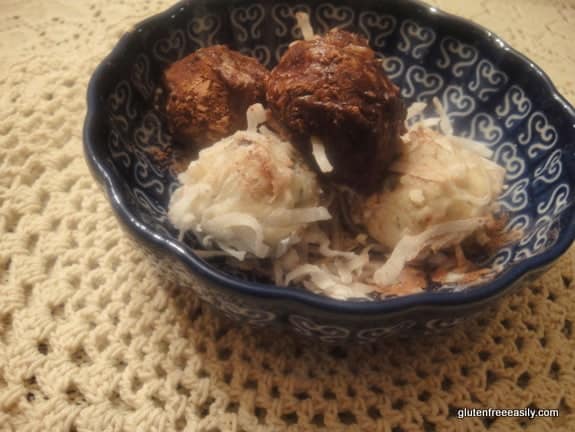 Recipe courtesy of Nutiva
Ingredients
2 parts hemp oil
2 parts olive oil
2 parts vinegar
herbs of choice
Instructions
Shake liquids with herbs.
Creamy Variation: Add 2 parts tahini to the ingredients above.
Often a simple salad dressing like that is all I really want to dress my greens.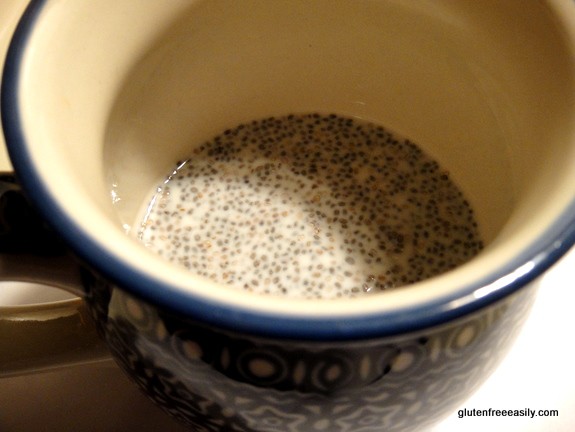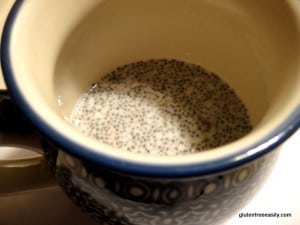 The Nutiva site says that chia seed was revered by the Aztecs and Incans for its super nutritional value. Throw it in smoothies, use it in baked goods, or turn it into tapioca-style pudding like I did here (per Ricki Heller's lead).
UPDATE: This giveaway is now closed. 
Nutiva is giving away one each of the following to one lucky gfe reader: Coconut Manna™, Hemp Seed, Hemp Seed Oil, and Chia Seed. As usual, there are a few ways you can enter the giveaway, but the first one listed is the only required entry. All the others are just ways you can get additional entries if you like. The giveaway ends Saturday, December 11, at midnight, Eastern.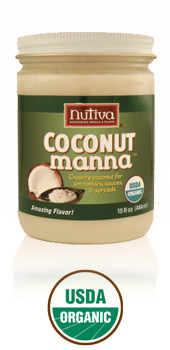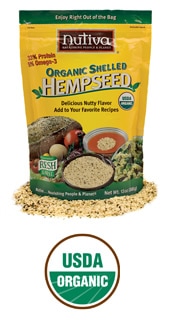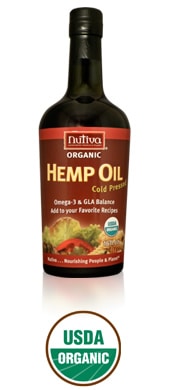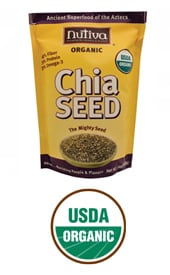 ~Leave  a comment saying why you'd like to win this giveaway … which product you are most interested in, how you'd use it, etc.
~Post about this giveaway on your blog and/or share it on Facebook. Leave a separate comment here saying that you did.
~Tweet about this roundup/giveaway using @Shirleygfe and @Nutiva_foods using the following: "Coconut, hemp & chia giveaway from @Shirleygfe & @Nutiva_foods here: http://budurl.com/Nutiva" (cut and paste text within quotes, but exclude quotes; or create your own tweet). Leave a separate comment here saying that you did.
~Subscribe to gfe via reader or email. Leave a separate comment here saying that you did.
~"Like" gfe on Facebook. Leave a comment here saying that you did.
~"Like" Nutiva on Facebook. Leave a comment here saying that you did.
~Follow me on Twitter. Leave a separate comment here saying that you did.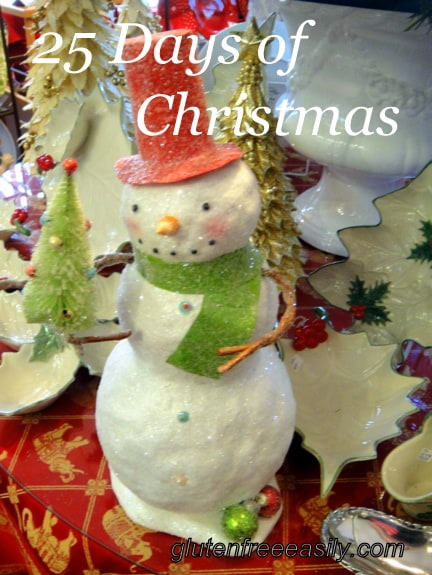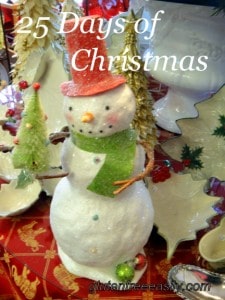 If you want to check out my previous posts for 25 Days of Christmas, just click on the links below:
Day 1 – Gluten-Free Holiday Giveaway Galore x 10—Giveaway of the new book, Mommy, What is Celiac Disease?, plus gluten-free treats and fun stuff. Open through Wednesday, December 15.
Day 2 — Guest Post from Debi Smith (Hunter's Lyonesse)—My Journey Back to Healthy Living
Day 3 — Corn and Butter Bean (or Lima Bean) Casserole for A Gluten-Free Holiday (Cookbook and book giveaway ends Wednesday, December 8.)
Day 4 — Little Cayman Beach Resort Review
Day 5 — 20 (Plus) Thoughts on International Food Bloggers Conference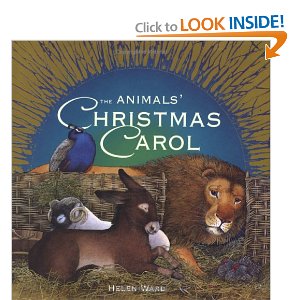 Full disclosure: Nutiva provided a complimentary sample of several of their products for my review: Coconut Manna, Hemp Seed, and Hemp Seed Oil. Nutiva is also providing the giveaway package. However, the opinions expressed in this post are strictly my own.