For affiliate links and as an Amazon Associate I earn from qualifying purchases.
Update: This giveaway is now closed. Congratulations to the winner and thanks so much to all who entered the giveaway!
I am so honored that Katie Chalmers, the author and illustrator of the unique new book, Mommy, What is Celiac Disease?, asked me to participate in the Gluten-Free Holiday Giveaway Galore x 10 event. It's a giveaway of a signed copy of her book as well as a terrific gift package featuring gluten-free products from favorite companies and some fun and sweet surprises for kids. I just had to join in!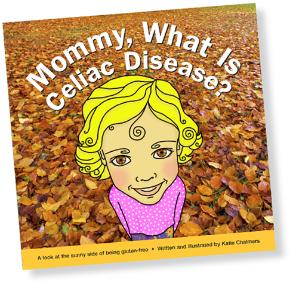 First, I have to tell you that Katie's book is beautifully written and illustrated. Written for children who have been diagnosed with celiac, it focuses on the disease in simple terms as well as all the wonderful real food that those who are gluten free can eat.
Of course, I don't need to tell you that I love that approach. That's the gluten free easily—gfe—way, and it works.
Along with the text, Katie has created some truly captivating illustrations. I've never seen any others exactly like them before. Both Katie and her daughter have celiac and the character in the book is modeled after her daughter.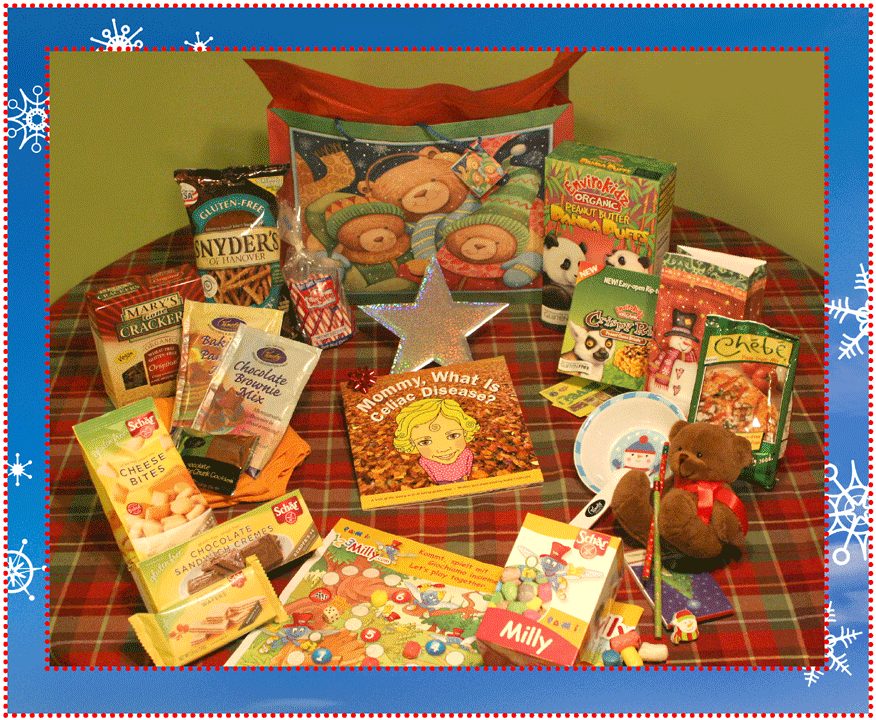 Here's a complete listing of what's in the goodie gift bag:
-Signed copy of Mommy, What is Celiac Disease?

–Schar 123 Milly PlayMais – dice game & biodegradable natural toy activity brick set

–Schar products: Cheese Bites, Chocolate -or- Vanilla Sandwich Creme Cookies, Hazelnut Wafers

–Pamela's Products: Single Serve Pancake Mix, Single Serve Brownie Mix, Dark Chocolate Chocolate Chunk Cookie two-pack, Tablespoon/teaspoon measuring spoon, kid's sized t-shirt–color will vary

–Nature's Path products: Peanut Butter Panda Puffs & crispy rice bars – flavors will vary, $1 off coupons

–Mary's Gone Crackers product: one of the following: box of cookies, crackers, or Sticks & Twigs

–Snyder's of Hanover product: bag of gluten-free pretzel sticks

–Chebe product: pizza crust mix or all-purpose bread mix

–Bob's Sweet Stripes product: one bag of soft peppermint candy sticks

-Stuffed teddy bear (colors may vary)

-Holiday pencils, eraser, holiday notepad & plastic snowman cereal bowl

-Large holiday gift bag, small holiday gift bag, and tissue paper (will need to be assembled to use for gift packaging)

Note: Contents may vary slightly.
See all the posts in the 25 Days of Christmas series here!
Originally published December 1, 2010; updated February 22, 2022.