For affiliate links and as an Amazon Associate I earn from qualifying purchases.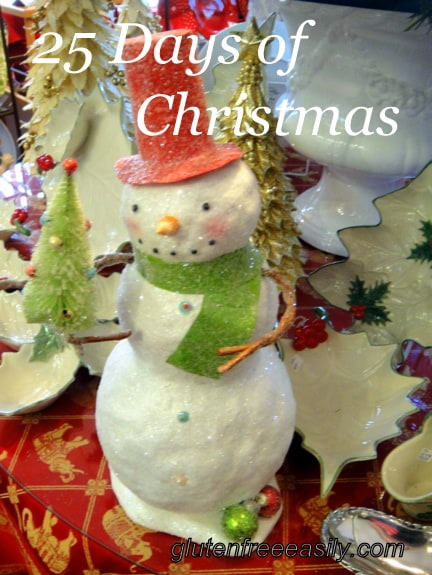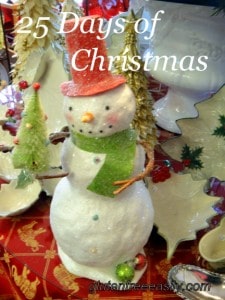 Today, I have the honor of sharing a guest post from Debi Smith. I met Debi months ago in the gluten-free blogosphere. She's one of the warmest, most positive spirits around. She always leaving an uplifting comment here on gfe or on my gfe Facebook page or personal page. I am always so happy to see her. I've been inspired by Debi's story of self-healing and have read some of it on her blog, Hunter's Lyonesse, but asked her to share more here as a guest post. Today she does. I think you'll be as moved by her story as I am. She calls it her journey back to healthy living. Just looking at her photo below, you can sense Debi's amazing spirit, as well as see her current good health.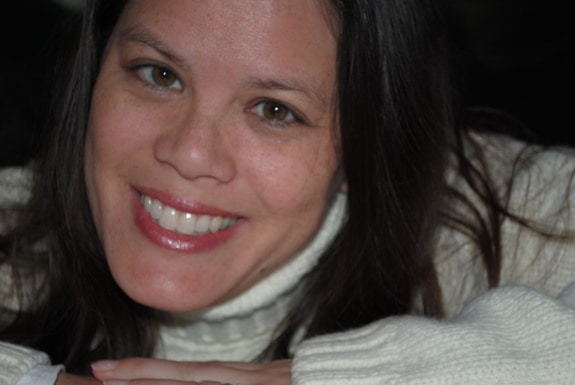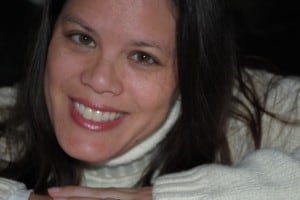 Here's a little more about Debi in her own words, and then her guest post below. I send my deepest, heartfelt thanks to Debi for sharing her story with us all. 
I have a B.A. in Psychology and spent 12 1/2 years working in the mental health field.  I enjoyed my years studying the martial arts (Aikido and Iaijutsu) and look forward to having the time to be able to do so again.  I have used aromatherapy for the last 6 1/2 years both for health purposes and for making my own personal care products and soap.  I believe in alternative medicine and the benefits it brings to the quality of our lives as patients.  In what little free time I have, I enjoy spending time with my husband (a rare thing these days), scrapbooking, writing, reading, cross-stitch, jewelry making, and playing amateur photographer.  I have found the keys to maintaining my health other is by maintaining a whole foods and gluten-free diet and keeping my stress down by focusing on positives, accepting change as it comes along, and leaving the grind of a career in my wake. 
Shirley asked me a few months ago to write my story as a guest post for her blog.  This was after sharing just a bit of my journey back to healthy living in a comment on her Facebook wall.  I was very touched that she would ask little ol' me to do a guest post.  So touched there were tears.  The part of me that felt compelled to start my blog, Hunter's Lyonesse, jumped on it and told her, "Yes!"  The writer in me keeps coming back to this, re-writing over and over again.  There was also a move to Ohio and starting a new job that got in the way, too. 
Two years ago I wouldn't have dreamed of working in retail, let alone be physically able to do it.  Here I am in the full throes of working the holiday season in retail.  And yes, I survived the dreaded Black Friday.  Even as a shopper, I avoided Black Friday shopping.  I love a good deal and saving money, but not enough to get up while it's still dark out to fight over Door Buster Deals. 
I was diagnosed with Hypothyroidism in January 2009, after starting to feel extreme fatigue two years ago.  My arms felt like they lifted and carried a load of bricks when all I did was fold a t-shirt.  My entire Christmas vacation spent doing nothing did not lift the fatigue at all.  There were headaches unlike the migraines that plagued me my whole life and the sinus headaches that like to remind me about my acquired allergy to Kentucky.  Add in some vertigo, heart palpitations, difficulty breathing, losing the outer third of my eyebrows, losing more hair than usual, IBS flare ups, allergies not responding to medication, and being colder than usual all the time.  I had violent mood swings –  screaming at my husband over nothing, screaming at customer service people over the phone, and struggled to resist the deep desire to strangle people when I would normally just ignore them.  Along with my lifelong migraines, I also had low blood pressure and body temperature, but all the doctors and nurses told me it was "normal" and not to worry. 
I would not have lasted on the floor at where I work now with all those symptoms. 
The initial blood work that resulted in my diagnosis also found some slight anemia and low iron levels.  My doctor gave me a prescription for Synthroid and told me to take an iron supplement.  Friends and family with thyroid problems said I would feel better in 4 to 6 weeks after starting Synthroid.  I stayed optimistic knowing that medications can take that long to reach therapeutic levels, but after 6 weeks I was feeling worse.  I was constantly assessing myself and my energy levels from the time I woke up until I went to bed.  I was climbing into bed as soon as I got home from work and stayed there until I fixed dinner, which was usually something frozen from a box (or bag) because I couldn't stand to be on my feet.  Standing or walking longer than 5 minutes caused them to feel like I was on them all day long, shopping until I dropped.  I avoided socializing because I felt like crap all the time and I lacked the energy or patience to deal with friends not understanding why I was so sick.  The violent mood swings didn't help with my lack of patience either. 
A good friend of mine, who is diagnosed with Lupus, introduced me to The Spoon Theory by Christine Miserandino (Board of Directors member of the Lupus Alliance of America, writer, blogger, speaker, and patient advocate).  It is the story of how she used spoons to educate her friend about a day in her life living with lupus.  She gave her friend a handful of spoons to represent the limitations she lives with throughout the day.  You wake up with a set amount to get through the day and you are always evaluating how many you have left and what you still need to do.  Sometimes getting out of bed first thing costs a spoon.  Then, taking a shower, getting dressed, making breakfast, driving to work, etc.  I was in tears by the time I finished reading.  That is me, I thought.  I was constantly looking for an extra spoon just to try to make it through the day. 
The numbers from my blood work at my first 6 week follow up showed numbers in the normal range for my thyroid.  I felt anything but normal.  I left thinking, Is THIS what my life will be reduced to?  Being in bed all day when I'm not at work?
I went through several months of visits to specialists for more tests.  I wanted to know why my ANA (antinuclear antibodies – the proteins in our white blood cells that fight foreign invaders) levels continued to be elevated.  They were pretty high 12 years ago when my previous doctor tested them due to daily migraines I was having at the time.  The tests for Lupus back then were all negative.  The Rheumatologist felt the ANAs would test positive for Hashimoto's Disease, an autoimmune disorder where the ANAs attack the thyroid.  If you knew my entire medical history, the following wouldn't come as a surprise (my former Podiatrist didn't lovingly call me The Freak for nothing).   I was negative for Hashimoto's, but positive for Sjögren's Syndrome, an autoimmune disorder where the ANAs attack the moisture producing glands in the body.  The Rheumatologist wasn't worried since I wasn't presenting with the 2 main symptoms, dry mouth and dry, gritty eyes.  After looking it up online, I discovered fatigue is also a symptom, as well as digestive problems.  I wanted to learn more, but I could only deal with one thing at a time with the limited energy I had.  At least I had my answer. 
I went to see my Naturopath in April of 2009, after my last test, an MRI of my brain, only showed the usual spotting for people who get regular headaches and my last blood work showed Vitamin D levels in the single digits, continued low iron levels and still normal TSH (what the pituitary gland produces to stimulate the thyroid to produce T4 and T3) and T4 (the amount ofthyroxine in the blood that the thyroid produces) levels.  I explained everything in detail.  My liver was hot, which said to him something was making it not work right.  I never once connected that my symptoms worsened after starting the Synthroid and could have beat myself up over missing that with my experience with medications – I was certified by the Kentucky Board of Nursing in Medication Administration for 10 years.   We had a discussion of natural supplements to help manage my thyroid and he showed me a kinesiology (the science of human movement) trick to use when choosing a supplement. 
I tried several natural supplements before I found the one that really worked for me.  I also discovered that any supplement with "thyroid" in it made me feel like Synthroid within hours after taking it.  While I felt better overall, I wasn't 100%.  I still thought something was missing.  An idea popped in my head one day that God intended our food to be exactly what we needed.  It was one of those common sense ideas.  People hundreds of years ago lived just fine off the land.  There was no such thing as refined or processed foods.  I made a mental note to research it more later on because we were flying out to Los Angeles to spend Thanksgiving with my best friend and her family.  We got together with some friends from high school.  Okay, friends from marching band in high school.  That's where I met my best friend.  During the course of multiple conversations, I found out one of our friends also has hypothyroidism.  This friend mentioned that Jillian Michaels had a new book out and that Jillian was also diagnosed with hypothyroidism. 
I found the book, Master Your Metabolism, after returning home and began reading.  I was struck by the detail of how food talks to our body, aka nutrigenomics.  I learned my common sense thought was right about the food we were meant to eat that grows from the ground or came from a mother really helps our bodies function optimally.  I learned how the processed foods we are used to, disrupt our bodily functions and create the multitude of health problems that plague us today.  I was moved by Jillian's sharing of her personal experience with undiagnosed hypothyroidism.  She understood how I was feeling.  I began making changes before I was done reading.  I started reducing the amount of refined and processed foods I ate.  Then I eventually cut out refined foods.  The difficult days of cravings I got through by picturing what the food would do to my body if I caved.  After a while without refined sugar, I no longer craved sugary foods.  The sections in the book on environmental toxins we are exposed to in our daily living reminded me that I really needed to get back to aromatherapy and making my own cleaners and personal care products again.
I put my focus on this change with being healthy, not with losing weight.  I shopped on the outskirts of the grocery store with my focus being on fruits and vegetables.  I ate brown rice, quinoa, sprouted grain bread, sprouted grain tortillas, and the occasional whole wheat pasta.  I explored vegetables I didn't like before – beets, mushrooms, and peas.  I eat them all now.  Well, the peas have to be fresh and cooked just right.  By the end of Winter, I realized I made it through with no colds, no flu, and no infections.  This was unheard of for me since moving to Kentucky 13 years ago and especially since I did not get a flu shot. 
In January of this year, another good friend sent me an article written by Dr. Mark Hyman on the role gluten plays in diseases like Hypothyroidism, Lupus, Autism, Fibromyalgia, and many others.  It had me intrigued.  I was digging up everything I could on the correlation and bought Dr. Hyman's book, Ultrametabolism.   By the end of February, I was ready to get rid of gluten on a trial run.  It was a little easier for me to do than most people when they find they have to go gluten-free since I was focusing on whole foods that are already naturally gluten-free. I made mostly everything from scratch with the exception of bread, pasta, and tortillas.  I left the bread alone and only used sprouted corn tortillas and whole grains like brown rice and quinoa. 
I was confident I would be okay when I added gluten back in.  It was a Friday morning.  I toasted a piece of sprouted grain bread to go with my breakfast.  That was the only gluten I had all day.  I felt fine when I went to bed.  Waking up the next morning was a different story.
I could not move.   I slept more than 8 hours and I felt like I just went to bed.  I lied there for at least 15 minutes willing my body to move.  It scared me a bit since I did not have this problem in over a year.  I knew it was the gluten.  I dragged the rest of the day full of unmotivated fatigue. 
I admit I was angry and wanted to scream, "THIS SUCKS!" at the top of my lungs.  The things I formerly chose not to eat like pizza, hamburgers, etc. were now things I really couldn't eat anymore.  There is a difference between not eating something because you choose not to and not eating something because you can't or it will make you sick.  Eating whole foods was easy since I chose it.  Eating whole foods gluten-free was getting depressing.  I couldn't watch a Papa John's commercial anymore thinking, "I don't want that."  It was now, "I can't have that.  No fair!"  Deep down, I knew it was my body telling me what it wanted.  I had one of those "A-ha!" moments after a couple of weeks of my self-pity party.  I realized the vertigo, heart palpitations, violent mood swings, and headaches were gone.  Even the migraines were fewer and farther between.  I had more energy.  I felt better, healthier. 
My blood pressure and temperature were normal at my last doctor's visit in September of this year.  I don't ever remember having a "normal" blood pressure temperature except when I'd get sick, which of course doctors would write off because it was "normal."  When he came in to meet with me, he informed me my iron, TSH, and T4 levels were all in the normal range, but my Vitamin D level was still low.  I left my doctor that day feeling euphoric as I texted my cousin, a doctor.  Sure my Vitamin D is still low, but I still had a major victory.  My health.
The hope and faith I had to dig for those days I was wallowing in bed wondering if the rest of my life would be lived there are shining bright for me these days.  I try to share my story so people who are just starting off on their journey know without doubt that there will be sunny days, even if the road is different than the one I travel on.  If you're reading this and just beginning your journey, keep that hope in your hand and don't let go.
See previous posts for 25 Days of Christmas:
Day 1 – Gluten-Free Holiday Giveaway Galore x 10—Giveaway of the new book, Mommy, What is Celiac Disease?, plus gluten-free treats and fun stuff. Open through December 15.