For affiliate links and as an Amazon Associate I earn from qualifying purchases.
I've written about Ricki Heller (Ricki Heller) before when I made a variation of her Banana Chocolate Chip Muffins after I reviewed her Sweet Freedom cookbook. I decided to adopt Ricki for this month's Adopt A Gluten-Free Blogger event (and actually I tried to adopt her last month, but Maggie beat me to it!). I wanted to adopt Ricki because I simply adore her and I needed a good excuse to make some more of her amazing recipes.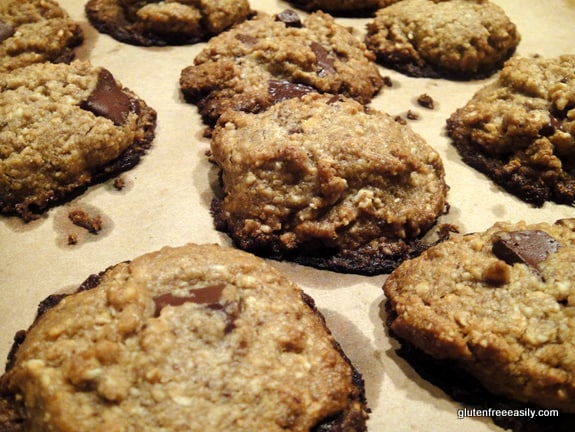 Ricki currently makes recipes that are vegan, plus gluten free and sugar free, and ones that follow the Anti-Candida Diet (ACD). All of those requirements can be a tall order when it comes to delicious dishes, but not for Ricki. Every one of her recipes makes my mouth water and usually gawk in astonishment.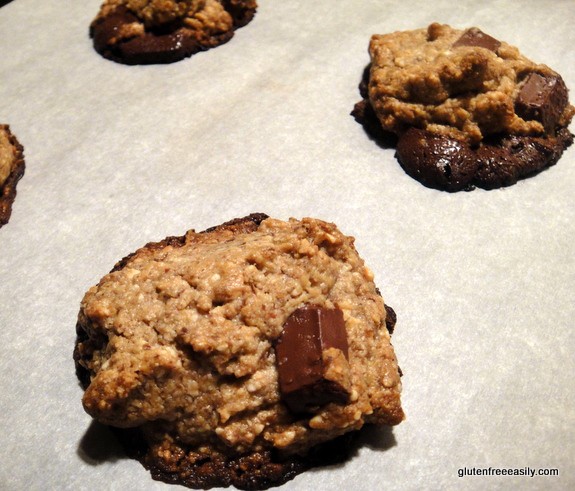 Like Ricki's Cashew Chocolate Chip Cookies. Oh, baby! How about an amazing chocolate chip cookie that's gluten free, grain free, dairy free, refined sugar free (no sugar buzz!), full of nutrition, and has a lovely texture? This cookie—that's featured both on Ricki's blog and in her cookbook, Sweet Freedom—is a winner. It's addicting. Chewy and flavorful with those rich chocolate bits showing up at the beginning or end of a bite. I'm glad the recipe only makes a small number of cookies. (Ricki says she gets 8 cookies when she makes this recipe; I got 12 out of my batch.)
Incidentally, I'm not the only one that recognizes the merit of the recipes within Sweet Freedom. Sweet Freedom just received Honorable Mention in the Cuisine Canada 2010 Culinary Book Awards—wow! Congratulations, Ricki!
Also, as Ricki likes to point out, Sweet Freedom is one of only three cookbooks recommended on Ellen DeGeneres' website! Now don't think Ricki is being arrogant. She simply has a fondness for Ellen and still wants to appear on Ellen's show. I say "still" because Ricki even launched a campaign several months back to be on Ellen's show. You can watch the video she sent into Ellen here. It's hysterical and lets you know how clever and funny Ricki truly is.
But, Ricki's daily posts entertain me, too. When I first visited her site, I'll admit I thought her recipes were a bit strange, but after I hung around a bit, I realized sometimes there's only a fine line between strange and brilliant. Ricki definitely is the latter when it comes to creating decadent recipes that won't make one's body crazy.
Take a look at the cookies above. Can you see the decadence? The main ingredients are cashew butter (I easily made my own in just a few minutes), coconut butter, tahini (I used peanut butter), flaxseed meal, maple syrup, and chocolate chips (I used Scharffen Berger). These cookies come together so quickly and don't disappoint. At all. By the way, the cookies are not burned as they may appear; the ingredients just produce darker edges when baked.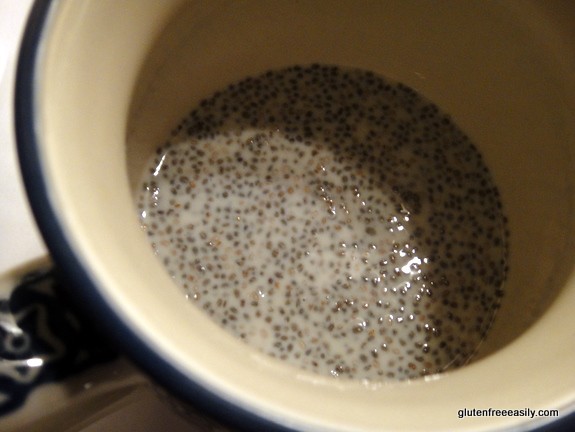 I also made Ricki's Almost Instant "Tapioca" Chia Pudding. I've seen chia drinks and puddings around for a while now. Ricki even has a Blueberry Chia Pudding but I wanted to start with a basic chia pudding to see if I'd like it. It's a texture concern. I throw chia seeds into my smoothies all the time, but it took me most of my life to learn to like tapioca, so eating chia seeds in the gelatinous/pudding form seemed like a big hurdle to get over.
Ricki suggested white chia seeds for the prettiest, most appetizing effect. However, all I had were the gray seeds, so I went with those. And, to be honest, I kind of like the river stone colors of the seeds when made into chia pudding. I liked the taste, too, but to me the slight crunch of the seeds was a bit disconcerting. I could probably get used to it though. I did add a dollop of Honey Cinnamon Whipped Cream for a special touch and taste after my first few bites. That was a nice touch.
I tried to talk Mr. GFE into trying some because he loves tapioca pudding, but I couldn't convince him that there was a difference between chia seeds that grow into "pets" and "food grade" chia that is edible (as well as a nutritional powerhouse) for humans. I tried this pudding again this morning after letting it sit in the refrigerator overnight as Ricki noted one could for a softer effect. The result is a pudding that is indeed soft and very much like tapioca in texture and taste. Along with a Green Smoothie, it's going to be my part of my super kickstart breakfast.
Other recipes over at Ricki Heller that caught my eye this time around were savory ones like Brazil Nut-Cilantro Pesto and Caramel Onion Quiche. There's a terrific variety of recipes on Ricki's blog so it's always hard to choose which recipes to sample. Check out Ricki at Ricki Heller. I know you'll enjoy what Ricki has to say and what she is eating, too!
Originally published November 10, 2010; updated April 5, 2020.