For affiliate links and as an Amazon Associate I earn from qualifying purchases.
How about a gluten-free Blueberry Volcano Pancake for breakfast? Maybe even dinner one night this week if breakfast for dinner is your favorite thing ever!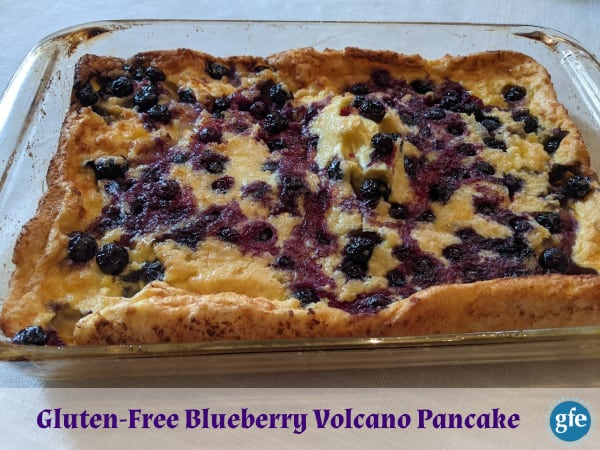 I learned on CBS Sunday Morning yesterday that 13 million people stay home from work the day after the Super Bowl. Surely, some of you, my gfe readers, are in that group.
Hey, that's not a bad thing at all when you get to make this yummy Blueberry Volcano Pancake as soon as the recipe is published!
To turn my original Volcano Pancake into a gluten-free Blueberry Volcano Pancake, you really only have to add some blueberries. And not even that many blueberries.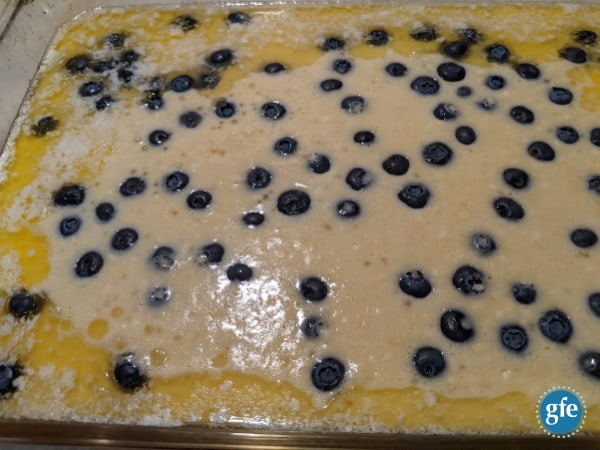 If you have sweet enough blueberries, that is. Allow me to explain.
My blueberries were not that sweet so after enjoying my Blueberry Volcano Pancake—and enjoy it, I definitely did—I thought some simple optional additions such as granulated sugar and vanilla extract, might be preferred by some.
Again, these are options. But a little bit of granulated sugar (or another granulated sweetener if you prefer) and some vanilla extract can up the sweetness factor just enough when your blueberries are not as sweet as you'd like.
I have read that when you're choosing blueberries, you should go for the ones that are the darkest blue to get the sweetest blueberries.
I don't know about you but I usually have exactly two choices for blueberries at my local grocery store—organic and not. Other than their differing labels, the blueberries all look the same. And with my organic produce delivery, someone else does the choosing for me.
If you are in the same situation, sample your blueberries before baking this gluten-free Blueberry Volcano Pancake and adjust the recipe accordingly.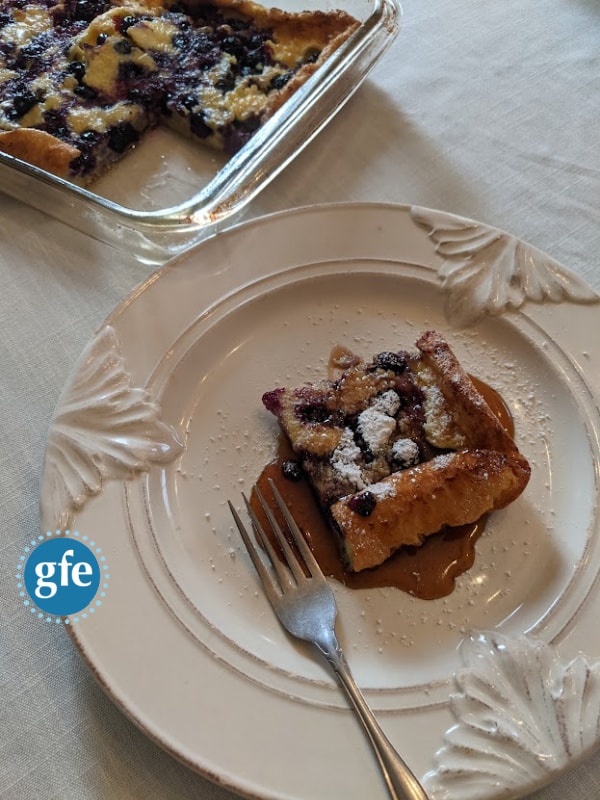 If you're not familiar with my other Volcano pancake recipes, please check out the original Volcano Pancake and the Apple Cinnamon Volcano Pancake.
Your first thought may be, "that's a Dutch baby!" Or "that's a Puff Pancake!" Even "that's Yorkshire pudding!"
And honestly, the list of names for this type of fun and delicious oven pancake goes on. And on.
There are so many names that this basic puffy oven pancake is known by. I like to think of it as a popover in oven pancake form.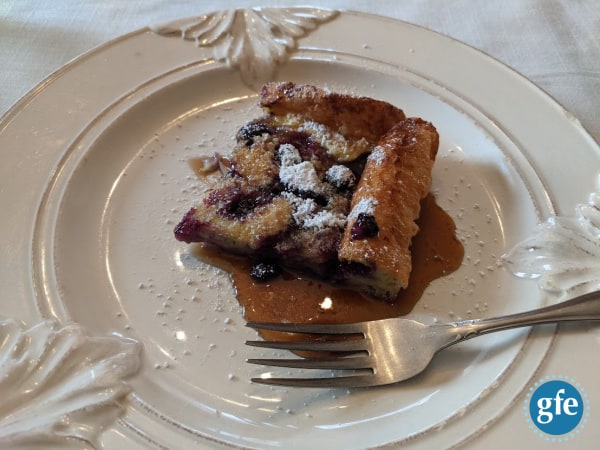 The volcano part comes from the fact that you get peaks and craters. And every volcano pancake comes out differently as far as its peaks and craters.
Personally, I prefer more craters than peaks because craters are great vessels for maple syrup. Yum!
It's always exciting to see the edible masterpiece that comes out of the oven. If you have an oven with a glass door, you—and your kids—may enjoy seeing the volcanic magic as the pancake bakes!
Add a sprinkle of powdered sugar and/or maple syrup and you'll be in heaven! I like to do that per individual serving per my family members' or guests' requests instead of "dressing" the whole pancake. However you top your serving, enjoy!
p.s. Blueberry Pancake Day is January 28 and Pancake Day is celebrated on both September 26 and Shrove Tuesday, aka Mardi Gras, which falls on February 21 this year.
More Yummy Gluten-Free Blueberry Recipes To Check Out
Gluten-Free Blueberry Volcano Pancake Recipe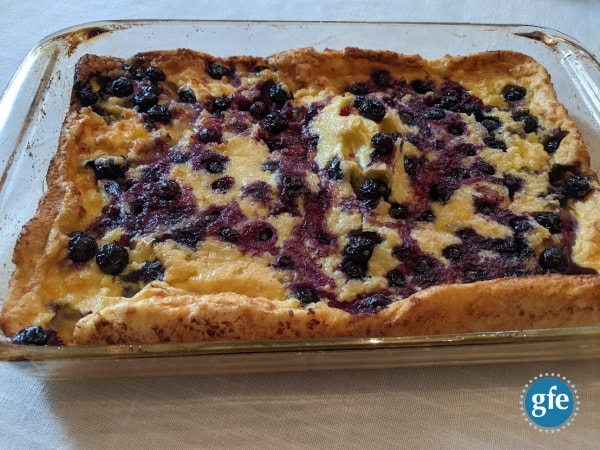 Yield: 6 to 8 servings
Gluten-Free Blueberry Volcano Pancake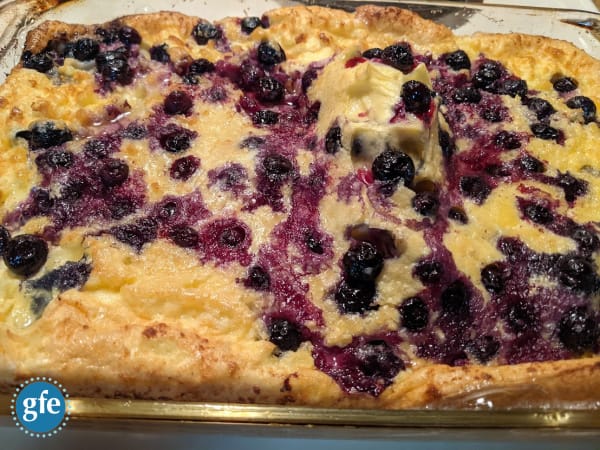 Prep Time 10 minutes

Cook Time 30 minutes

Total Time 40 minutes
Ingredients
6 eggs
1 cup milk (non-dairy milk, such as almond milk or coconut milk, works fine)
1 tsp vanilla extract, optional
1 cup gluten-free all-purpose flour mix (I use my homemade Two-Ingredient Gluten-Free All-Purpose Flour Mix)
¼ cup granulated sugar, optional
1/2 tsp xanthan gum
1/2 tsp salt
1/2 cup butter (or dairy-free equivalent), melted
1 cup blueberries
Instructions
Preheat oven to 400F degrees.
In a large mixing bowl, beat eggs.
Add milk, vanilla extract, flour, sugar, xanthan gum, and salt; stir until smooth.
Pour butter into a 13 x 9 x 2 baking pan.
Pour batter over butter.
Drop blueberries evenly over the batter.
Bake for about 30 minutes or until a knife inserted near the center comes out clean.
Sprinkle with powdered sugar immediately before serving, if desired, and top with your favorite syrup. (I like to top each serving per my family members' and guests' preferences versus the whole pancake.)


Notes
Any gluten-free all-purpose flour mix should work with this recipe, although I would not personally recommend bean-based flour mixes. It's possible that certain flours by themselves might work, too, versus a mix---such as finely ground rice flour (white or brown) or buckwheat. I used my Two-Ingredient Gluten-Free All-Purpose Flour Mix.

Some people like to melt their butter right in the baking dish. While the oven is preheating, they slice a stick of butter into pats and evenly place the pats around the baking dish. Then once the butter is melted, they proceed with making the recipe. I use this method sometimes myself but you have to watch the butter carefully of course. And once the baking dish is removed from the oven, if too much time passes and the melted butter starts firming up, you may need to stick the baking dish back in the oven for a few seconds before adding the batter.

I accidentally baked my original Volcano Pancake at 450F degrees once. It only took 15 minutes to cook. While it had a slightly different texture than when baked at a lower temperature, it was just as delicious! So, keep that in mind when you have time limitations.

If you love the combination of apples and cinnamon, be sure to check out my gluten-free Apple-Cinnamon Volcano Pancake.

Shirley
Not just gf, but gfe!
Originally published February 14, 2023; updated February 15, 2023.