For affiliate links and as an Amazon Associate I earn from qualifying purchases.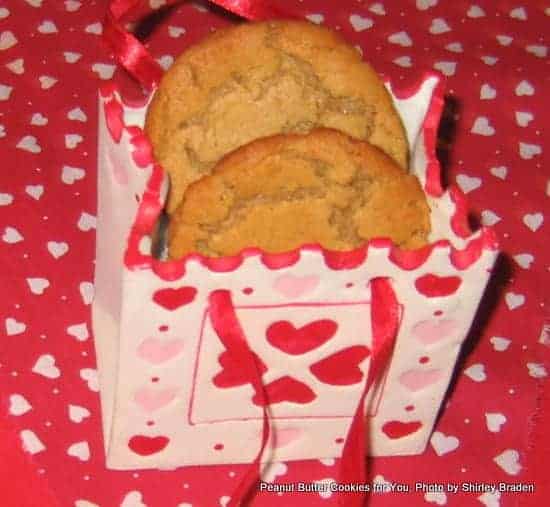 Today is National Peanut Butter Day, so I thought I'd do a roundup of the peanut butter recipes shared here previously on gfe. Now don't dismay if you can't eat peanut butter, every one of these recipes can be made with almond butter or sun butter instead. You can probably even use other nut butters. Just FYI, making your own nut butter does not have to be difficult. I have even made my own cashew butter only using my mini chopper before. Seriously. But let's get to the recipes, shall we?
First off is the recipe for my Flourless Peanut Butter Cookies. These are not the oft-shared version that just calls for peanut butter, an egg, and granulated sugar. As I say in my post, that cookie recipe is "okay," but using brown sugar and two more ingredients make these cookies phenomenal. And it's such a flexible recipe, too. Use creamy or chunky nut or seed butter. Use brown sugar or coconut palm sugar. Add mini chocolate chips or chocolate chunks. And so on and so forth. There are just so many ways you can make these cookies!
Now take those cookies and spread Nutella between them for Peanut Butter Chocolate Hazelnut Sandwich Cookies. For a dairy-free version, use my Homemade Chocolate Hazelnut "Double Nutella" Spread instead of Nutella.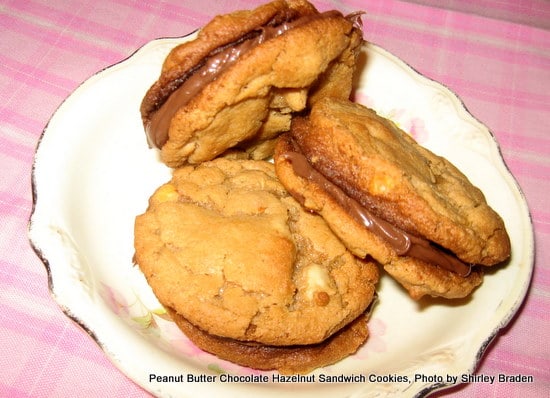 My flourless nut butter cookies also come into play with my Cookie S'mores. Yes, Cookie S'mores. I will never have the patience to make gluten-free graham crackers and, to be perfectly honest, I think I have come up with a far better solution than traditional S'mores. These Cookie S'mores are easy to make and so very satisfying. I used Flourless Peanut Butter Almond Cookies as the base for these Cookie S'mores, but I've also used my Brown Sugar Chocolate Chip Cookies (the dairy-free version of that recipe is here) with rave reviews. And, yes, you can totally make Cookie S'mores in your oven. With no guilt whatsoever. But come warm weather, enjoy them around the campfire for sure.
Now what if you need an egg-free version of these cookies? Well, gfe readers have used flax and chia gel eggs to make these recipes, but I wanted to offer other egg-free versions.
In my first attempt, I used a banana to replace the egg. If you like bananas and can safely eat them, I think you will enjoy this recipe! Plus, it's a great way to use that brown banana that's been staring at us from the counter. Check out Flourless Peanut Butter Banana Chocolate Chip Cookies.
For my second attempt, I used another ingredient that provides fat and creaminess. Like bananas, we often have just a little bit of this ingredient left over, too, so a treat recipe that capitalizes on its characteristics is a true win-win. Find out what that secret ingredient is in these Flourless Egg-Free Nut Butter Cookies with the Secret Ingredient. Note that the photo shows a couple variations of this recipe.
We are also pretty fond of these Double Chocolate Nut Butter Oaties. They make for great, healthy "desserts."
Last year, during our Home for the Holidays event, Hallie of Daily Bites shared another peanut butter cookie recipe that used oats, her Thick and Chewy Peanut Butter Cookies. This recipe came from Hallie's cookbook, The Pure Kitchen. Hallie is also the author of Super Healthy Cookies: 50 Gluten-Free, Dairy-Free Recipes for Delicious and Nutritious Treats and the co-author of Gluten-Free & Dairy-Free: A Whole Food Starter Guide and Cookbook. Her Thick and Chewy Peanut Butter Cookies are terrific when made like traditional cookies, but I loved the thickness and texture of the batter and couldn't resist makings some cut-out cookies, too.
Lest you think that all of these sweet recipes are for cookies, here's one that I shared on my blog quite some time ago courtesy of Amy Green of Simply Sugar and Gluten Free. When I reviewed Amy's cookbook,  Simply Sugar and Gluten Free: 180 Easy and Delicious Recipes You Can Make in 20 Minutes or Less, I made her Peanut Butter Hot Fudge Cake. That is one excellent recipe. It's gluten free, dairy free, and refined sugar free and is made in your slow cooker.
Now those are all sweet recipes, but what if you are looking for savory recipes that use peanut butter (or almond butter or sun butter)? Well, here are two that you will probably enjoy (particularly this time of year). I did.
Moroccan Spicy Tomato Soup from Diet, Dessert and Dogs
West African Chicken and Peanut Stew from The Whole Gang and Kalyn's Kitchen (Diane only slightly adapted Kalyn's recipe and got Kalyn's permission to share her recipe. That's a terrific example of blogging etiquette, I might add.)
Enjoy!