For affiliate links and as an Amazon Associate I earn from qualifying purchases.
When I first shared this gluten-free vegan Thanksgiving menu a few years back, I knew "some" about gluten-free and vegan living, but not nearly enough. Since that time, I've learned a lot in feeding my gluten-free, vegan friends and by enjoying the amazing recipes that they make.
So I thought I'd share an updated version of this menu to remind you of these delicious recipe options as well as share some wonderful new recipes from blogger friends!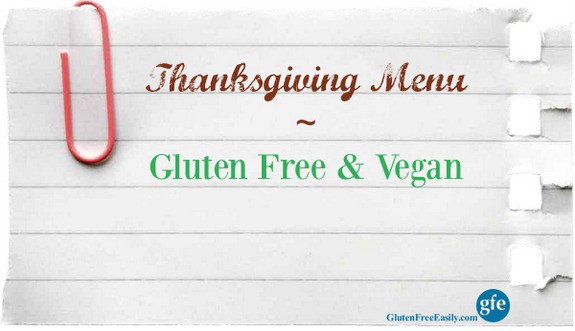 "I get by with a little help from my friends." Yes, that's a line from the famous song that John Lennon and Paul McCartney penned in their Beatles days.
I love that song. Just thinking about the song and the words make me happy, and I can't help but sing along whenever I hear it. It has such simple lyrics (like many Beatles tunes), but yet shares a powerful and prevailing message.
Recently, I gave a presentation to our local vegetarian group. I was asked to develop a gluten-free, vegan menu for this event.
At first, I was a bit flummoxed. Holy moly, I thought, prepare a whole meal for these folks? But, no, the group organizers didn't expect me to prepare a whole meal … thank goodness.
They simply wanted me to share a gluten-free, vegan menu plan with them; make a dish or two myself perhaps (okay, I ended up making six, but who's counting?); and also have a few of their members make some of the recipes on my menu as well. Now that I could do!
So I looked at some of my favorite vegan recipes here on gfe, but I also looked to other blogger friends who could supply some gluten-free, vegan recipes.
I'm sharing the resulting menu with you today as your gluten-free vegan Thanksgiving menu. But you could really use this menu for any holiday or any gathering.
Of course, this menu includes a few "bonus" recipes, too—ones that either I ran out of time and did not get to make, or other worthy ones that have just popped up on the interwebs in the last few days. It is really hard for me to stop adding recipes when so many good ones are out there!
Anyway, at the vegetarian group meeting, we shared this awesome meal (and more gluten-free, vegan dishes) right before I gave my presentation. Everyone loved it!
Sorry that there are no photos from the actual luncheon, but many thanks to my blogger friends who have allowed me to share the photos of their recipes today! You'll notice that many of these recipes are naturally gluten free and vegan; no special ingredients are needed because as always the focus is on real food here at gfe. And please don't hurriedly click away if you don't happen to be vegan; everyone can enjoy these recipes.
Gluten-Free Vegan Thanksgiving Menu
Gluten-Free and Vegan Starters
~ Kathi's Great Salad from me here at gfe—I keep telling folks to try this salad because all who do become converts, even if they start out not liking salad. Seriously … it's that good! Folks debate whether it's the combination of ingredients or dressing—or both?—that make this salad so appealing.
~ Dazzling Thanksgiving Salad from Judee at Gluten-Free A to Z—Dazzle your guests with this beautiful and healthy salad for Thanksgiving!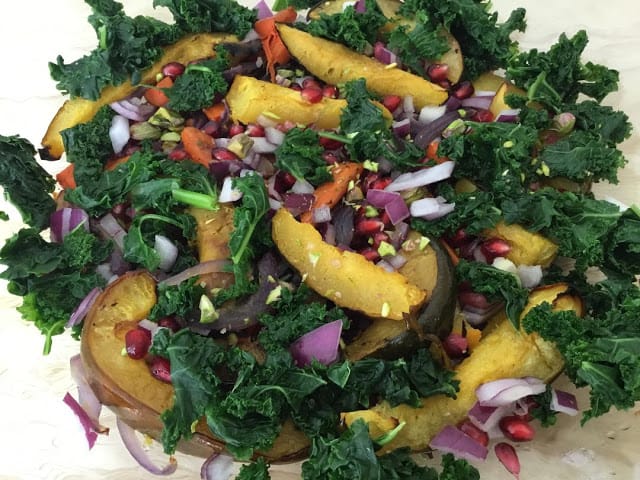 ~ Sprouted Lentil Salad with Vegetables from Dr. Vikki at Root Cause Medical Center—As Dr. Vikki Petersen notes, the eggs must be omitted and Vegenaise must be used for the vegan version. Easy fixes and they don't detract from the recipe at all. This salad is chock full of goodness and looks amazing! I've never had sprouted lentils before, but I'd like to try them.
~ Autumn Fruit Salad from Linda at Gluten-Free Homemaker—Linda's salad features autumn fruit—apples, pears, and dates—in combination with walnuts, dried cherries, cinnamon, and honey. She says that it's "a perfect combination of flavors and textures with just enough sweetness" and would be "a great addition to a Thanksgiving table."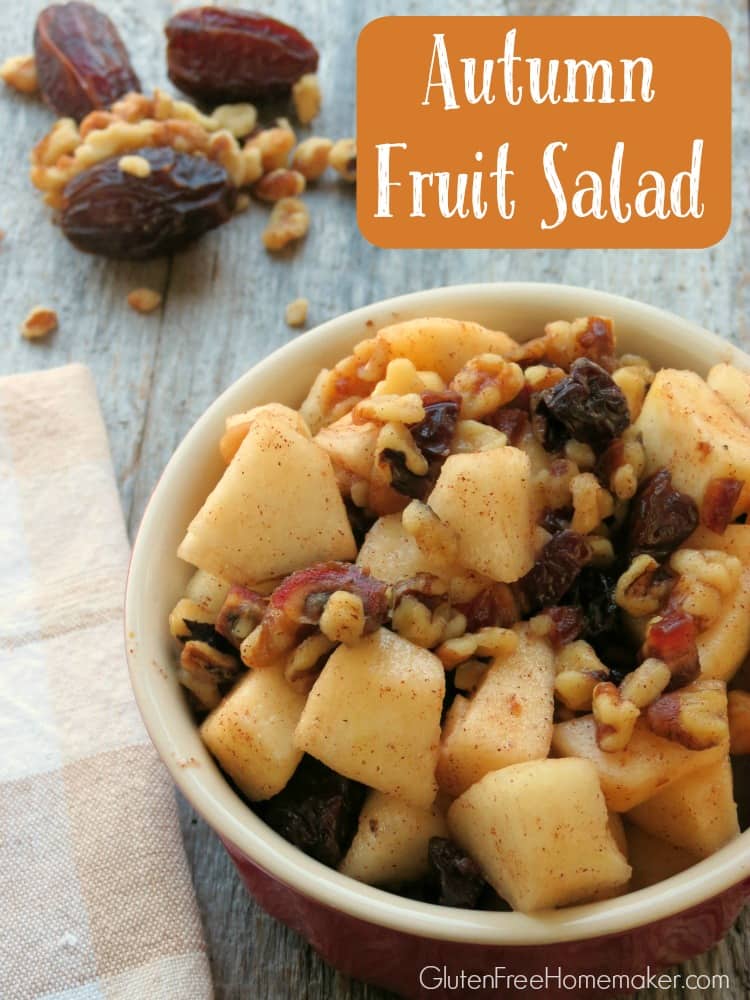 ~ Moroccan Spicy Tomato Soup from Ricki at Ricki Heller—What a quick and easy soup this is to make! And a crowd pleaser, too! I've included it in the "Starters" category, but it could easily be an entrée. I added a cup of tomato juice and used my immersion blender near the end of cooking so this soup would be less chunky. I used Ricki's secret ingredient—peanut butter (I know … I'm such a spoiler!)—the first time around, but have used almond butter instead since. (Note: That's how Ricki says that she makes this soup now, but she states that you sometimes do have to adjust the amount of the other ingredients, namely the tomatoes, to get the right balance with almond butter as the recipe is written for peanut butter.)
~ Zucchini Socca with Caramelized Onions from Beth of Tasty Yummies (shared at Healthful Pursuit)—Be honest now … Beth had most of you at Caramelized Onions, right? And that factor does make this socca extra delicious, but socca of any kind is an easy and special treat for anyone. Beth has definitely taken socca up a notch with her zucchini and caramelized onion version though, providing not only a great-tasting socca, but also a beautiful savory treat!
Gluten-Free and Vegan Thanksgiving Main Dishes
~ Faux Pulled Pork (aka Jackfruit Barbecue) from Johnna over at In Johnna's Kitchen—This is one of those recipes that you have to make and sample to believe! Canned Young Green Jackfruit purchased from your local Asian or international market is the star of this recipe. It's sort of a star in disguise though as once it's combined with the barbecue mixture, slow cooked for several hours, and shredded, it's a dead ringer for the classic barbecue. Serve on your favorite gluten-free vegan bun; your guests will love you! By the way, you can see all of Johnna's jackfruit recipes (e.g., Jackfruit Reubens, Jackfruit "Crabcakes) here.
~ Vegan "Meat"balls from Ricki of Ricki Heller—Shared on the VegNews site. I sooo want to make these meatballs and had planned to, but the oven-baked method for brown rice did not work for me and I didn't have time to make more brown rice to create these clearly amazing meatballs. Meatballs are one of my favorites though, so I will be making these!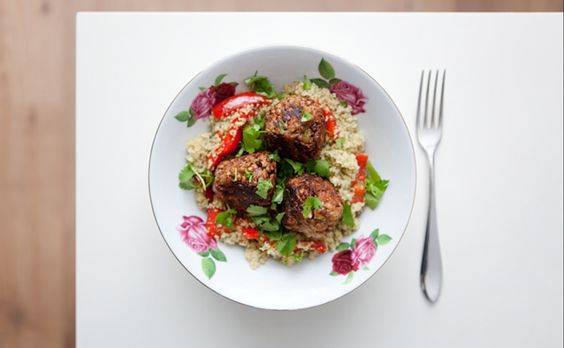 ~ Butternut Squash and Hazelnut Pasta with Smoky Cream Sauce also from Johnna of In Johnna's Kitchen—Johnna created this recipe after eating a similar dish at Mario Batali's Otto restaurant in New York City. She states that her version is quite a bit different than Otto's, but it still sounds fantastic and like another "must make" given the heavenly ingredients. The name alone makes me salivate!
~ Lentil "Meat" Loaf also from Beth at Tasty Yummies (shared at Healthful Pursuit)—As I reminded the folks making the recipes, the oats used in this lentil loaf must be certified gluten-free and should preferably be purity protocol oats (meaning they've been grown in dedicated fields where gluten grains have not been grown and processed using dedicated equipment and facilities). Most of us who are gluten free are aware that mainstream oats contain gluten, but this message bears repeating. (See Gluten-Free Watchdog's list of companies that state they use purity protocol oats.) The helpful vegetarian group member who made this well-liked recipe said that she preferred it with a bit more barbecue sauce.
Gluten-Free and Vegan Side Dishes
~ Garlic Maple Sweet Potato Casserole from Leanne at Healthful Pursuit (via Tasty Yummies)—Leanne says this sweet potato casserole is so ridiculously good that you won't miss the marshmallows, corn syrup, or brown sugar.
~ Surprise (Tortilla Chip) Stuffing from me here at gfe—Additional seasonings and ingredients (e.g., onions, mushrooms, chestnuts, cranberries, apples) are a must for the vegan version of this super easy stuffing. And, yes, it really is made from tortilla chips!
~ Roasted Green Beans and Red Bell Pepper with Garlic and Ginger from Kalyn at Kalyn's Kitchen–I can't even begin to tell you how much I and others love this recipe! Some folks are a bit leery when they see fresh ginger root in the ingredients, but this combo works and all greatly enjoy this recipe, even some very skeptical folks. My mom has been requesting it for all our family meals since I first made it last Thanksgiving, and I'm very happy to oblige. This year she even picked up the green beans for me when she was at the grocery store!
Gluten-Free and Vegan Breads
~ Sweet Potato Biscuits from me at gfe—Note that I used a little less oil and also less sugar for the batch I made for the meeting. Sometimes I use all almond flour and coconut sugar and make these as drop biscuits. Feel free to adjust these to your personal preferences, but these Sweet Potato Biscuits are a lovely side of sweetness in biscuit form. I heard one mom at the vegetarian group offering her young son one of these biscuits. He was not interested until she told him they were sweet, then he gobbled one down! By the way, I do find that this recipe works better if the sweet potato has at least cooled after cooking (using leftover mashed sweet potatoes is even better) because after cooling, the sweet potato thickens and works much better for binding.
~ Brazilian Un-Cheese Rolls from me at gfe—This is the recipe that saves the day when you have a small amount of leftover hummus that you just don't know how you are going to use, because that's the secret ingredient in these delicious rolls. You can also use this recipe to make excellent sandwich rolls. You simply place more batter on your baking sheet and use a spoon to spread it out to the size roll you want, and then bake. FYI: A vegan version of my Blackened Black Bean Burger is great sandwiched between two of these and Johnna's (In Johnna's Kitchen) Faux Pulled Pork (also shown in this post) is also yummy on these rolls!
If you are looking for gluten-free, loaf bread recipes, check out the Bountiful Bread Basket roundups because there are lots of vegan options in them. As of this writing, the following is true. The Top 20 Gluten-Free Bread Recipe Roundup includes six vegan recipes. The 65 More of the Best Gluten-Free Bread Recipes Roundup includes 14 recipes that are naturally vegan or have vegan options. The Top 20 Best Gluten-Free Bread Machine Recipes includes nine vegan options. (And using your bread machine means you're not using that valuable oven space!) There are even several vegan recipes in the Top 15 Gluten-Free Challah Bread Recipes Roundup. Here are some examples from each roundup below.
Gluten-Free and Vegan Desserts
~ Chocolate Pumpkin Pots de Creme from Ricki Heller—This is the kind of dessert you see in the fancy Thanksgiving spreads in magazines or on tv, right? Ricki says: "The pumpkin and chocolate command equal roles in this mousse-like dessert, sharing the flavor spotlight much like chocolate and coffee do in mocha confections." As elegant as this dessert is, it's not hard to make. The waiting for them to chill properly might be difficult though. I recommend chilling them while you sleep before the big day!
~ Flourless, Egg-Free Nut Butter (or Sunbutter) Cookies with a Secret Ingredient from me at gfe—Long-time readers know I love flourless recipes. They allow you not to worry about all the different kinds of gluten-free flours and flour mixes, plus they let you taste the real essence of the cookie. The secret ingredient—and only a small amount of it—provides the binding in this recipe. This is another ingredient, like the aforementioned hummus, which we usually have just a little bit left of, so this recipe saves you from wasting food. Now that's a great rationale for making cookies! This recipe is sure to appeal to the kiddos at your holiday table who are not as keen on pie. By the way, if this secret ingredient is not on your list of favorites, simply substitute a flax gel egg in my Flourless Peanut Butter Cookies recipe.
~ Best Ever Crustless Pumpkin Pie from here at gfe—A small amount of gluten-free flour mix added to the other ingredients allows this traditional holiday pie to "stand on its own," so to speak. If you decide you must have a crust, feel free to use this No Roll, Never Fail, Press-In Pie Crust, but I still suggest adding the gluten-free flour mix to the pie recipe for that extra bit of substance as flax gel "eggs" are used in this recipe.
~ Cranberry Fluff from Johnna of In Johnna's Kitchen—Since this is technically fruit salad you could eat it before or after the main dishes or perhaps with. Johnna says that "If you are a fan of Hawaiian or Ambrosia Salad, this is a nice variation on it—perfect for Thanksgiving." She doesn't have to convince me! p.s. I also agree with Johnna on the Dandies Marshmallows she used. They're the best marshmallows ever!
~ Creamy Chocolate Chip Macaroons from Stacy and Matt of Real Everything—Just from reading the ingredients in these macarooons, one knows that these cookies are a divine treat!
~ Pecan Pie from Better Batter–Naomi created this recipe for a gluten-free, vegan friend. She says it's "easy to make and can be proudly served to anyone!"
Last, if your family loves cake, you'll want to choose one of these stunning cakes below!
~ Gluten-Free and Vegan Cakes from Audrey of Unconventional Baker ~ gluten free, grain free, dairy free, egg free, refined sugar free, paleo, vegan, raw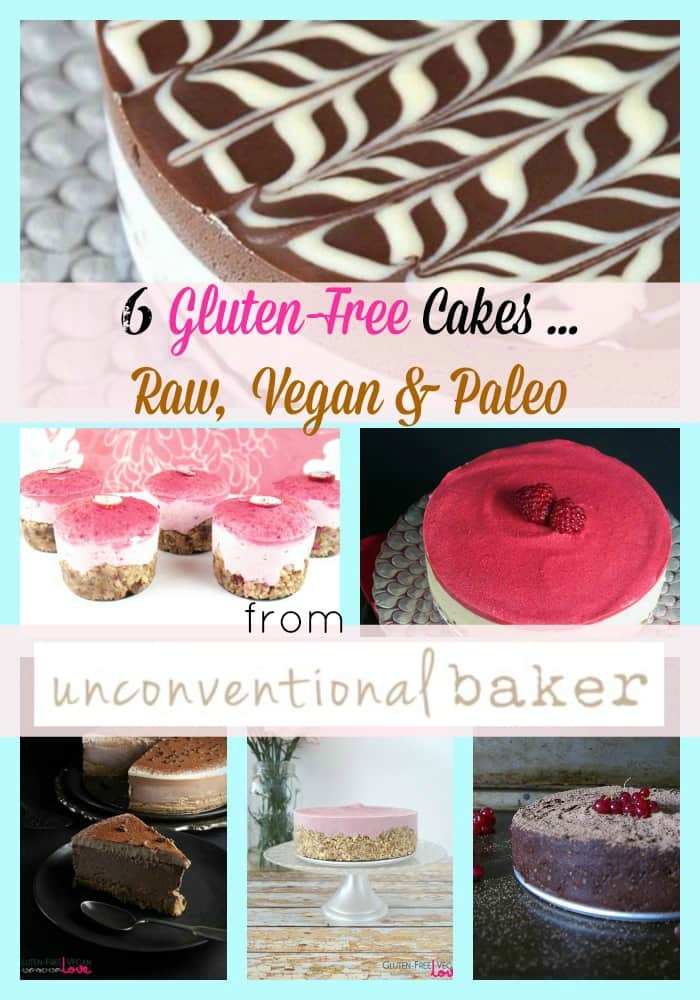 Okay, that's this year's gluten-free vegan Thanksgiving menu! Happy Thanksgiving to all who will be celebrating next week!
Originally published November 17, 2012; updated November 23, 2021.