For affiliate links and as an Amazon Associate I earn from qualifying purchases.
Today's post is a "two-fer"! Super Easy Turkey Breast and equally super easy "Surprise" Tortilla Chip Stuffing. I like "super easy" anything, don't you? Let me tell you more.
When I shared the Special Turkey Breast crockpot recipe the other day, I mentioned I had an even easier recipe for a traditional turkey breast, Super Easy Turkey Breast. This recipe is also made in a slow cooker. I also have an easy and delicious Surprise Tortilla Chip Stuffing recipe for you today!
The good news is that both of these recipes are so easy, so gluten free easily (gfe), that you won't even believe it (and, perhaps, will thank me profusely once you make it). The bad news is that I don't have a photo of the Super Easy Turkey Breast for you.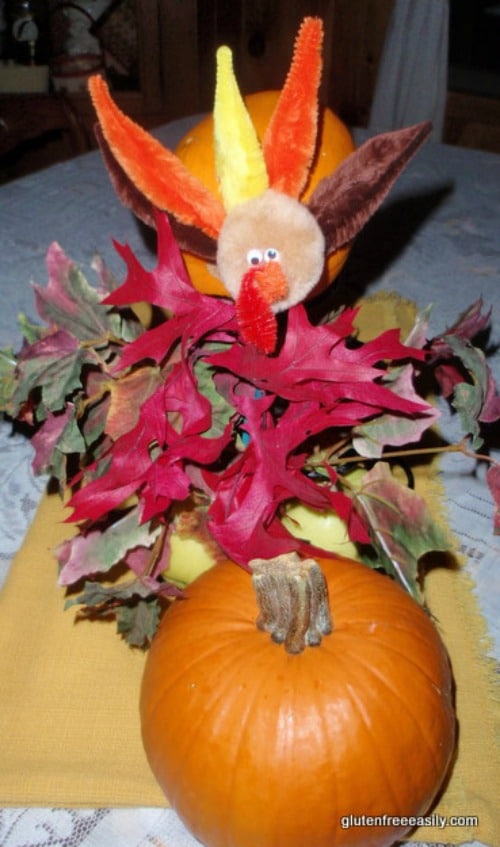 I've been making this turkey breast since I first hosted Thanksgiving several years ago to give my mother a break. I had no intentions of roasting a whole turkey because I knew most of it would not get eaten. So I looked online for a suitable recipe.
When I found the following recipe with two ingredients (the turkey breast plus one more), I was very skeptical to say the least. But, when I made it, I was so pleased and everyone raved over it.
Now it's one of my standard turkey breast recipes. (Members of my support group have also happily added it to their holiday cooking repertoire.) I'll be making both this Super Easy Turkey Breast and my Special Zesty Turkey Breast on Thanksgiving, because the latter recipe is also always demanded.
Super Easy Two-Ingredient Turkey Breast Recipe
Yield: 12 servings
Super Easy Two-Ingredient Turkey Breast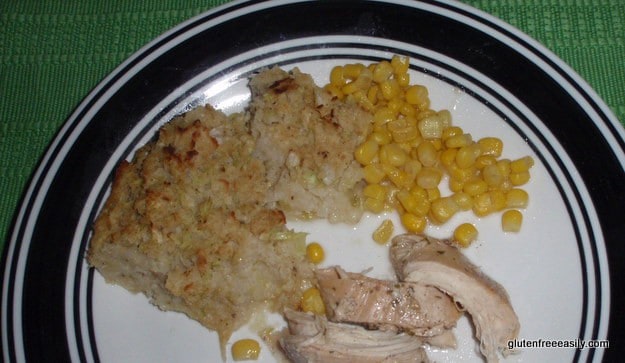 You won't believe the incredibly delicious turkey breast that results from slow cooking a turkey breast with a single ingredient. Yep, two ingredients total for an amazingly delicious turkey breast!

Prep Time 10 minutes

Cook Time 8 hours

Inactive Time 8 hours

Total Time 16 hours 10 minutes
Ingredients
One turkey breast, any size (just be sure it fits in your slow cooker)
One stick (1/2 cup) regular butter (not unsalted) or non-dairy equivalent, melted
Instructions
Remove any packaging for the turkey breast carefully. (I've been surprised by gluten-full gravy packets before--some turkey breasts include two of them now!--and I've been grateful that I didn't accidentally puncture them with my kitchen shears.)
Rinse turkey breast. Remove any contents from cavity of breast. (If gizzards and liver are included, you can cook those or freeze for another use later.)
Pat dry and place in slow cooker. (I use a large oval slow cooker or my Ninja 3-in-1 cooking system.)
Melt butter.
Pour butter evenly over turkey breast. (DO NOT add anything else. Nothing. NO additional seasonings. NO water. NOTHING else.)
Cook 4 to 4 1/2 hours on high or 8 to 8 ½ hours on low; cooking on low yields a more tender flavorful breast in this case, I believe. (If frozen, be sure to remove anything in the cavity and cook for about 10 hours or so.)
This turkey breast will be perfectly moist and perfectly seasoned. The skin always browns a little on my turkey breasts but your results may vary.
Now for part two—the Surprise Stuffing. Luckily, I do have photos for this dish, lots of them.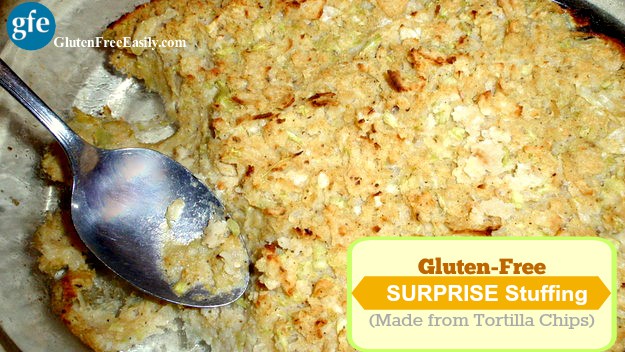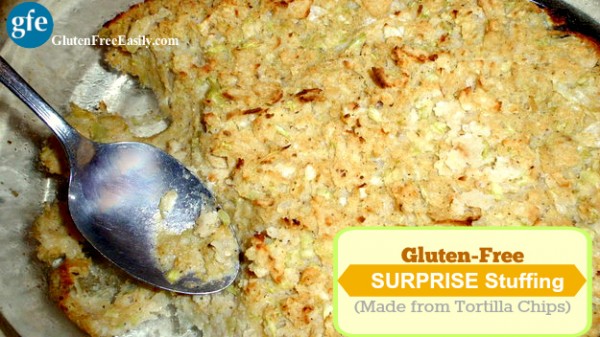 A little background … I saw this basic recipe on the celiac listserv a few years ago. The individuals who posted the recipe raved over it. So I saved it to my computer and even printed it out, but I've never been a huge stuffing fan and when "push came to shove" with all my Thanksgiving cooking and limited time each year, I always thought I'd make it later.
Well, later never came. Until now.
Did I mention that folks raved over this stuffing? Did I mention that some said it tasted just like Stove-Top stuffing? Hmmm, well, that could be a plus or a minus depending on one's purist views regarding stuffing. When I was eating a prepared stuffing, I personally always liked Pepperidge Farm stuffing back in the day.
But, I digress … a bit. Did I mention that this stuffing recipe uses no bread of any type? The main ingredient is a surprise … a snack food that many people keep on hand, and a naturally gluten-free snack food (yippee!), but one that everybody loves—corn tortilla chips.
Yes, that's correct. That bag of Tostitos (or any other brand of corn tortilla chips that's gluten free, such as Simple Truth Organic shown below) in your pantry will be transformed into your new favorite stuffing!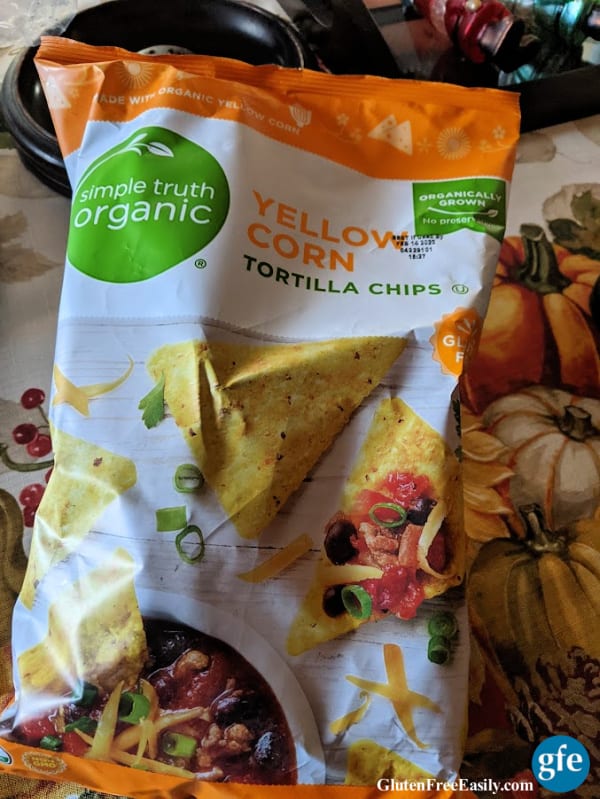 I don't know why I waited so long to try this recipe. It's excellent and so easy to make. It's also naturally dairy-free and just requires a few ingredients. Mr. GFE doesn't usually like stuffing, but he's in love with this recipe. He said it tastes almost like my sister Susie's Crab Casserole.
Although I don't think this casserole tastes like crab casserole, it does have a similar texture and consistency and is really good. I ate this small bowl full right after it came out of the oven and I never eat stuffing instantly like that.
Hey, maybe it could be a Poor Man's "Crab" Casserole—ideal for the budget and perhaps a good option for the non-seafood lover. Setting that consideration aside, I'm looking forward to serving this to Son when he comes home tomorrow and making more to serve my family on Thanksgiving.
I'm even looking forward to using it in another recipe that I haven't made since going gluten free—a chicken and stuffing casserole—but I'll wait a while. I think I'll be "poultry'd" out for a bit after Thursday.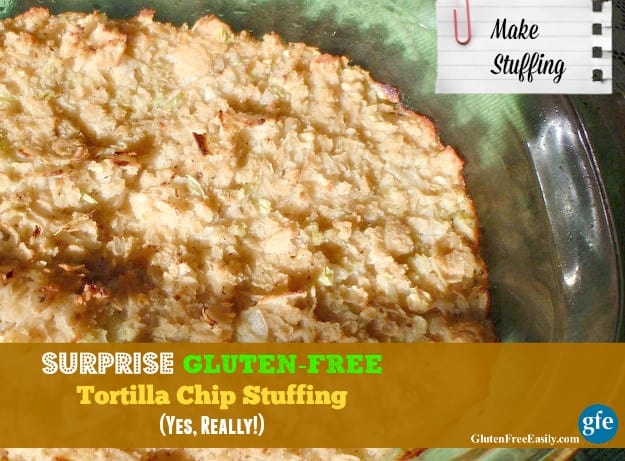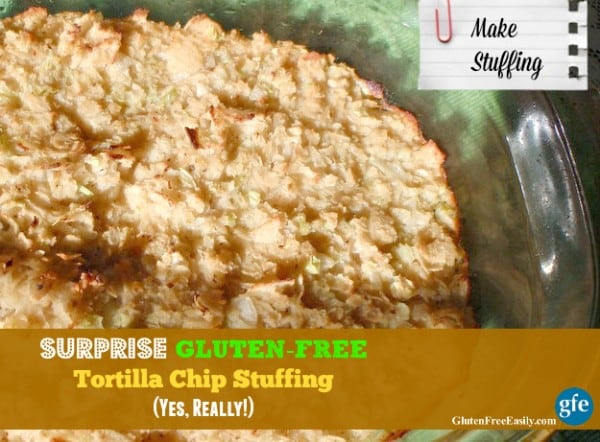 Here's the recipe as I made it today. Note that while Tostitos basic tortillas contain no gluten ingredients (steer clear of multigrain, which do contain gluten), they are not made in a dedicated facility or on a dedicated line. Frito-Lay cleans their lines between processing their different products, but please use your own judgment regarding using Tostitos if you eat gluten free for medical reasons.
Of course, any other tortilla chips that you like and consider safe (such as the brand shown above) can be used instead. I would really like to try this with the blue tortilla chips. Blue stuffing … now that would be fun. (No Smurf jokes, please.) Okay, okay—here's the recipe.
Oh, and if this recipe is not the type of stuffing recipe you had in mind, please check out this collection of Over 40 Holiday-Worthy Gluten-Free Stuffing Recipes.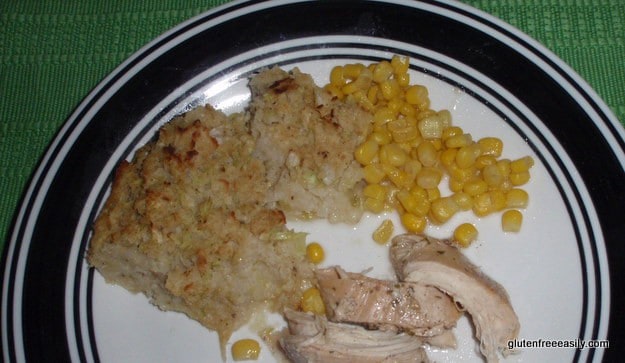 Gluten-Free Surprise Tortilla Chip Stuffing Recipe
Yield: 12 servings
Gluten-Free Surprise Tortilla Chip Stuffing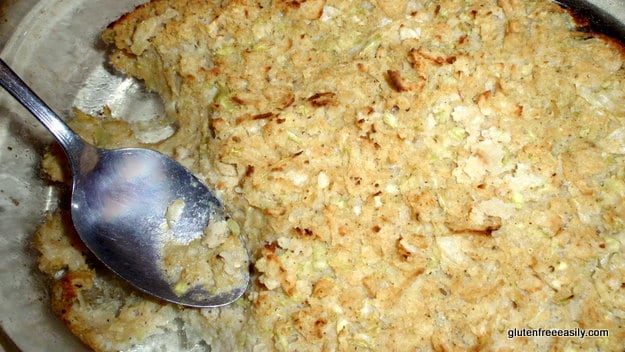 You're going to love this gluten-free "surprise" stuffing because there's no bread to make, no cubing of bread, etc. This stuffing---made from the surprise ingredient, corn tortilla chips---really is super simple and super delicious! 

Prep Time 10 minutes

Cook Time 30 minutes

Inactive Time 30 minutes

Total Time 1 hour 10 minutes
Ingredients
One large bag of gluten-free corn tortilla chips (about 13 ounces)
1 cup finely chopped onion
¾ - 1 cup finely chopped celery (depending upon how much you like celery)
4 cups (32 ounces) gluten-free chicken broth or vegetable broth 
2 tsp poultry seasoning (the brand I use includes thyme, salt, oregano, mustard powder, red pepper, black pepper, and sage, but you could simply use sage, thyme, or other seasoning or combination of choice)
Additional ingredients if desired, like sausage, mushrooms, chestnuts, etc.
Instructions
Pour tortilla chips into a large bowl. (Important: DO NOT break tortilla chips into smaller pieces. I did that not knowing any better and it's really unnecessary. Once softened, the tortilla chips will naturally break into smaller pieces.)
Pour broth over tortilla chips. Stir so that all tortilla chips are covered or moistened by broth. Let "soak" for 30 minutes.
Stir in onion, celery, seasonings, and any optional ingredients.
Pour into lightly greased casserole dish. A 9 x 13 glass dish would be ideal. (I halved the recipe and used a smaller oval casserole dish for my test run.)
Bake uncovered at 350F degrees for 30 minutes. (If you like your stuffing somewhat on the drier side, a slightly higher temperature might be a better choice.) If necessary, you can turn the broiler on for the last few minutes to brown the top, but please be cautious. (Your baking dish should be far from the broiler itself and only cooked at this temperature for a short time.)
Notes
If using vegetable broth, you will need to add additional ingredients and seasonings because store-bought vegetable broth is pretty bland in my opinion. (Homemade vegetable broth might be flavorful enough depending on the ingredients used.)

I've read that folks have even "stuffed" their turkey with this stuffing successfully versus baking as a side dish!

Remember that the photos shown are of the recipe made when halved. If you have any leftover stuffing, you can recycle it into croutons.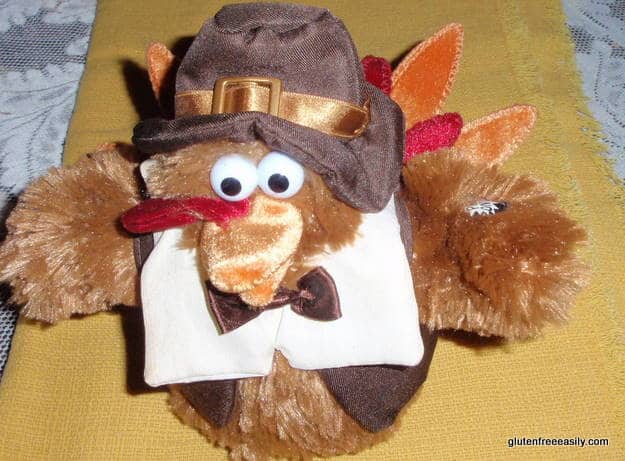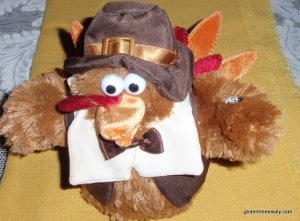 See this obnoxious little turkey guy. Okay, he doesn't look that obnoxious .. goofy, for sure … but wind him up and you'll see and hear how obnoxious he is—a singing, dancing turkey. I went away on a business trip in mid-November a few years back and came home to find this turkey on the dining room table … as well as evidence of a party.
It seems Mr. GFE and Son had a little oyster roast with friends and family while I was gone and this was one of the "host" gifts they received. (I was only a bit dismayed that they had a party in our somewhat untidy house and equally untidy screened porch. LOL)
Both the young and the old love this strange little turkey, so we keep him around for entertainment purposes.
Enjoy your Super Easy Two-Ingredient Turkey Breast and Surprise Tortilla Chip Stuffing! Just think … all the time you save by NOT working away in the kitchen can be spent chatting and catching up with family and friends.
Originally published November 21, 2009; updated November 20, 2021.