For affiliate links and as an Amazon Associate I earn from qualifying purchases.
As I approach the 13th anniversary of gfe, I still find myself being surprised by posts from long ago and even more so by comments from readers on those posts. This gluten-free Spanakopita Popover was inspired by one such comment.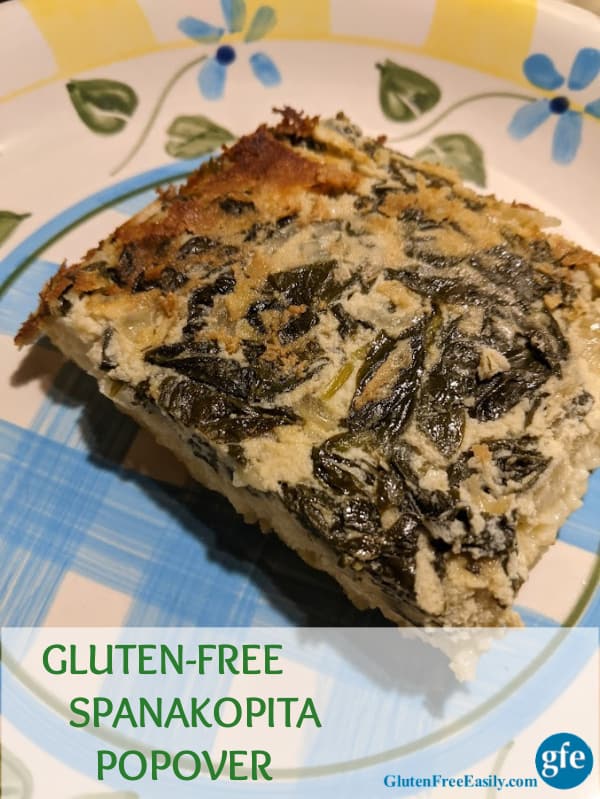 In 2012, gfe reader Kathleen left the following comment on my Gluten-Free Taco Popover Supper recipe: "I didn't make this recipe yet, BUT I took your idea for the popover, and made Spanakopita last night! It was great, and I appreciate the idea of using the popover as a phyllo substitute. Thanks!"
I thanked Kathleen for her wonderful idea but did not inquire further on the specifics. Then I totally forgot about making a Spanakopita version—until I came across her comment again a few weeks ago. (Admittedly, this type of delayed reaction has happened with other reader-recommended recipes in the past, such as these Flourless Gluten-Free Oatmeal Coconut Cookies.)
Because I didn't know exactly how Kathleen made her gluten-free Spanakopita Popover other than the popover topping (the same that I used for my Taco Popover Supper and my Pizza Popover), I started researching recipes for Spanakopita. Traditional Spanakopita, Greek Spinach Pie, is "an authentic, really rich pie stuffed with spinach, onions, cheeses, and herbs that are all enfolded by crispy, flaky phyllo dough."
Setting aside the phyllo factor as that wasn't relevant with a popover version, there are similarities between all spanakopita recipes—the inclusion of spinach and feta, to name the two main ones—and also quite a few differences based on personal preferences.
Most of the differences relate to additional cheeses being added (ricotta cheese, Parmesan cheese, cream cheese, and even cottage cheese) and others are flavoring differences. Some recipes require dill (usually fresh dill, and a lot of it). Some call for nutmeg—most often freshly grated, thank you. Some recipe authors omit the nutmeg but wouldn't think of leaving out lemon juice (or lemon zest in some cases). Others add bread crumbs. Some add garlic but individuals of Greek descent actually seem to think that's a type of spanakopita blasphemy! Fresh parsley seems to be a common ingredient and most recipes use green onions. A few who make spanakopita said they'd use only green onions while others liked the combination of both yellow onions and green onions.
Almost all the recipes I saw relied on frozen spinach but there always seemed to be an issue with removing enough moisture from said spinach. There were lots of reader tips on resolving that issue, including some pretty bizarre ones! I mean have you ever wrapped frozen and drained spinach in a dish towel, tied the dish towel closed, and thrown it in your washing machine on the spin cycle? Wow.
I did read a great and surprisingly easy tip about removing moisture from the spinach before adding it to Spanakopita (and one that doesn't involve using your washing machine!): "I add a tablespoon or two of dry rice to the filling. The rice soaks up some of the liquid and almost seems to melt into the filling so you won't even know it is there." Brilliant! If you are making a Spanakopita that bakes long enough for the rice to fully cook, that is.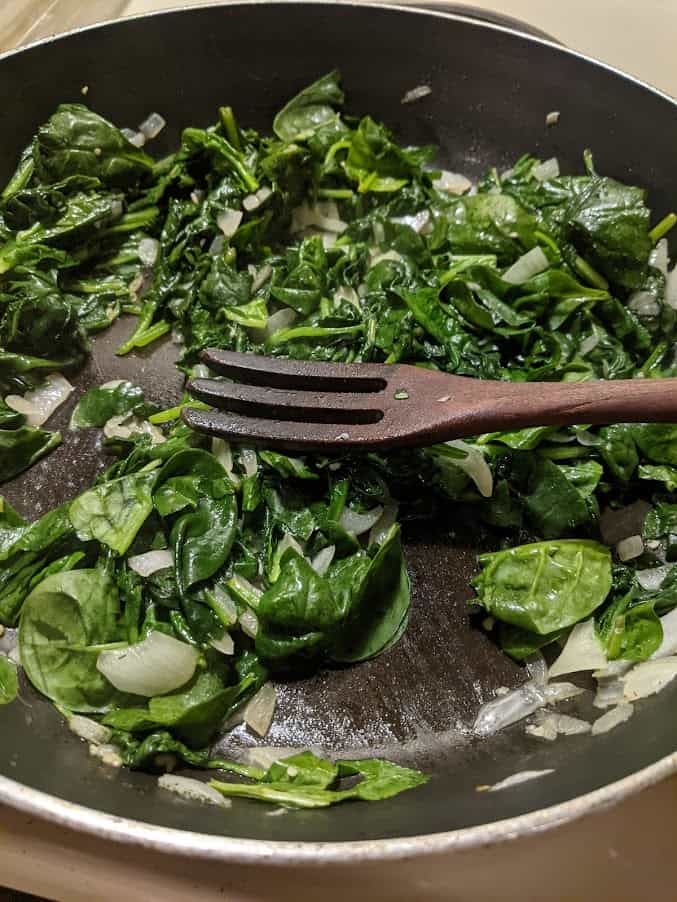 Seeking to completely avoid the extra moisture concern, I chose to use fresh spinach myself and some folks did, in fact, say fresh spinach was the way to go for the best taste and flavor for spanakopita. I used baby spinach as that's an ingredient that I like to keep on hand. Baby spinach is much more tender than fresh mature spinach and requires less preparation. As I note in the recipe, you can remove the stems of the larger leaves if you like although most won't find de-stemming necessary. While I don't find the stems of baby spinach to be tough—before or after cooking—I don't like the stringiness of the stems of the larger baby spinach leaves so I do snap them off and discard them.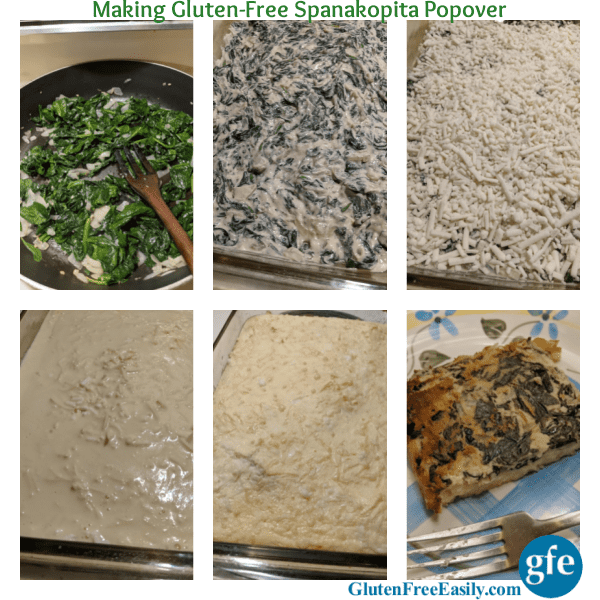 In the end, for my decidedly inauthentic but delicious gluten-free Spanakopita Popover, I went with simple ingredients that I personally prefer and always have on hand. However, I am sure that this recipe could be easily tweaked to include what you like and omit what you don't.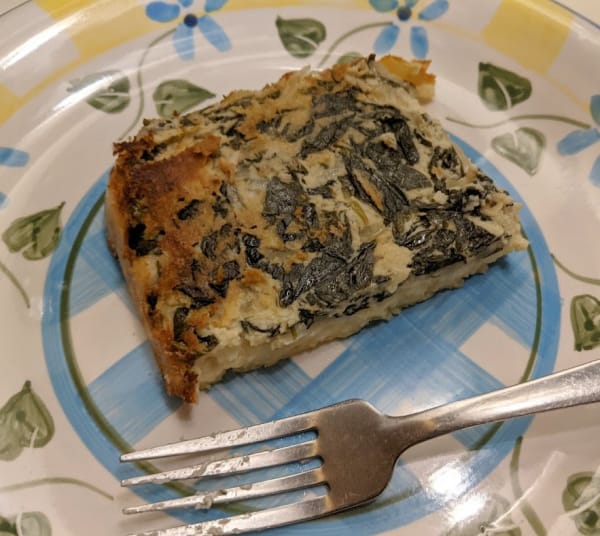 Last, I also made my version dairy free and as I could not get dairy-free feta, I used mozzarella instead. Shocking, I know! But the resulting dish was wonderful and while I will definitely use feta the next time around, I won't hesitate to use mozzarella versus feta if that's what I have on hand. If you happily eat dairy, I am 100% certain that this recipe will be terrific when made with the usual dairy ingredients, including feta! Incidentally, for those who eat dairy free, Follow Your Heart, Violife, and Trader Joe's all have dairy-free versions of feta. Now if one can just find it in the stores or online!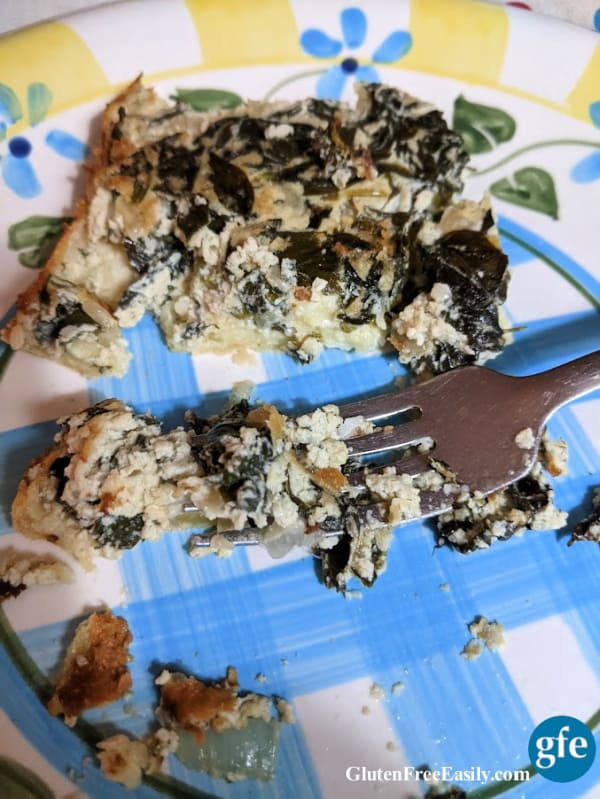 Other Gluten-Free Spinach Recipes
~ Shrimp and Spinach Party Dip
~ Spinach Artichoke Dip with Breadcrumbs
~ Surprise Mint Chocolate Chip Ice Cream
Gluten-Free Spanakopita Popover Recipe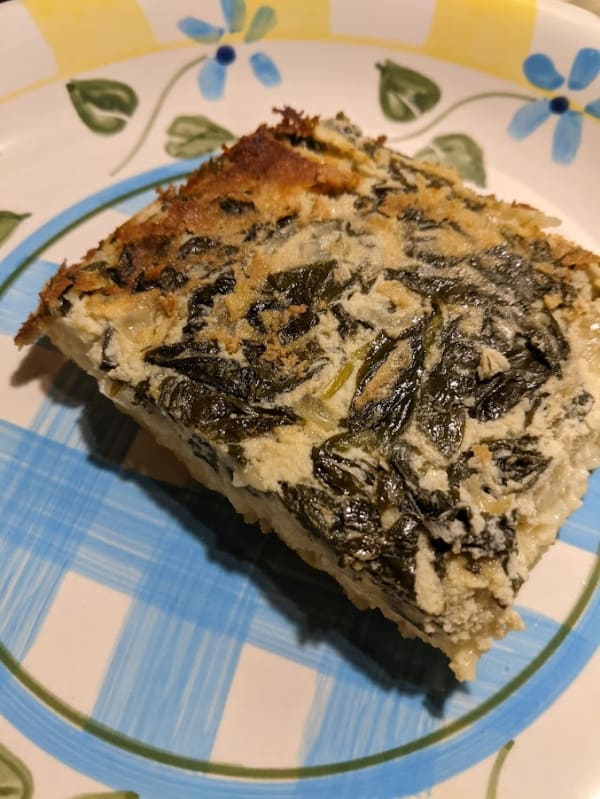 Yield: 9 servings
Gluten-Free Spanakopita Popover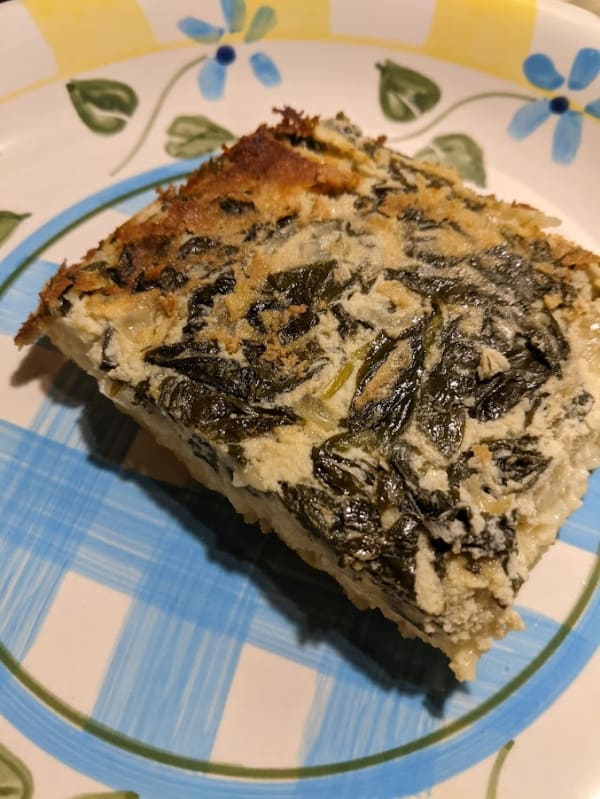 Enjoy all the goodness of Spanakopita without having to worry about phyllo dough!
Additional Time
15 minutes
Ingredients
Spinach Layer Ingredients
1 tbsp extra virgin olive oil
1 small onion, finely chopped
2 cloves garlic, minced
¼ tsp dried dillweed
¼ tsp ground black pepper
1 ½ tsp lemon juice
2 (5-ounce) containers fresh baby spinach (I believe you could increase this amount by half if you really like a lot of spinach in your spanakopita)
Ricotta Cheese Mixture Ingredients
2 large eggs, beaten
¾ cup ricotta cheese (or cream cheese; I used Speros sunflower cream cheese in the version shown)
Feta Layer Ingredients
2 cups feta cheese, shredded (or mozzarella cheese, shredded)
Batter Ingredients
2 large eggs
1 cup milk (dairy or non-dairy)
1 tbsp extra virgin olive oil
½ tsp xanthan gum (omit if your flour mix includes xanthan gum)
¼ tsp salt
½ cup Parmesan cheese
Instructions
Preheat oven to 400F degrees. Grease 9 x 13 baking dish.
In large skillet, add one tablespoon extra virgin olive oil. Heat to medium.
Add onion and sauté until transparent.
Stir in garlic.
Remove large stems from spinach leaves and tear or chop all the leaves into smaller, but not very small (as the spinach pieces will shrink significantly when heated).
Add spinach to the skillet, stirring a few minutes until the spinach is wilted. Remove skillet from the heat.
In medium-sized bowl, add eggs and beat slightly.
Whisk in ricotta cheese until mixture is smooth.
Stir mixture into skillet with other ingredients.
Add the contents of skillet to the baking dish as the bottom layer.
Sprinkle feta cheese evenly over all. Set baking dish aside so ingredients cool and firm while you prepare the popover batter.
In a large mixing bowl, whisk popover batter ingredients together until well mixed.
Pour batter evenly into baking dish over other ingredients, using a spatula to ensure previous layers are fully covered with the batter.
Bake popover for 30 minutes or so until the popover is golden brown. (The casserole will take a slightly longer baking time when using cheeses that are not plant-based (i.e., cow dairy, goat dairy, sheep dairy), even up to 40 minutes.)
Remove from oven and cool for about 15 minutes.
Use a spatula to remove servings of the Spanakopita Popover, flipping each as you plate it so that the dough portion is on the bottom of the plate and the spinach and cheese part is on top.

Originally published November 17, 2021; updated December 6, 2021.