For affiliate links and as an Amazon Associate I earn from qualifying purchases.
Today it's about Shrimp and Spinach Party Dip served with a great gluten-free crackers, in this case, Crunchmaster® crackers. I've professed my love of shrimp, dips, and parties long ago here on gfe (and many more times I might add). And if you're going to have either dips or parties, you need a good cracker! All gluten-free crackers are not created equal, which most of us have learned the hard way.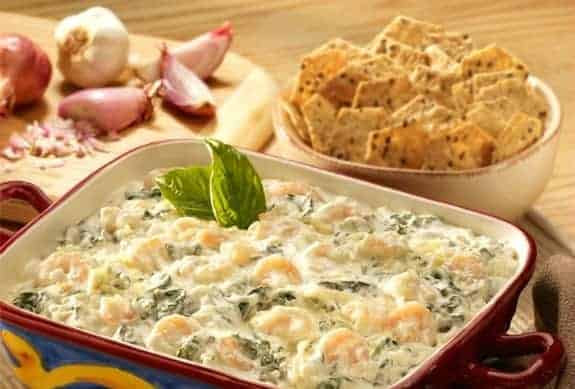 I love spinach in Kathi's Great Salad, but I'm always looking for other ways to add some more spinach to our diet and serve something "green" at parties. This Shrimp and Spinach Party Dip is perfect for both. It's creamy and cheesy and sure to please!
I'm not at all against making this recipe for "Braden, Party of Two" to enjoy one evening on our screened porch. And this dip would truly be perfect on my dining room table for any special event.
My History with Gluten-Free Crunchmaster® Crackers
When Crunchmaster® crackers came to our local grocery store, which is a Food Lion that doesn't even have a gluten-free section, I have to tell you that it was pretty exciting. They were the very first gluten-free crackers to hit our store shelves. As soon as I spotted them, I let my support group members know via email that we had a gluten-free cracker option available locally. That was really a big first!
My support group members were excited, but what really surprised me—at first—is that a number of gluten-full friends and family members had also discovered the Crunchmaster® crackers and were buying them to enjoy themselves. They really liked the multi-grain factor and the crunchiness. (Yes, Crunchmaster® crackers have always lived up to their name.) When I thought about it, it didn't seem surprising at all. These crackers were unlike anything else available here—a tastier and healthier choice.
I loved the fact that I could visit these folks and they'd have crackers on hand that I could enjoy safely. Stopping by to visit friends for happy hour and having the hors d'oeuvres served on Crunchmaster® crackers … priceless. Enjoying a Christmas luncheon with coworkers and being able to eat everything served, even the Wild Rice Dressing (which was usually gluten full, but now made gluten free via Crunchmaster® crackers). Well, that was equally priceless.
Later, I even made my own version of that recipe—Crunchy Long Grain and Wild Rice Dressing. We love it for holiday meals and other meals during cold weather. It's delicious comfort food.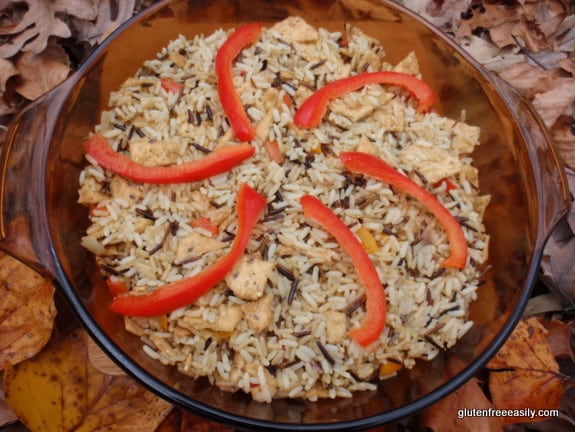 Shrimp and Spinach Party Dip Recipe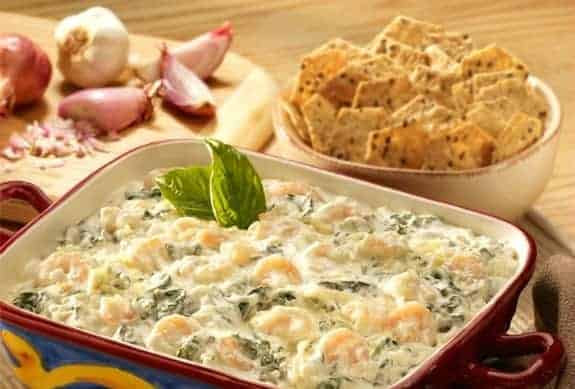 Yield:
Shrimp and Spinach Party Dip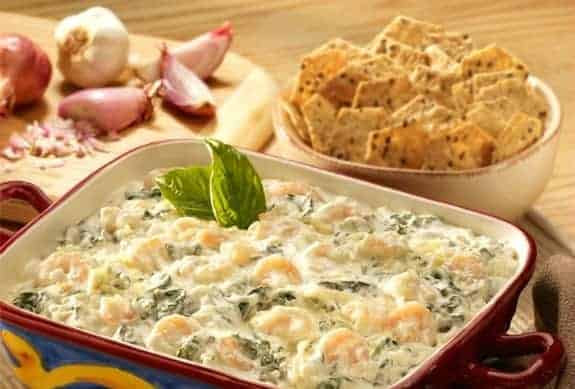 Ingredients
1 8 oz pkg cream cheese
1 4oz. bag cooked salad shrimp, thawed
2 cups fresh spinach leaves, roughly chopped
2/3 cup shredded Parmesan cheese
1/3 cup mayonnaise
1 medium shallot, finely chopped
2 tablespoons butter
1 tablespoon garlic paste
1 teaspoon lemon juice
1 package of Crunchmaster® Original Multi-Seed Crackers
Instructions
Preheat oven to 350°F
In a large skillet, heat the butter at medium high heat, and toss in the shrimp, spinach, shallot, and garlic. Stir gently and consistently until the shallot has become translucent, and the spinach is wilted. The ingredients should be heated through, about 5 minutes. Pull off heat and stir in lemon juice.
Transfer mixture from skillet into a large mixing bowl. Add mayonnaise, 1/3 cup of the Parmesan cheese, and the cream cheese. Mix well. Place the entire mixture into an 8X8" baking dish. Sprinkle evenly with the remaining 1/3 cup Parmesan cheese.
Bake uncovered for 15-20 minutes, until warmed through and slightly browned on top.
Serve warm with Crunchmaster® Original Multi-Seed Crackers.
Full disclosure: This post is sponsored by Crunchmaster crackers but, as always, the opinions expressed here are my own.
Originally published April 26, 2015; updated December 4, 2022.