For affiliate links and as an Amazon Associate I earn from qualifying purchases.

I'm so honored to be taking part in the Gluten-Free Holiday "How-Tos" Blogger Campaign put on by the National Foundation for Celiac Awareness (NFCA) and sponsored by Crunchmaster. For this event, I'm sharing gluten-free Crunchy Long Grain and Wild Rice Dressing.
But we'll get to this delicious recipe in just a moment. As I've shared previously, I'm a big fan of the NFCA and its daily, widespread efforts to get those with celiac/gluten intolerance/non-celiac gluten sensitivity both diagnosed and living well gluten free.
I was so excited to finally meet Alice Bast, NFCA's founder and director, earlier this month. I met Alice in Dallas at the Intestinal Health Institute's conference, "The Gluten Truth Meets the Circle of Life." Alice's presentation was Turning Celiac into Service:  Unleashing Your Passion and Life Purpose. Hers was definitely one of the very best presentations of the conference.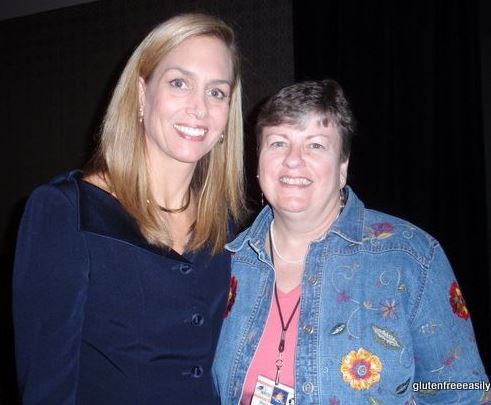 Now Alice and the NFCA are sharing their expertise and teaming with gluten-free bloggers and Crunchmaster to ensure that you have an especially great holiday season.
When I happily agreed to make a recipe using Crunchmaster crackers for this event, I got excited. First, I'm a fan of Crunchmaster products and second, I knew exactly which recipe I wanted to make.
One of my good friends/co-workers, Tavie, makes a wonderful long grain and wild rice dressing/stuffing/casserole. Tavie typically uses crushed gluten-full crackers as she herself is not gluten free. However, she knows the diet well and how to prepare dishes safely as her late husband had celiac disease.
Last year she wanted to make this recipe for our group's Christmas luncheon. She loves the Crunchmaster crackers on their own merit, so she had some on hand and used those for her recipe as she knew I could then safely eat her dish.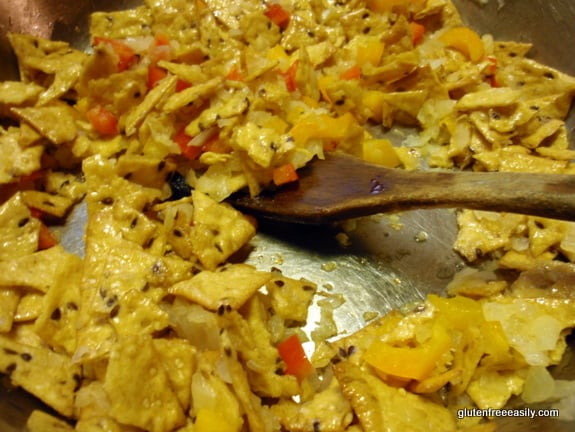 Everyone in attendance loved how her recipe turned out, including me and Mr. GFE. Mr. GFE didn't attend the luncheon, but happily accepted the leftovers Tavie sent home!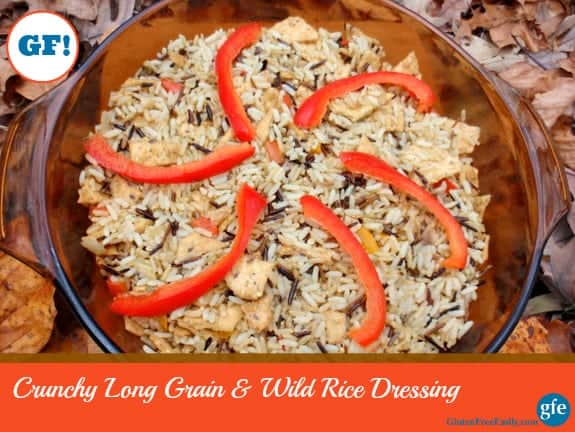 This dish is so easy to make and so flavorful. The crunchy rice and Crunchmaster crackers add an unexpected, but wonderful dimension.
I never would have thought to saute gluten-free crackers with vegetables and seasonings and mix it all with rice to create a dressing. So I'm really glad that Tavie not only did that but that she shared the dish—and its recipe—with me!
If you already have your Thanksgiving meal planned, I'd like to suggest that you could make this dish the day after Thanksgiving and add in some of your leftover turkey (or a vegetarian/vegan protein source).
What a lovely meal that would make! Mr. GFE just piped in … "that would be perfect, absolutely perfect!"
Happy Thanksgiving to all who are celebrating! I hope your dressing—or stuffing—is a delicious addition to your meal!
Gluten-Free Crunchy Long Grain and Wild Rice Dressing Recipe
Yield:
Gluten-Free Crunchy Long Grain and Wild Rice Dressing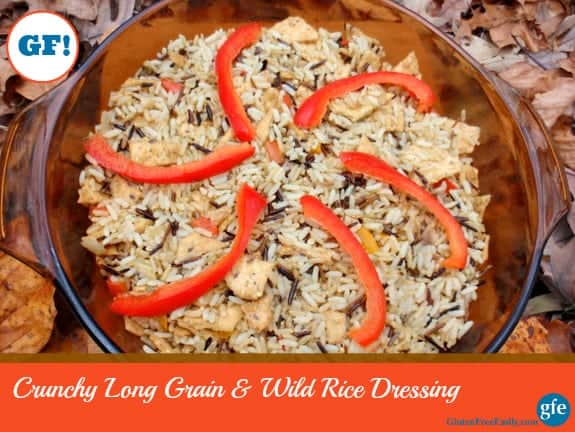 This dish is so easy to make and so flavorful. The crunchy rice and crunchy crackers add an unexpected, but wonderful dimension.
Ingredients
2 cups water
2 cups chicken broth/stock (or vegetable broth for vegetarian/vegan option)
1 1/3 cups long grain white rice
2/3 cup wild rice
1 tsp dried parsley
½ tsp poultry seasoning (more or less to taste)
1 ½ tbsp coconut oil plus 1 ½ tbsp olive oil (or equivalent amount of butter; I prefer the oil though)
1 large onion, diced
1 tsp or so minced garlic
A couple tbsp or so of colorful sweet bell peppers of choice, diced (with strips for topping, if desired)
2 cups broken gluten-free crackers (like Crunchmaster; see notes; choose vegan flavors if needed)
Instructions
Preheat oven to 350F degrees. Grease average-sized casserole dish.
Add water and broth to large stock/soup pot. Bring to a boil. (While water is coming to a boil, skip to next step). Add rice. Simmer over medium-low to medium heat, stirring frequently, for 20 minutes. Add additional water in small amounts, if needed. Rice will not be completely done cooking when the 20 minutes is up and there may be liquid still left in the pot; that is all fine. Drain rice, saving any liquid and setting aside.
Add coconut oil and olive oil to preheated skillet. Add in onion and sauté until transparent. Add garlic, peppers, and broken crackers. Stir all well and sauté until garlic and crackers are golden and fragrant and peppers are somewhat soft.
Add both the rice mixture and cracker mixture back to the pot you cooked the rice in. Stir in parsley and poultry seasoning. Add about ½ cup of the reserved leftover broth/water mix. Stir well.
Transfer mixture to greased casserole dish. Top with pepper strips for a festive look, if you wish.
Bake for about 30 minutes or until desired doneness and crunchiness.
Notes
Adapted from my friend Tavie's personal recipe.
Feel free to use other varieties of rice instead of ones shown, if you have them on hand, e.g., basmati versus long grain wild rice.
I prefer using a sweet onion.
Consider adding additional ingredients of your choice, like mushrooms, dried cranberries, pine nuts, and/or sunflower seeds. If the additional ingredients need sautéing before baking, add them when sautéing the onions, garlic, and other ingredients.
Ingredients like cranberries, pine nuts, and sunflower seeds may be added to the pot and mixed in right before transferring all to the casserole dish.
There are many varieties of crackers that will work well in this recipe. The original Multi-Grain crackers or the newer Multi-Grain crisps will make this recipe super crunchy. Note that those are the only two vegan options (I believe). Rosemary and Olive Oil crackers would be lovely. However, as I avoid soy, I prefer some of the newer soy-free flavors, like the Sea Salt and White Cheddar.
I loosely pack my 2-cup measuring cup and just crunch my crackers using my hands, but if you prefer smaller crumbs, you can place your crackers in a Ziploc bag and use a rolling pin or hammer. (Great task for the kiddos by the way … or stressed out adults!)
With the inclusion of broth and salted crackers, I didn't feel that this recipe needed any additional salt. However, taste the mixture after you've incorporated all the ingredients, but before you place it in the casserole dish. Add salt or other additional seasonings of choice, if needed.
Finally, sometimes wild rice by itself can be hard to find. In a pinch, you can use two packages of Uncle Ben's Long Grain and Wild Rice Original (Very Important: DISCARD seasoning packet as that is not gluten free) or two packages of Zatarain's gluten-free rice mix choices, like  Long Grain & Wild Rice, Wild Brown Rice Mix, or even Dirty Brown Rice Mix. These mixes are "free of gluten ingredients" and they contain A LOT of other ingredients, so please be sure to check them out to see if they fit your requirements before using.

Originally published November 21 2011; updated September 10, 2018.