For affiliate links and as an Amazon Associate I earn from qualifying purchases.
Happy Thanksgiving! Over the years, Thanksgiving has become my very favorite holiday to celebrate and today's gluten-free Turkey Tetrazzini has become my very favorite way to celebrate turkey leftovers!
Okay, other than my birthday … did I just say that? Hehe. But let's get on to today's celebration and delicious ways to use turkey leftovers, including today's recipe, gluten-free Turkey Tetrazzini. (Make it gluten-free Chicken Tetrazzini when it's not around Thanksgiving or you don't have turkey on hand.)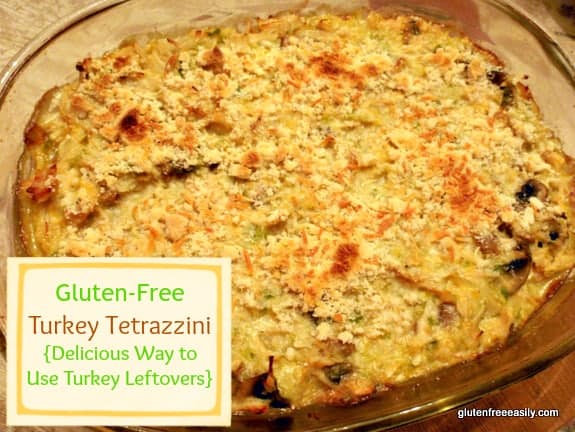 On Thanksgiving, sharing a meal with one's loved ones and counting one's blessings (past and present), and hopefully reaching out to others who could use a hand, well it doesn't get much better than that in my opinion. Today's Thanksgiving was as special as so many others. I hope yours was, too.
Please know that I sincerely count each of you in my blessings. Thank you for being here and taking the time to give so much of yourselves to me, gfe, and other gfe readers!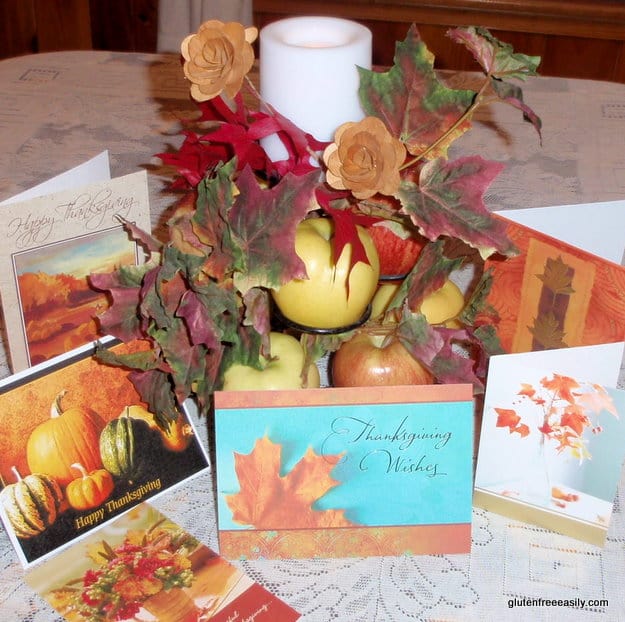 As a prelude to my Thanksgiving recipe, let me give you a little comedy relief … an important quality is to be able to laugh at one's self. I actually consider myself fairly good at that trait. I consider it a survival skill. Here's what I posted yesterday on Facebook on my experience making this recipe:
"I've got a Thanksgiving Cooking Comedy of Errors going on here. Making gluten-free Turkey Tetrazzini so I can share it with you all. First, the package of pasta that has an inside plastic package impresses me … until I find out it has a large hole in the end. So I lose half of it to the floor. Then I cook the other half and realize that I was supposed to cook it in chicken broth with other ingredients. (I only cook this dish once a year … I forget. Sigh.) So I then cook it properly.

As I'm putting away the remaining uncooked pasta (which I've put in a ziploc bag), I drop the whole thing in the dog's water dish. Blech! And water goes everywhere.

What worse than expensive gluten-free pasta? Gluten-free pasta you never even get to use! A girl's gotta laugh right? So I'm a little behind on making my recipe and getting my post done today. But it will be up later.

Turkey Tetrazzini is worth the wait, believe me, and you won't need the recipe until Friday anyway, right? Think I'm going to pull a Julia Child (the SNL version of her anyway) and start drinking wine while I cook. I don't think I could do any worse and I will be relaxed when the next "catastrophe" strikes."
If turkey is on your menu today, you might want to save a little for this recipe. Hubby's review this time around:
"That was delicious. I ate too much. It was so good … I'm almost speechless."
Silly man, but I eat those comments up! (Pun intended.) I also brought that gluten-free Turkey Tetrazzini out for the Thanksgiving meal today. It's different than what we usually eat, but all enjoyed it. You can make this Turkey Tetrazzini right away or freeze enough of your leftover turkey to make it on another day when you need some tasty comfort food.
And if you're not into Turkey Tetrazzini, below the recipe I give you a few more gfe ideas for your turkey (or even veggie) leftovers and even a couple more from my some favorite friends. Enjoy!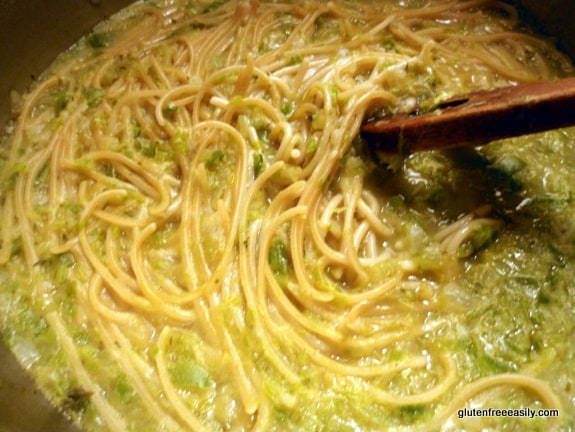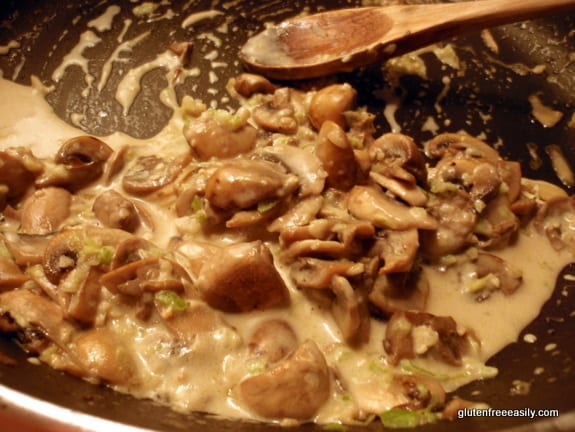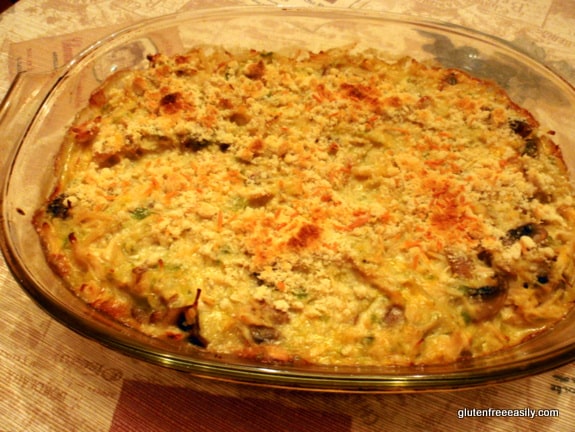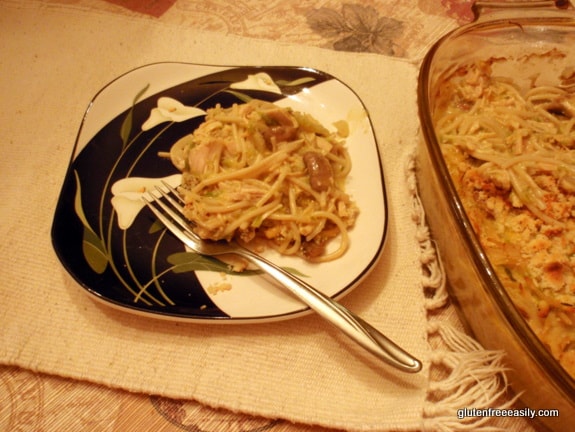 More Gluten-Free Ways To Use Turkey Leftovers
To make sure you have 10 worthwhile (aka totally delicious) ways to use your turkey leftovers, here are the other recipes for you!
~ Turkey (or Chicken) A La King
~ Turkey (or Chicken or Vegan) Pot Pie
~ Turkey (or Chicken or Beef) Enchilada Casserole
~ Savory Lemon-Kissed Sun-Dried Tomato Artichoke Turkey (or Chicken) Clafoutis
~ Saucy Cheesy Turkey (or Chicken) Veggie Pasta Skillet Supper
~ Turkey (or Chicken) Salad with Cilantro-Lime Dressing
~ Crunchy Long Grain and Wild Rice Casserole
~ Black-Eyed Pea Soup with Ham and Turkey (use up some of your ham and turkey)
~ Everything Soup (use up most of your leftovers, like turkey, ham, and veggies)
And when I want to venture outside the gfe recipe box and want to use turkey leftovers, specifically "cold" recipes in these two cases, I call upon some favorite recipes from my other blogger buddies:
~ The Best Mayo-Free Chicken Salad from Adventures of a Gluten-Free Mom (best use of macadamia nuts EVER)
~ Pesto Chicken Salad from The Whole Gang (even my non-pesto loving husband loves this recipe!)
Gluten-Free Turkey Tetrazzini Recipe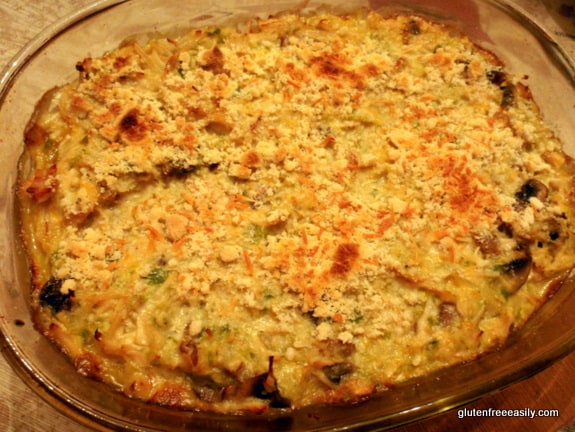 Yield: 6 servings
Gluten-Free Turkey Tetrazzini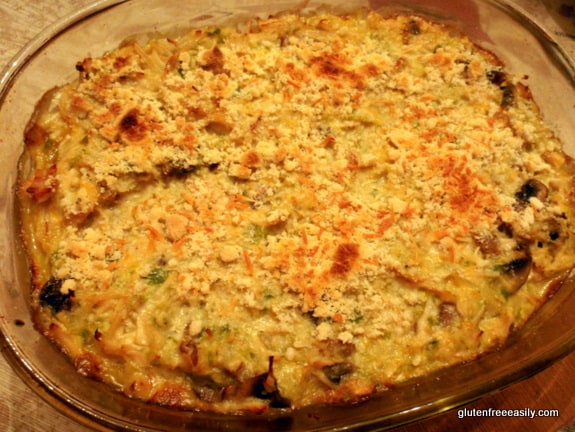 Cooking the noodles in broth with the chopped vegetables really takes this tetrazzini up a notch! It's a wonderful plan for after Thanksgiving if you simply don't want to eat leftovers for days but it's also great all year long!

Prep Time 20 minutes

Cook Time 20 minutes

Total Time 40 minutes
Ingredients
3 cups chicken broth/stock (or homemade turkey stock!)
1 ½ cups gluten-free pasta (I used gluten-free spaghetti)
1 ½ cups celery, diced
1 tbsp green pepper, diced (up to ¼ cup if you really like green pepper)
1 small onion, diced
1 clove garlic, minced
About 2 tbsp olive oil
About 1 cup mushrooms, some sliced and some chopped fine
2/3 cup milk (dairy or non-dairy)
¾ cup grated sharp cheddar cheese (see notes for dairy-free options)
1 tbsp dried parsley
3 cups cooked turkey, chopped
2 tbsp gluten-free bread crumbs, gluten-free cracker crumbs, or almond flour mixed with some olive oil or coconut oil
Instructions
Cook pasta, celery, green pepper, onion, garlic, and parsley in chicken broth for the amount of time specified in pasta cooking directions. (I emphasize the chicken broth factor, because it's easy to get caught up in old routines and just cook your pasta in water; don't do it.)
While pasta mixture is cooking, sauté mushrooms in olive oil. Once slightly browned, remove skillet from stove and slowly add milk. Return skillet to stove and cooking over medium-low heat for about 10 minutes, allow your mushroom sauce to slowly reduce and thicken some. Be sure to stir every few minutes.
In a large bowl, combine pasta mixture, mushroom mixture, cheese, and turkey; mix well.
Transfer to a greased, average-sized casserole dish. Top with your topping of choice and a few sprinkles of Parmesan cheese (if desired).
Bake at 350 degrees Fahrenheit for about 20 minutes. For browner top, increase temperature to 400 degrees last 5 minutes or use broiler with dish remaining low in the oven IF your casserole dish can withstand that much heat.
Notes
I didn't have quite enough parsley on hand so I also added some of the celery leaves; they often add great flavor in dishes.

I used 2 tablespoons of almond flour combined with one teaspoon of coconut oil for my topping. While cheese can be omitted completely in this recipe, I like it when cheese is included much more … even dairy-free cheese, or you can add a sprinkle or two of nutritional yeast for a dairy-free cheesy taste in place of the cheddar cheese and/or the Parmesan cheese.

Recipe adapted from recipe from one Mr. GFE's cousin Janet shared.

Originally published November 24, 2011; updated November 28, 2022.