For affiliate links and as an Amazon Associate I earn from qualifying purchases.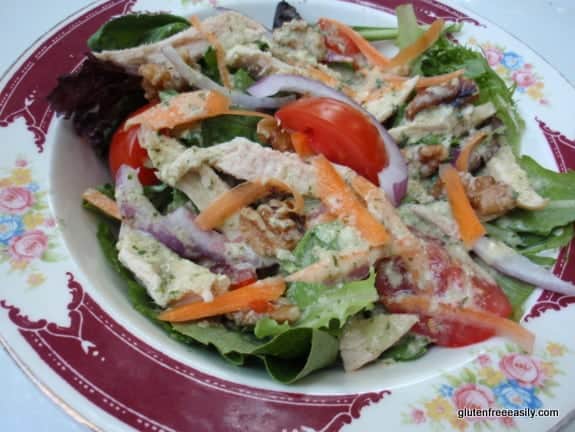 Now if you know gluten-free chef and cookbook author Elizabeth Barbone (of Gluten-Free Baking and Easy Gluten-Free Baking), you're thinking hey, she's known for her gluten-free baking, why is she making Cilantro-Lime Pulled Chicken Salad? Well, Elizabeth obviously eats more than baked goods, but if she's reading, she is probably wondering about the salad recipe connection, too! The two are only related by date of "occurrence." Please allow me to explain.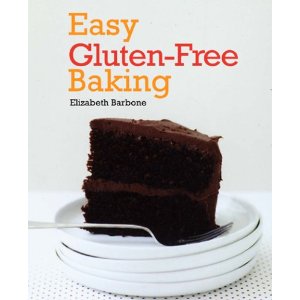 Elizabeth and I had met on Twitter several months earlier. Almost the moment she found out that I led a support group, she tweeted that she'd like to come speak to us in November. I could believe it! I was thrilled as November is the month that we hold our anniversary open house event, so the timing would be perfect! Most of our non-local speakers "Skype" in, but Elizabeth had a speaking engagement in Maryland the following day, so she actually volunteered to speak in person for our 7th anniversary open house. Elizabeth, and her traveling partner—and "right-hand—her lovely mother, came all the way from upstate New York to speak to us and give us a bread-making demonstration.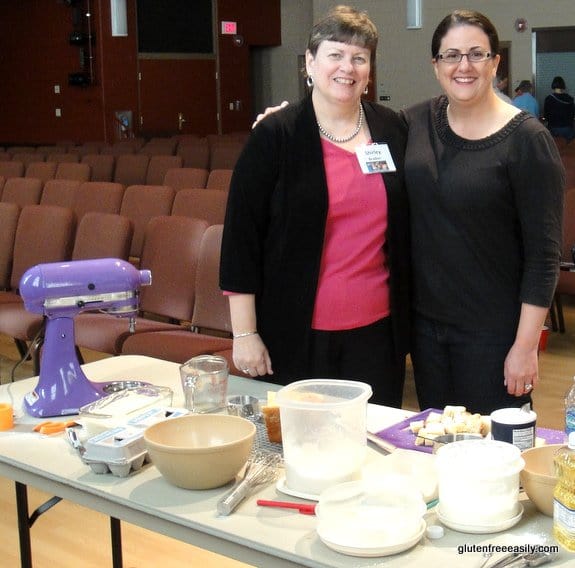 Elizabeth gave an excellent presentation with some fun props, including her purple KitchenAid mixer, a slinky, and xanthan gum. Yes, xanthan gum makes for quite an entertaining prop (even if some of us can't or don't care to consume it much or ever). The following are just a very few of the highlights from Elizabeth's presentation:
~ Xanthan gum does not replace gluten as is so often stated. Per Elizabeth, if xanthan gum replaced gluten, then all gluten-free recipe creators would be out of business. While I'm not sure I completely agree with that statement, since I focus on naturally gluten-free recipes (and tend to avoid gums in my recipes), but I do see her point! She clarified that while xanthan gum helps with gluten-free baking, it is not a one-for-one replacement for gluten. Elizabeth did demonstrate xanthan gum's binding capabilities though. Near the beginning of her presentation, she put some xanthan gum in a cup and added a small amount of water. She set the cup aside for a while and then passed it around for folks to see and touch. By the time the cup had made its way around the room and back to Elizabeth, the xanthan gum and water had completely congealed. In fact, she turned the cup upside down and the xanthan gum didn't budge. Binding power for sure!
~ Gluten can be viewed like a slinky when it comes to the elasticity it gives to recipes, especially breads. Think of the give and take of working with gluten-filled dough as an example. Baking without gluten presents unexpected challenges and a learning curve, but it can be accomplished. Tried and true flour mixes and recipes can make gluten-free baking enjoyable and successful.
~ When you buy baking mixes, you are paying someone else to mix your flours. (My thoughts: I agree and typically do not buy mixes myself. There are many bloggers who share their flour mix recipes on their sites. I tend to use either an all-purpose flour mix—which I create by mixing Asian white rice flour and cornstarch—or I use almond flour and/pr coconut flour. If you are challenged in this area, you can certainly take advantage of gluten-free bloggers' expertise. However, I understand that many are very happy to pay someone else to procure and mix their flours. You may be one of them and that's fine, too, of course!)
Elizabeth had made bread in her bread machine in her hotel room and all got to sample and enjoy it. Folks met with Elizabeth and her mom before and after her presentation asking questions as she signed her cookbook they'd purchased.
After the open house concluded, my dear friend, Jennifer, and I headed out to check out a nearby kitchen shop and then grab a bite to eat. I wanted to take her to a favorite spot, Bistro Bethem, which often has avocados stuffed with crabmeat, greens, and pine nuts on the menu. It's one of my very favorite light meals; it makes for a truly divine and healthy lunch. However, it was that mid-afternoon time of day when some restaurants close and unfortunately that restaurant had just done so.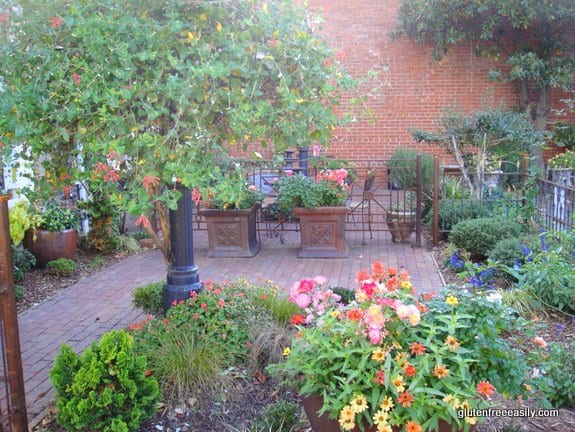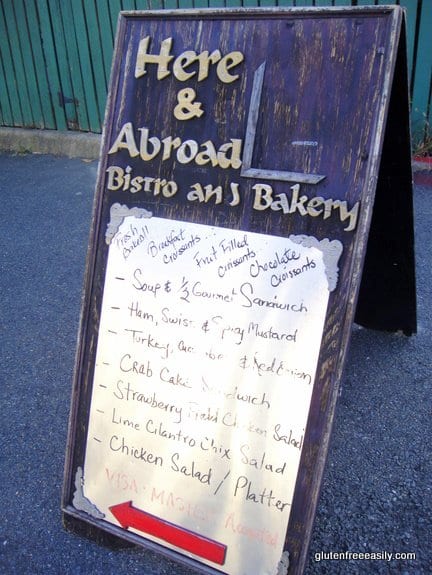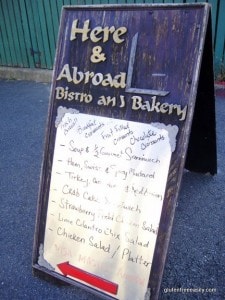 As we ambled along the streets looking for inspiration, Jennifer searched on her iPhone for possibilities, but as we walked while she "searched," we spied Here and Abroad Bakery and Bistro tucked into the corner of a delightful courtyard. Clearly, Here and Abroad did present some potential cross-contamination problems as it is both a bakery and a bistro, and not a gluten-free one. But Jennifer and I quizzed the owner who himself had food allergies (seafood in his case) and were satisfied with his answers. I'm not advising that you take that route. I'm just sharing my individual experience. I am always very concerned about the fact that flour in stays in the air for up to 72 hours and even ingesting a little of that airborne gluten can do a major number on me. While I don't advise others to take this risk, if you eat anywhere that makes its own gluten-full baked goods on the premises, you already are.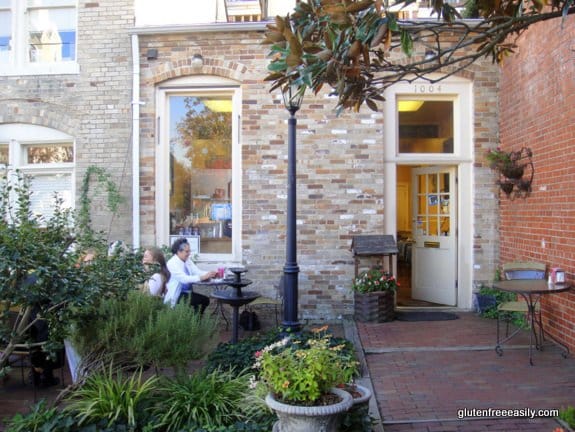 Here and Abroad appeared spotless with its ingredients and the gluten-full bakery items were enclosed in glass cases for view by all. So we "went for it" and both ended up ordering the Lime-Cilantro Chicken Salad. I'm not always crazy about cilantro, but Jennifer was certain this salad would be good and she was so right. It was one of the best salads I've eaten in my life! How good was it? I loved it so much that when my sister and I went back downtown for the annual holiday open house event the following day, I steered her to Here and Abroad and I ordered the salad again. It was just as good the second time around. Here's a photo Jennifer snapped with her iPhone.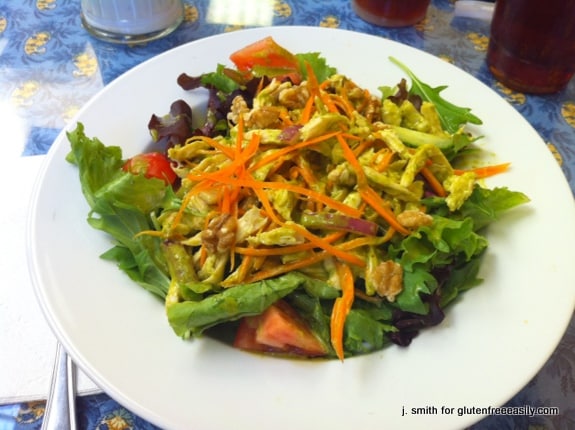 Here and Abroad's Lime-Cilantro Chicken Salad
So it was obvious that I had to re-create the recipe at home. Jennifer found a similar recipe in a magazine (I don't know which one), snapped photos of it with her iPhone, and sent them to me for inspiration. Mine is a lighter version—which mostly means fewer ingredients—but I'm quite happy with it. Hope you will be, too!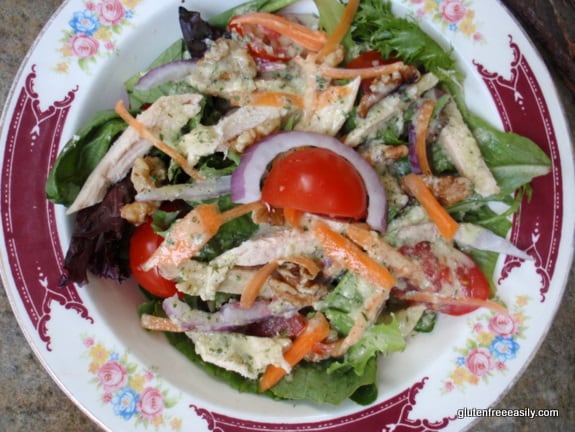 Yield:
Pulled Chicken Salad with Lime-Cilantro Dressing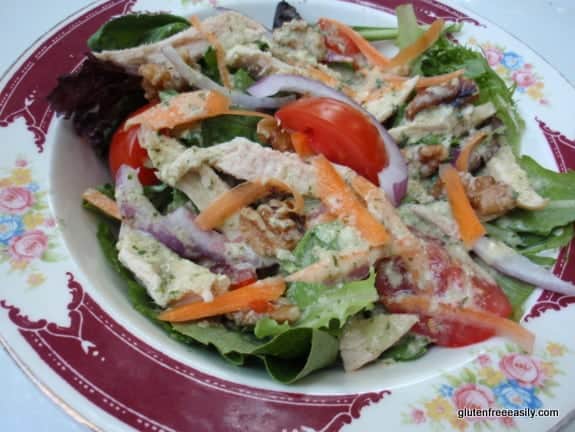 Ingredients
Pulled Chicken Salad
4 - 6 cups salad greens; Romaine mixed with other greens work well (I used Romaine, spring greens, and baby spinach)
Some red onion, halved or quartered, and thinly sliced
Some tomatoes, diced or quartered
Some carrots, shredded
Some walnut halves or pieces (optional, but I like the crunch and nutritional factors)
Small pieces of pulled chicken (see notes for additional info and vegan option)
Cilantro-Lime Dressing
2 tbsp extra virgin olive oil (or similar; I recommend a healthy oil with some flavor of its own)
1 tbsp minced onion (or shallots; I use a yellow onion most often)
1 tbsp chopped cilantro
3 tbsp fresh lime juice (about the juice of one lime)
1 tsp Dijon mustard
¼ tsp sea salt
¼ tsp black pepper
1 garlic clove, crushed or minced (I'm sure I added more, but that's just me)
Instructions
Pulled Chicken Salad
Mix salad greens. Top with red onion, tomatoes, carrots, walnuts, chicken, and finally cilantro-lime dressing.
Cilantro-Lime Dressing
Add all ingredients to your blender pitcher. Blend for a minute or two until fairly smooth. I blended until fairly smooth, but a few flecks of green from the cilantro remained. If you don't have a blender, you may put all ingredients in a jar, seal, and shake about a minute. Just know that your dressing will have bits of onion, cilantro, and garlic that stand out, which is not a bad thing in my opinion.
Drizzle Pulled Chicken Salad with Cilantro-Lime Dressing immediately before serving.
Notes
Honestly, most often, my "pulled" chicken comes right off of a gluten-free rotisserie chicken at my house, but here's a super easy slow cooker recipe from Stephanie (A Year of Slow Cooking). I also like to take the frozen carcasses of rotisserie chicken or roasted chickens and add them to a large stockpot of boiling water (with a little vinegar or lemon juice added to extract the calcium from the bones). I remove the pot from the heat and let it sit, covered, for about 30 minutes. Then I remove the carcass to cool just long enough so that I can then easily remove all the chicken from the carcass. (I save the "broth" to make a light soup or to use with cooking vegetables.) You will be amazed at how much chicken comes off of a chicken carcass! Use the chicken for salads like this one or any chicken dish, like Chicken Enchilada Casserole. For a vegetarian/vegan option, chickpeas or white beans would make a lovely protein-rich substitution for the chicken. (This vegan Chickpea Salad from Mary of Gluten-Free Spinner has many of the same flavors and I love it, too!) But make no mistake … the dressing is key here. You'll probably want to double the ingredients when making the Lime-Cilantro dressing if making more than one large salad.
This post is linked to Allergy-Free Wednesdays.