For affiliate links and as an Amazon Associate I earn from qualifying purchases.
When: Tuesday, October 4, 6:00 pm
Where: Shirley's Home in King George, VA
(Note: Please email Shirley for directions if you are local and plan to attend.)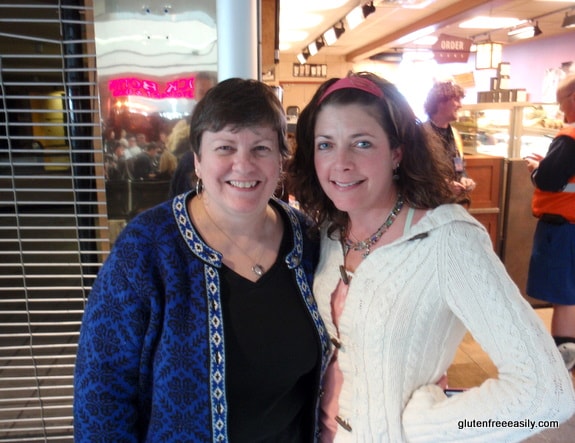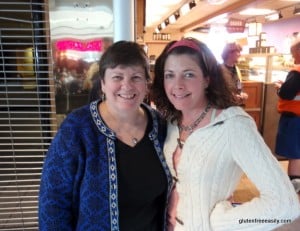 Me and Jules at Denver Airport After Our Chance Meeting
Who: Our presenter will be, Jules Shepard. Jules will join us via Skype. She'll be talking about the push for gluten-free labeling that was spearheaded by 1 in 133, a non-profit organization that she co-founded with John Forberger. She'll share the history of this organization, including the first Gluten-Free Labeling Summit that was held in Washington, D.C. last May. That's the event for which the tallest gluten-free cake ever was built! At least one of our members—Delise Dickard—was in attendance. (Delise was happy to meet one of the foremost celiac experts, Dr. Alessio Fasano, head of the University of Maryland Center for Celiac Disease Research, who she had interviewed prior to their actual meeting. See the photo of Delise and Dr. Fasano below with part of the cake and Jules' arm shown in the background!)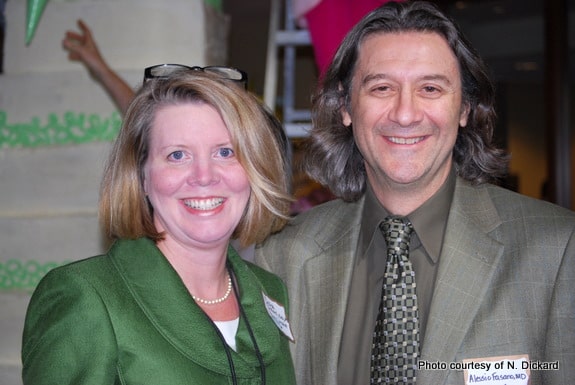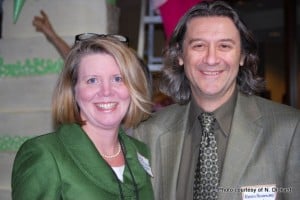 Jules will give us the current status of the gluten-free labeling law and what is coming up in the near future. But FYI: Comments are now open for your opinions on the proposal for gluten-free labeling. (The FDA wants to know: What do you think should be the parts per million standard set for allowable gluten? What is your opinion of a "low gluten" label?)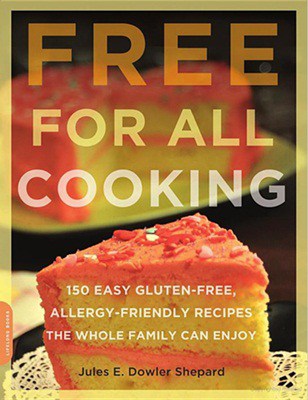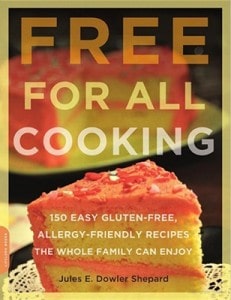 Jules is the creator of Jules Gluten-Free Flour—a flour mix that many refuse to bake without! Check out her site for her flour, baking mixes, certified gluten-free oats, and more. Jules is also the author of a resource book/"get started" guide, The First Year: Celiac Disease and Living Gluten Free: An Essential Guide for the Newly Diagnosed, and two cookbooks: Free For All Cooking (which I reviewed here) and Nearly Normal Cooking for Gluten-Free Eating, as well as numerous e-books you can find on her site. She'll be open to any of your questions after her presentation. Because Jules is always baking (seriously, Jules bakes about 24/7, and in massive quantities!), she may even give us a bit of a cooking demo. You'll have to join us to find out! One final, sweet note … be sure to check out the recipes on Jules' site. Her most recent post is a recipe for Chocolate Zucchini Cake—it looks heavenly.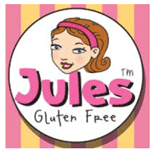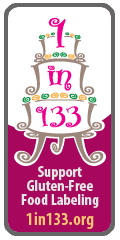 What: This is our regular monthly meeting. Before Jules Shepard's presentation, we'll begin with our shared gluten-free meal (many items will also be dairy free, refined sugar free, etc., but all delicious). This month's food theme will be pizza! Our annual pizza meeting is by far our most popular, and yes, there will be some dairy-free pizzas and pizza "options," too (pizza muffins, anyone?)! For dessert, we'll enjoy whatever goodies that members bring plus some ice cream (what I make will be dairy free) using all the ice cream cones that I recently purchased. (I went crazy … I think I have enough ice cream cones for a full year of eating!)
Originally published September 17, 2011; updated January 5, 2022.