For affiliate links and as an Amazon Associate I earn from qualifying purchases.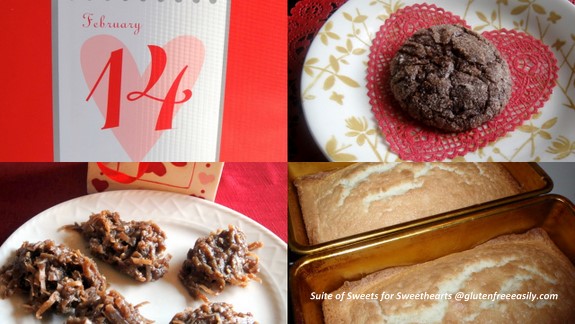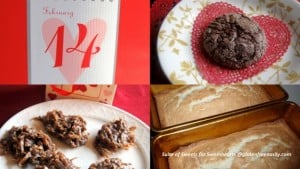 Suite of Suites for Sweethearts continues with a review of Free For All Cooking by Jules E. Dowler Shepard and includes one of Jules' recipes from her new book, her gluten-free Coffee Cake flavored with coffee.
You may know Jules from her all-purpose gluten-free flour mix and other baking mixes; from her other books; from her site, GF Jules; and from her numerous efforts to make gluten-free living better and safer for all.
You may remember that I mentioned Jules the other day in regard to her post on what gluten-free certification for pro truly means, and whether in fact, Post Pebbles cereals can be considered gluten free. (You can read Jules' post here.)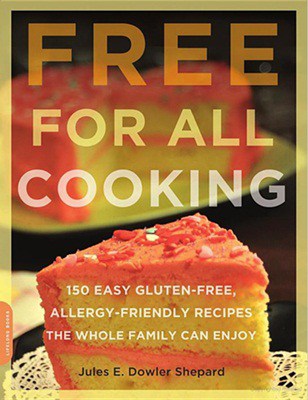 So let's take a look at her new cookbook, shall we? Free For All Cooking starts out with heartfelt acknowledgments from Jules. She thanks "all those along the way who have shared their food needs and restrictions with me" and states that their experiences and her ultimate solutions for them inspired much of the content of her book.
She also thanks family and friends, including Dr. Alessio Fasano, and his team at the Center for Celiac Research and Treatment (now located in Massachusetts General Hospital in Boston). To me her gracious acknowledgments set the warm and inviting tone for her book, which incidentally is subtitled, "150 Easy Gluten-Free, Allergy-Friendly Recipes the Whole Family Can Enjoy."
Following the acknowledgments and the foreword by Dr. Fasano, comes the preface—a brief but eye opening section that further explains Jules' motivation for writing Free For All Cooking. Did you know that the eight major allergens that must be shown on food labels per the Food Allergen Labeling and Consumer Protection Act (which went into effect January 2006) account for 90% of all "allergic" reactions?
Of course, those of us who are gluten free sure wish that manufacturers were required to show all "gluten" sources on the label versus only wheat. An establishment of the requirements for a "gluten free" label could potentially resolve that problem, but years have passed since that was supposed to happen. However, I digress.
The next section of Free For All Cooking is Part I, Essentials of Gluten-Free Cooking. This 26-page section is a gold mine of information with specifics not only on gluten-free cooking, but also guidance on cooking free of other allergens. Jules offers substitutions for dairy, eggs, soy, and nuts. This section is also where Jules provide her all-purpose gluten-free flour mix recipe that can be used for the recipes that require flour. Note that this recipe is not identical to Jules' flour mix that is available for purchase; that flour mix contains Expandex, modified tapioca starch (note that modified in this case does not mean genetically modified). She does state that her retail all-purpose flour mix may be used in all recipes requiring flour, but she did not simply state that as a required ingredient with no other options; which I think is admirable.
Next up is Part II, The Recipes, which are divided into categories. This section comprises 200 of the 236 pages in Free For All Cooking and as stated previously contains 150 recipes. Despite its super allergy-friendly status, I consider Jules' cookbook to be a mainstream, multi-purpose cookbook. I guess it goes back to the book's subtitle, "recipes the whole family can enjoy." So there are classics like:
Pancakes
Scones
Hushpuppies
Mashed Potatoes
Crescent Rolls
Crab Cakes
Macaroni and Cheese
Eggplant Parmesan
Green Bean Casserole
White Birthday Cake
Best Brownies Ever
(Note that some of Jules' recipes are made healthier than the original, traditional versions.)
There are many recipes from this book that are on my "to make" list. In fact, there are very few recipes that I don't want to make. Here are the recipes at the top of my t0-make list:
Fried Green Tomatoes
Mango Avocado Salsa
Chunky Shrimp Dip
Sweet Potato Biscuits
Tempura Veggies or Shrimp
And, finally, here's the recipe I did make, Coffee Cake. Jules' version actually includes brewed coffee (a coffee cake that includes coffee—now that's both clever and tasty!), brown sugar, and streusel topping.
I opted to use coconut palm sugar in place of light brown sugar and skipped the streusel topping, going for just a sprinkle of cinnamon and sugar (palm sugar) instead. I also used my Two-Ingredient Gluten-Free All-Purpose Flour Mix and used almond flour instead of mesquite flour. The cake came out with a nice rich flavor but was just a tad dry. I'm certain that was due to my modifications though as coconut palm sugar is not as moist as light brown sugar. Next time (which may be this weekend for my support group's tea event!), I'll use a bit of honey with the coconut palm sugar for some added moisture or simply use the light brown sugar that is called for and be sure to add the streusel topping. I expect that the results will be just like Jules' original version—in other words, scrumptious.
Gluten-Free Coffee Cake Flavored with Coffee Recipe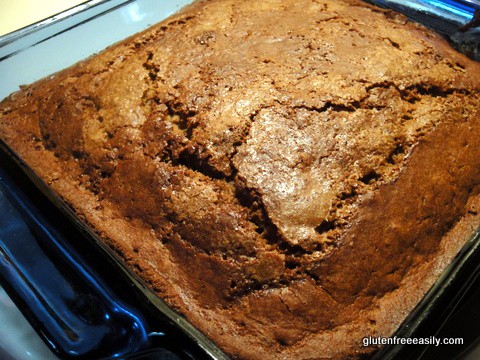 Yield: 9 to 12 servings
Gluten-Free Coffee Cake Flavored with Coffee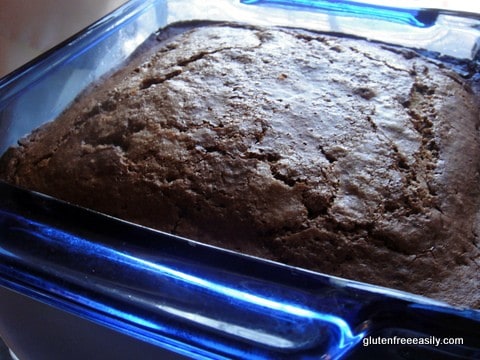 From Jules: "I tend to think any cake is fair game for breakfast, but, if you're more traditional, you'll love this crumb-topped classic. Time it just right so you can serve and eat it warm, and your day will be off to a fabulous start—guaranteed."

Prep Time 10 minutes

Cook Time 40 minutes

Total Time 40 minutes
Ingredients
Cake
1 ripe banana
½ cup black coffee, prepared
½ cup packed light brown sugar
½ cup butter or nondairy alternative, softened
2 large eggs or egg substitute of choice (like Ener-G Egg Replacer or Egg Substitute)
2 teaspoons vanilla extract, gluten-free
2 teaspoons pumpkin pie spice
2 teaspoons baking powder, gluten-free
½ teaspoon baking soda
Streusel Topping (Double if you really like streusel. Not shown in photo.)
2 tablespoons butter or nondairy alternative, softened
2 tablespoons light brown sugar
½ teaspoon cinnamon
Instructions
Preheat the oven to 350F degrees (static) or 325 degrees (convection). Oil or spray an 8 x 8-inch baking pan.
Mash the banana in a medium-size bowl. Pour coffee over the banana and set aside. Beat the sugar and butter together in a large bowl until light and fluffy. Add the eggs and vanilla and combine well. Mix in the mashed banana and coffee then gradually stir in the remaining ingredients, mixing until thoroughly combined.
Pour the batter into the prepared pan and set aside.
In a small bowl, stir together the topping ingredients with a fork. Crumble over the cake, then cut through the topping with a butter knife in a crisscross fashion lengthwise, then crossways, feathering the topping in the top of the batter.
Bake for 40-45 minutes, or until the edges are lightly crisp and a cake tester inserted in the middle comes out clean.
Notes
Reprinted with permission from Jules E. Dowler Shepard and DaCapo Press

As you might have anticipated from the other posts in the SSS event, I'll be offering another copy of Free For All Cooking that I purchased as part of the final giveaway package for Suite of Sweets for Sweethearts. That package includes the Cook IT Allergy Free app and the Go Dairy Free book as well. ALL comments on the Suite of Sweets posts will be entered for the final giveaway package, so get as many entries as you can by following the guidelines above!
Full disclosure: The copies of Free For All Cooking were provided free of charge; however, this is not a paid review. The opinions expressed here are strictly my own.
Originally published February 22, 2011; updated April 7, 2022.