For affiliate links and as an Amazon Associate I earn from qualifying purchases.
This gluten-free, dairy-free Slow Cooker Black-Eyed Pea Soup with Ham and Chicken recipe is one that I adapted from a slow cooker recipe of one of my favorite gluten-free bloggers who also happens to be one of my favorite people. That would be Stephanie of A Year of Slow Cooking.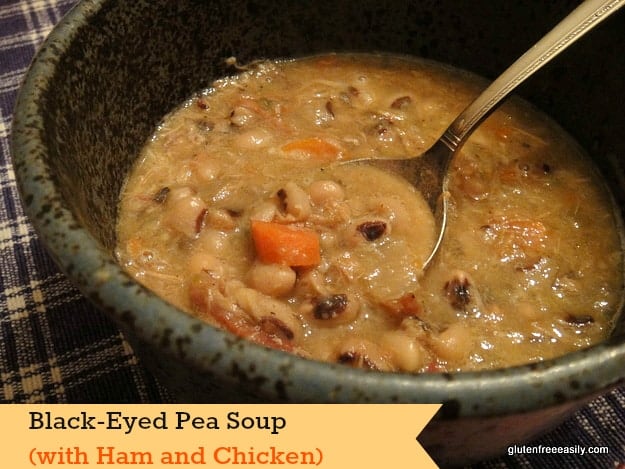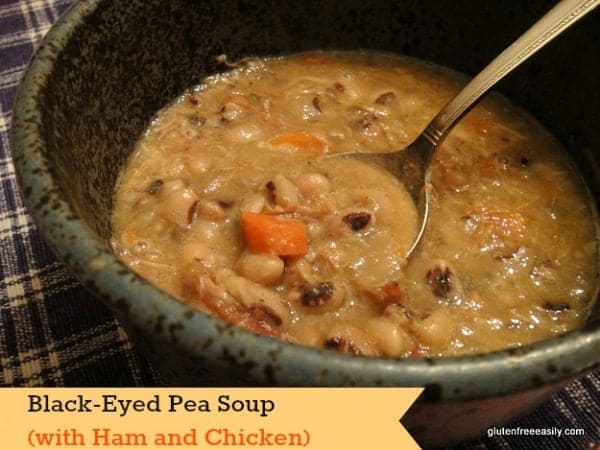 For a year, Stephanie literally cranked out crockpot recipes day after day—without fail. Now she stays busy with so many other things including two other blogs (that makes three in total), a new baby (that makes three children), a hubby, and so much more. However, she still gives us, her loyal readers, enough recipes on her slow cooking blog to keep us happy.
All of her recipes are gluten free, but I love that so many of them are naturally gluten free. That's a large part of the gfe approach. For one thing, it just makes life easier not to have to remember to order a case of gluten-free X or to have to run out to get gluten-free Y, particularly since there are no gluten-free specialty items in my grocery store.
So, in my opinion, cooking with real food just makes sense for convenience. That may seem contradictory to many, but it's true. But let's get to my latest favorite recipe of Stephanie's.
Stephanie posted a Black-Eyed Pea Soup recipe for New Year's Day. I have loved black-eyed peas long before they were the name of a hip musical group.
Give me some black-eyed peas and I've got a wonderful meal. So, this recipe has been in the back of my mind ever since Stephanie shared it.
With a support group meeting coming up, I wanted a dish that would serve many, but I wanted to use mostly what I had on hand. Stephanie's recipe calls for spiced sausage, but I didn't have any.
My mom and my sister always save the ham bones from holiday meals for me so I can use them to make soup from scratch. Sometime that's potato soup, but more often than not, it's a soup that combines veggies and other meat, like chicken or turkey (or sometimes small amounts of several meats, like in my Everything Soup).
My sister had given me a nice big ham bone, with a decent amount of meat left on it. The freezer yield two chicken carcasses. I also had a big bag of carrots and package of celery in the refrigerator just waiting for some action.
I added a few inches of water to my big stockpot and brought it to a boil and then added my frozen chicken carcasses. I let them simmer for a while as I did other things in the kitchen.
Occasionally, I'd stir them, and finally, I turned the burner off and left the lid on a while. Once I was sure the meat was ready to be picked off the bone, I put a colander inside another stock pot and poured the whole pot through the colander. My lovely broth was in the pot and the chicken—bones and all—remained in the colander.
Once that cooled a few minutes, I picked the chicken off the bone and set it aside. This is really a great way to get the most from a chicken and not have waste.
Even if I buy a rotisserie chicken at the store, I know we will eat a few meals from the chicken before I freeze it and it eventually gets turned into great broth and other meals. So even at a price of $6.99 for a rotisserie chicken (be sure it's truly gluten free), I can end up with several meals and at least a quart of chicken broth. That sounds like a bargain when you look at it that way.
So imagine how much of a savings, roasting your own chicken can be. I often make broth from my chicken carcasses; then I use the "found" chicken for soup or other favorites like chicken pot pie and chicken and rice casserole. However, feel free to use safe packaged gluten-free chicken broth and chicken from cooked chicken breasts, etc. for this recipe.
Before we get to the recipe, I have two cooking confessions. Confession #1—This is the very first time I've ever soaked black-eyed peas.
I've always used canned black-eyed peas before, although one has to be careful to find good ones. (Some canned black-eyed peas are very mushy and come in a thick unappetizing broth. Other brands contain just black-eyed peas in salted water and taste pretty good.)
These dried black-eyed peas are far better than any of the canned varieties and almost seem dainty in comparison, even after soaking. As Alta added in comments, fresh black-eyed peas are the very best when you can get those. She said that frozen black-eyed peas come in a close second.
As both Alta and Stephanie said, black-eyed peas offer a wonderful, earthy flavor. I'll definitely be using more dried black-eyed peas.
I've never even seen frozen black-eyed peas before, but I'll look for those, too. One benefit of using dried black-eyed peas is that like other dried beans, they are very inexpensive.
Confession #2—I've never used an immersion or "stick" blender before. I've had one stashed in a cabinet for years. Son had received one as a gift for dorm life for making milkshakes and such. That involved what he considered to be work, so he left it behind for me to use instead.
When Stephanie's recipe called for this type of blender, I pulled it out and was delighted at how well it worked. I'll be using that blender a lot more for soups, sauces, etc.
Several readers commented on Stephanie's post that they didn't even like black-eyed peas, but loved this soup. So, if you're not a black-eyed pea lover, you still might want to give this soup a try.
Several of my members commented on how much they enjoyed this soup the other night. I heard the words "comforting" and "homey." On a cold evening with alternating rain drops and snow flakes, this soup was indeed very welcome.
Even those who didn't comment must have enjoyed it, because there was little left from the full slow cooker. I served this soup with mini-corn muffins and that made for a great combination.
Because soup always thickens in the refrigerator overnight, I added some leftover chicken broth to make my mug of soup for lunch yesterday. For dinner with these leftovers though, I'll just reheat the thickened soup and serve it over some mashed potatoes. This thickened Slow Cooker Black-Eyed Pea Soup would also be great over rice or noodles.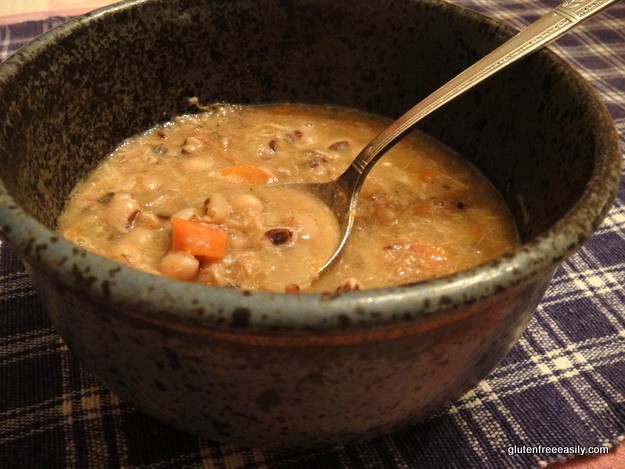 Slow Cooker Black-Eyed Pea Soup (with Ham and Chicken) Recipe
Yield: 12 servings
Slow Cooker Black-Eyed Pea Soup (with Ham and Chicken)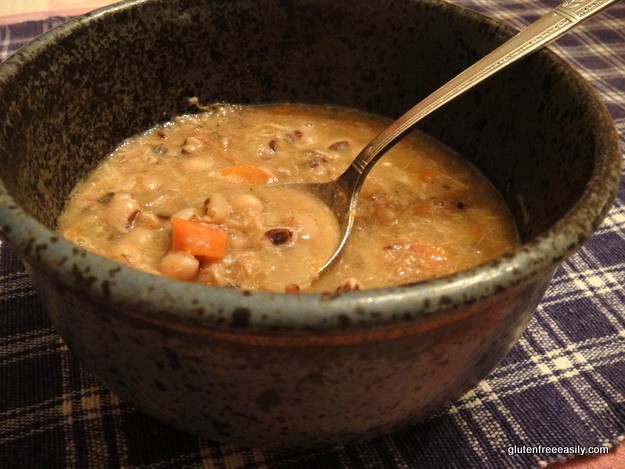 This recipe is a truly wonderful way to use both your leftover ham and chicken (or turkey). It is so hearty and flavorful. Freeze your leftovers after Thanksgiving and make this soup for fine eating--and good luck!--on New Year's Day.
Total Time
12 hours
15 minutes
Ingredients
1 pound dried black-eyed peas (I don't recommend using canned as a substitution, but fresh or frozen would work well)
1 ham bone (ideally, with some meat remaining on it)
2 cups, cut-up chicken (or turkey)
2 diced onions
2 cups diced or sliced carrots (I prefer slices, but I halve the larger slices)
1 cup diced celery
6 cloves garlic (I used 3 tbsp minced garlic)
6 – 8 cups of chicken broth (I used my homemade broth and just kept adding until my crockpot was almost full)
1/2 tsp Italian seasoning
1 tsp coarse sea salt (any salt will work though)
Instructions
Soak your beans overnight. Drain and pick out the undesirables (e.g., discolored beans) in the morning. (If you don't have time to soak your black-eyed peas, you can add them to a large pot, cover them with water, bring water to a boil for 2 minutes, and then drain the black-eyed peas in a colander and give them a quick rinse before using.)
Use a 5- to 6- quart crockpot. (I used my 6-quart oval programmable crockpot.) This recipe will serve a lot. It served at least a dozen folks at my support group meeting. (We had about 25 folks, but not all ate soup. Those who did all enjoyed at least one full mug.)
Dice the veggies, and add them to the crockpot with the black-eyed peas that have been soaked and drained.
Pour in broth, and stir in Italian seasoning and salt.
Add ham bone. You can also add the chicken at this point, or save it until closer to the end of cooking time. As your chicken is already cooked, it's your preference on when you want to add it. I did add mine at the beginning and the soup was great, but adding it at the end would have also worked and kept the chicken in nice little chunks.
Cover and cook on low for 8 hours, or on high for about 6. About a half hour to an hour before serving, use an immersible blender to smash up about 1 cup of beans. If you don't have an immersible blender, scoop out 1 cup of beans, blend them in a traditional blender (be very careful as hot liquids tend to "explode" when blended), and add back to the soup. You will really only need to blend for a few seconds.
Stir after blending. The soup will thicken and have the most wonderful color.
Notes
This recipe was adapted from Stephanie O'Dea's Black-Eyed Pea Soup over at A Year of Slow Cooking. If you'd like fewer servings or would like to use a smaller crockpot, don't just halve this recipe. You'll want the same amount of black-eyed peas, 2 cups of meat, 4 cups of broth, and about the same amount of seasonings. Be sure to take a look at Stephanie's recipe, too, which serves 8.
Stephanie suggests adding Tabasco sauce to taste after you've ladled your soup into your bowl. We enjoyed it without, but if you like to add a little zip to your soup, that might be an option for you.
Any time, we want a little taste of hot at our house, we tend to add some Texas Pete hot sauce (bit of trivia--many of the peppers used in Texas Pete are grown locally) or Sriracha sauce.
Originally posted March 4, 2010; updated November 27, 2022.