For affiliate links and as an Amazon Associate I earn from qualifying purchases.
UPDATE: This giveaway for Ron Hoggan's publications is now closed. Thanks so much to all who took the time to enter and spread the word to others! The winners are as follows:
1) gaile—gaile won a copy of Dangerous Grains.
2) Kay Guest—Kay will receive a copy of Smarten Up!
3) Neva—Neva will receive a copy of Dangerous Grains.
4) Casey M.—Casey will receive a copy of Smarten Up!
5) Jennifer R.—Jennifer will receive a copy of Iron Edge.
Winners, please email me your mailing address so I can get these in the mail to you!
After Ron Hoggan, Ed.D., spoke to my support group in November, he donated some of his educational materials on the effects of gluten. (You can read more on Ron and 20 Things You Should Know About the Impact of Gluten here.) Ron said that I could use his donated materials as I wished. I gave some away via a drawing at my subsequent support group meeting. I added another set to our group's library. Still one copy of his book, The Iron Edge, and two copies of his video, Smarten Up! (How Gluten Grains Impede Learning and Behavior), are in my possession, so I am offering them up for a giveaway. In addition, I am purchasing two copies of Dangerous Grains to add to this giveaway.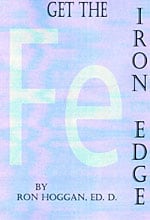 The Iron Edge examines iron deficiency; its effect on learning, memory and health; the necessary tests; and how to resolve iron deficiency naturally.
Smarten Up! is a compilation of videotaped excerpts of Ron Hoggan's presentations showing how gluten-containing grains are detrimental to learning in humans. Admittedly, the technical quality of this video is not the best, but the content is top notch. In fact, the support group member who won this video just shared with me how surprised she was at the information Ron shared on gluten's impact on learning.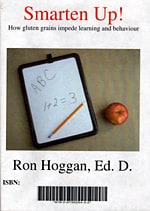 Dangerous Grains shares case histories—including Ron Hoggan's own and that of his family members—and over 200 symptoms and conditions related to gluten. It truly is eye opening.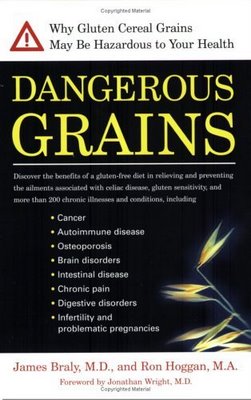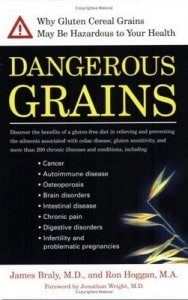 I'm really excited about sharing these very informative materials. There will be five winners. Frankly, I think this is my best giveaway yet. Knowledge really is power, and, as such, knowledge can be transformational.
This giveaway will end Sunday, March 14, at 9:00 PM Eastern. You can enter the giveaway by just leaving a comment. The other ways listed are for additional entries, but are not required. But, I'm so excited to share these materials with my gfe readers that I hope you will spread the word!
1. Leave a comment below and please tell me if you have a preference on which item you'd like to receive (I'll try to oblige).
2. Tweet about the giveaway sharing the link and leave a comment saying that you did.
3. Post a message on your Facebook page about the giveaway and leave a comment saying that you did.
4. Post about the giveaway on your blog and leave a comment saying that you did with your link.
All entries will be tracked by the individual comments, so you must enter a separate comment to get an additional entry. One comment showing you did all these things will only be counted as one entry, so please remember to note each by separate entries.
Truth be told, if I had my way, I'd be handing out one of each of these valuable educational items to every possible person in the world, but alas I must stick with this number. So, best of luck to all!
Shirley
Not just gf, but gfe!