For affiliate links and as an Amazon Associate I earn from qualifying purchases.
Gluten-Free Savory Chicken Clafoutis with Sun-Dried Tomatoes and Artichoke Hearts. Does that recipe name surprise you? While a proper clafoutis is a French dessert consisting of cherries suspended in a pancake-like batter; other fruits are often used in clafoutis as well. Although officially it seems they then become flaugnardes.
Flaugnardes is not nearly as fun to say as clafoutis, nor does it sound anywhere near as appealing even if you have the proper French enunciation. Clafoutis comes from the verb clafir, meaning "to fill." So why not fill your clafoutis with savory ingredients instead?
R. Allen Smith on the Every Day with Rachael Ray site did just that with Chicken-Tomato Clafoutis. The concept intrigued me and I actually tried the recipe in its original form, but I felt the recipe needed tweaking quite a bit.
I wanted to include my favorite ingredients to create a better combination of flavors and also make this dish potentially dairy free and vegetarian, if anyone wanted to go that route. So I added lemon juice, artichoke hearts, paprika, and Dijon to create this gluten-free savory chicken clafoutis, Savory Lemon-Kissed Sun-Dried Tomato Artichoke Chicken Clafoutis to be exact. Wow, that's a mouthful! But a delicious one!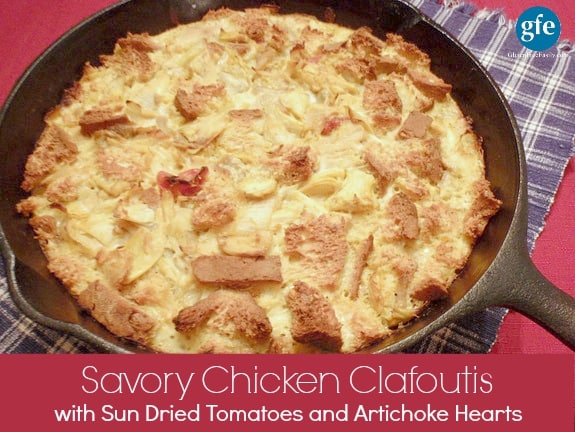 The original recipe called for baguettes, but as much as I love Against the Grain baguettes (and I really do, but only about once a year), I prefer using Rudi's Multigrain Bread for this recipe. It's more readily available locally and when toasted works well for this recipe but any good gluten-free bread will work fine in this recipe.
Let's talk about Rudi's Gluten-Free Bakery for a few minutes. I had the pleasure of attending a bloggers' dinner the folks at Rudi's hosted at Wildfire Restaurant in Chicago at the end of April. The timing coincided with the Gluten-Free and Allergen-Free Expo. I met Silvana Nardone (Silvana's Kitchen) for the very first time in the lobby of the hotel before the shuttle bus headed to Wildfire. Actually, I did that thing I do … I called out "Silvana!?" Then I introduced myself and we talked nonstop on the shuttle bus until we reached Wildfire. It was great!
My dear friend, Heidi (Adventures of a Gluten-Free Mom), was my date and came straight from the airport. I also met Brittany Angell for the very first time as we gathered in our reserved dining room at Wildfire. Her husband, Rich Angell, was also in attendance with her.
Local bloggers Betsy Thompson (Gluten-Free Betsy) and Andrea McCarthy (Rockin' Gluten Free) were also in attendance. It was my first time meeting both of them, too, and they are sweethearts, so that was another treat!
Others in attendance were Carol Shilson, Executive Director of the University of Chicago Celiac Disease Center (who I met at the General Mills Gluten-Free Bloggers Summit), and her family; Joel and Mary Schaeffer of Allergy Chefs; and Rudi's warm, friendly, and helpful marketing and contract personnel.
Wildfire Restaurant is known for its commitment to serving safe, delicious food to those who are gluten free. From the moment we walked in the door, we were treated exceptionally by both Rudi's personnel and the folks at Wildfire.
There was a lovely salad, Wildfire's own gluten-free pizza, "burgers" of one's choice (Black Angus beef, turkey, or Portobello and goat cheese) served on the new Rudi's gluten-free hamburger buns, and flourless chocolate cake with ice cream and hot fudge topping. All the food was excellent.
There were a few brief presentations interspersed throughout the evening. Ruth Hayden, director of training and the resident gluten-free expert of Wildfire Chicago, joined us for a few minutes to talk about Wildfire's dedication to serving those who live gluten free safely and well, including the creation of their own thin crust gluten-free pizza. Doug Radi, Vice President of Marketing for Rudi's, spoke about the long history of the company and its addition of gluten-free bakery to its company. He told us that once Rudi's committed to offering a quality gluten-free bread using organic ingredients, it took a few years before it was deemed ready to offer to the consumer. He also reminded us that Rudi's gluten-free products are certified gluten free by the Gluten-Free Certification Organization.
Carol Shilson spoke briefly on the UCCDC's latest research (with emphasis on the mouse model work by Dr. Bana Jabri) and the center's plans for the future (including a cure for celiac disease!). She also mentioned UCCDC's (then) upcoming annual fundraiser in May. Here are a few of my photos below and here's a write-up on the dinner from Rudi's blog.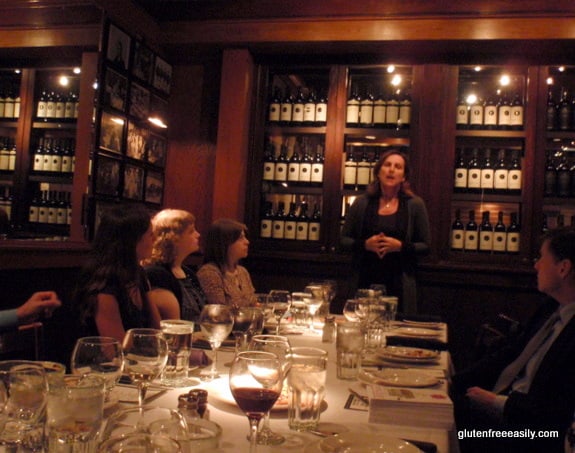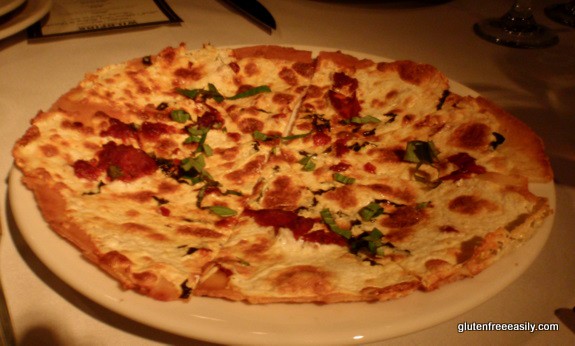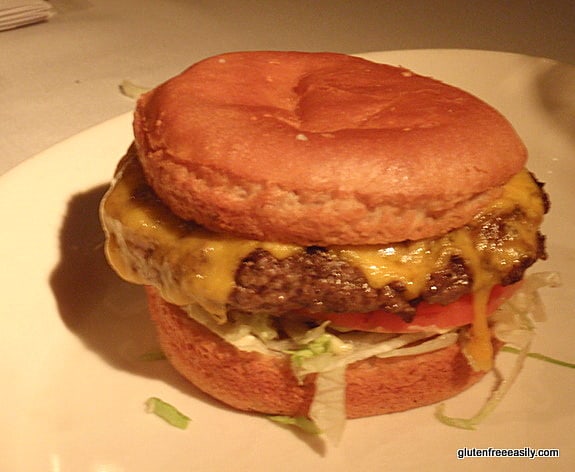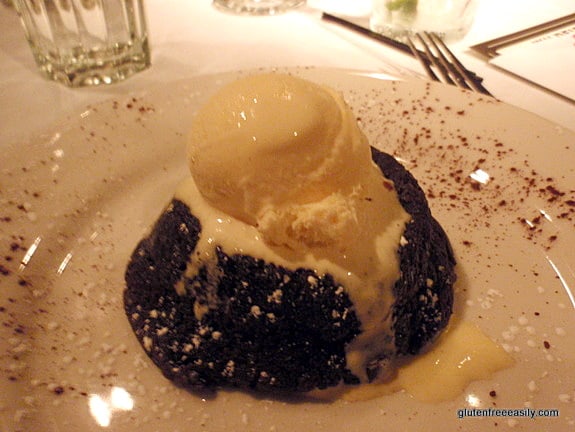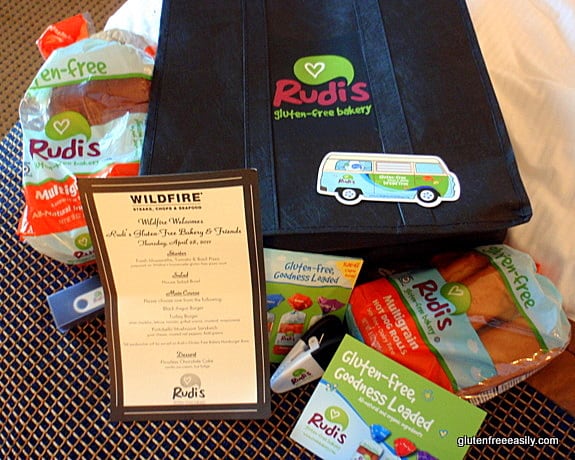 As we headed out the door after the dinner, Rudi's gave us bags full of their (at the time) newly launched hamburger and hot dog buns and bread. They also reminded us about their recipe contest and urged us to join in.
Because I was staying for several days after the conference to visit a friend, I opted to pass my wonderful freebies on to other gluten-free blogger friends staying in town for the Expo. I was sad, but the other bloggers were glad; they welcomed the Rudi's gluten-free bread products!
I knew which recipe I wanted to make for my submission to the Rudi's recipe contest, but when it came time for the final iteration and submission, Rudy's bread was nowhere to be found in my area. (Remember how limited I am with grocery choices here?) So in the end, I just kept the recipe for us to enjoy and my officemates to salivate over when we ate leftovers for lunch. The aroma alone from this clafoutis is divine.
My rendition of this savory clafoutis is a recipe that I'm quite pleased with and one that Mr. GFE raves over and requests once a month now. He would never say clafoutis though (must less Savory Chicken Clafoutis with Sun-Dried Tomatoes and Artichoke Hearts). He calls it that artichoke chicken thing.
Oh, and please don't tell him there are sun-dried tomatoes in this dish. He will pass on anything with sun-dried tomatoes every time, but when chopped into smaller bites in combination with the other ingredients in this dish, he likes them just fine. Again, as long as he doesn't know what they are. Shhhh. Enjoy!
Savory Chicken Clafoutis with Sun-Dried Tomatoes and Artichoke Hearts Recipe
Yield:
Savory Lemon-Kissed, Sun-Dried Tomato Artichoke Chicken Clafoutis (Gluten Free)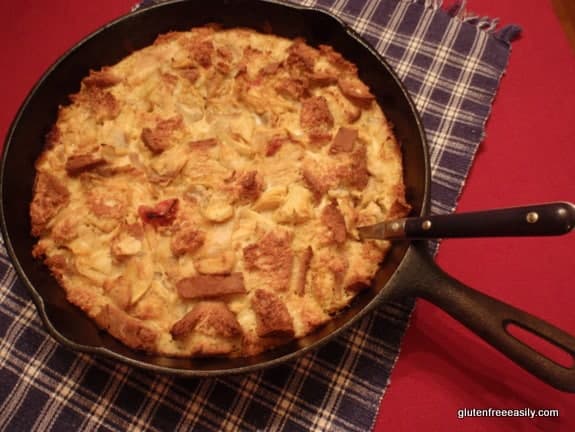 You will forget all about dessert clafoutis when you try this delicious savory clafoutis with chicken, artichokes, sun-dried tomatoes, and lemon.
Ingredients
Batter Topping
1/2 cup gluten-free flour mix (I use my Two-Ingredient Flour Mix)
1 Tablespoon baking powder (not a typo)
1/4 teaspoon salt
½ cup milk (non-dairy or dairy)
2 large eggs
2 Tablespoons extra virgin olive oil (or another oil of your choice, or butter---non-dairy or dairy)
1 cup gluten-free chicken broth (or vegetable broth)
Clafoutis Filling
1 - 2 tbsp lemon juice (per your taste preference)
2 cups coarsely chopped cooked chicken (rotisserie chicken works well because it's moist and tender; be sure it's gluten free ... see notes for vegetarian option)
1 to 2 Tablespoon extra virgin olive oil (or butter, non-dairy or dairy or another oil of your choice)
1 small onion, finely chopped
6 cloves of garlic, minced (use less if not a garlic lover)
About 2 cups of gluten-free bread, toasted and cubed/torn into pieces (about 5 slices; great way to use heels; I prefer Rudi's multigrain bread)
1 can artichoke hearts, rinsed, drained, and cut into much smaller pieces
10 sun-dried tomatoes, cut into much smaller pieces
Salt (optional, a shake or two to taste)
1 tsp smoked paprika (sweet paprika works, too)
1 ½ tsp Dijon mustard
Instructions
Preheat oven to 375F degrees.
First, make the batter. Whisk together flour, baking powder, and salt. With a wooden spoon or hand mixer, beat in milk, eggs, and olive oil. Set aside.
Squeeze fresh lemon juice into a large bowl. Add chicken. Stir. Set aside.
Heat olive oil over medium heat. Add the onion and cook until softened, about 2 or 3 minutes. Add garlic and cook another 30 seconds or so. Transfer the onion, garlic, olive oil mixture to a large bowl and mix in bread, chicken, artichoke heart pieces, sun-dried tomato pieces, salt, paprika, and mustard.
Spread the chicken-bread mixture in a well-greased, heavy, 10" oven-proof skillet.
Add chicken broth to prepared batter and pour over chicken mixture in skillet, pressing down with a spoon if needed to moisten the bread. Bake until golden and set, about 35 minutes.
Notes
Vegetarian Option: Renee (Beyond Rice and Tofu) mentioned recently that she uses chickpeas just about any time a recipe calls for chicken to make the dish vegetarian. I think that substitution would work great in this recipe, but haven't yet tried it myself. Chopping: I use kitchen shears to chop up both the artichoke hearts and the sun-dried tomatoes as chopping them with knives is awkward and just seems like too much work. Ingredients:I've used both an all-purpose gluten-free flour mix and all-purpose gluten-free flour mixed with almond flour in the batter. Both worked well.I've made this recipe with full-fat coconut milk, almond milk, or cow's milk. I've used extra virgin olive oil, coconut oil, grapeseed oil, and/or butter. The first time I made this recipe, I skipped the chicken broth and used slightly more almond milk and butter. I've used both Rudi's multigrain bread and Udi's multigrain bread, although I far prefer Rudi's multigrain bread in this recipe. Gluten-free baguettes, like the excellent Against the Grain baguettes, can also be used, and again, the original recipe called for baguettes. Gluten-free sandwich bread is far more accessible though and still works just fine. If you use a flavor rotisserie chicken like lemon garlic (after checking gluten-free status), you'll most likely want to adjust the amount of or omit the other ingredients. With a lemon garlic rotisserie chicken, I left out the lemon juice and the garlic in the recipe because the chicken supplied those flavors. Bottom line—I've made this recipe a variety of ways and this savory clafoutis is always wonderful, so feel free to make adjustments for your needs. I'm not sure if this savory clafoutis can be made egg free, but will excited if a gfe reader does make this recipe egg free and vegan and shares with us!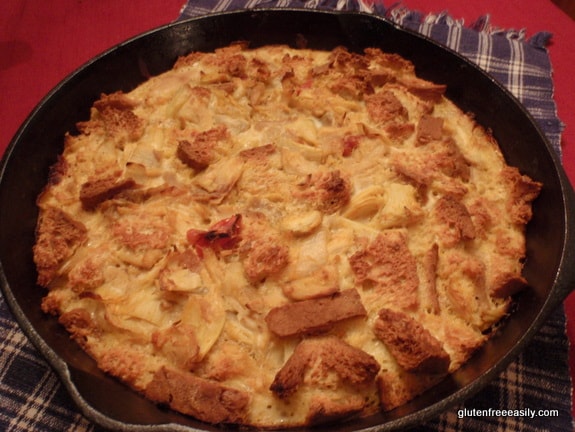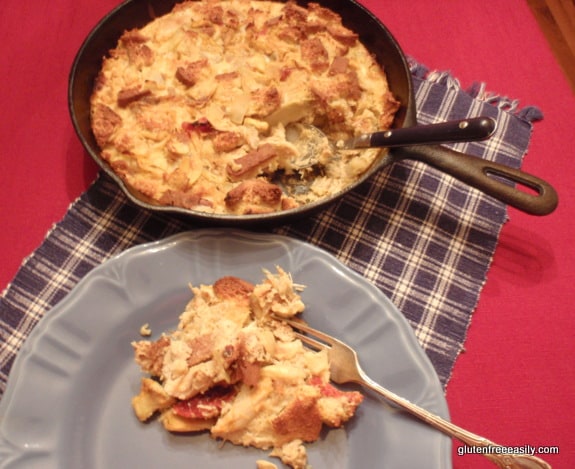 Full Disclosure: This is an uncompensated review and the opinions expressed here are my own.  I purchased the bread used in the development of my recipe with free coupons from Rudi's. I also was privileged to attend a special bloggers dinner in May hosted by and compliments of Rudi's Gluten-Free Bakery, which was held at Wildfire Restaurant in Chicago.
Originally published July 21, 2011; updated June 11, 2018.