For affiliate links and as an Amazon Associate I earn from qualifying purchases.
Today's post is about self care by nourishment through family plus friends and pets. It's my submission for our July Self-Care Retreat.
Before we get to all that, let me warn you that this post is long and filled with clichés and quotations. Cliches become clichés because they are so often true.
Quotations are repeated again and again because they strike a chord within us. Many in each category kept filling my head as I wrote this post.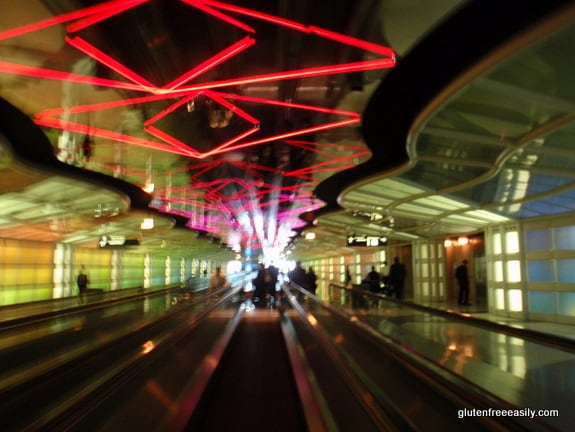 Way too much of life is hurrying and scurrying and saying (often whining) "I don't have time for this" or "I don't have time for that" and feeling like you can't breathe. Being busy has become the new way of making us feel we're important, that we have an impact.
But often the truth is that busyness gives us a false sense of purpose and of course, there is a very fine line between actually getting a lot accomplished in a day and truly enjoying multiple activities, to being so busy that we feel crazy. In fact, "crazy busy" is the new term that's used by just about everyone to describe their lives. And, sadly, busyness—whether it's labeled "crazy" or not—almost never equates to self care.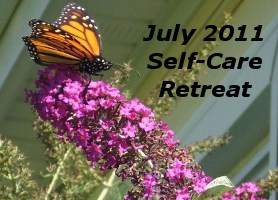 Two positive and always inspiring people in the gluten-free community, Cheryl (Gluten-Free Goodness) and Valerie (City | Life | Eats), are the co-hosts/creators of the Self-Care Retreat for July. This is a month of reflections on self-care on the many ways to nourish our minds, bodies and souls.
Wendy (Celiacs in the House) (sadly, this blog is no longer active), Iris (The Daily Dietribe), and I have joined in to co-host the event. I am very honored, but not because I think I'm an expert in self care.
No, quite the opposite, I'm someone who struggles daily with making the choice between punching out a major "to do" list (important business or busyness?) or taking critical time out for me.
I'm never a complete success at self care, but I'm never a complete failure either. So I guess I do consider that success, not perfection (that's a word that I've come to realize is crippling), but success. But before we tackle all that, let's talk a bit more about what this retreat entails. The themes for the event are:
movement
reflection (e.g., meditation and mindfulness)
food
family/friends/pets
creativity
Cheryl kicked off the event here. Valerie followed by sharing her experiences with movement, including how making a 21-day commitment made a big difference for her. Cheryl offered her history and current challenges with movement here. Then Cheryl addressed self-care through reflections. She followed up that post with "Things that make you go om"—a comprehensive listing of meditation resources from both online (most free!) and brick and mortar sources in the Washington, D.C. area.
Valerie initially "lost her voice" on the reflection topic, but thankfully found it and shared this post. Wendy shared some "tough to tackle," powerful thoughts on nourishment through food. Cheryl also offered her own thoughts on food (she's a feeder, I'm a feeder … are you a feeder?).
Self Care by Nourishment Through Family Plus Friends and Pets
Today, I'm addressing nourishment through family plus friends and pets, and I think all the previous topics discussed—movement, food, and reflection—come into play again in these three areas of our lives. Now I realize that when it comes to family, friends, and pets, some of you may be thinking that those three areas are precisely the reasons you don't get enough self care.
Maybe. But maybe not. Bear with me.
The following quotes demonstrate why family, friends, and pets are so important.
John Donne said, "No man is an island."

Charles Baxton said, "The man who lives for himself is engaged in a very small business."

"In seeking happiness for others, you find it in yourself."  ~ Unknown
It is all too easy to magnify our own issues. Family, friends, and pets can help get us "outside" ourselves.
Self Care by Nourishment Through Family
Of the three, I think family is the most complicated. Even the most loving family can be challenging at times. But many of us have very supportive families.
They are often our refuge from what can be a crazy world. They rub our feet, scratch our backs, and encourage us to take care of ourselves.
One thing I've been guilty of in the past is getting caught up in that "to do" list, taking care of everything under the sun when it comes to my family, and playing the mommy/wife martyr.
And I did it even when others were trying to help me. Things had to be done my way … know what I mean?
I was just reading my friend, Stephanie O'Dea's, excellent new book—Totally Together: Shortcuts to an Organized Life (a delightful day-by-day way to get your act together)—and she recounts how she wouldn't let a friend help her fold towels after her first daughter was born. She liked her towels folded in thirds and her friend was not doing it right.
I actually had the same experience with my own mother right after my son was born. Mom was folding towels and putting them away and I was totally stressed out because she was not folding them the way that I did. Both Stephanie and I can blame some of our stress on postpartum hormones and the tough job that is motherhood.
Stephanie learned to accept help graciously, but, personally, I've still had issues with this type of thing over the years. Slowly, but surely I'm learning to "let go" and let family members help me. It doesn't have to be my way; I don't have to prove myself.
If my family tells me to go do something and enjoy myself (like taking a walk, visiting a friend, taking a class) and they'll handle dinner, chores, etc., now I do it. For example, we had a birthday celebration with my family for my birthday last weekend. We were also celebrating my sister's and niece's birthdays that happened this past week.
Because we were hosting, but also coming back from camping right before the party, my mom and sister brought everything that was needed. We only provided the screened porch setting, our own drinks, plus a pitcher of light pina coladas and a dozen chocolate beer muffins to share.
In the past, I would have declined the offers of help and bought everything needed before we left for camping, plus made beverages and baked goods when we returned. In "letting go," I was still a fine and gracious hostess and took much better care of myself in the process.
Family also comes into play with reflections. Mr. GFE knows that I need my yoga time and/or a significant amount of quiet time. We allow each other that "space" without television or talking. We also share activities that allow meditation and time to quite the brain.
People will think I'm nuts, but there are few places where I am more relaxed than on the back of our motorcycle cruising the country. Okay, maybe I didn't feel relaxed when we went through Boston during "The Big Dig" years ago, but most of the time we travel on back roads and I feel this unbelievable sense of peace from being outdoors and watching the scenery roll by.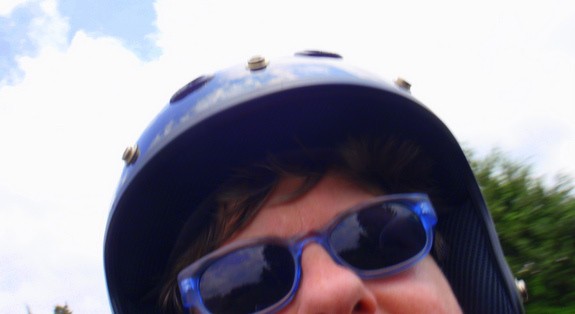 When it comes to food, my family is truly skilled at feeding me gluten free safely. It took some education and willingness to learn on their part, but I've never gotten sick (i.e., glutened) from anything my family prepared. That's saying a lot.
Family comes into play with movement, too. Let's just talk about summer and movement. Summer means camping on our mountain/river property.
Camping is a wonderful combination of work and fun—loading, unloading, lifting, stretching, toting firewood, building fires, grilling, cooking in the fire, canoeing, and swimming.
We marvel over the beauty of nature. We talk. We laugh. We go to sleep and get up by how our bodies feel, not by a clock.
When we return home, we're somewhat tired and always sorely needing a shower, but we're very happy.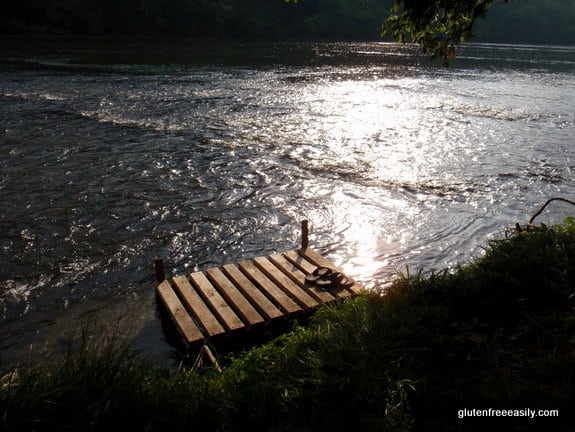 "The ornaments of a home are the friends who frequent it." ~ Unknown

"A cheerful friend is like a sunny day." ~ Unknown

"Count your life by Smiles not tears. Count your age by Friends … not years." ~ Unknown

"A true friend is the best possession." ~ Unknown

"Make new friends, but keep the old. One is silver, the other gold." ~ Unknown

"It is a good thing to be rich and a good thing to be strong, but it is a better thing to be loved by many friends." ~ Euripedes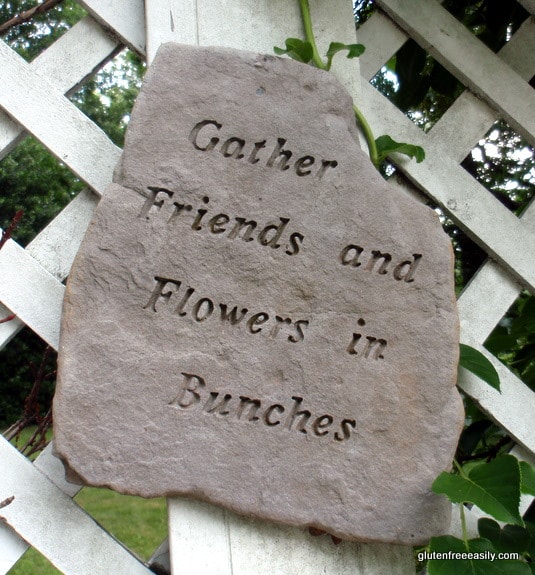 Self Care by Nourishment Through Friends
Do I have to point out the value of friends when it comes to self care? The quotes above echo how I feel about my friends. My friends inspire, encourage, listen, prompt, push, share, and much more.
Time with my friends always involves movement, reflection, and food. I have all different types of friends and equally different groups of friends. Each one fulfills a need and gives so much to me.
There's Judy who is my walking buddy each morning. (Judy is actually a longtime friend of an old friend who used to be my walking buddy. She moved away. Judy moved nearby.) We start our days at 6:45 am, keeping in step with each other even though we never stop talking.
There are my longtime girlfriends who I meet on the spur of the moment for lunch, meet quarterly for dinner out (or host at my home), and go on a long trip with each year (we rented the sweet cottage shown below in Asheville, NC in June). We get away from our daily routines and reconnect with each other.
There are new friends who have become very close and we'll travel across counties or cross country to see each other. Together, we do morning yoga, walk a few miles round trip to the beach, or "hike" tons of city blocks versus hailing a cab.
We share fancy, "oh my goodness" foods, or simple nourishing foods. We share all that's on our minds and seek each other's counsel.
Friends are the ultimate nourishment for self care.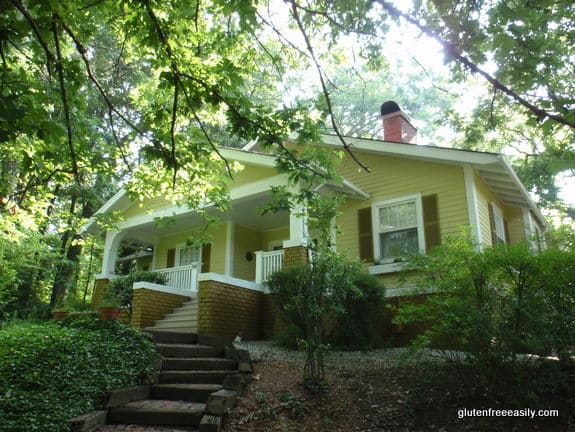 "Until one has loved an animal, a part of one's soul remains unawakened." ~ Anatole France

"The little furry buggers are just deep, deep wells you throw all your emotions into." ~ Bruce Schimmel
Self Care by Nourishment Through Pets
There are many who say that pets are just too much trouble, that they cost too much, etc. While there are certainly people who have lifestyles that don't lend themselves to having pets (e.g., being away from home for long periods of time due to work and travel), others can greatly benefit from a relationship with a pet.
A pet takes one's focus off one's self. Most of us have an amazing, and unfortunate, ability to magnify things … the snub from a "friend," the importance of perfectly folded towels, our own failings. We're human. Our non-human friends, our pets, love us unconditionally though. They always look at us with adoration and devotion. As the old saying goes:
"I'd like to be the person my dog thinks I am."
We currently have one dog, one cat, two aquariums full of fish, and a chinchilla in our house. Previous family pets have included lizards, mice, and finches.
Mr. GFE grew up with horses (and we won't discuss those particular pets he kept in glass aquariums when he was in college). I'm going to focus on our dog, Sonny. Yes, I know I wrote a lot on Sonny just last week, but today I'm going to share the role that Sonny plays in my self care.
First, walking Sonny is a "several times a day" requirement, but it's one that has surprisingly turned out to be a joy. It satisfies both movement and reflection for my self care.
The movement part is obvious, but there's more. I once read that taking one's dog on a walk is the equivalent of a person going to a rock concert. In other words, pure excitement with all senses heightened.
And the daily walks have become the same for me. I don't even mind working up a sweat in the heat, walking in the rain (it's only water and that's what raincoats are made for, right?), or the cold late night winter outings where the moon is bright and I can see my breath.
The birds serenade me on our early morning outings.  I see familiar, favorite flowers (brown-eyed Susans, Queen Anne's Lace) and other plants I've never seen before, but am intrigued by.
I relax, my breathing slows, my monkey mind settles down … and without any effort, I'm "reflecting" on life and it's all good.  
Last, Sonny is "better than tv." He entertains us even when he's sleeping on the air-conditioning vent. It's sort of like when you have a child and anything they do is the cutest or funniest thing you've ever seen.
Case in point, we were all sitting around the campfire recently and Sonny—who had previously expressed no interest in getting up on any of our furniture—suddenly decided that the beach chair was the perfect fit for him. We all laughed out loud as he settled his long furry 70-pound body into the most comfortable position in what appeared to be a chair much too small for him.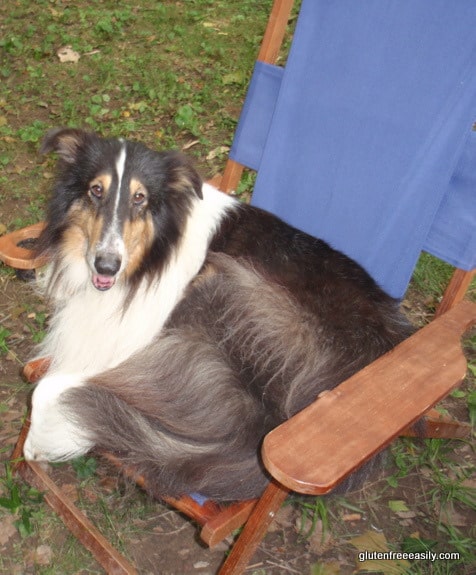 I chuckled again just a moment ago when Mr. GFE told me that Sonny "loves me the most." Laughter is a huge part of self care!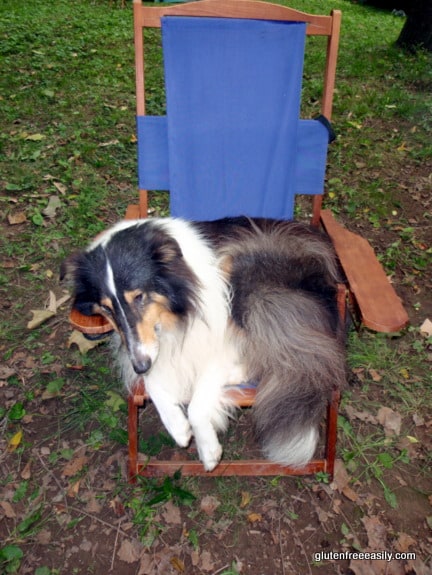 Do you have thoughts on self care by nourishing through family plus friends and pets? Please share them with us!
Originally published July 22, 2011; updated September 6, 2018.