For affiliate links and as an Amazon Associate I earn from qualifying purchases.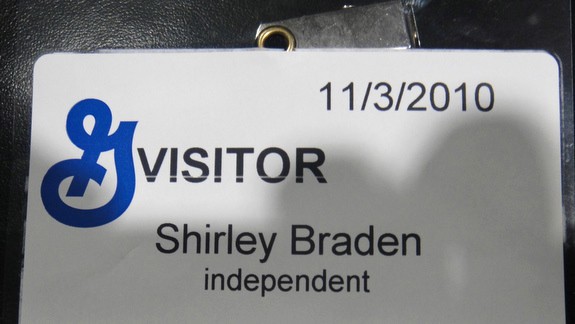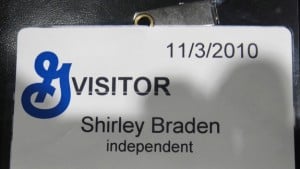 Full disclosure: My trip to Minneapolis, MN, for the General Mills Gluten-Free Bloggers Summit was mostly paid for by General Mills. Transportation, parking, and food before and after including transfer from the airport before and after this event, I paid myself. All opinions expressed here are strictly my own.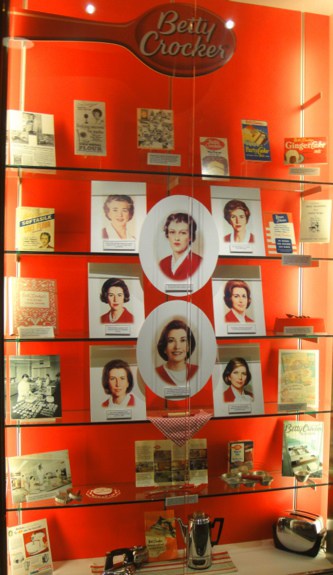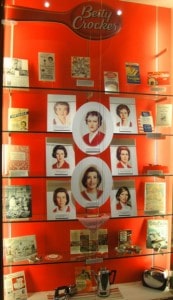 Earlier this past week, I was in Minneapolis at General Mills, with most of my time spent in the Betty Crocker Portrait Kitchen. I was one of 11 folks invited to General Mills Gluten-Free Bloggers Summit. Now a few of you reading that tidbit of info might be quite surprised. It's no secret than in general I'm anti-processed foods, anti-baking mixes, and, last but not least, I've mentioned that I have a gluten reaction each and every time that I eat General Mills gluten-free products that contain grain. So when I received the invitation via Danna Korn, I experienced a sequence of strong emotions.
First, there was a feeling of pride and honor at being selected to provide input on General Mills' products and efforts; i.e., being considered a voice in the gluten-free community. Then there was the turmoil within. How could I attend if I couldn't eat General Mills products safely? Would I be a hypocrite by attending after previously expressing dissatisfaction with General Mills and staying away from sharing their products on my blog in any way? I was so conflicted, I discussed the issue with a few friends/mentors.
I finally decided I couldn't miss the Gluten-Free Bloggers Summit. I simply had to attend to provide honest, "no holds barred" feedback. So I immediately shared the fact that I am super sensitive to gluten and cannot eat General Mills baking mixes or cereals with Danna Korn. I told her I'd still very much like to attend to provide input though. Danna replied that General Mills wanted ALL honest feedback, so "come on." So I did, armed with my "wish list" and information on others' issues with General Mills gluten-free grain products.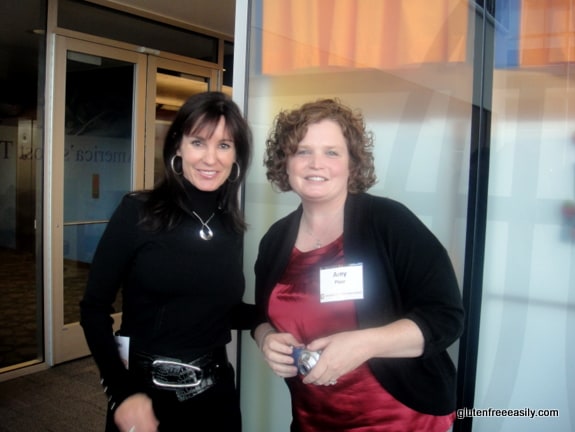 Danna Korn and Amy Plew (Event "Organizer")
There were 10 bloggers in all, plus Danna Korn and Shelly Gannon. Danna has been working with General Mills for several months. She's recognized as a gluten-free expert. She is the author of two gluten-free "Dummies books" (i.e., Living Gluten Free for Dummies and Gluten-Free Cooking for Dummies, the latter which she co-authored with Connie Sarros). She's authored other resource books, too: Eating Gluten Free: Delicious Recipes and Essential Advice for Living Well Without Wheat and Other Problematic Grains, Wheat-Free, Worry-Free: The Art of Happy Healthy Gluten-Free Living, Gluten-Free Kids: Raising Happy, Healthy Children with Celiac Disease, Autism, and Other Conditions, and Kids with Celiac Disease: A Family Guide to Raising Happy Healthy Gluten-Free Children. You may also know her as the author of the GlutenFreedom site (this site is no longer active) and the creator of Raising Our Celiac Kids (R.O.C.K.). There's no doubt about it, Danna is a dynamo—a true force to be reckoned with. I admit that I loved it every time that she said "living and loving the gluten-free lifestyle."
Shelly Gannon has a daughter with celiac and another daughter who is gluten sensitive. She is a big player in the Twin Cities R.O.C.K. group. You may recognize the Gannon name. Shelly's husband is retired NFL quarterback, Rich Gannon.
Who were the gluten-free bloggers? That info wasn't disclosed to those of us attending beforehand. Linda (Gluten-Free Homemaker) and Lynn (Lynn's Kitchen Adventures, you'll want to check our the gluten-free section) figured out we were all attending, which kind of gave us a little comfort factor. Linda and I have been online friends for a good while now. (You can read Linda's personal gluten-free story in a guest post here on gfe.) If I am remembering correctly, I got to know Lynn online shortly before she went gluten free and have cheered her on ever since. Her recovery since going gluten free has been nothing less than amazing.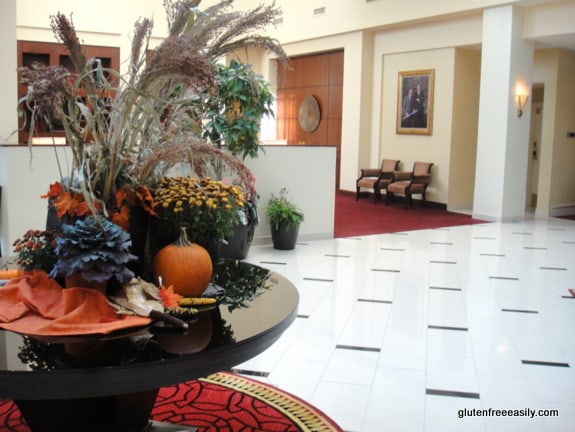 Although I didn't know who else was going other than Linda and Lynn, I did know I would be the first to arrive per the event organizer. I selected a very early non-stop flight rather than deal with changing planes and possible missed connections. Once at the hotel, I headed to their restaurant, Kip's Irish Pub, for breakfast. It was almost 9:00 and I was the only patron. I received both undivided attention and an excellent breakfast: one fried egg, hash browns, and maple pepper bacon. The latter was the main focus of my meal.
First, I had to confirm that this bacon was gluten free. My server told me that it was made by Hormel and that she and the cook confirmed it contained no allergens from the packaging. When a product says something like "Allergens: None," that means it does not contain any of the eight major allergens as defined by the Food Allergen Labeling and Consumer Protection Act (effective January 2006). Such an allergen statement doesn't rule out barley, rye, or unsafe oats for those of us who are gluten free. However, rye is only in bread, crackers, or whiskey, with the latter being safe due to distillation.
I was sure oats would not be an ingredient in this bacon and the inclusion of barley seemed unlikely. However, I was already checking email on my laptop, so I looked online quickly and saw no gluten ingredients. It appears that this product is only sold to food service establishments, but my server said you could buy this bacon in their local grocery stores. I'll definitely be looking because this bacon is totally amazing! Okay, it has some other stuff that you wouldn't want to eat often (if at all), but it is the most delicious bacon I have ever eaten in my life!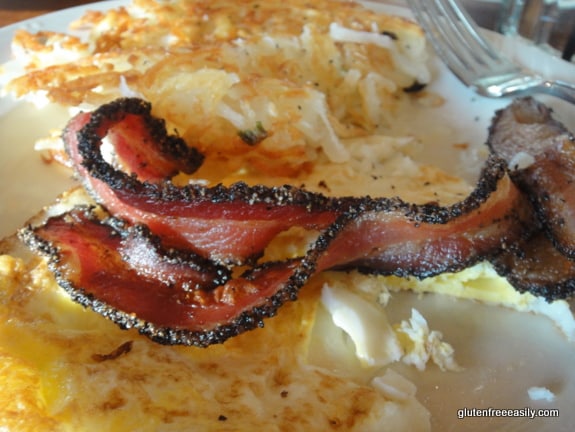 After breakfast, the hotel had my room ready and I headed upstairs to settle in and get caught up with gfe while I waited for others to arrive. Linda and I got together first. That was such a treat for me! Linda is so pretty in person and so personable, too. (By the way, she's put up a new photo on her blog and I think it's great!) She's also a woman of conviction and has no problem expressing her gluten-free concerns. Linda and her blog are terrific as those of us who frequent Gluten-Free Homemaker regularly know, but meeting Linda in person is far, far better. We sat and chatted like old friends for a good while.
Next Lynn arrived from Tulsa and the three of us sat and chatted in the lobby. Lynn is sincere and straightforward, and just a really sweet person. She's never shy to express herself either. The three of us caught up and mused over who else might be attending the summit.
Then Maureen Stanley (Hold the Gluten–blog and podcasts) and Jill Elise (this is how things are in my life) appeared in the lobby and we beckoned them over. We didn't recognize Maureen at first. She of magnificent and abundant curly hair, had her locks pulled back. The big smile and friendliness assured us it was her though! I've been following Maureen everywhere (her blog, Facebook, Twitter) for quite some time so I was thrilled to give her a hug and start gabbing. Jill Elise got married a while ago and moved from Philly to Connecticut. Somehow I had lost track of her and her blog after her wedding, so it was fun to meet her in person and get to know her better.
As all of us chatted in our little corner of the lobby, we surveyed every person who entered speculating if they were gluten-free bloggers. After a while, Vaness Maltin (of Celiac Princess blog, which is no longer active, and Delight magazine, and the author of Gloriously Gluten-Free Cookbook: Spicing Up Life with Italian, Asian, and Mexican Recipes and Beyond Rice Cakes: A Young Person's Guide to Cooking, Eating & Living Gluten Free) arrived. Newly married, she looked every bit the Celiac Princess. Vanessa's adorable anyway, but she just beamed with happiness whenever she talked about her wedding. She immediately showed us a photo of her gluten-free wedding cake on her iPhone. Wow, what a sensational cake it was! We all enthusiastically agreed that her cake was far better than Chelsea Clinton's.
Sitting in the lobby waiting for our group meet-up, we all eventually told bits and pieces of our gluten-free stories and our family's stories. I've found this occurrence to be normal behavior for those of us who are gluten free. We just have to tell our stories, and, it's always surprising how often our stories intersect and, also, how much they can differ.
We also spent a lot of time talking about that bacon. Seriously. Most of us were on east coast time and were getting very hungry. Of course, I had shared the tale of the amazing bacon, and being a food blogger had taken a photo of it. Everyone was drooling over this sweet, peppery bacon. In hindsight, we should have just headed into the hotel restaurant and asked them to cook a pound of that bacon to share for our afternoon snack. (Why is hindsight so darned clear? Talk about a missed opportunity.)
At the appointed time, the event leader/organizer (a contractor for General Mills) arrived with several of her colleagues, a few General Mills folks, and two more bloggers, Rachel (The Crispy Cook) and Amanda (A Few Shortcuts). While I had heard of Rachel's blog, I didn't know much about it or her. The name fits Rachel. She's cute, funny, and very friendly. Amanda had been at General Mills for an earlier bloggers meet-up back in the summer. Her "Shortcuts" blog features gluten-free and dairy-free (and gluten-full) recipes, as well as coupons and deals. The event leader told us that Amy Leger (The Savvy Celiac) and Shelly Gannon would be joining us the next day.
After introductions, off we headed to Biaggi's Ristorante Italiano. Yes, an Italian restaurant. Even better, an Italian restaurant with an extensive gluten-free menu. Ravenous by now, we ordered a few gluten-free pizzas to share as appetizers, large salads to share, and then individual entrees. Oh, and right off the bat, we were brought fresh, gluten-free bread. So we got busy dipping crusty, chewy slices of bread into olive oil mixed with balsamic vinegar—a simple, but divine pleasure. A short time later, the pizzas arrived. They were truly excellent. The Caesar salad was great, too. But, my Chilean sea bass probably took the prize. The texture, flavors, and presentation were perfect. Finally, when we thought we couldn't eat another morsel, desserts arrived. Raspberry sorbet and flourless chocolate cakes … the latter so rich and heavenly that one could have fed four people from one serving because the portions were large and just a few bites were truly enough. (But please don't ask me if I shared.)
Besides enjoying this very fine, gluten-free meal, we all chatted nonstop throughout dinner, with some even playing musical chairs to allow interaction with more folks. Lots of information about celiac/non-celiac gluten issues and the gluten-free diet was shared, but we heard about key components of others' lives, too. There was the dad who climbed Mount Kilimanjaro with this daughter, who incidentally (or not?) recognized many family health issues when we told our stories. Finally, we headed back to the hotel for a good night's sleep before a full day of work the following day. Yes, I said "work." This summit was in no way a mere social event. Oh, there were the fun moments when we were on "break" and food was involved and you'll see those reflected in my photos, but otherwise, we were focused and working hard.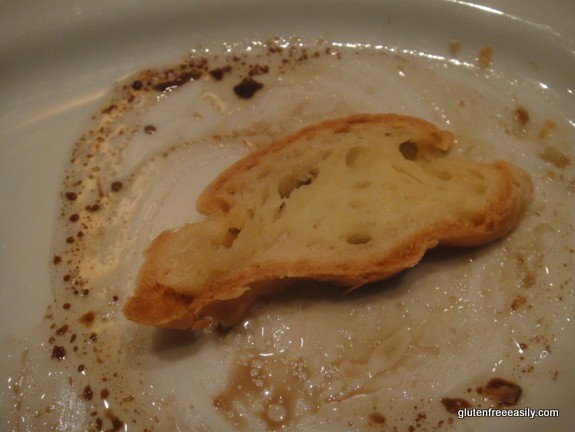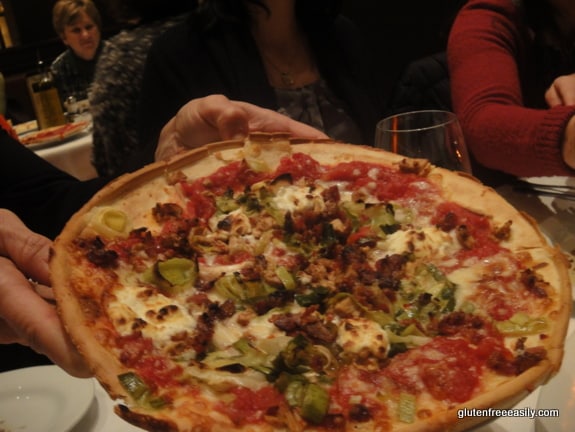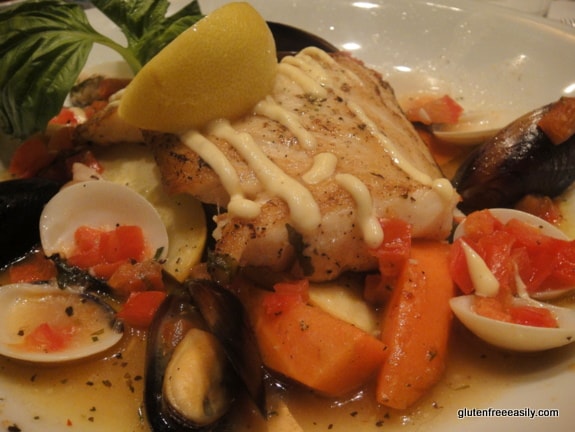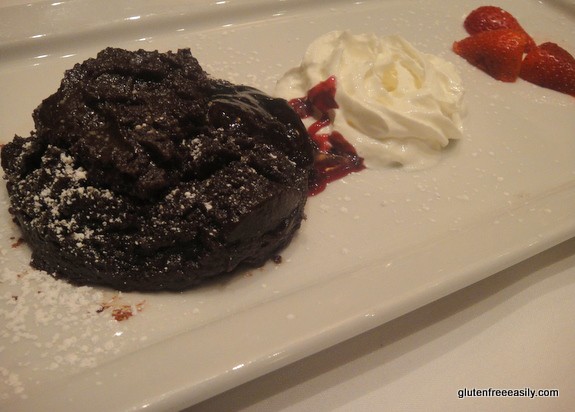 The next morning we were shuttled to the General Mills facility where we convened in the Betty Crocker Portrait Kitchen for most of the day. We met up with the two local attendees, Amy Leger of The Savvy Celiac and Shelly Gannon. There were also side trips to nearby conference rooms for breakout sessions and the adjoining Betty Crocker kitchen for a closing baking event. We were fed gluten-free breakfast goodies from the nearby French Meadow bakery and a delectable lunch from Big Bowl.
It's important to note that those of us who eat gluten free did not indulge in the baked goods offered in the closing baking event. The rolling pins, wooden spoons, and spatulas had previously been used to make gluten-full items. One General Mills spokesperson told us that the products had been cleaned and heated to 200 degrees. When she was told that heating didn't remove gluten, she looked at us like were looney tunes. That was yet another educational piece of the gluten-free pie for General Mills. It was an unsettling moment for sure because if that information is not known or understood, to me it raises doubts about the status of their gluten-free products.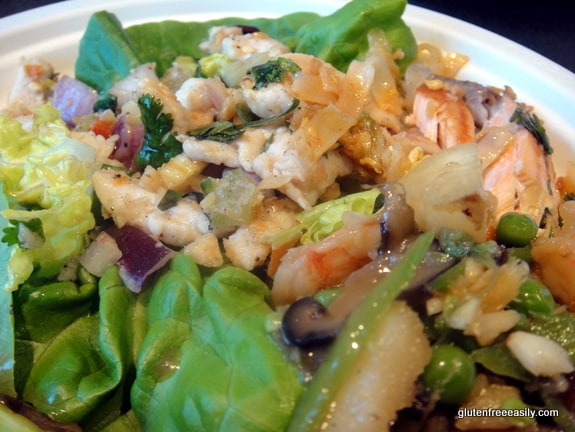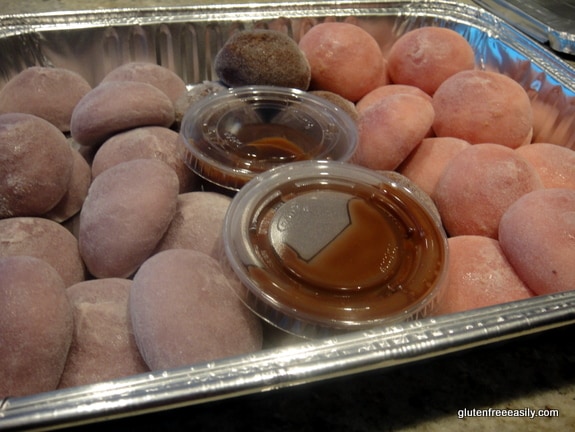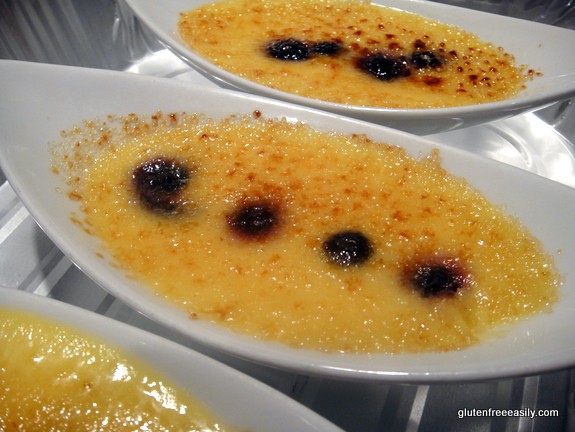 So what happened in the sessions? Well, first and foremost, we spoke our minds. There was not a timid person in our group; that's for sure. We were asked what we expected from the summit and, initially, in our responses, we talked about what we wanted in the products. I stated that their gluten-free products which contained grains, the Chex cereals and baking mixes, have caused a gluten reaction for me each time I've tried them. I added that I was not alone and I highly recommended that General Mills obtain certification from the Gluten-Free Certification Organization (GFCO) under the Gluten Intolerance Group.
I said that gluten-free consumers want better quality in their products—more nutritious flours and ingredients that provided more fiber than the typical ingredient of inexpensive, white rice flour. Along those lines, I said that we felt the prices of the gluten-free baking products were outrageous, considering the inexpensive ingredients. I added that the very expensive gluten-free Bisquick (over $6 in my area) doesn't even contain shortening. I also talked about undesirable ingredients in products, like high maltose corn syrup. Others spoke passionately about such concerns as price, availability, and current General Mills products that should be made gluten free.
Shortly thereafter, each of us was asked to tell about ourselves. We each told our personal story or those of our family members (as often it was the family member who was diagnosed with celiac/non-celiac gluten issues versus the attendee). I've heard a lot of stories since being diagnosed myself and leading my celiac/gluten intolerance support group and the stories shared at this event were as heartwrenching and compelling as any. The miraculous endings—yes, they are all miracle stories—made these stories bearable.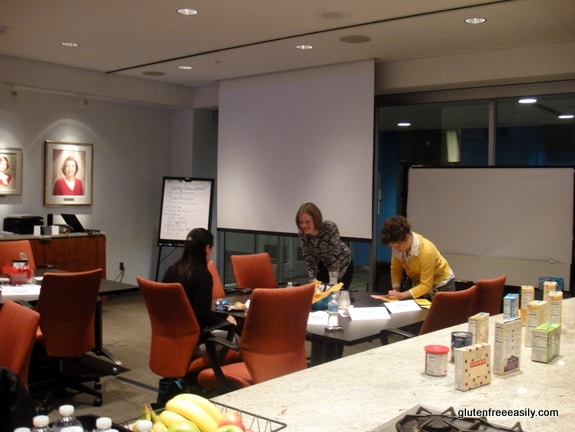 Later sessions brought more questions from General Mills and their contractors on what we want and need, why we need it, etc. These are simple questions that all of us who live the gluten-free lifestyle know do not always have simple answers. I teach my gluten free easily (gfe) approach all the time, but not everyone is quick to buy into the mostly non-processed foods approach. And, yes, I did point out that folks going gluten free often forget about real food being gluten free. But, I know that of the folks who follow a real food approach, even they occasionally like the convenience of a safe, processed gluten-free food (e.g., on the road, at a friend's home). These sessions were rather intense as I indicated earlier. We tried to pack a lot into small blocks of time. The sessions were also encouraging and inspiring. There was a true dialogue and we felt like we were being heard. Being heard is paramount in getting our gluten-free needs answered.
A General Mills spokesperson addressed their gluten-free processing and talked about the order of processing gluten-full and gluten-free items and cleaning lines. Whoa! Furtive and surprised glances were exchanged among attendees. We were all under the impression that all of the gluten-free products were manufactured in a gluten-free facility. It turns out that some products are manufactured in a gluten-free section of General Mills (with "walls"), but not a dedicated facility. A subsequent check of the wording on the Chex boxes shows that they read, "Manufactured in a dedicated gluten-free environment." Other gluten-free products are not manufactured in this section/"dedicated environment," but in a part of the facility with gluten-containing products, hence, the mention of cleaning lines and processing items in a certain order.
I inquired and commented more on the testing of the products and the less than 20 ppm standard, urging the use of the GFCO testing and inspection to ensure I could eat the products safely. My questions were met with quotes on Codex standards and a statement that the GFCO is fine for small organizations. That wasn't what I wanted to hear. Carol McCarthy Shilson, Executive Director of the University of Chicago Celiac Disease Center, stated that UCCDC supports the use of the GFCO as well.
I brought up that fact that Codex standards used to be much higher and now we know those levels were determined unsafe. Both Carol and Danna supplied the previous accepted Codex level as 200 ppm. So we went from 200 ppm since my diagnosis 7 years ago to less than 20 ppm as the Codex standard established more recently. That is clearly a huge difference. As most of us know, the FDA has not finalized its requirements for what constitutes "gluten free." Less than 20 ppm was in its original proposal, but no FDA standard has been set as of this writing. Perhaps once established, the level will be less than 10 ppm, the level to which GFCO certifies products. That would certainly be my hope as the GFCO-certified products do not make me or my son ill (and many others who have cited their reactions on blogs and gluten-free forums).
Linda stated that her gluten-free son also has a reaction from current General Mills products. She added that with gluten-free consumers, trust is critical. Once our trust for a product and the manufacturer has been broken, we do not purchase or try the product(s) again.
I was thrilled when Carol McCarthy Shilson took the podium next. The UCCDC has long had my respect and has recently partnered with General Mills in its gluten-free efforts. This partnership means a lot to me (for one thing, it helps establish that trust that Linda spoke of). I respect the UCCDC and am constantly sharing the UCCDC's Celiac Fact Sheets (especially the Facts and Figures info) because I think their data is such an eye opener, providing much-needed visuals in regard to the incidence of celiac disease that one won't find elsewhere. Carol shared her story (she is celiac herself), how she ended up at UCCDC, and some of the revolutionary and award-winning research that Dr. Bana Nabri is conducting, in the areas of celiac and non-celiac gluten issues.
Several more discussions took place before our final event in the Betty Crocker Kitchen. There was even a quick trip to the General Mills company store before we headed home. One blogger wanted to purchase lip gloss for her gluten-free daughter but put it back when she couldn't determine if it contained gluten or not. Finally, we all packed into a van and headed to the airport, talking all the way. We eventually had to split up. Some of us headed off to the French Meadow Bakery, which carries gluten-free items. Others headed to Burrito 360, a Mexican take-out place there. Vanessa had done the appropriate reconnaissance for us beforehand. I enjoyed a soft taco filled with marinated chicken (oil and herbs only) and veggies. Tasty and humongous for a whopping total of $3.73—talk about a safe bargain!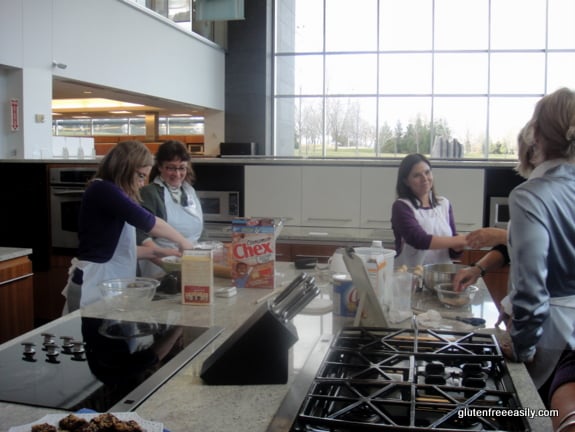 Betty Crocker Test Kitchen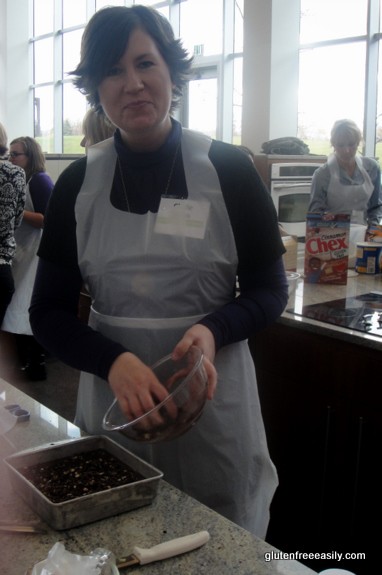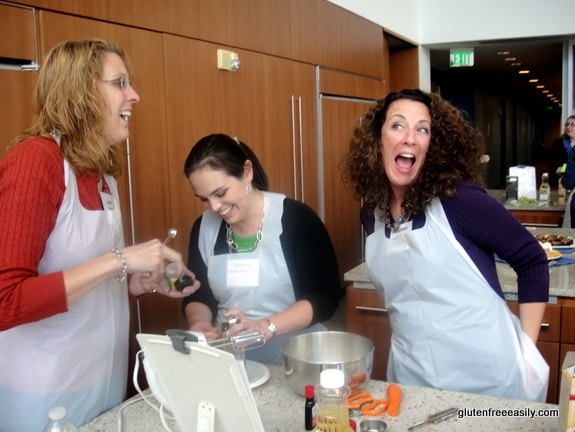 Lynn, Vanessa, and Maureen (sporting her hair)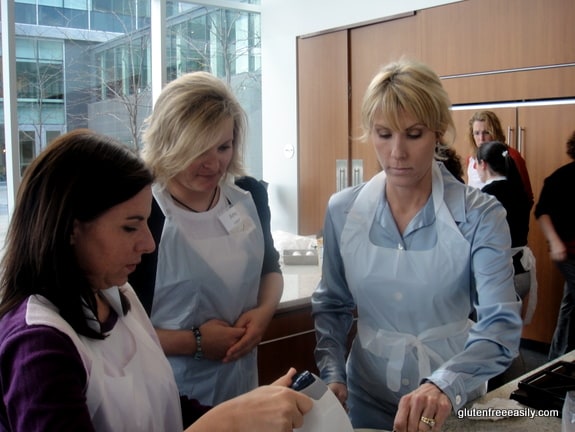 Amanda, Amy (Leger), and Shelly hard at work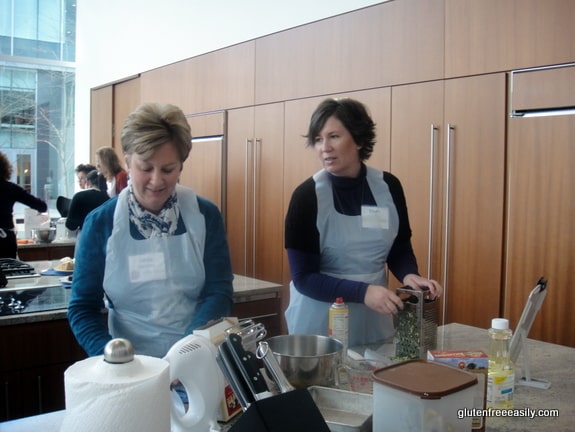 Linda and Cinde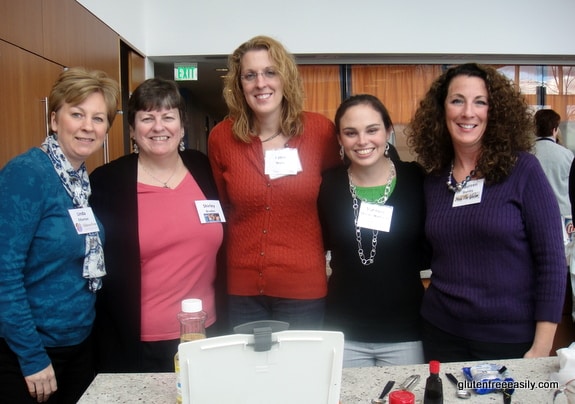 Linda, me, Lynn, Vanessa, and Maureen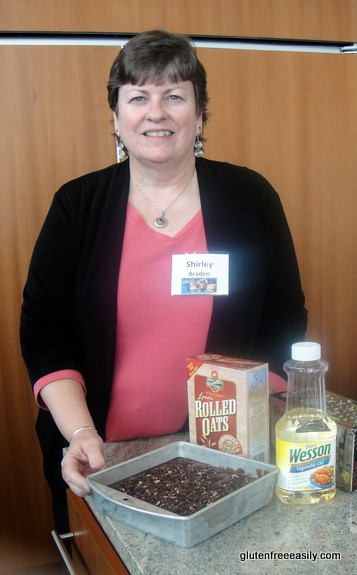 When I returned home, I commented to Mr. GFE that General Mills was brave to hear out all these gluten-free bloggers. He immediately said, "Not brave .. smart." Yep, he's right. In fact, the General Mills contractor leading the effort stated more than once that consumers are 12 times more likely to trust a blogger's recommendation/review of a product than they are the manufacturer's review. At the outset of our summit, he also stated something to the effect that to be clear General Mills is a multi-million dollar company and as such, its main goal is profit, but if General Mills can help gluten-free individuals while achieving that profit … then all the better. As others who attended have shared in their posts, we were told the CEO of General Mills has a family member with celiac. Now that's what I call a vested interest in their gluten-free line of products!
Let's hope that vested interest plays a large role in ensuring that General Mills gluten-free products are made which safely, healthily, and deliciously meet the customers' needs. General Mills has some exciting plans that I have agreed not to discuss at this time. I will tell you that I've been asked to help them formulate those plans to best meet all of our needs and I take that commitment very seriously.
Finally, as I've always said about gluten-free bloggers, we all bring something different to the table—no pun intended, but true. That was certainly true in this forum.
Update 04/01/15: Yes, I know it's been a long time since this original post, but I wanted to explain why I never shared any additional news on General Mills. At the summit, we were told they'd send us the testing results on their products. That never happened. I also never got any additional information on General Mills pursuing why so many were having reactions to their "gluten-free" products. So the fact is that I never felt comfortable with their products and did not share any additional information on them.
The input from our summit primarily was used to launch a new gluten-free online store and resource site. After our summit, General Mills transitioned their gluten-free site at the time to another URL, updating their site and adding more resources. In January 2013, they closed that down. They stated that gluten-free products, including theirs, were readily available via a number of sources, so their online store was no longer needed. They rolled the gluten-free recipes from the site into the "Health & Diet" section of their main Betty Crocker site and move other info to a new site, Live Better America, but the latter site has since been shut down.
General Mills is currently planning to launch "gluten-free" Cheerios later this year. I urge you to read this post from Gluten Dude on what he learned when he recently visited General Mills' headquarters to learn how they plan to provide "gluten-free" oats for their "gluten-free" Cheerios. It will help you make an informed decision on whether or not you wish to consume "gluten-free" Cheerios.
Update 10/16/15: "Gluten-free" Cheerios have been released to the marketplace but they are not safe for anyone who eats gluten free for medical reasons. Read more here.
Originally published November 8, 2010; updated February 26, 2022.