For affiliate links and as an Amazon Associate I earn from qualifying purchases.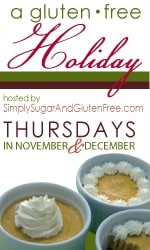 The delightful Ricki (Diet, Dessert and Dogs; i.e., DDD) kicked off our Gluten-Free Holiday event today with a post that inspired me, encouraged me, made my mouth water, and most of all reminded me of why I'm so happy and proud to be a part of this event. Ricki's theme is Healthier Through the Holidays. Ricki is a terrific hostess for this theme as she's maintaining a 45-pound weight loss. If you're already thinking (in protest) that you don't want to eat celery sticks and eat rice cakes during the next two months, think again. Ricki is not about deprivation. She is herself the author of several amazing dessert e-books. In her post today, she shares yet another dessert creation that will have you in awe that healthy ingredients can triumph in such a delectable way. I won't steal Ricki's thunder. I'll just say one word. Truffles. I'll also share one photo of Ricki's truffles. These are not the kind of truffles that the pigs (or dogs) root for … although you will certainly be rooting for these—in a different way—once you see them.
If all of the above isn't enough to make you go read Ricki's post, there's also a great giveaway (as there will be every week in this event)! Ricki's giving away a copy of Cybele Pascal's The Allergen-Free Baker's Handbook and three signed copies of Ali Segersten and Tom Malterre's The Whole Life Nutrition Cookbook. Both books average 5 stars for their Amazon reviews. Impressive for sure. Now I really want to check out Cybele's cookbook! I'm already a big, big fan of Ali and Tom's cookbook. I've said before that I think the label "cookbook" doesn't do justice to their book. (You can read my brief review with one of my favorite recipes of Ali and Tom's here.) Check out all the healthy recipes and tip posts that folks have linked up over at DDD as well.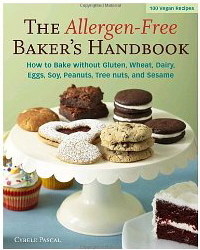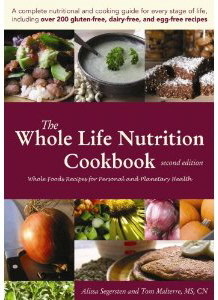 I can't always profess to be an example of healthy eating during the holidays. However, some guidelines I've followed that have made my holidays healthier in the past are planning, avoiding the foods I have no control over, opting for a protein-filled appetizer over empty calorie snack food, and eating more savory foods to avoid overindulgence in the sweet foods (which tend to be the ones I can't control).
I'm not a master planner when it comes to meals, but during the holidays I find that at least minimal planning around special events is critical. It's not just for personal health, but family sanity! Start putting up the Christmas tree in the afternoon without a plan for a somewhat quickly eaten dinner and you'll end up with grumpy, hungry, and crazy family members who could probably give the characters in National Lampoon's Christmas Vacation a run for their money. Slow-cooked or quick dinner options, as well as pre-made appetizers/snacks can save the day in this case. Pulled pork, crab ball, Popeye protein bars, flourless pizza, blackened black bean burgers, and baked potato soup are all possible options. Some seem indulgent, but they don't have to be overly so, and they can keep the sweet cravings at bay. I'd much rather enjoy a mug of baked potato soup than find myself and my family desperately eating from a bag of M&M's or potato chips because I didn't plan ahead a bit. Slow-cooked pulled pork is ready right when you need it and can be complemented by a healthy slaw or salad. Crab ball, which is both full of protein and heavenly, is quickly made that day or the previous evening. Popeye protein bars are full of goodness and don't lead one to eat another … and then another. Flourless pizza crusts can be made the day before. Toppings can be lots of veggies to make for a much healthier, but still very tasty pizza experience. Blackened black bean burgers come together quickly, but also can be prepared the day before an event and quickly reheated in your skillet.
My mother makes the world's best fudge. She uses the recipe that used to be on the back of the Hershey's cocoa can (from about 30 years ago). It consists of cocoa, sugar, milk, butter, salt, and vanilla. It's a "hard," non-gooey fudge. It's totally irresistible and addictive. Eating a piece is like "going right for the vein." My only way to deal with this fudge is to ask Mom not to give me any or to ask her to bring it to a family gathering where I only feel comfortable enjoying one or two pieces. Sharing trumps fudge addiction every time.
Those are just a few of the ways I try to better cope with some of the holiday madness. You can read more tips for eating healthy during the holiday from some of our other participating hostesses: Alta, Carrie, and Amy.
Here's a reminder listing below of the hostesses and themes for the remainder of A Gluten-Free Holiday. Hope you'll join us every week!
On Thursdays in November and December, a different gluten-free blogger will host a link-up event where you can share your best gluten-free holiday dishes.  The linky will be open until the following Wednesday at 10:00 pm CST.
Remaining Dates, Themes, and Prizes:

November 11th – Thanksgiving Favorites right here at gfe–gluten free easily
Next week share your favorite gluten-free Thanksgiving dish from appetizers to desserts. Think stuffing, turkey dishes, pumpkin pie, mashed potatoes, cranberry jelly…anything Thanksgiving goes. (To our Canadian friends – please share the Thanksgiving dishes you made earlier this year, too!) Thanksgiving is my favorite holiday … it's family, friends, food, and gratitude focused!
November 18th – Gifts of Good Taste at Tasty Eats at Home
Who doesn't love a gift made with love? Share your favorite foodie gift that's gluten-free. Have a fabulous way to pack a yummy treat? We want to see that, too. I've seen some great gift ideas on my "must read" gluten-free blogs already (like this one, which makes me think of George Clooney).
December 2nd – Holiday Entrees & Side Dishes at The W.H.O.L.E. Gang
Bring your family's favorite entrees and sides.  Diane will be ready for them all.  Even though Hanukkah starts on December 2nd this year, we hope our friends who observe Hanukkah will still join us.
December 9th – Holiday Breakfast & Brunch at Ginger Lemon Girl
A warm, cozy breakfast or brunch is a wonderful way to start off the holiday.  This is a great time to help someone else by whipping up your fabulous gluten-free cinnamon rolls or a crumb-topped coffee cake and sharing your recipe. I've been working sporadically on an entry for this theme. Fingers crossed that it will be ready in a month!
December 16th – Holiday Desserts at Simply Sugar & Gluten-Free
Just like it sounds—bring your favorite gluten-free Christmas desserts for everyone to share.  Cookies, pies, truffles, cakes, and candies … we want to try them all. Desserts are always the perfect ending, don't you think?
Upcoming giveaway prizes will include the following:
Start participating today and planning for the remaining weeks for the best ever gluten-free holiday! 
Remember … if you'd like to share this event on your blog, simply right click on our event badge at the top of this post, save it to your desktop, and upload it to your blog.  We'd love for you to share this event with your friends! If you'd like to spread the word on Twitter, the hashtag is #GFHoliday—thanks!