For affiliate links and as an Amazon Associate I earn from qualifying purchases.
One of the many joys of friendship is sharing good food and good recipes, like today's gluten-free Zucchini Fritters. None of the sharing of good food and good recipes has to stop when one goes gluten free—although, admittedly, at first, we think it does.
How These Gluten-Free Zucchini Fritters Came To Be
I share my gluten-free food with both gluten-free and non-gluten-free friends all the time and share my recipes here on gfe and directly with friends. My dear friend Jennifer Smith is also a "sharer" of both.
She shared her Zucchini Potato Pancakes on Facebook a while back. I made them as soon as I could and asked Jennifer if I could share the recipe with you all. She graciously said, "Yes!" I've always called such creations "fritters," so I've re-christened these gluten-free Zucchini Fritters. Plus, I made a few changes to her recipe.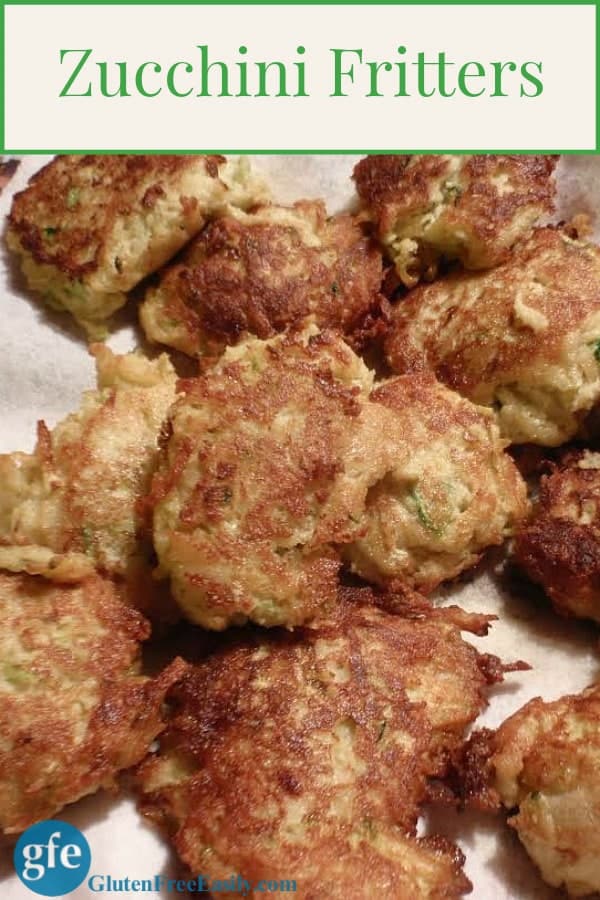 The term "fritters" has much more appeal to me, but if the crew at your house really likes pancakes and you want to get some more veggies in them, sticking with the name Zucchini Potato Pancakes just might be the ticket! Or maybe simply go with Potato Pancakes, if you have folks who "fear" zucchini in your family. (You might also peel your zucchini before shredding if that is the case–to avoid those tell-tale green flecks in your fritters.)
Jennifer made this recipe using gluten-free flour mix, which works fine and is certainly one way you can make these fritters—especially if that is the flour you have on hand. However I decided to use coconut flour to make my fritters grain-free Zucchini Fritters.
Jennifer used a specific Himalayan sea salt because she's a self-confessed salt snob. Hehe. (That kind of snob I can deal with!)
However I went with my basic "go to" brand of sea salt. (It offers so many health benefits!) I also added some Old Bay Lemon & Herb Seasoning for a bit of zest and brightness.
We really liked the resulting fritters when made with this flavor of Old Bay seasoning, but I am sure that any similar seasoning will work in this recipe. Or you can just leave out the seasoning and go a bit heavier on the sea salt. Jennifer sprinkles her special sea salt on her fritters right after she fries them.
These gluten-free Zucchini Fritters make a great side dish, but I also like them by themselves for a vegetarian entrée.
I hope you enjoy this recipe as much as we do. Be sure to check out Jennifer's Best Ever Salmon Cakes recipe, too. It's another favorite of mine and gfe readers.
More Favorite Gluten-Free Fritter Recipes
~ Apple Fritters (Great any time but ideal for Hanukkah celebrations.)
~ Apple Fritter Bites These delicious yeast-raised treats are the gluten-free version of a donut shop staple.)
~ Bakery-Style Apple Fritters ("Cinnamon apple chunks are intertwined with cobblestones of dough and drenched in a vanilla glaze!" Do watch the video.)
~ Ham and Cheese Cauliflower Fritters (Move over ham and cheese sandwich! Remember this recipee for your ham leftovers after the holidays.)
~ Paleo Caulifritters with General Tso's Glaze (You lovers of all things General Tso rejoice, right?!)
~ Roasted Black Bean Sweet Potato Cakes (These grain-free and vegan fritters are pleasantly crunchy on the outside while the inside will melt in your mouth.)
~ Zucchini Fritters (I made this recipe—see photo below—and it was amazing! Mr. GFE said the fritters tasted like crab cakes. Incidentally, these fritters look a lot like those from my recipe but the taste is definitely different. Both recipes are delicious!)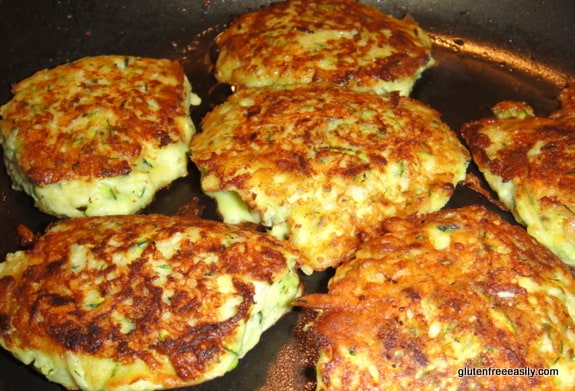 Gluten-Free Zucchini Fritters Recipe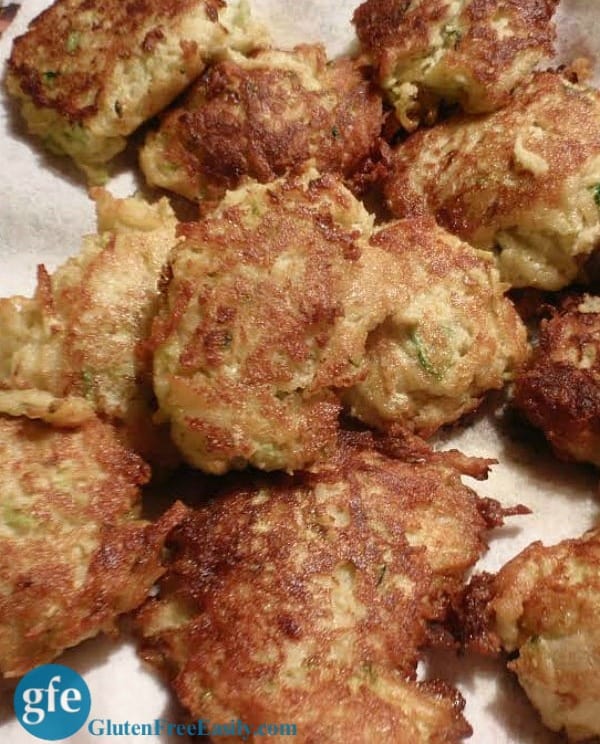 Yield:
Gluten-Free Zucchini Fritters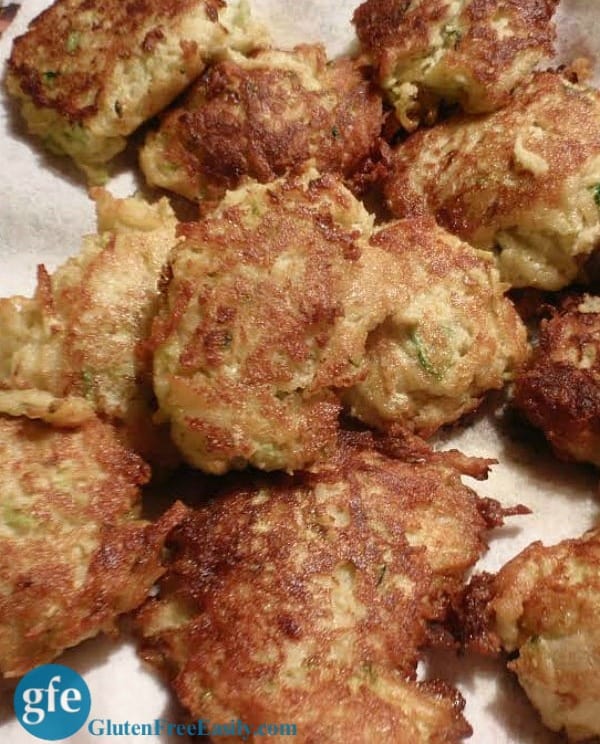 These gluten-free Zucchini Fritters are so light and lovely that even your kids will go back for seconds! Great as a side dish or a vegetarian main dish.

Prep Time 5 minutes

Cook Time 10 minutes

Total Time 10 minutes
Ingredients
2 zucchini, average size, grated
1 potato, peeled and grated
half of a yellow onion, grated
2 eggs, well beaten
¼ tsp sea salt
½ tsp Old Bay Lemon & Herb Seasoning (or similar seasoning mix or regular Old Bay seasoning; optional, but preferred)
Oil of choice for cooking (I use olive oil or coconut oil)
Instructions
Add oil to deep skillet and heat over medium to medium-high heat.
While oil is heating, make your fritter mixture using the following directions.
Press excess liquid from grated potatoes and zucchini. (Pressing a paper towel against the mixture works well.)
Mix together potatoes, zucchini, and onions.
Add beaten eggs, flour, and sea salt. Stir well.
Let mixture sit a minute or two so that the flour helps absorb any additional liquid and thickens the fritter mixture.
Using a small- to medium-sized scoop, scoop fritters and carefully drop them into the hot oil.
Fry fritters a few minutes on each side until golden brown.
Watch carefully to ensure fritter don't overcook.
You can also sprinkle additional sea salt or Old Bay Lemon & Herb Seasoning directly on your fritters hot out of the skillet if you find you want more of those flavors.
Notes
I always make my fritters right beside the stove as the oil in the skillet is heating, so that I don't walk away and forget about the skillet with hot oil.

Originally published September 23, 2016; updated April 8, 2023.