For affiliate links and as an Amazon Associate I earn from qualifying purchases.
I'm delighted to bring you this creamy Slow Cooker Swiss Steak recipe today. Mr. GFE and I have always loved Swiss Steak. Before going gluten free, I used to buy the McCormick Swiss Steak Bag & Seasoning packet that came with an oven cooking bag. I believe you only added flour, tomato sauce, and water to the seasoning packet.
Although most of the time I'm a do-it-yourself kind of gal and dismiss such products as totally unnecessary, admittedly, I kept going back to that one. That was because even though I didn't want to rely on that product, every time I'd try a new Swiss Steak recipe, each of them was way too heavy on the tomato component, plus the resulting sauce/gravy was never creamy enough for our liking.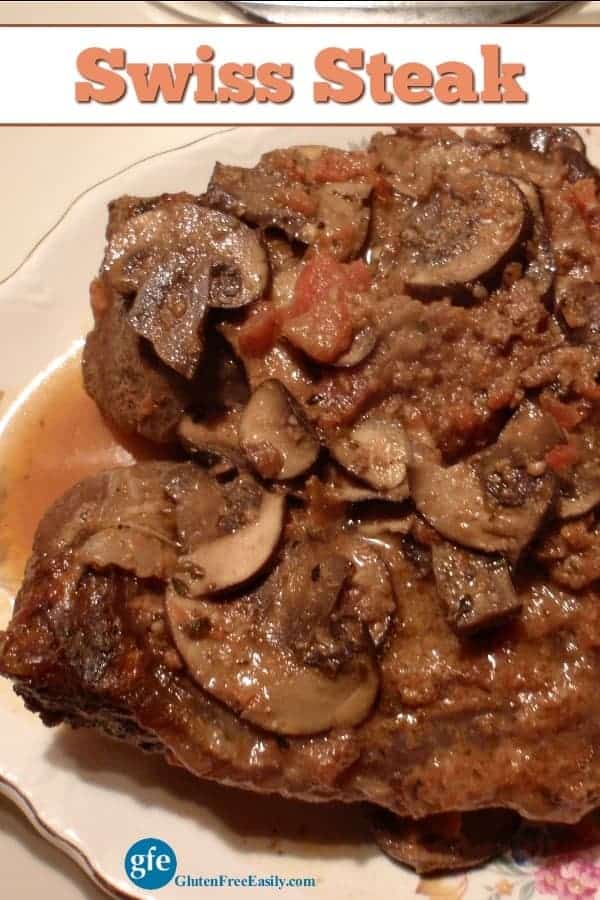 So I decided to create my own creamy Slow Cooker Swiss Steak recipe, adding less in the way of tomatoes and using full-fat coconut milk. Those two ingredients in combination with the juices released from the steak itself—plus some seasoning components as well—create a creamy and flavorful gravy.
I've heard others say that coconut milk is not suitable for savory recipes, but I strongly disagree. I've had great success using canned full-fat coconut milk in savory dishes. In fact, I've used them to "save" or elevate a recipe many times. Too spicy soups, too thin soups, bland sauces, and the like, all become something special with the addition of coconut milk. Full-fat coconut milk, that is.
It might be true that most of the coconut milk beverages—the kind that comes in cartons—are usually not suitable for savory recipes. I know some who use culinary coconut milk, but that's different from canned full-fat coconut milk. Culinary coconut milk contains water, coconut cream, and guar gum, with the main ingredient being water.
I use Native Forest canned full-fat coconut milk. The main ingredient is coconut. There is some guar gum, but there is no water included. I love this product for its simplicity and the creaminess and "body" it can give to a recipe. Plus, I find that its hint of sweetness can be a perfect balance to the acidity of some other ingredients, such as the tomatoes in this Swiss steak recipe.
There's also a new Native Forest Simple, which is coconut only—no guar gum. I have not tried it yet, but I've heard it works well although the texture is slightly different. For those who can't do gums, it's definitely worth checking out.
Incidentally, it seems that the ingredients in the McCormick Swiss Steak Bag & Seasoning packet itself were actually gluten free, before the gluten-full flour was added. However, the product is no longer being made.
Last, while I know a slow cooker can be great to use during the summer, I don't actually use mine much during the summer. The foods I make in my crockpots (yes, plural—I have many of them) tend to be heartier, comfort food recipes, which are not what I usually have an appetite for in the summer. Am I alone in that?
If you are a fan of Swiss Steak, I hope this recipe will pass your taste test! Before we get to my creamy Slow Cooker Swiss Steak recipe, you may want to check out some more savory recipes that use the magic of coconut milk below.
Seven More Gluten-Free Savory Recipes That Use Coconut Milk
~ Chipotle Mashed Sweet Potatoes from gfe
~ Coconut Curry Sauce with Veggies from In Johnna's Kitchen
~ Dairy-Free Corn Chowder from Hunter's Lyonesse
~ Meat Lovers' Chicken from gfe
~ Pot Pie (with Chicken, Turkey, or Vegan) from gfe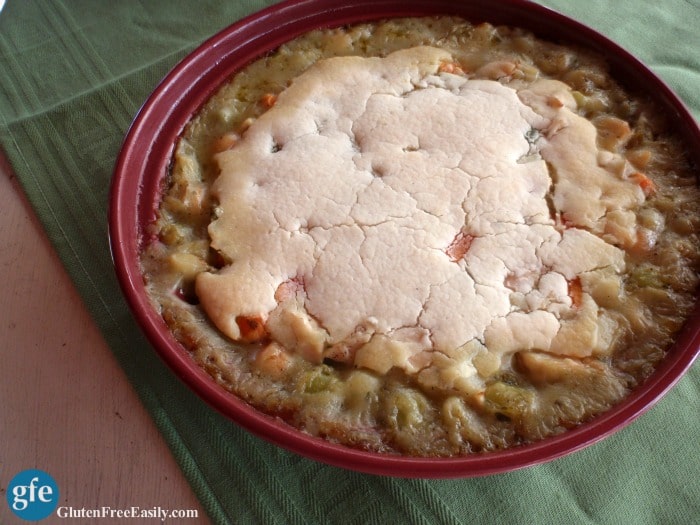 ~ Sweet and Sour Sausage Stew from gfe
~ Uncondensed Chicken and Rice Casserole from gfe
Creamy Slow Cooker Swiss Steak Recipe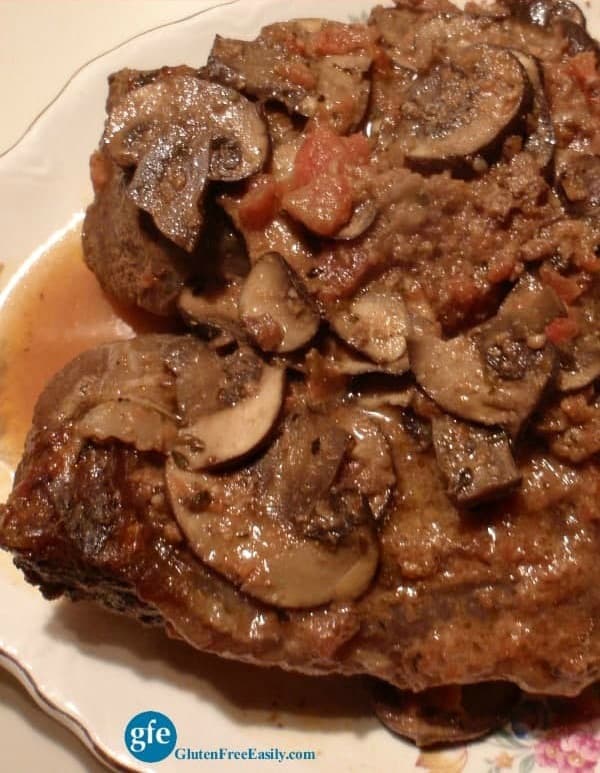 Yield: 8 servings
Creamy Slow Cooker Swiss Steak (Gluten Free)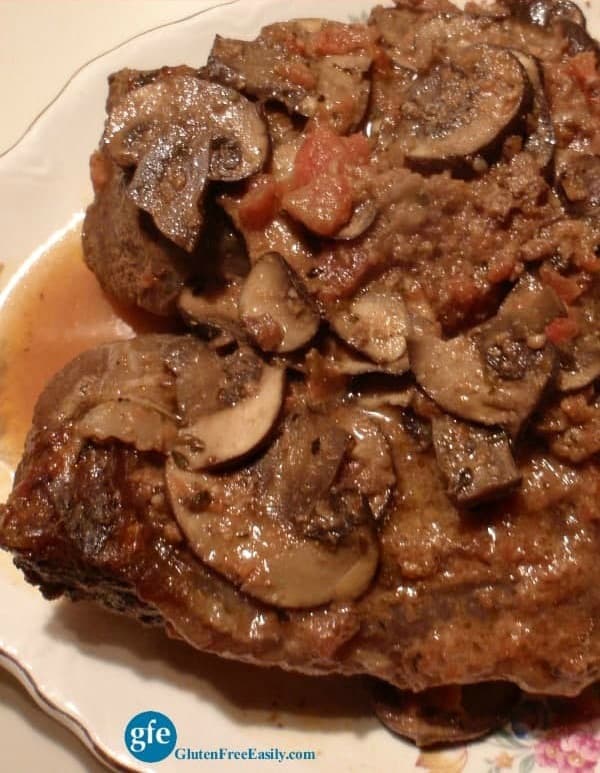 Finally, a Slow Cooker Swiss Steak recipe that is worthy! Not too many tomatoes, not too thin on the sauce, and perfectly flavored in a creamy sauce that's just thick enough.

Prep Time 10 minutes

Cook Time 8 hours

Inactive Time 8 hours

Total Time 16 hours 10 minutes
Instructions
Place meat in slow cooker. (I recommend a large oval crockpot or the Ninja 3-in-1 cooking system for this recipe.)
Sprinkle flour over meat. Use fingers to press flour into meat. Flip meat and repeat.
Add tomatoes, coconut milk, garlic, Italian seasoning, sea salt, and pepper to large mixing bowl. Mix ingredients well with hand mixer. If you have an immersion blender and like a very smooth sauce without chunks of tomato, you can use that. I recommend using it for about 30 seconds to further blend the mixture.
Stir mushrooms and onion slices into the mixture.
Pour mixture over roast in slow cooker. Cook on low for 8 to 10 hours. Check for doneness at 8 hours. Roast should easily cut, but not fall apart. If you want a "fall-apart" roast, continue cooking for a while longer.
Notes
The sauce that results from this slow-cooked Swiss Steak is its own wonderful gravy, but it also could be used to make a separate traditional gravy to be used for other meals. Admittedly, Mr. GFE and I are not big gravy folks, so I simple spooned some additional sauce on our servings of Swiss Steak each time we enjoyed it. I added the remaining sauce to my freezer container for future Everything Soup.

Originally published September 27, 2016; updated December 4, 2021.