For affiliate links and as an Amazon Associate I earn from qualifying purchases.
If you're not familiar with Jennifer Robins of Predominantly Paleo, you're in for a surprisingly delicious treat today! If you do already follow Jennifer and love her recipes, you'll be very happy to get another great one. Jennifer and Page Street Publishing are sharing gluten-free and paleo Sweet Potato Bacon Tater Tots from her new cookbook, The Paleo Kids Cookbook for a Lifetime of Healthy Eating. (Note: I was provided a complimentary copy of her cookbook for review, but no other compensation.)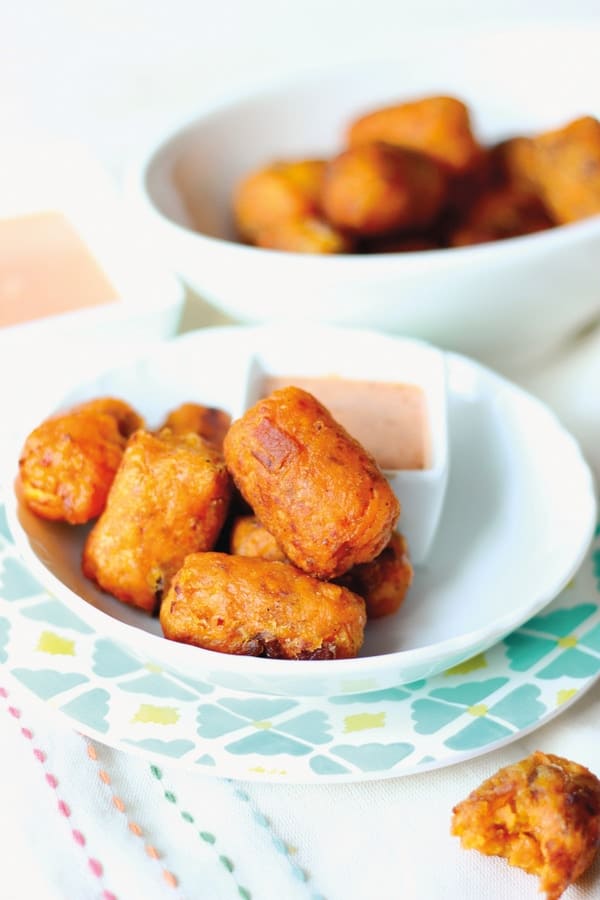 Hey, even this big kid loves this recipe! Admittedly, I am one of those odd souls who do not normally go nuts over tater tots, but I know lots of you do flips over "all things tater tot" and I'm pretty sure you will enjoy this version even more than standard tater tots.
Jennifer simply calls them Sweet Potato Bacon Tots and I know that saying Sweet Potato Bacon Tater Tots is redundant, but I want to make it clear that these are a sweet potato and bacon version of the much loved Tater Tots.
Subtitled "Transition Your Family to Delicious Grain- and Gluten-free Food for a Lifetime of Healthy Eating," this new cookbook is Jennifer's third cookbook. Her first was Down South Paleo: Delectable Southern Recipes Adapted for Gluten-free, Paleo Eaters. Her second cookbook was The New Yiddish Kitchen: Gluten-Free and Paleo Kosher Recipes for the Holidays and Everyday, which she co-authored with Simone Miller (Zenbelly). Her fourth cookbook is Paleo Cooking with Your Instant Pot 80 Incredible Gluten-Free and Grain-Free Recipes Made Twice As Delicious in Half the Time.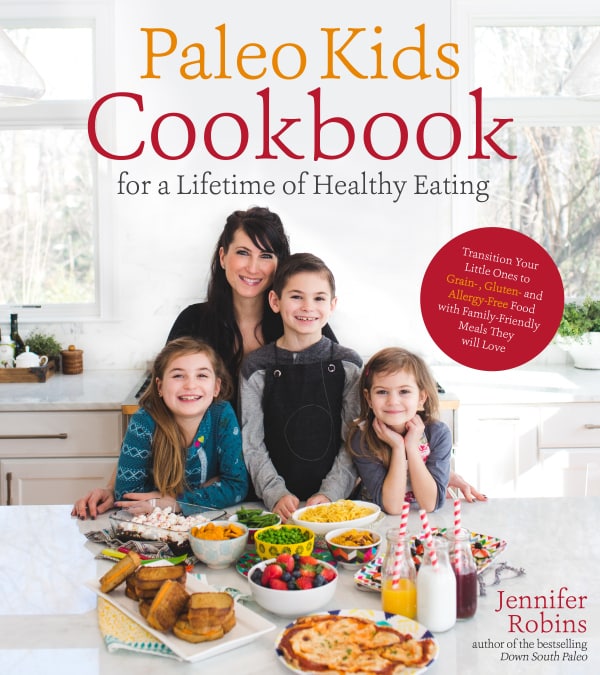 Clearly, Jennifer is prolific in her recipe and cookbook creation! Even more impressive is the fact that her cookbooks have been bestsellers and all of them garner 5 stars on Amazon.
When we spend the money to add cookbooks to our collections, we want to know that they are worth the purchase, so that's very important information. You'll want to read the reviews yourself and use the "Look Inside" feature on Amazon as well to see if these are cookbooks are right for your personal kitchen.
One of the things I love about Jennifer is how caring she is about the food allergy community. She goes above and beyond to create really fantastic recipes that work for as many as possible. All the recipes in The Paleo Kids Cookbook are gluten free, grain free, dairy free, refined sugar free, peanut free, soy free, and shellfish free. Many of them are also egg free and nut free—as today's recipe for Sweet Potato Bacon Tots is.
A good percentage of these recipes are also naturally vegetarian. I mention that because so often "paleo" cookbooks are meat focused (or thought to be meat focused). Certain vegetables and fruits can be a very important component of a healthy paleo diet and one would certainly not have to be paleo to appreciate the 100 terrific recipes in this cookbook!
Jennifer says: "My goal is to bridge the gap between what kids love and what we'd actually love to feed them." That's an admirable goal for sure—one many of us have—and Jennifer really accomplishes it in this cookbook.
Recipes like Allergy-Friendly Waffles, French Toast Sticks, Silver Dollar Chocolate Chip Pancakes, "Corn" Dog Dippers, Crispy Sweet Potato Fish Sticks, Paleo Piggies, Banana Pudding, Graham Crackers, S'mores, and Funnel Cakes—all made with healthy ingredients—demonstrate that, but I also see Jennifer feeding her family this way via her blog and Facebook posts. They're always smiling and happy and there's no surprise there! (Note: You can find another recipe from this cookbook, her Paleo Piggies (aka Paleo Pigs in a Blanket), on gfe.)
Jennifer shares in her book that she was like most other parents not that long ago, feeding her kids fairly traditional fare and thinking that they were all "pretty healthy." When she would express concern about some of their symptoms, she was told "some kids just have this" or there's "nothing to worry about there."
It was only when she made changes to her own diet—and, therefore, her family's diet—and saw improvement in her own health, that she saw that there was room for a lot of improvement in their health as well. Soon she saw that improvement, when symptoms like stomach aches, enlarged lymph nodes, congestion, and snoring disappeared.
Regarding the latter, Jennifer's older daughter had been diagnosed with sleep apnea at age 5. They'd been told that surgery to resolve the issue would be in her daughter's future. However, after her family changed their diet, her daughter no longer had any of those issues.
Jennifer shares in her book: "I am not recommending that you impersonate a healthcare practitioner, throw caution to the wind and start creating your own potions and elixirs. I do believe, however, that food has the incredible power to strengthen our immune systems, to nourish us, and to heal us in a variety of ways." I think all of us who have changed our own diets and experienced better health as a result can agree with that.
Giveaway of The Paleo Kids Cookbook and Cassava Flour
UPDATE: This giveaway is now closed. Congratulations to the winners! Thanks to all of you who entered the giveaway. If you didn't win, you can purchase The Paleo Kids Cookbook and Otto's Cassava Flour on your own, of course. (I highly recommend both! Be sure to subscribe to gfe so you don't miss any future giveaways (or terrific gluten-free recipes)!
There will be two winners of The Paleo Kids Cookbook. There will be one winner of Otto's Cassava Flour, which is one of the ingredients that Jennifer uses in some of her recipes in this cookbook. (FYI: Otto's Naturals doesn't know me/gfe. This part of the giveaway is solely sponsored by gfe.)
Paleo Sweet Potato Bacon Tater Tots Recipe
Jennifer has a special affinity for the combination of sweet potato and bacon, so she has several other recipes using this especially wonderful ingredient duo on her blog: Bacon Sweet Potato Waffles, Bacon-Wrapped Sweet Potato Fries, Bacon, Caramelized Onion, and Sweet Potato Perogies, and, my own personal favorite of these recipes, Pecan Pie with Bacon Crust and Caramel Drizzle (yes, there is a sweet potato factor in this one as well). And now without further ado, here are those Paleo Sweet Potato Bacon Tater Tots that you're sure to love. I sure do!
Yield: 4 servings
Paleo Sweet Potato Bacon Tater Tots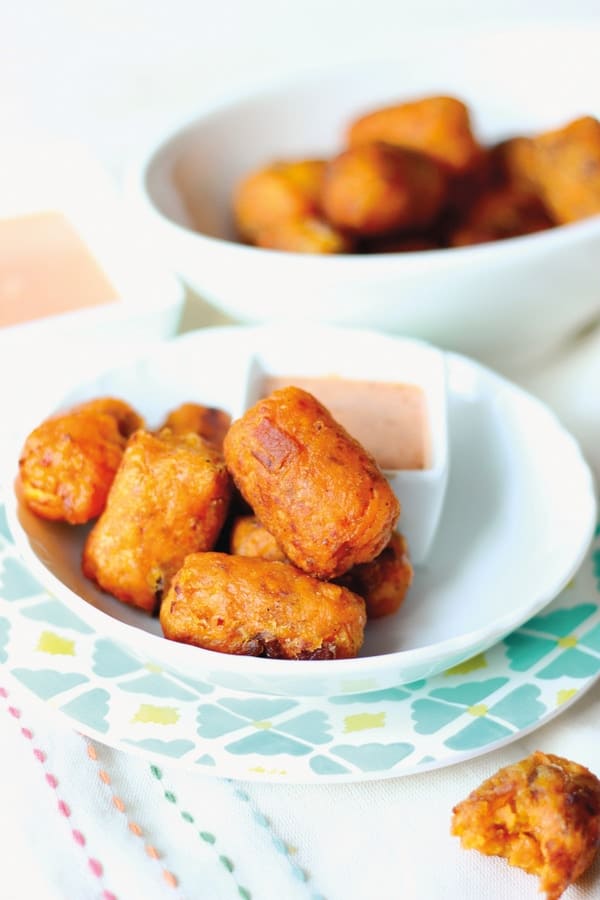 From Jennifer: "Most tater tots are made with pretty unsavory ingredients, and because of cross contamination, eating them out becomes basically impossible. I made these with sweet potato and bacon for a flavor kick and no risk of the yucky stuff like rancid oils or traces of gluten!"

Prep Time 20 minutes

Cook Time 10 minutes

Inactive Time 5 minutes

Total Time 5 minutes
Ingredients
1 large sweet potato
5 strips of crispy bacon, chopped
Up to 1 tsp garlic sea salt (to taste)
½ tsp onion powder
½ tsp ground black pepper
½ cup (80 g) potato starch or cassava flour
Avocado oil or light olive oil for frying
Instructions
Boil the sweet potato submerged in water for about 10 minutes. Remove the sweet potato from the boiling water and once cool enough to handle, peel or slice the skin off. Grate the sweet potato, using a hand grater, mandolin or food processor.
Once the sweet potato is grated, use a hand towel or a few paper towels to squeeze out the excess water from the potato. This step is important, as you do not want to have soggy tots!
Add the other ingredients (minus the oil and sauce) to the grated sweet potato in a mixing bowl and combine by hand. Preheat oil for frying in a large skillet over medium/high heat; it does not need to be enough oil for deep frying, but it should be enough to generously cover the bottom of the skillet.
While the cooking oil heats, begin shaping your tots. Roll about a tablespoon (15 g) of the dough into a ball, and then elongate it and flatten the ends to give it that distinctive tot shape.
Fry the tots, rolling them around on all sides to make sure they crisp up. Once all sides are cooked, around 5 minutes or more, use a slotted spoon or skimmer to remove the tots and transfer them to a towel-lined plate to cool slightly. Serve alone or with my Awesome Sauce (see notes)
Notes
Awesome Sauce is another recipe in The Paleo Kids Cookbook, page 177.

For little hands: Allow your child to help shape the tots. It's okay if they are not shaped perfectly as they will fry deliciously regardless. Older kids can help fry the tots while supervised.

This recipe and photo are reprinted with permission from Jennifer Robins and Page Street Publishing.

Originally published October 7, 2016; updated December 4, 2021.