This post may contain affiliate links. If you purchase through them, your cost will stay the same, but gfe will receive a few cents for every dollar spent. Thanks for supporting gfe!
These Roasted Black Bean Sweet Potato Cakes melt in your mouth and are crunchy at the same time. They are wonderful either as a side dish or an entrée. This recipe, which is made up of only four ingredients—roasted black beans, sweet potato, red onion, and tapioca (or coconut) flour—is my entry for this month's Go Ahead Honey It's Gluten Free event. As I recently announced, I'm hosting this time around and the theme is "When You're Grain Free and Feeling Like A Nut, But Don't Eat Tree Nuts or Peanuts!"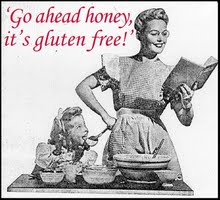 As I was trying to think of a recipe for this event, I thought of my Simple Roasted Chickpeas (Garbanzo Beans) because they are wonderfully crunchy and full of flavor. I had a vision of some veggie-based egg-free cakes in my head and was trying to decide on what would "bind" best and what would offer the right crunchy flavor without nuts. Several sweet potatoes were staring at me from the open pantry. While I have paired sweet potatoes and chickpeas before (mostly in soups) and that combo was nice, I also spied a can of black beans. Now black beans and sweet potatoes together are a match made in heaven!
But who roasts black beans? Well, I did a Google search and quite a few folks actually have! So I tested two versions of my creation—one with roasted black beans and one with roasted chickpeas. I have to tell you that roasted black beans are by far my preference in this recipe. And that's saying a lot coming from this chickpea lover. The roasted black beans by themselves are not much to look at, but they are delicious, especially combined with these other ingredients in this recipe, which is not only gluten free, grain free, tree nut free, and peanut free, but also free of the rest of the top 8 allergens and vegan as well. Note that if you don't eat black beans, the Roasted Chickpea Sweet Potato Cakes are still tasty and very attractive with their light golden orange color.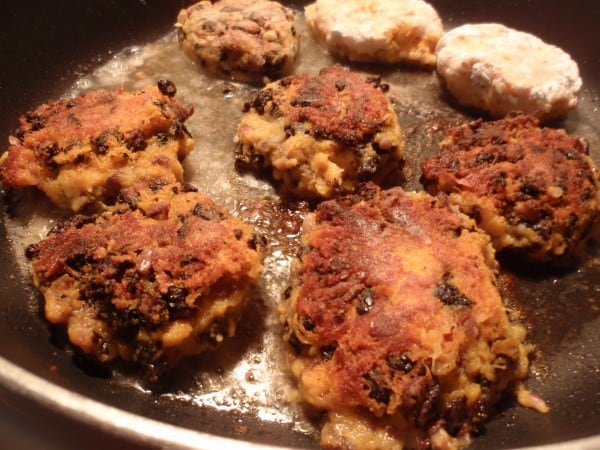 Whether you're a blogger or reader, please submit your grain-free, tree nut-free, and peanut-free recipe to Go Ahead Honey It's Gluten Free!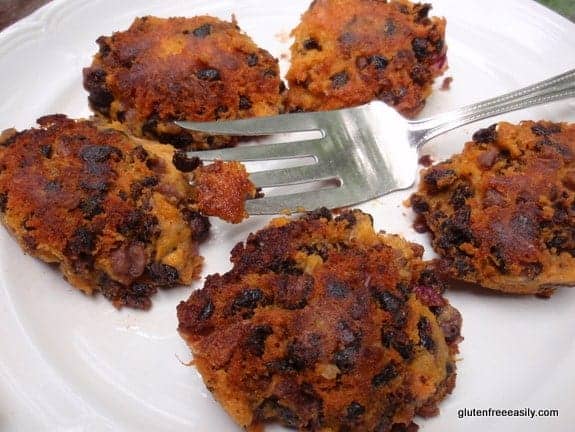 Roasted Black Bean Sweet Potato Cakes Recipe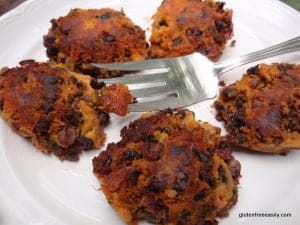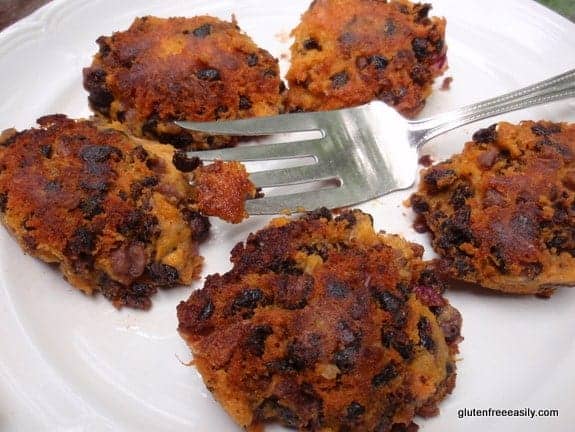 Print
Roasted Black Bean Sweet Potato Cakes
Ingredients
1 batch roasted black beans or chickpeas (use this recipe, subbing black beans for chickpeas and roasting beans until hard and crunchy)
1 cup mashed sweet potato (about 1 ½ large baked sweet potatoes)
¼ cup red onion, finely chopped
About ¼ to 1/3 cup tapioca flour or coconut flour (sifted), for coating (optional)
Instructions
Add coconut oil to about ½-inch depth in large skillet. Heat oil to medium or medium high.
In a large bowl, mix roasted beans, sweet potato, and red onion by hand. Form into patties.
Gently coat cakes with tapioca flour (or coconut flour) by placing flour in a small bowl and dredging cakes in flour until coated. (This step is optional, but it makes for a crunchy crust, holds the cakes together better, and makes a very nice presentation.)
Add cakes to hot oil. Fry about 5 minutes on each side until cakes are golden brown and heated through.
Makes about five 3-inch cakes.
Notes
These cakes are best the first day, although I made mine last for three days. After the first day, they are not as crunchy, but they are still delicious!
 This post is linked to Hearth and Soul Blog Hop.