For affiliate links and as an Amazon Associate I earn from qualifying purchases.
I whipped up these Chipotle Salmon Corn Cakes this morning. Blogger friends like Lydia (The Perfect Pantry) have gotten my salmon cravings going with recipes like Salmon and Quinoa Patties with Lemon-Yogurt Sauce. Here I am supposed to be sharing Super Bowl recipes, but instead I'm in fish and omega-3/multi-vitamin/multi-mineral heaven with salmon cakes. But this won't surprise most of you, as I've shared my love of salmon before—with my Cayenne-Lime Salmon recipe, for example.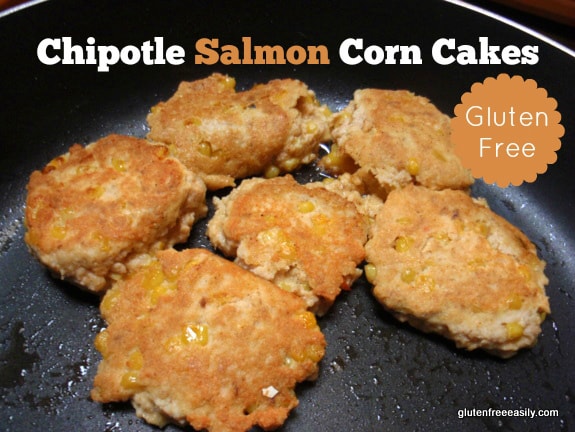 Those omegas make salmon "brain food" and I crave salmon fairly often. I'll go to a restaurant with several naturally gluten-free options that all look very appealing, and almost every time I'll order the salmon. And I'm always glad that I did. While I love the taste, I have to believe that I crave salmon for its nutritional goodness, too. Sometimes the body knows what it needs.
These Chipotle Salmon Corn Cakes are a perfect example of another gfe pantry meal. I made these after Mr. GFE had left for work. While he enjoys most fish, he is not a fan of salmon. And yet I still married him … Ha! Kidding. Of course, we all have our "likes" and "dislikes." But when the "dislikes" are in opposition to our own "likes," they are hard to understand. We share most of the same "likes," and I have happily worked around our food preferences over the years. Son and I share most "likes." (The exception might be snails. Son loves them, I don't even want to look at them, even if they are bathed in butter and called escargots. Using the French term does not make every menu item enticing.)
So whenever Mr. GFE would go on a business trip or a scuba diving vacation, Son and I would eat every food that Mr. GFE would turn up his nose at. Corned beef hash? Oh yeah! Tomato soup with grilled cheese. Absolutely. Fried egg sandwiches for dinner? That would be our very first dinner after Mr. GFE had departed. Incidentally, if you missed Tiffany's Grain-Free Flatbread/Naan at The Coconut Mama, head over to her site right now. You're in for a treat! Boy does this flatbread ensure a great fried egg sandwich, and would have been good to nestle one of these Chipotle Salmon Corn Cakes in, too. Next time for sure. (Note: Here are some more amazing gluten-free flatbread recipes.)
Salmon was probably our healthiest indulgence whenever Mr. GFE was away. Son loved salmon from even an early age.
I ate two of these small-ish cakes for breakfast with my green smoothie (coconut water, banana, baby spinach, almond flour). One I sampled hot right out of the skillet. What a lovely way to start the day! Then I ate two more for lunch with a dollop of Poppy Seed Dressing. I'm not a fan of tartar sauce, but the sweet tanginess of the Poppy Seed Dressing was very, very good. Now I feel like both my brain and stomach have been fed today. Chipotle Salmon Corn Cakes definitely provide delicious nourishing contentment.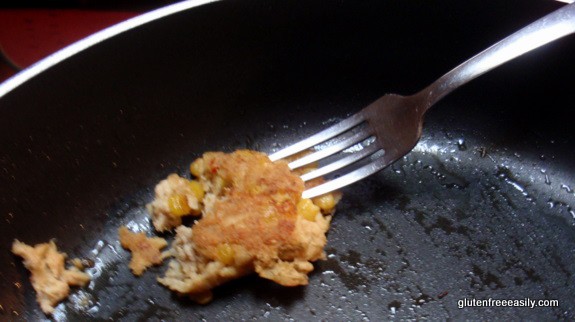 If you're making this for more than two people as I was, you'll want to double or triple the recipe, which is what I do when Son and J are eating with me. In fact, salmon cakes have become one of our favorite meals because of the fact that it's so easy to double or triple the recipe and have wonderful leftovers the next day or so for perfect lunches and clean-out-the-fridge meals. Be sure to check out all my gluten-free salmon cake recipes.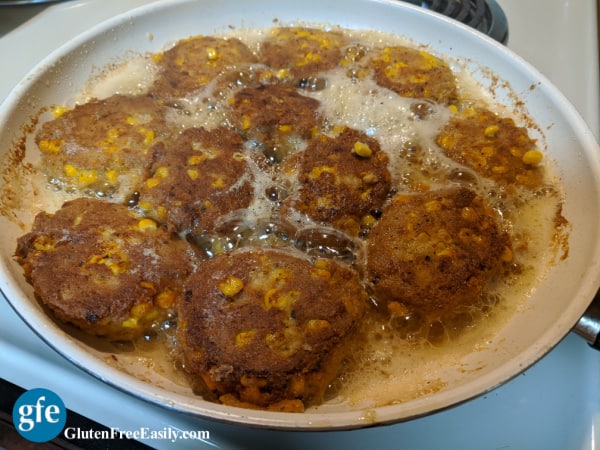 Gluten-Free Chipotle Salmon Corn Cakes Recipe
Yield: Makes about 6 cakes, 2 1/2 inches in diameter
Chipotle Salmon Corn Cakes (Gluten Free)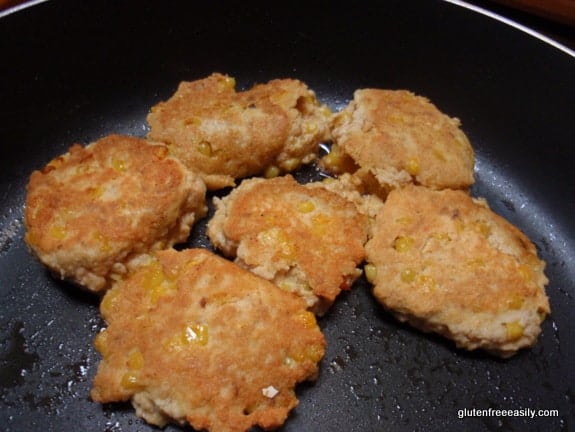 These super quick, easy, and flavorful salmon cakes make a great meal!

Prep Time 3 minutes

Cook Time 10 minutes

Total Time 3 minutes
Ingredients
1 tbsp cooking oil (I used coconut oil)
1 egg
1 pouch wild-caught salmon, 6 ounces (or equivalent amount of freshly cooked salmon, drain if necessary)
½ cup corn, cooked and drained
1/3 cup almond flour (or gluten-free all-purpose flour for nut-free version)
¼ to ½ tsp chipotle powder (or to taste)
½ tsp onion powder or 1 tbsp finely diced onion
Instructions
Add oil to large skillet and heat to medium-high.
In a medium-sized bowl, slightly beat egg with fork or wooden spoon.
Add in salmon, breaking up big chunks for better flavor distribution and so cakes will hold together better.
Add in corn, almond flour, chipotle powder, and onion powder (or onion).
Form into cakes and add to preheated skillet. Cook cakes about 5 minutes on each side.
Serve and enjoy!
Notes
The corn I used actually had some red and green pepper in it, so feel free to add a small amount (maybe 1 teaspoon or so, finely chopped) of either, or both, if you have them on hand.

I used ½ teaspoon of chipotle powder when I mixed the cakes and then sprinkled more on once they were in the skillet. You may need to increase the amount of chipotle powder when adding additional ingredients.

Last, you'll want to double or triple this recipe for a family.

Originally published January 31, 2012; updated April 5, 2022.