For affiliate links and as an Amazon Associate I earn from qualifying purchases.
Today you get not only my Easy Pea-sy Cheesy Gluten-Free Tuna Casserole recipe but some thoughts on living, hopefully, thoughts you can relate to.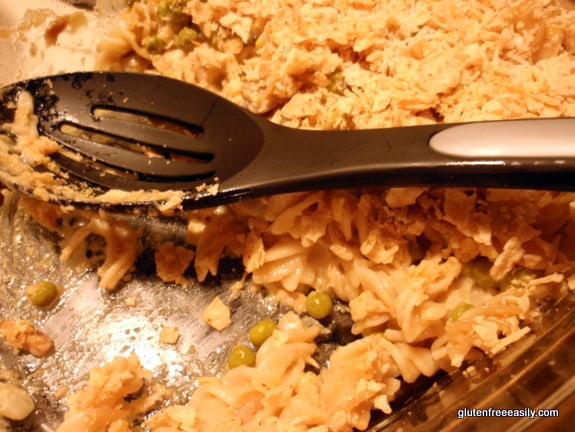 "Happiness is a journey, not a destination." Are you familiar with that quote? I believe it's an eye-opening, nod-your-head kind of quote and that much the same can be said about balance.
"Balance is a journey, not a destination."
It's human nature to think that we'll have balance when that tough project at work is finally over, when Billy is settled into college, or when we're finished with "x, y, or z." But the truth is that there is no one point in our lives where we will be perfectly balanced.
There are moments in time when we feel balanced though. Those are the times when we are most likely to count our blessings. We feel content. We feel happy. Those moments of balance are ones which we can aspire to and savor, but ongoing balance in life is a daily pursuit. If we are truly living—with all that entails—by necessity, we are always seeking balance.
It was a post by my friend Diane (The Whole Gang) a while back that got me thinking more about the illusion of balance. When she said something to the effect that we are never truly balanced and instead of balance, she sought a rhythm to her day and life—well, that resonated with me.
I think it's pretty true that perfect balance is elusive and it's also pretty important to acknowledge that. We tend to think that others have amazingly balanced lives and we wonder what is wrong with us when we don't. The reality is worth pondering. Diane talks about balance—and rhythm—here.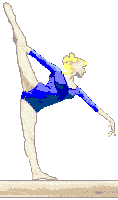 Visualize the female gymnast on the balance beam. (Incidentally, there is no male balance beam sports event because of the, uh, risk of bodily harm. No kidding.) The gymnast walks gracefully across the beam with arms outstretched in an artistic pose. She maintains her balance perfectly during that time, even though she is traversing an elevated beam that is only 4 inches wide.
This part is routine for her. As simple as breathing. Then she adds in a few competitive "tricks."
Her attempt to maintain balance becomes progressively more challenging as pivots, jumps, and leaps are added. Then somersaults and more.
Her routine is planned out and maybe she's performed these moves dozens if not hundreds, maybe thousands, of times before, but something goes awry, something throws her off balance during one move. Suddenly that momentary lack of balance threatens the remainder of her program as well.
What does she do? Does she just go ahead with her program without making adjustments? Not likely. To save her balance and be able to go forward, she might omit one of the parts of her program or choose a less difficult move, so she can continue on successfully—with perfect balance, grace, and poise.
The gymnast being thrown off balance can be a good analogy for what we face in our daily lives, particularly when it comes to the kitchen and mealtimes. Tommy's soccer practice runs way late, Susie's earache turns into something more serious and we spend a few hours at the doctor's office and the pharmacy, we forget to thaw out the chicken we were going to grill, etc. There are so many ways that our schedules—our balance—can be thrown off, so we really always need to have a plan B, a fallback plan.
This discussion and this post are part of Balanced, Healthy, and Gluten Free, an event being held daily this month, with posts from tons of terrific bloggers. All of these posts have added something of value to thoughts on those three aspirations, many with actionable plans and/or recipes. However, I'll highlight one. Heidi (Adventures of a Gluten-Free Mom) offers reflections in her post that start out similar to mine, but she takes her thoughts to a much deeper level. I consider her post, which she cleverly titled "Wax On, Wax Off, a "must read."
The second part of my post is a recipe. What recipes do we make to stay balanced, healthy, and gluten free? Often the recipes that keep things on an even keel for meals are actually non-recipes. I make a lot of non-recipes and not many of them actually appear on my blog.
Some examples of non-recipes meals that can be "pulled" from the pantry are simple meat, potato, and veggie meals; Mexican dishes (tacos, quesadillas, and fajitas); skillet suppers of all varieties; and soups like the "Pantry" Black Bean Corn Salsa Soup, which I recently shared. A typical pantry dish can be assembled quickly and ready to eat in about 30 minutes (total time).
Even gluten-free pre-made pizza crusts can be a great pantry meal option. They can also be a very healthy one. Melissa (Gluten Free for Good) uses pizzas as a delivery system for all manner of healthy goodness. She has shared many on her blog, including pizza with her new favorite gluten-free topping, her veggie pizza recipe, and several pizza ideas—like red chile enchilada pizza—from her epic pizza party. (How epic was Melissa's pizza party? 32-pizzas epic!)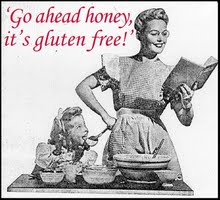 One good source of non-recipes—and inspiration for creating your own—is the "Dishes So Simple, No Recipe Required" roundup for the Go Ahead Honey It's Gluten Free event that I hosted last year. One recipe in that roundup came from Diane (The Whole Gang). It was another Mexican dish, a casserole made from refried beans, salsa, meat, cheese, and tortillas or tortilla chips. I like to cook and freeze extra taco meat, so I can pull out a pound at a time to use for such quick Mexican dishes.
Thinking back to the gymnast and her fallback plan for when she gets off balance, maybe the answer to a change in dinner plans might be as simple as going forward with the rest of the meal even though you forgot to thaw out your meat or seafood or you don't have time to cook the main part of your planned meal. The salad and veggies you planned to accompany the steak might make an excellent meal on their own. If you live with someone who needs meat or substantial protein at every meal, you might want to top that salad with chickpeas and/or quickly cooked bacon.
Look to your pantry—cabinets, refrigerator, and freezer—for quick solutions. There are lots of ways to improvise when necessary. Incidentally, this month's theme for the Go Ahead Honey event is Foods That Heal. I submitted my Indian Curry Balls (with two versions—Chicken or Chickpea) for this event.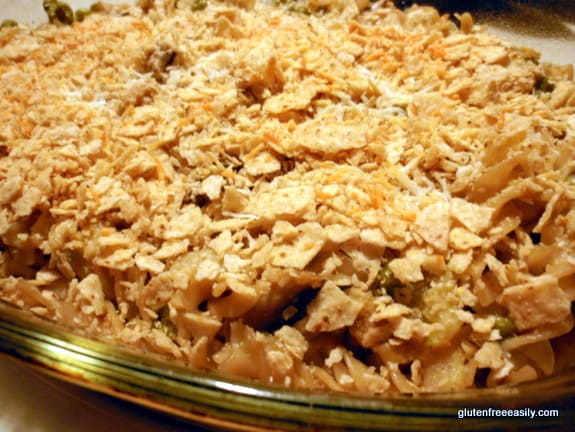 Today, I am sharing a favorite pantry meal at our house—Easy Pea-sy Cheesy Gluten-Free Tuna Casserole. I don't make this dish often but Mr. GFE and I both love it. In fact, he just about does backflips when I'm "thrown off balance" and end up creating this meal from my pantry. (Now Son and J also love it!)
As long as my pantry holds its usual staples, I can always make this recipe as a fallback dinner. The key ingredients as far as our preferences go are tuna (of course), gluten-free pasta, milk, peas, cheese, and crunchy topping. Note that dairy-free milk and dairy-free cheese work just fine in this recipe. This casserole is also great when made with salmon, which I do when Mr. GFE is not around as he is not a big fan of salmon.
When I made this casserole recently, I shared the photo on my gfe Facebook page and readers volunteered their "requirements" for tuna casserole. Yes, they said things like "a good tuna casserole must include peas."
It turns out that there are a lot of tuna casserole lovers among us, and picky ones at that, as evidenced by those numerous comments. Peas, mushrooms, cheese, and crunchy topping were some of the preferences mentioned again and again, but some chimed in and offered specific "no-no's" like "no peas please."
Tuna casserole is a comfort food dish and almost everyone has an opinion on those! I'd love to hear your opinion on the perfect tuna casserole or your "go to" pantry dishes for the days that force you to vary from your routines.
More Gluten-Free Old-School Comfort Food Dishes
Easy Pea-sy Cheesy Gluten-Free Tuna Casserole Recipe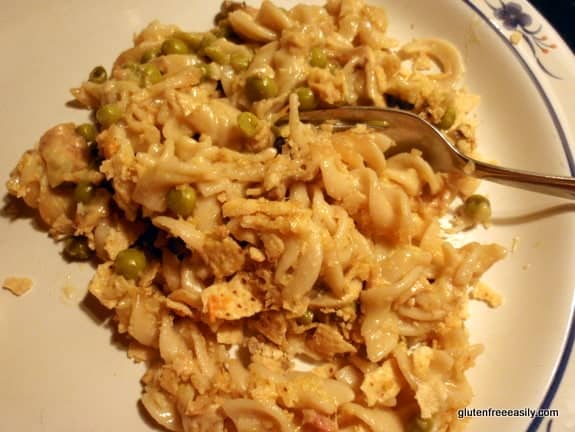 Yield: 9 servings
Easy Pea-sy Cheesy Gluten-Free Tuna Casserole (or Salmon Casserole)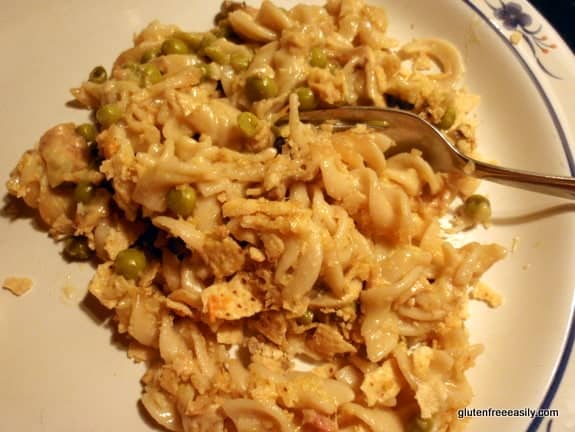 Tuna Casserole is classic comfort food that doesn't disappoint. Old-school goodness, if you will. Right down to the crushed chips as the topping! If tuna is not your favorite, salmon is a great substitute. Similarly, the peas can be left out or another veggie can be subbed in.

Prep Time 5 minutes

Cook Time 30 minutes

Total Time 5 minutes
Ingredients
About 1 tbsp or so of extra virgin olive oil
About 1 to 1 ½ cups sliced mushrooms
½ cup onion (about half an onion)
1 cup canned coconut milk
1/3 cup almond milk
1 can tuna, drained (salmon will also work)
1 cup cooked peas
1 cup shredded cheese, optional (I have also used dairy cheese, Daiya cheddar-style shreds, or omitted)
¼ cup almond flour, optional (see notes)
1 ½ cups gluten-free pasta, cooked (I used these Goldbaum's brown rice spirals)
about 1/3 cup crumbled tortilla chips, crumbled potato chips, or almond flour (enough to cover surface)
Parmesan cheese, grated (optional)
Instructions
Preheat oven to 400 degrees Fahrenheit. Grease medium-sized casserole dish.
Saute onion and mushrooms in olive oil at medium to medium-high temperature in large skillet. When onions are translucent and mushrooms have released their liquid, slowly stir in coconut milk and almond milk. Cook about 5 minutes more on medium stirring often until the mixture thickens and is reduced slightly.
Add tuna, peas, cheese (if used), almond flour (if used), and cooked pasta. Mix well and transfer to casserole dish.
Top with crumbled tortilla chips, crumbled potato chips, or almond flour. Sprinkle grated Parmesan cheese over all, if desired.
Bake uncovered about 15 to 20 minutes until hot.
Notes
I usually use tuna packed in olive oil, so I drain the can into the skillet and use that olive oil plus a little more for sautéing the onions and mushrooms.

I cook my pasta while I'm completing the first few steps of the recipe. If I leave out cheese in the casserole itself, I usually add almond flour.

The casserole topping I use depends upon what I have available. For the version shown here, Mr. GFE had just finished a bag of tortilla chips after a few days of snacking and there were just enough chip fragments in the bottom of the bag to crumble more and sprinkle over the top.

Last, tuna is one fish that contains mercury. While general guidance is that the health benefits of eating tuna occasionally outweigh the negatives, some individuals like pregnant women and those with heavy metal issues should avoid tuna. Please do your research and use your best judgment on consuming tuna. If you would like an alternative, a packet of wild-caught salmon would be a great choice.

Originally published January 30, 2012; updated January 25, 2022.