For affiliate links and as an Amazon Associate I earn from qualifying purchases.
Today's gluten-free Chicken A La King recipe is one that I have linked to before when I shared it on another site. Today I'm bringing this recipe home to gfe so you all don't have to go anywhere else to get it! Plus, I've made a few other needed updates to this post.
Chicken A La King is comfort food and I'm happy to say that we have entered the season of comfort food! Gluten-free Chicken A La King is also Son's favorite meal. I mean his very, very favorite meal! Sure, he loves tons of other meals and foods, but if I ask him what he would like me to make "special" for him, the answer is always "Chicken A La King!" I tried different recipes over the years and finally created my own version that combined all the elements we loved. He's enjoyed my "just gluten-free" Chicken A La King recipe since going gluten free when he was a teenager.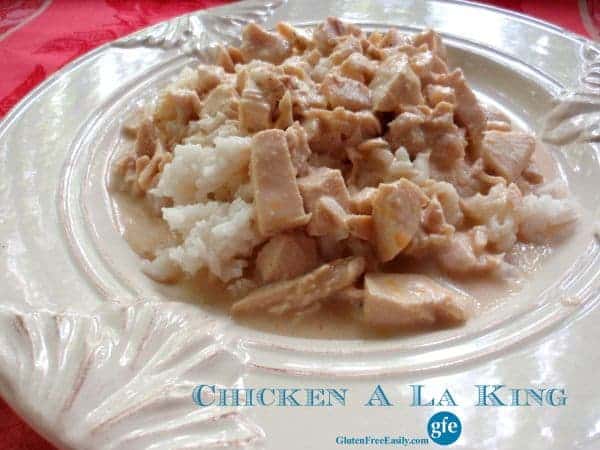 And now I have a confession, I haven't made this meal for him since he went dairy free, which was a very, very long time ago, folks. As in several years ago. So although some of you thought I deserved the Super Mom Award for baking cookies for him at midnight a while back—and late-night cookie baking to satisfy requests is actually a pretty common occurrence at our house —I am not always as quick to honor all of his recipe requests.
The version of Chicken A La King I have always made for us was naturally gluten free except for a small amount of flour, so it was easy to substitute my Two-Ingredient Gluten-Free Flour Mix to make a gluten-free version. I just never got around to making this recipe dairy free after Son also went dairy free.
Son hasn't bugged me too much over the years about making gluten-free, dairy-free Chicken A La King for him, but when we went camping on July 4th, once again he wistfully mentioned missing Chicken A La King. An immediate wave of guilt went through me. Of course, we were camping and while I have no doubt that I could make Chicken A La King in that setting, I didn't have the needed ingredients with me and we had lots of other great meals to keep him and us happy that weekend.
Still, Son's recent mention of his beloved Chicken A La King stuck in my head. Again, true Mom guilt, you know? When he told me that he was coming home this past weekend, I got ready. I checked my ingredients list and headed to our grocery store, Food Lion (which is conveniently located across the street from where we live) and bought all that I needed to make gluten-free, dairy-free Chicken A La King. It turns out it was really easy to make my recipe dairy free for Son. I simply substituted dairy-free butter and dairy-free milk and left out the cheese. I've left out cheese before in this recipe and as much as I love cheese, I actually like this recipe better without it.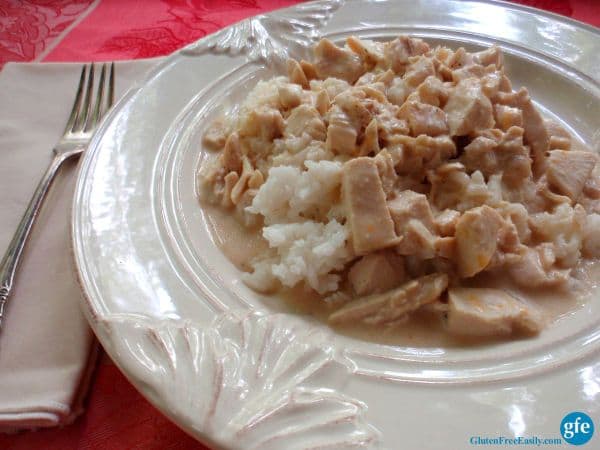 What did Son think of this recipe? He thought it was fantastic! Of course, his review made me very, very happy! He ate the big plate shown here and then ate the entire remainder of all that I'd made once he got back home.
Yes, I sent him home with ALL that the recipe made as well as a whole cooler of food. That Mom thing once again!
Then Mr. GFE whined because there was no Chicken A La King for him so I made the recipe again, this time with dairy ingredients, including cheese. Happy Son, happy Mr. GFE! Happy Mom/wife! Sappy, but true.
Although I made this recipe dairy free to accommodate Son, if you eat dairy, you can simply use dairy versions of ingredients such as milk in the recipe. If you're grain free and/or paleo, it's easy to adapt this recipe for your needs as well. Simply use a thickener like arrowroot or coconut flour (be sure to use the latter in a smaller amount as it's much more absorbent) and serve your gluten-free Chicken A La King over zucchini noodles (aka zoodles, or other grain-free noodles), grain-free toast, etc.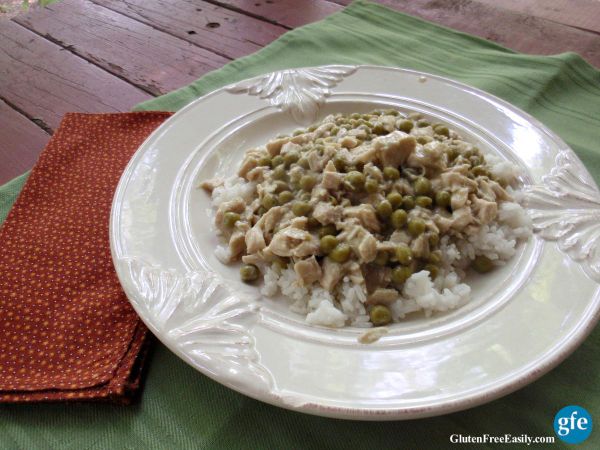 Gluten-Free Chicken A La King Recipe
Yield: 4 servings
Gluten-Free Chicken A La King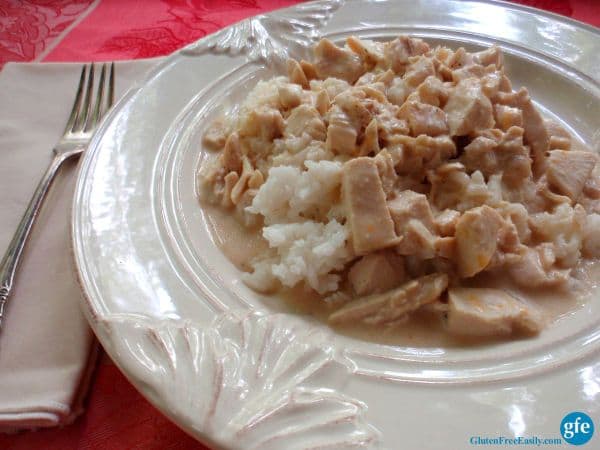 Gluten-free Chicken A La King is creamy and delicious comfort food all the way! Wonderful way to use leftover chicken and other leftover ingredients (like rice and peas) as well. Feel free to use leftover turkey instead of chicken during the holidays.

Prep Time 10 minutes

Cook Time 15 minutes

Total Time 25 minutes
Ingredients
1 tbsp butter (or dairy-free butter or oil)
2 tbsp gluten-free flour mix (I used my Two-Ingredient Gluten-Free All-Purpose Flour Mix)
½ cup gluten-free chicken broth (I make mine on the spot using this chicken base)
1 cup milk (dairy or dairy free; I used canned full-fat coconut milk)
1 tsp poultry seasoning
¼ tsp pepper
½ tsp sea salt, optional
2 cups diced cooked chicken (or turkey)
Up to 1 cup cooked green peas (optional)
Up to 2 tbsp shredded cheddar cheese (optional)
Instructions
In a saucepan, over medium-low heat, add butter, stirring until melted. Mix in 2 tbsp gluten-free flour. Stir until blended and thickened, about a minute or two, stirring constantly. Add the chicken broth and milk gradually to the mixture. Heat on medium stirring constantly, until mixture just starts to boil. Reduce heat to medium-low and simmer up to 10 minutes until you have a thicker sauce. Whisk gently if needed to break up any lumps.
Stir in chicken, peas, poultry seasoning, salt, and pepper. Continue cooking an additional minute or so until the mixture is thickened sufficiently and the chicken and peas are heated through.
Serve over rice, gluten-free pasta, zoodles (zucchini "noodles"), gluten-free toast, or gluten-free biscuits.
Notes
I usually use leftover chicken for this recipe. However, when I bake chicken specifically for this recipe, I bake about six boneless chicken breasts (more than I need by far) at 350F for about one hour, salting and peppering them well before baking. I turn the breasts over halfway through baking and I reserve the "broth" that is made from baking the chicken and use that as my chicken broth. Because I've salted and peppered the chicken breasts during baking, I don't add additional salt and pepper when I make my Chicken A La King.

This recipe is very flexible. You can adjust the amounts of butter (or oil), milk, flour, cheese (if used), etc. to your own personal preferences. Even with these slight variations, it's delicious every time!

Originally published October 21, 2016; updated December 3, 2021.