For affiliate links and as an Amazon Associate I earn from qualifying purchases.
I think most everyone needs this Tasty Meat Loaf in the Microwave recipe right about now. It's that time of year when many of us avoid turning on the oven. It makes me sad, but it's reality.
Sometimes I "squeeze in" some baked goods on Saturday morning before we leave the house to go camping. My logic? We're leaving, so an increase of a few degrees to an empty house doesn't matter. (The fish in our aquariums like the warmer temps and our chinchilla is downstairs in the cooler basement.) But making something in the oven for an hour or more, and then having our air conditioner work harder than it already is these days, is not an option. However, I still want a hot meal for us most evenings. This meatloaf recipe that's made in the microwave is a great solution.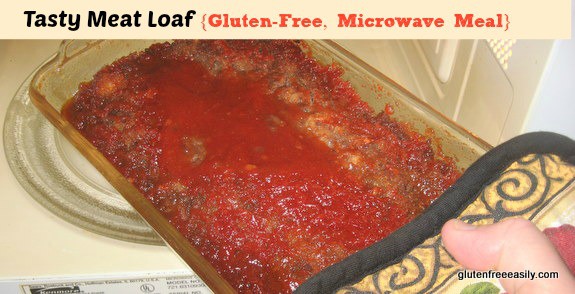 I've been making this recipe for many years. Still, Mr. GFE always is so surprised when we sit down to dinner in the summer and I present him with this meatloaf. He gives me a quizzical look that says "How did you make this meatloaf without me knowing it?" He asks this question because there are no tantalizing smells coming from the kitchen for an hour or more as is usually the case with meatloaf.
While this recipe is a definite winner during the summer, I actually make this Tasty Meatloaf in the microwave year round. It's not only an energy saver; it's also a time saver. In fact, I just took one to Mom and Dad last week. As a side dish, I made a French Fry version of the Quick and Easy Pan-Baked Potatoes, which are also made in the microwave. And I took them Chocolate Beer Muffins for dessert.
I made another Tasty Meatloaf in the microwave for the two of us early this week. We each had a piece with our dinner and the rest went to my support group for our shared potluck at our monthly meeting the following night. This recipe is a favorite of the group—even of those who usually hate meatloaf! In less than 20 minutes, you can have this tasty meatloaf on your dinner table with almost no extra heat added to your kitchen—enjoy!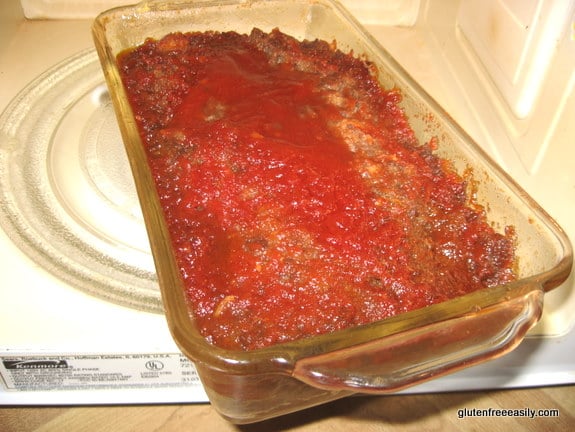 Tasty Meatloaf in the Microwave Recipe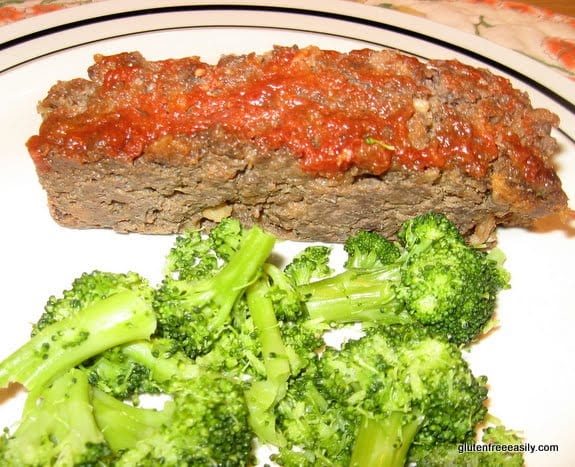 Yield: 8 slices
Tasty Meatloaf in Your Microwave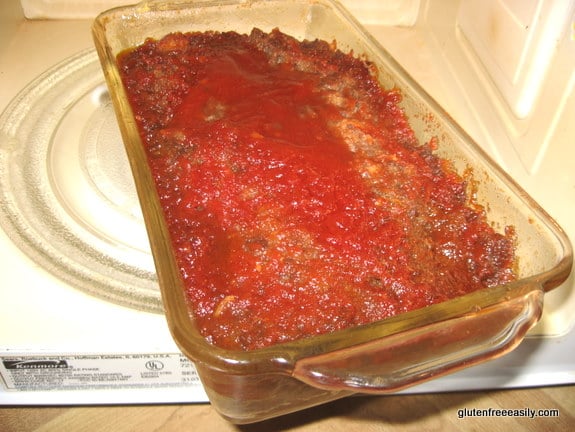 Meatloaf is classic comfort food and this delicious microwave version ensures it's on your table so much faster!

Prep Time 5 minutes

Cook Time 16 minutes

Total Time 21 minutes
Ingredients
1 lb. lean ground beef, ground venison, or ground turkey
1 to 2 eggs, slightly beaten
¾ cup gluten-free bread crumbs (or gluten-free bread torn into pieces), almond flour, etc. (see notes below)
1/3 cup non-dairy milk (like coconut milk or almond milk, or dairy milk if you choose)
1/3 cup gluten-free ketchup (even Nomato ketchup, or slightly less tomato sauce)
½ cup finely chopped onion
1 tsp salt (optional, I'd add if using ground turkey)
Topping
1/3 cup gluten-free ketchup (or slightly less tomato sauce)
1 ½ tsp dry mustard
¼ cup brown sugar (or Demerara or coconut/palm sugar)
Instructions
Lightly grease pan.
Mix ground meat, egg, bread crumbs, milk, ketchup, and onion. Press into microwave-safe loaf pan, making an indentation in the center.
Mix topping ingredients and pour over loaf. Spread evenly with a spatula if necessary.
Microwave on HIGH setting for 12 minutes.
Check doneness at center of loaf at 12-minute point. If not done, continue cooking at 1-minute intervals, checking each time. There should be no pink remaining in the middle, but it may look slightly soft. The middle will continue cooking/setting up for a few minutes after removing from the microwave. Therefore, I like to serve slices from the end first.
Serve with equally quick sides that won't add much (or any) heat to the kitchen, like salad and/or steamed veggies.
Notes
Please do not omit the topping; it comes from a Southern Living recipe and really makes this meatloaf special.

If you don't use a lean meat, there may be too much fat, some of which you can drain off. (Although you'll need to be careful not to drain off too much because the meatloaf will need some for moisture, plus it's not all fat, it's also liquid from the other ingredients.)

Bread crumbs (or another "filler" ingredient) definitely make for a tastier meatloaf, but they are not really necessary. The egg, ground meat, fat content, and milk (if used) all allow binding and add enough flavor.

Truthfully, I make this meatloaf slightly different each time. For example, when I use almond flour, I add no milk at all, as the liquid is not really needed. However, I do use milk when I include bread crumbs; the liquid is needed in that case. If I have gluten-free bread on hand and I'm serving more than just the two of us, I may use a couple of slices of gluten-free bread torn into pieces (without measuring) and I may add the second egg as extra liquid and protein to balance the extra bread.

Using ketchup in both the meatloaf itself and in its topping is my favorite way, but tomato sauce can be used as indicated. Ketchup is more flavorful though; you can choose a healthier brand. Always ensure the ketchup is gluten free; there are a few that are not.

I use a standard-size Pyrex loaf pan most often, but don't get hung up on the loaf factor. You can use any microwaveable dish (e.g., casserole dish); just adjust cooking time if needed.

Leftovers make terrific sandwiches; you can even fill corn tortillas with slices or chunks of leftover meatloaf, adding cheese, and more.

Originally published July 28, 2011; updated February 17, 2022.