For affiliate links and as an Amazon Associate I earn from qualifying purchases.
I handed Mr. GFE a muffin (one of my gluten-free Chocolate Beer Muffins to be exact) as we made our way through Saturday morning traffic on the way to our mountain property recently. He gobbled it down but said nothing as he concentrated on driving.
UPDATE: On April 4, 2023, Gluten-Free Watchdog issued a new statement, Gluten-Free Watchdog Cannot Recommend Any Brand of Gluten-Free Oats. Read the full statement here. This statement was followed by details on recent testing results of gluten-free products that contain oats., which showed 30% of the labeled gluten-free oat products tested contained quantifiable gluten.

This statement was followed by details on recent testing results of gluten-free products that contain oats, which showed 30% of the labeled gluten-free oat products tested contained quantifiable gluten. I'm not eating any oats and I urge all of my readers who eat gluten free for medical reasons to also abstain.
A few moments later …
Mr. GFE: "Did you notice how I missed that pothole?"
Me: "Yes, I did. There'll be a trophy waiting for you when we get to our property."
Mr. GFE (half scowling at me): "Positive actions should be rewarded."
Me: "You only notice when I hit potholes. And forget the potholes for a minute. How are the muffins?"
Mr. GFE fails to acknowledge my comment. Maybe he didn't hear me, I think. Uh huh … A few minutes later, Mr. GFE hits a pothole. I am amused, but remain silent.
We pass through another intersection and I brighten as I see a business of interest.
Me: "Hey, look there's a trophy place right there! (I pause for emphasis.) But sadly you just hit a pothole so that cancels out the avoidance points you made a few minutes ago."
Mr. GFE surprises me by chuckling but says nothing.
Me: "Here, have another muffin. That will make up for the trophy loss."
Mr. GFE smiles and then bites into another muffin. "It does, " he admits only slightly begrudgingly.
About a week later, Mr. GFE commented positively about some change that has been made at home. I don't remember the specifics, but I beamed and said, "I did that!" Mr. GFE didn't miss a beat … he quipped, "Do you want a trophy for that? I know where I can get one."
I burst out laughing. But enough of sharing the bantering from the gfe household, I know that you guys want to hear more about these muffins!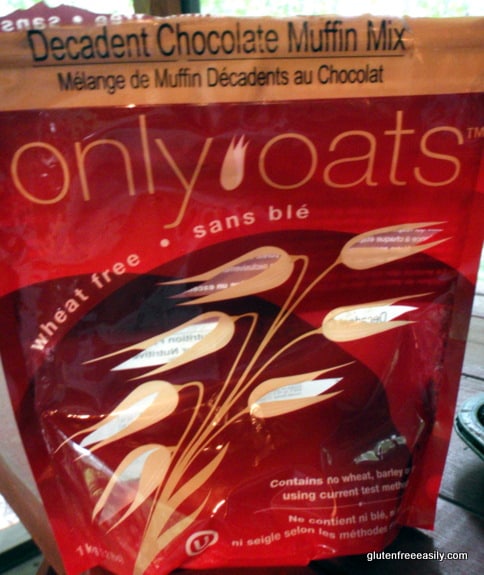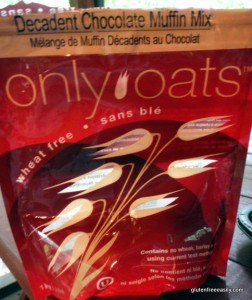 My friend Jules Shepard—creator of GF Jules Gluten-Free Flour, author of several gluten-free "must-have" books (including The First Year: Celiac Disease and Living Gluten-Free: An Essential Guide for the Newly Diagnosed and Free For All Cooking: 150 Easy Gluten-Free, Allergy-Friendly Recipes the Whole Family Can Enjoy), and most recently the co-instigator of the Gluten-Free Labeling Summit (yippee for the latest action from the FDA on gluten-free labeling!) in Washington, D.C.—was one of the gluten-free bloggers who came to stay with me in June.
Jules brought a package of Only Oats Decadent Chocolate Muffin Mix with her. She'd received it to try out but hadn't gotten to it yet. As my other, also wonderful, gluten-free blogger friends present (Stephanie of Gluten Free By Nature and Nancy of The Sensitive Pantry) didn't eat eggs, Jules' plan was to make the muffins egg free and also reinvent them as Decadent Chocolate Beer Muffins.
Jules is famous for her Chocolate Beer Cake, so Chocolate Beer Muffins sounded like an easy segue. However, we had so many other wonderful things to eat (including this Blueberry Banana Buckle) that unfortunately we never got to the muffins.
My next idea was to make the Only Oats muffin for my support group's June meeting, but Brooke Parkhurst of Triple Oak Bakery in Sperryville, Virginia (unfortunately, this bakery is no longer in operation) was presenting that evening. Brooke brought her wonderful baked goods to share (Pecan Brownies, Lemon Poppy Seed Cake, and Chocolate Chip Cookies) and also demonstrated how to make Blueberry Scones. As our meeting was ending, members got to sample the hot homemade blueberry scones right out of the oven. Very nice indeed! Obviously, with all of Brooke's delightful goodies, we certainly didn't need another treat—even chocolate muffins.
Luckily for me, Jules left me with not only the Only Oats Decadent Chocolate Muffin Mix, but also plenty of beer to convert the mix into Chocolate Beer Muffins. As you already know from Mr. GFE's and my conversation above, I made the muffins for us to take camping.
Per Jules's guidance, I used Green's Endeavour Dubbel Dark Ale. Instead of simply replacing the water in the mix with beer, I reduced the oil amount, used coconut oil instead of canola oil, and increased the amount of the other liquid; i.e., the beer.
Not only did Mr. GFE and I love these muffins, but longtime friends of ours—a family of four who visited us for the day in the mountains—also loved them. As my friend Veronica said, the complementary flavor of the beer deepens the chocolate flavor in the muffins and also cuts back on the sweetness just a bit. More and more I am liking my baked goods with less sweetness so that result is a good thing in my opinion.
Right after we returned from camping, we were hosting my family for a birthday celebration for me, my sister, and my niece. (Our birthdays are staggered … two days apart with me leading off.) After our crab feast, these muffins made for the perfect base for ice cream sundaes. Everyone truly loved them! So much so that the remaining muffins went out the door in goodie bags.
While as you well know, I don't usually go for gluten-free specialty baking mixes, however this product from Only Oats is truly outstanding in my opinion. The flour is oat flour, a whole grain flour. All of the Only Oats products are certified gluten free, but more importantly, the oats used in Only Oats products are also grown using the purity protocol.
You can read more about the purity protocol here, but the highlights are that pure seeds are used, dedicated fields are used, and fields are inspected on an ongoing basis to ensure that no gluten-full plants such as wheat or barley have been introduced and intermingled with the oats. This kind of care to keep gluten out of the oats continues through harvesting and packaging. Their gluten-free certification means that they've been inspected by a third party and determined to contain less than 20 parts per million gluten, in some cases far less.
Only Oats is a Canadian product made by Avena Foods and can be purchased online via the Amazon.ca site. (It may also be available for purchase in Canada, but I don't have information on that.) Each bag of muffin mix costs around $12. While I agree that sounds outrageous, consider that each bag of mix makes three and a half batches of muffins (12 muffins in each batch). So the pricing is comparable to other gluten-free mixes, and when you consider that most of the other mixes are ingredients like rice flour, the Only Oats mix is a far better value. Oh, and what are you supposed to do with that half batch of the mix? Hold on a minute and I'll tell you!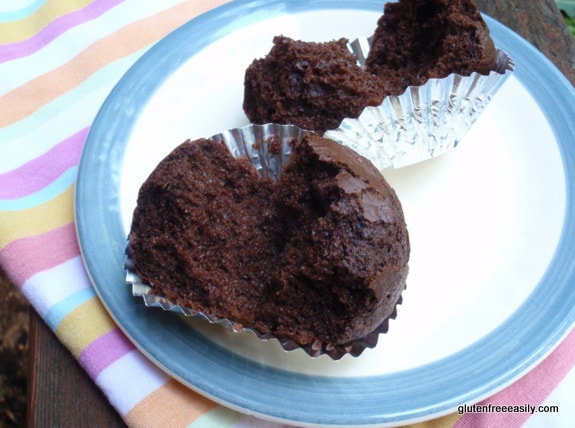 Now for those who appreciate a good mix, but prefer to be able to make muffins any time they want without having to worry that they have a mix on hand, I've got the recipe for you today. It took a few tries, but I'm happy with it now (and so are my co-workers and Mr. GFE—they're always my guinea pigs!). You can make one batch of muffins (12) or you can double or triple the dry ingredients and have your own muffin mix on hand for any time you get a craving.
Gluten-Free Chocolate Beer Muffins Recipe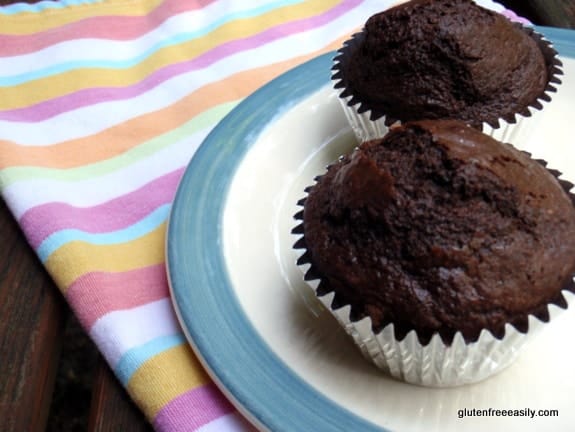 Yield: Makes 12 muffins
Gluten-Free Chocolate Beer Muffins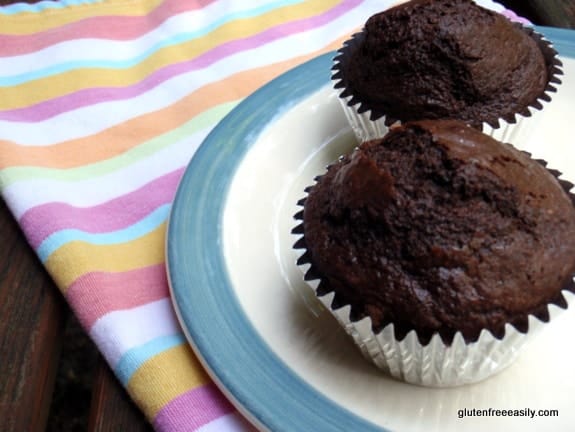 These gluten-free Chocolate Beer Muffins are rich and flavorful. They even taste great when you use a gluten-free beer that you're not as crazy about.
Ingredients
Dry Ingredients (Muffins Mix)
Wet Ingredients
¼ cup oil (use one that's light in flavor; e.g., coconut], [grapeseed)
1/3 cup gluten-free beer (Green's Endeavour Dubbel Dark Ale is the recommended gluten-free beer for this recipe but any gluten-free beer--made from only gluten-free grains--will work) or ginger ale or water
4 large eggs
Instructions
Preheat oven to 375 degrees Fahrenheit. Add 12 cupcake liners to muffin tin. (I really like foil liners for this recipe.)
In large bowl, mix dry ingredients.
Add in all wet ingredients except beer and stir until incorporated.
Measure beer carefully, waiting for beer to settle down to get accurate measurement. Stir in beer and mix fairly well. Note that the mixture will foam up when beer is added. (This is a good thing. The beer adds volume as well as moisture and flavor to your muffins.)
Fill muffin cups/liners almost, but not quite, full.
Bake for about 12 – 15 minutes until toothpick inserted comes out clean. Cool muffins for at least a few minutes before removing from the pan and eating.
Notes
For Decadent Chocolate Muffins only--with no beer included, you should be able to make the following changes to the ingredients above. (Note that of this writing, I have not yet tried these changes myself, but they follow the ingredients and amounts used in Only Oats' mix.) Use 1/3 cup oil instead of the measurement shown above and 1/4 cup of ginger ale or water instead of gluten-free beer. 
You can also make a Decadent Chocolate Cake (or Decadent Chocolate Beer Cake) by adding the batter to a greased 8-inch or 9-inch square pan and baking about 30 to 35 minutes at 350 degrees. Always use certified gluten-free purity protocol oats. When using beer, always use truly gluten-free beer---not regular beer or gluten-reduced beer. Gluten-free beer is made using NO gluten ingredients, unlike beer that says it has been processed to remove or reduce gluten. The latter is a misnomer. Processing beer made from gluten-full ingredients to remove or reduce the gluten is not possible. Such processing only breaks down the gluten protein so that the gluten content cannot be tested accurately.
3-Minute Chocolate Beer Cake Recipe
Now for any leftover muffin mix from either the Only Oats Decadent Chocolate Muffin Mix or if you want to use your dry muffin mix to make occasional microwave Chocolate Beer Cake, the following recipe is your answer: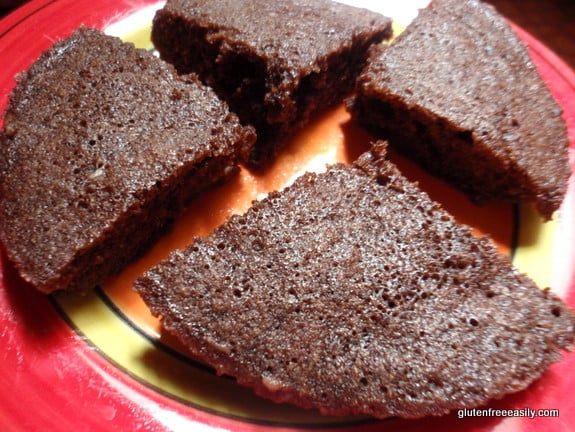 Yield: 1 mug cake or bowl cake
3-Minute Chocolate Beer Cake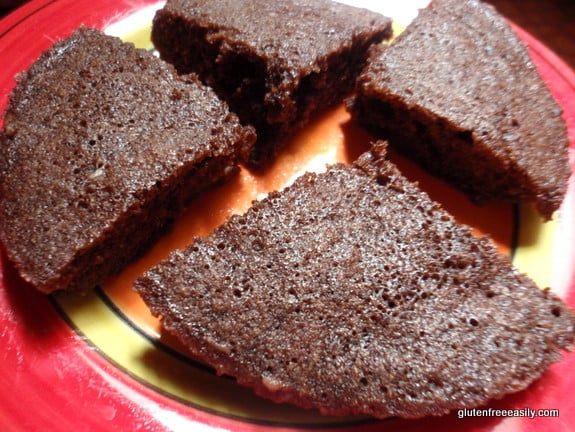 You can use any gluten-free chocolate muffin mix to make this delicious 3-Minute Chocolate Beer Cake. I used Only Oats chocolate muffin mix.

Prep Time 1 minute

Cook Time 3 minutes

Inactive Time 2 minutes

Total Time 6 minutes
Ingredients
4 tbsp dry chocolate muffin mix
1 egg
3 tbsp gluten-free beer, preferably Green's Endeavour Dubbel Dark Ale
3 tbsp oil (one that's light in taste; e.g., grapeseed oil, coconut oil)
Instructions
Mix all together in small (about 6-inches in diameter) microwave-safe bowl or dish.
Cook for 3 minutes on HIGH. Cool.
Eat right out of the bowl with a big spoon (and maybe some milk poured over all) or invert bowl/dish to remove cake, using spatula if needed. Cut into four pieces. Serve.
Originally published August 3, 2011, updated April 17, 2023.