For affiliate links and as an Amazon Associate I earn from qualifying purchases.
I never ever thought that I'd make a Blueberry Buckle like this gluten-free Blueberry Banana Buckle. But I'm so glad I did, and I have Maggie (She Let Them Eat Cake) (and also Debi (Hunter's Lyonesse)—my eat-more-blueberries mentor!) to thank for it. I'll set the stage first though.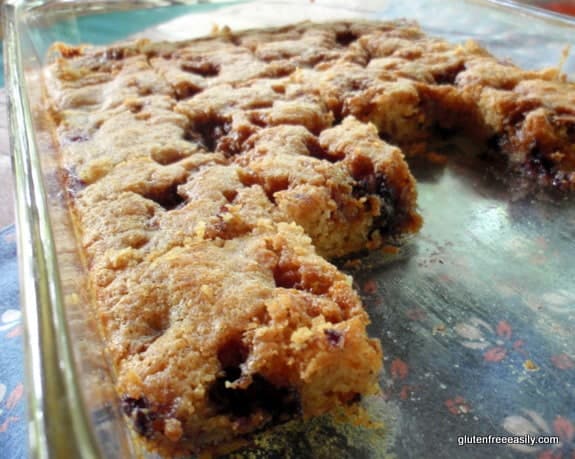 Three dear gluten-free blogging friends came to my house for a little gfe retreat this past weekend. We had a wonderful time together.
We did it the gfe way, of course, focusing on foods that were naturally gluten free, enjoying some mainstream products that were gluten free, and also making use of a few gluten-free specialty products.
We enjoyed the food and drink, accomplished a lot in less than 48 hours, and still managed to relax quite a bit. It was a really great weekend.
Oh, there were lots of things that went wrong … a camera bag left behind (that sadly contained more than just the camera), a flat tire on a hill at a busy street corner, an overbooked trolley with a malfunctioning air conditioner and a quirky, subpar driver/tour guide, and a broken tooth (beware of date pits in protein bars that contain dates!) … to name just a few.
But one of the things that went marvelously well over the weekend was my adaptation of Maggie's (She Let Them Eat Cake) Blueberry Buckle for our Sunday morning breakfast.
All three of my guests eat gluten free and dairy free and two of them also eat egg free. I had blueberries on hand, so when I saw Maggie's recipe in her latest post, it seemed like an ideal breakfast choice.
Every recipe I've ever made of Maggie's has been a hit, so I had no doubts this one would be as well. (Check out my adoption post of Maggie for Adopt a Gluten-Free Blogger in which I share my review of a few of her recipes.)
By the time Sunday morning arrived, we had fewer blueberries than the amount required in Maggie's recipe. (They had been part of breakfast the previous morning.)
As I'm still learning to like blueberries, I didn't feel that fewer blueberries in the buckle was necessarily a bad thing. As I was contemplating how to compensate for the lesser amount (or if I should compensate at all), I saw the large overripe banana on the counter.
Having sipped on a lovely Blueberry Banana "Foamie" earlier in the week, the blueberry/banana combination seemed like a perfect one to me. Maggie's recipe called for brown rice flour (or quinoa flour), millet, and arrowroot, none of which I had in my pantry. So I went with a combination of my Two-Ingredient Gluten-Free Flour Mix, almond flour, and cornmeal instead.
I often add almond flour for that extra nutritional boost. Plus, I always like the little bit of texture that some cornmeal can give to a sweet baked good and the corn flavor can work well when combined with berries and other sweetness, too. The last change I made was to bake my version in a 9 x 13 pan instead of a springform pan.
The latter was more of a logistical change than anything else as we needed a shorter baking time to ensure folks could meet their train schedule. But the resulting thinner squares of buckle were lighter than if they had been baked in a springform pan.
That tactic didn't save us on calories though. I think each time each of us got a square, we didn't just take one, we took two! We all really loved this gluten-free Blueberry Banana Buckle. Yes, I made a few adjustments, but the main credit goes to Maggie for her wonderful recipe!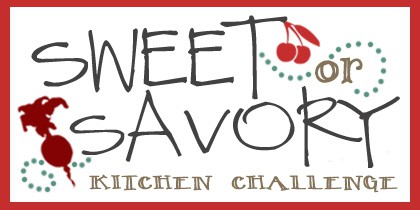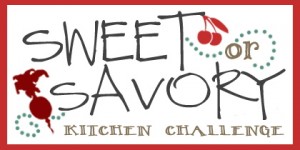 Today is the last day of the Savory or Sweet (SOS) Kitchen Challenge, so I'm adding this entry to the roundup of blueberry recipes. There are so many delightful recipes there, two of which have been provided by Ricki, one of the SOS event founders/hostesses.
Ricki made Blueberry Cream Danish and Kale and Quinoa Salad with Fresh Blueberry Vinaigrette. But I admit that I'm particularly fond of another, more recent SOS entry—Iris' stevia-sweetened Mini Red, White, and Blueberry Hand Pies. (Sorry, Iris' website is no longer active, but you can get Iris' free recipe ebook at her new site here. Iris' recipe was an adaptation of my Blueberry Honey Pie with Honey Whipped Cream.)
For yet another delicious recipe, here's my slightly adapted version of Maggie's Blueberry Buckle. Yes, we all loved this recipe! Enjoy!
Update: Here are some reader reviews:
"I love this recipe!! All-time favorite."

"Absolutely yummy, I am having some people over one of whom is a vegetarian. This will be the perfect dessert with coffee and coconut whipped cream."

"Thanks for the wonderful, awesome recipe!"
More Gluten-Free Blueberry Recipes You'll Enjoy
~ 20 Gluten-Free Blueberry Pie Recipes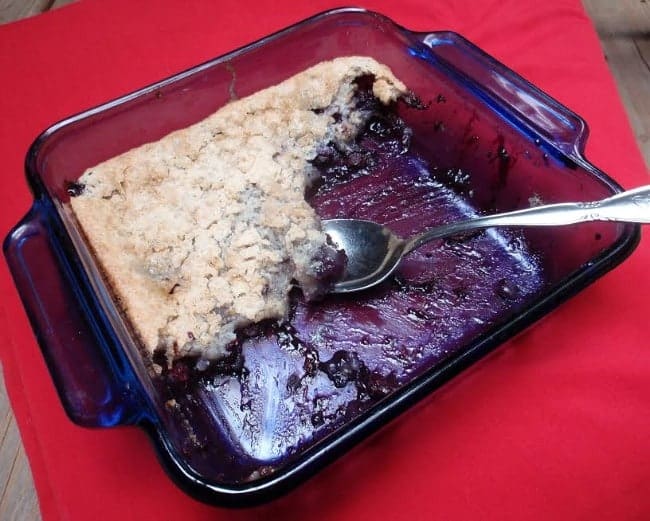 ~ Coconut Blueberry Pound Cupcakes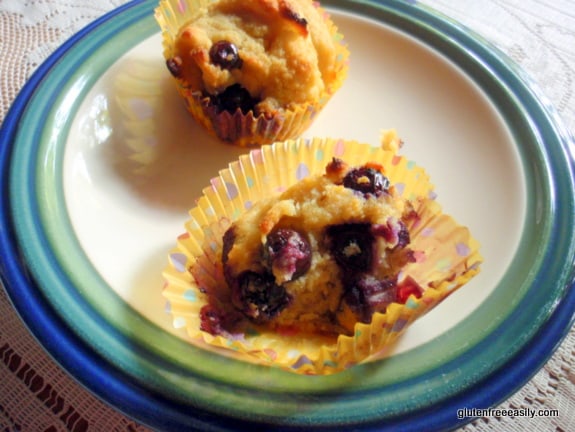 ~ Knee-Slappin' Good Blueberry Muffins
~ No-Bake Blueberry Pie with Honey Whipped Cream
~ Paleo Orange Blueberry Muffins
Gluten-Free Blueberry Banana Buckle Recipe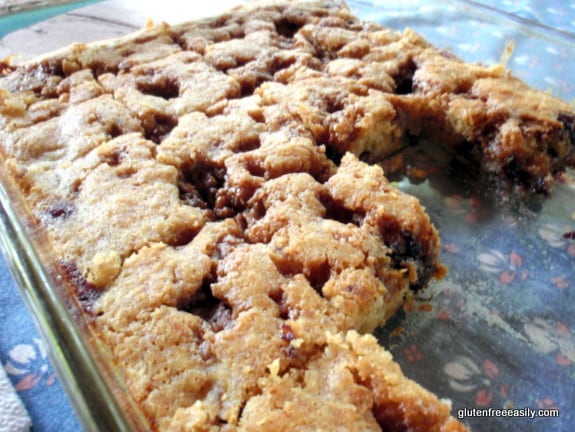 Yield: 12 servings
Gluten-Free Blueberry Banana Buckle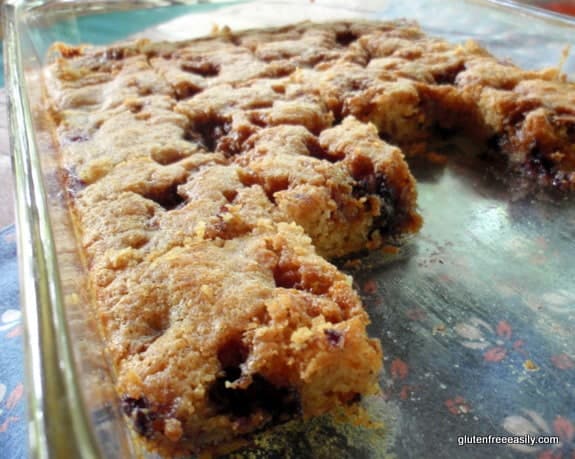 If you've never liked blueberries, this recipe will change your mind. And if you love blueberries, you will absolutely love this recipe!
Ingredients
Buckle Base
Buckle Topping
Instructions
Preheat oven to 350 degrees F. Grease 9 x 13 baking pan with coconut oil.
Mix dry ingredients in large mixing bowl. (I just used a wooden spoon---my favorite mixing tool.) Add liquid ingredients, including banana. Finally, add blueberries. Mix just enough so that all ingredients are incorporated.
Pour batter into a prepared baking pan.
Sprinkle topping over batter.
Bake for about 25 to 30 minutes. Cool a few minutes. Cut into squares. Remove squares with a serving spatula or pie server.
Notes
Adapted from Maggie Savage's (She Let Them Eat Cake) Blueberry Buckle recipe.
Remember that one of the benefits of egg-free baking/cooking is that you can sample the mixture for sweetness without any safety concerns regarding raw eggs. Therefore, if you usually like less or more sweet, you can take a little taste of batter before baking. That taste will most likely let you know if you want to adjust the sweetener.
If you don't have coconut sugar, I suggest using another comparable granulated sugar or even trying brown sugar.
Originally published June 30, 2011. Updated June 25, 2023.