For affiliate links and as an Amazon Associate I earn from qualifying purchases.
Today I have the pleasure of sharing a new cookbook with you, OATRageous Oatmeals: Delicious & Surprising Plant-Based Dishes From This Humble, Heart-Healthy Grain, and a recipe from this cookbook, Gluten-Free Blueberry Waffles. The author of OATRageous Oatmeals is Kathy Hester. Kathy blogs at Healthy Slow Cooking and is also the author of the following three previous cookbooks—all bestsellers!
UPDATE: On April 4, 2023, Gluten-Free Watchdog issued a new statement, Gluten-Free Watchdog Cannot Recommend Any Brand of Gluten-Free Oats. Read the full statement here. This statement was followed by details on recent testing results of gluten-free products that contain oats., which showed 30% of the labeled gluten-free oat products tested contained quantifiable gluten.
This statement was followed by details on recent testing results of gluten-free products that contain oats, which showed 30% of the labeled gluten-free oat products tested contained quantifiable gluten. I'm not eating any oats and I urge all of my readers who eat gluten free for medical reasons to also abstain.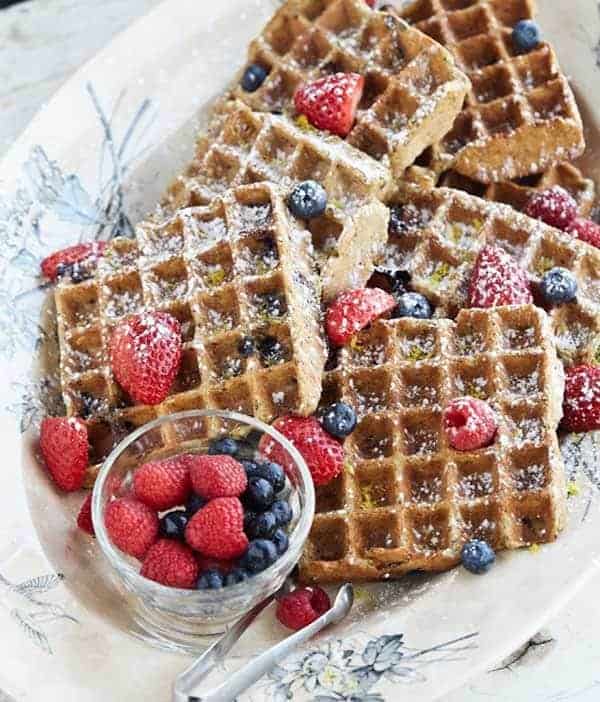 The Vegan Slow Cooker: Simply Set It and Go with 150 Recipes for Intensely Flavorful, Fuss-Free Fare Everyone (Vegan or Not!) Will Devour,
The Great Vegan Bean Book: More than 100 Delicious Plant-Based Dishes Packed with the Kindest Protein in Town! – Includes Soy-Free and Gluten-Free Recipes!, and
Vegan Slow Cooking for Two or Just You: More than 100 Delicious One-Pot Meals for Your 1.5-Quart/Litre Slow Cooker.
Kathy is always adding new vegan cookbooks to her repertoire. She recently published cookbooks with Instant Pot and Air Fryer recipes.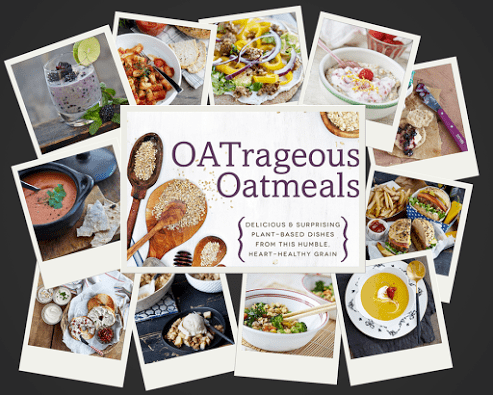 Kathy's recipes are obviously very popular! In fact, one of her most loved recipes is her Pumpkin Coconut Caramel Sauce, which comes from her Vegan Slow Cooking for Two or Just You cookbook. It's obviously perfect for this time of year, and it gives you an idea of Kathy's recipe genius!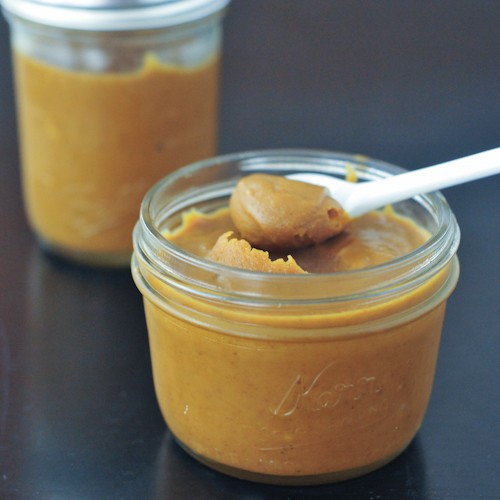 All of Kathy's recipes are vegan, which means they're dairy free and egg free, of course. Now the info you really want … although OATRageous Oatmeals is not a strictly gluten-free cookbook, there are only two recipes in this cookbook that do not offer gluten-free options.
Even those two would be very easy to make gluten free, but because Kathy didn't get to personally test out the gluten-free options for them, she didn't feel she could offer them in her book. For all the other recipes that offer gluten-free options, most of the time the only change needed is to use certified gluten-free oats grown using a purity protocol.
Now let's talk about the safety of oats for those of us on a gluten-free diet for a minute. I've addressed them here on gfe before when I shared my Flourless Oatmeal Cookies, but that's been a good while, we have many new readers, and there always seems to be much confusion on this topic.
Kathy talks about the need for certified gluten-free oats if one lives gluten free in the introduction to her cookbook. I'll expand upon her statement to say that those who eat gluten free for medical reasons should eat only certified gluten-free oats that are also grown using a purity protocol.
Non-purity protocol oats, "mainstream oats," are grown in fields where other gluten-full grains are grown, harvested on farm equipment that has harvested gluten-full grains, transported with gluten-full grains, and processed/milled/packed in plants with other gluten-full ingredients.
More and more manufacturers who produce oats and oat products labeled gluten free—and this would include oats that are certified gluten free—are using mainstream oats that have been sorted to be gluten free. Sorting oats is like picking crouton's off of one's salad.
If you don't eat such salads or call them gluten free, you don't want to eat sorted oats either, even if they have a certified gluten-free label on them. These oats are three times more likely to have gluten above 20 ppm than other products labeled gluten free.
Tricia Thompson, who is known as The Gluten-Free Dietitian and is the founder/operator of Gluten-Free Watchdog (the independent testing organization for gluten in products; I recommend subscribing) led a study of the gluten content in oats in 2004.
Her study, which was published in The New England Journal of Medicine, showed high amounts of gluten in the three mainstream oat brands tested—Quaker, McCann's, and Country Choice. Of the samples that were not gluten free, the gluten content ranged from 23 ppm to 1807 ppm.
Read more on this study and the requirements for labeling oats in this special report from Gluten-Free Watchdog (GFW). There are some surprises shared in this report including unexpected direction from the FDA on how gluten-free oats should be labeled, so it's worth a read for sure.
But for the purpose of today's post, the most important thing you need to know is please use certified gluten-free purity protocol oats and certified gluten-free oat flour made from purity protocol oats in Kathy's recipes. See a listing of safe purity protocol oat products on GFW.

One more word on oats … not everyone who is gluten free can tolerate even certified gluten-free oats that are grown under the purity protocol. It's recommended that oats not be introduced into one's diet for the first year of living gluten free or until one is symptom-free and test results show the small intestine has healed. Seek direction from your health care professional.
If/when the "green light" is given, certified gluten-free purity protocol oats should be introduced slowly in small amounts, ¼ cup to 1/3 cup initially and, if tolerated, no more than ¾ cup should be consumed daily. Historically, gluten-free experts have stated that most gluten-free individuals can safely consume purity protocol oats, which have also been certified gluten free.
Some individuals have found they do better with different brands of gluten-free oats. That fact might have as much to do with the varieties of oats (also referred to as strains and cultivars) used by certain companies as it could with their actual gluten-free status.
A 2010 study showed that gluten-free individuals reacted differently to different strains of oats. And remember that the Gluten-Free Watchdog can help with the actual gluten-free status of oat brands and their products.
The Gluten-Free Watchdog is constantly testing products to determine if they are truly gluten free and they do find products that are gluten-full—20 ppm or more gluten. See a listing of purity protocol oats that are certified gluten free on GFW.
Back to Kathy's OATrageous Oatmeals Cookbook …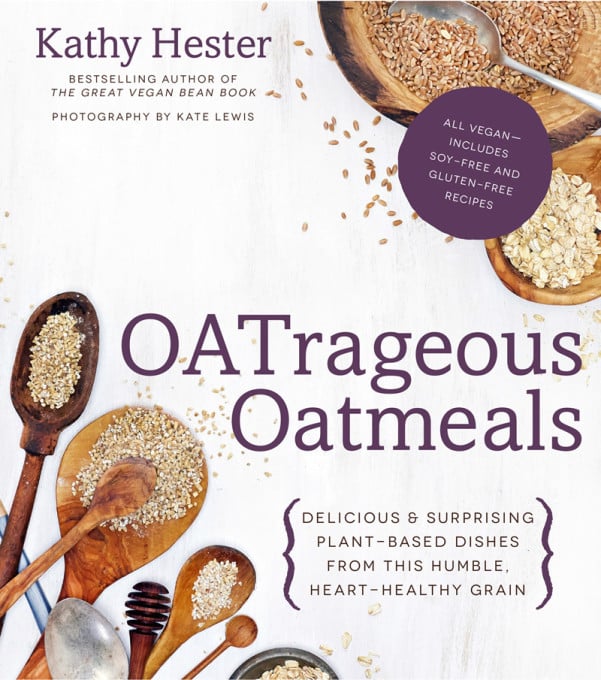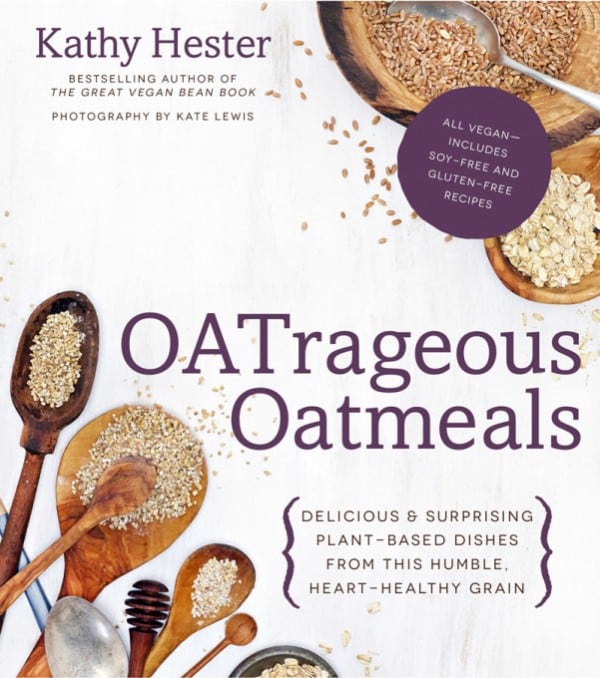 If you're an oat lover, this cookbook is for you, but know that it's not simply a book of recipes for breakfast oatmeal and treats. While there are definitely plenty of breakfast and sweet recipes along the lines you'd expect, there are also many delightful surprises in this cookbook. Here are examples from both categories that caught my eye.
Creamy Cashew-Oat Cream Cheese ~ I recently fell in love with Cashew Cream and Cashew Cream Cheese and this recipe seems like a great variation!
DIY Oat Chez Powder ~ While I initially read that third word as the French word for "home," this is Kathy's vegan "cheese" powder that makes instant cheese sauce for Mac and Cheez (yes, her recipe for that is also in this book!) or veggies, a cheesy boost for soup, and more.
DIY Golden Gravy Mix ~ Yes, oat-based gravy! But you can also use this recipe as soup bouillon powder or soup thickener.
Southern-Style Oat Biscuits ~ These are beautiful biscuits that Kathy says can be used for a simple bread, breakfast sandwiches, or even for a strawberry shortcake.
Easy Oat Roti ~ If you're familiar with Indian food, you'll know that this is a thin whole-grain flatbread, like tortillas. Kathy's version looks terrific!
Banana Oatmeal Cookie Pancakes ~ What a pretty and delicious stack these pancakes make!
Pumpkin Oat Breakfast Cake ~ 'Tis the season for all things pumpkin now that is officially fall! I love eating cake for breakfast and these ingredients would make this one a special way to start the day.
Caramel Delight Oatmeal ~ Or as some of you might call this recipe, Samoa Oatmeal. It looks and tastes like the Girl Scout cookies, which are called either Caramel Delights or Samoas, depending upon where you live.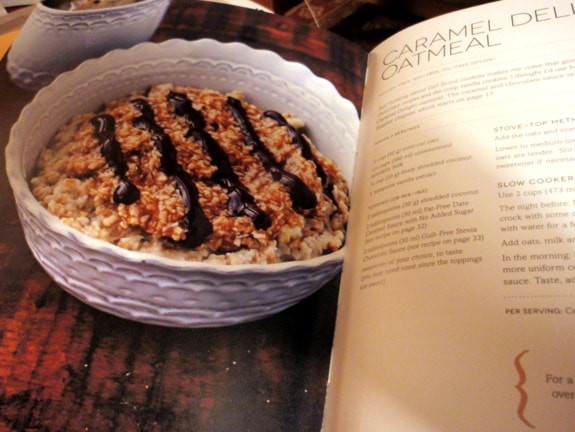 Chai-Spiced Oat Shake ~ If you've never thought of putting oats in a beverage, this recipe is a good way to start!
Creamy Butternut Squash Oat Soup ~ Here's a pretty and creamy seasonal soup. Kathy says you can sub pumpkin or even carrots if you prefer. (You can see this soup in the collage at the top of this post.)
Fragrant Yellow Split Pea and Roll Oat Dal ~ Dal lovers will appreciate the flavors and extra thickness in this one.
Oats-Bury Steaks ~ I love vegan burgers like this one—kidney beans, mushrooms, sweet potato puree (or pumpkin puree), oats, flax, and seasonings.
Bourbon Oat Shortbread ~ This recipe is one of the two recipes that Kathy didn't get to test gluten free. I'll be trying it soon subbing gluten-free all-purpose flour for the whole wheat flour. I'm sure it will be great and I can't wait to try her easy slice-and-bake method for making these cookies.
Is your appetite whetted yet? (And, yes, that is the way you spell "whetted.") Because today I get to share Kathy's Gluten-Free Blueberry Waffles with you.
I don't have a Belgian waffle maker, which is what she used to make her waffles, but these worked just fine in my regular waffle maker and they were wonderful. Blueberries are always Mr. GFE's favorite add-ins when it comes to waffles, pancakes, toaster pastries, etc., so these waffles were very, very well received at our house!
OATRageous Oatmeals Cookbook Giveaway
UPDATE: This giveaway is now over. Congratulations to the winners of OATRageous Oatmeals and thanks to all who participated!
Gluten-Free Blueberry Waffles Recipe
Yield: 4 waffles
Gluten-Free Blueberry Waffles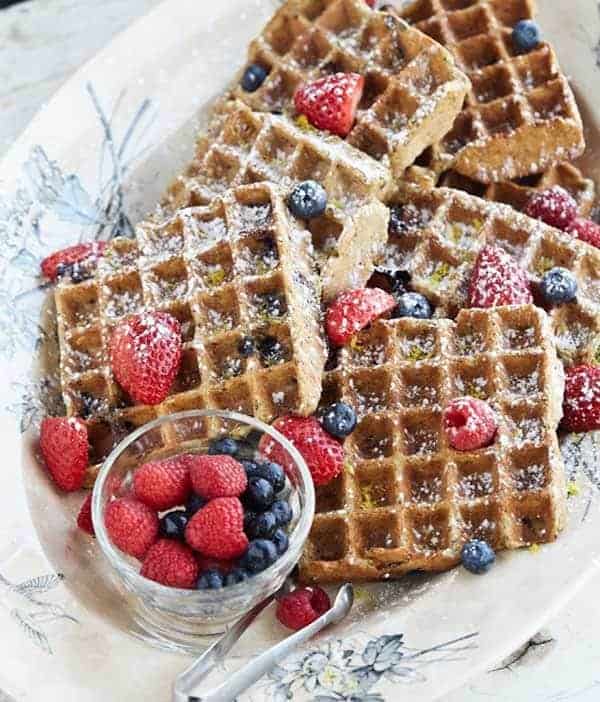 A combination of oats, almond flour, and blueberries make these Blueberry Waffles not only extra nutritious but also extra delicious!

Prep Time 15 minutes

Cook Time 8 minutes

Inactive Time 10 minutes

Total Time 33 minutes
Ingredients
Dry Ingredients
3/4 cup (69 g) finely ground certified gluten-free purity protocol rolled oats or oat flour (made from certified gluten-free purity protocol oats)
1/2 cup (48 g) rolled oats (use purity protocol oats that are certified gluten free)
1/4 cup (39.5 g) rice flour (white] or [brown)
1/4 cup (37.5 g) almond flour
1/2 teaspoon baking powder
pinch of salt
Wet Ingredients
1 cup (148 g) blueberries (fresh or frozen)
3/4 cup (180 g) nondairy milk
1/2 cup (127.5 g) applesauce
2 tablespoons (14 g) ground flax mixed with 4 tablespoons (59 g) warm water
1/2 teaspoon vanilla extract (Shirley's note:  I use homemade vanilla extract---recipe on gfe)
1/2 teaspoon lemon extract] (or 1/4 teaspoon [lemon oil) (optional; see notes)
For Serving
nondairy butter, optional
Instructions
Mix the dry ingredients together in a large bowl until well combined. In a different bowl, combine the wet ingredients and mix well. Then pour the wet into the dry and mix thoroughly.
Set the batter aside for 10 minutes to let the rolled oats soften. Please note that this batter is very thick. Preheat your waffle iron at medium-high temperature if you have that option. The waffle iron should be hot once the batter is ready.
I suggest spraying the top and bottom plates with some spray oil, but you can make it oil-free* by just relying on the nonstick coating. If you choose to use no additional oil, make sure the waffle is completely cooked. If any of the outside is not crispy, the waffle will tear, stick and generally make a mess.
Place about 1⁄3 cup (80 ml) of batter in the middle of the waffle iron and spread into a circle with a wooden spoon or silicone spatula. When you place the top down, the batter will spread. If your mixture gets too thick to spread, add a little nondairy milk to loosen it up.
Cook according to your waffle iron instructions, about 5 to 8 minutes. With my waffle iron, the first waffle takes 8 minutes. As you make additional waffles, the process gets a little faster until it takes 5 minutes for each waffle.
Notes
From OATrageous Oatmeals by Kathy Hester; printed with permission of Page Street Publishing.

It's very important to cook these waffles at least 5 minutes, if not more. If the waffle is not ready, it will make a mess.

Kathy says: "I can't help but add some lemon wherever I have blueberries! If you aren't fond of the combination, use vanilla or almond extract instead."

Per waffle: Calories 259.2, protein 6.9 g, total fat 7.8 g, carbohydrates 42.5 g, sodium 90.4 mg, fiber 6.1

Originally published September 22, 2014; updated April 17, 2023.