For affiliate links and as an Amazon Associate I earn from qualifying purchases.
Historically, you all have proven that you love gluten-free cake recipes! So I decided to give you what you love and share the Top 10 gluten-free cake recipes from my previous dessert site. Here we go from number 10 to number 1! Oh, and I've shared reader reviews if they were available. Okay, number 10 is both a cheat and a delight as it's not a single recipe, but rather a recipe roundup … for gluten-free Bundt cakes!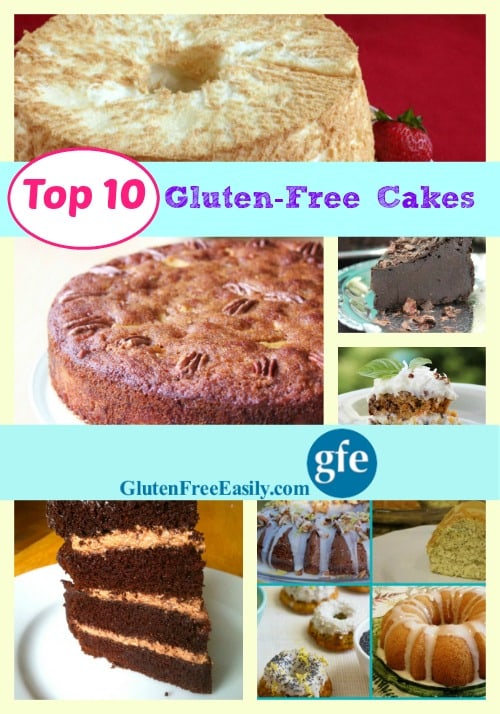 10. Gluten-Free Bundt Cake Bonanza … Over 50 Recipes! There are recipes in every category (for example, chocolate Bundt cakes, lemon Bundt cakes, pumpkin Bundt cakes, and holiday Bundt cakes, just to name a few), which are all gluten free, of course, but there are dairy-free options, vegetarian options, and "more-free" options. Shown below are the luscious lemon Bundt cakes from the roundup. Be sure to click on the link to see the 50+ recipes!
9. Chocolate Decadence from Flo and Grace ~ gluten free, grain free, dairy free, egg free, vegan (Be sure to check out Lexie's cookbook Everyday Classics: Essential Gluten-Free, Dairy-Free and Egg-Free Recipes.)
Reader reviews: "Thank you so much for this recipe!! I made it last night and I must say it's all gone already! It's health food, right?! Anyways, it was amazing- so rich and creamy!" and "This was AWESOME! We had it for dessert two nights ago with a little warm raspberry jam on top. Yuuuuuum! Thanks for a great recipe!"
8. Vanilla Bean Cake from The Spunky Coconut ~ gluten free, grain free, dairy free, refined sugar free, vegetarian (Be sure to check out Kelly's cookbooks here including her latest: Easy Paleo Meals: 150 Gluten-Free, Dairy-Free Family Favorites.)
Reader reviews: "When I looked in my pantry and discovered I had all the ingredients, I figured it was a sign. When it was done, everyone loved it and no one (other than my sister and I) knew it was made with beans. DELICIOUS, moist, light….all the things you hope for in a cake." and "Just made this for my wife's birthday. We love it. Even my co-workers have tried it with a raised eyebrow and are very impressed. Great recipe!!"
7. Coconut Layer Cake from Gluten-Free Goddess ~ gluten free, dairy free, vegetarian, with egg-free, vegan option
Karina says: "This moist and tender layer cake makes a lovely birthday cake. I baked it the morning of my husband's birthday, and covered it until serving (at room temperature). The next morning we had a slice for breakfast- and it was even better. Perfect texture."
6. Yellow Cake from Gluten-Free Homemaker ~ gluten free, vegetarian, with dairy-free options (see an egg-free option in one of the reader reviews) (Be sure to check out Linda's book, How To Be Gluten Free.)
Reader reviews: "This is a great recipe. My girlfriend's eleven-year-old sister wanted to learn to make a GF cake, so I found this recipe. It turned out wonderfully! It was really moist and soft, and had terrific flavour." and "I made this yesterday. It turned out amazing! I am gluten free and egg free. The only change I made was to substitute 3/4 cup unsweetened applesauce for the 3 eggs. Thanks for a great recipe!"
5. Angel Food Cake from Gluten-Free Homemaker featured on gfe~ gluten free, dairy free, vegetarian (Be sure to check out her book here.)
Reader reviews: "I made this for Easter. It was the best angel food cake I've ever made, and I've made plenty. SUPER FLUFFY! All my curmudgeonly relatives made compliments, which really means something. I used a nonstick pan cuz that's all I had, and it didn't fall out. Made this again recently using coconut sugar for the granulated sugar and I always use a bit less sugar than called for. It was less fluffy, but still AS fluffy as a regular angel food. I would rate it a 10 if I could." and "I used your angel food cake recipe for our Easter gathering at my daughter's home. Everyone raved about it and were surprised when I told them it was gluten-free. Topped with my fresh strawberry sauce and whipped cream, each angelic slice was eaten followed by "yuuummms". Thank you!!"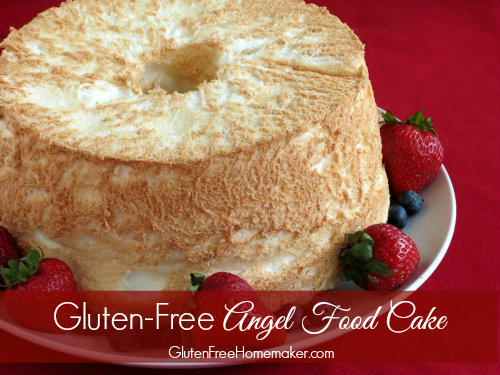 4. No-Joke Paleo Dark Chocolate Layer Cake from Zenbelly ~ Gluten free, grain free, refined sugar free, primal, vegetarian, with dairy free, paleo options (Check out Simone's cookbooks The Zenbelly Cookbook and The New Yiddish Kitchen here.)
Reader reviews: "I made this for a dinner club this past weekend and everyone LOVED it. They couldn't believe it was Paleo. It was seriously soooo good! Thanks for the great recipe! " and "Searched high and low for a recipe that would be worth the splurge on my birthday, and this did not disappoint!! My non paleo friends were sold! Thank you!!"
3. Dreamy Carrot Cake from Gluten Free Spinner ~ gluten free, vegetarian
Reader reviews: "Just wanted to let you know that I made this over the weekend and it went over HUGE. Even my mother who made a box mix cake to have a "real" cake "just in case" loved it. " and "My friend made this cake a few weeks ago and it was truly amazing! I'm going to make it for mother's day – can't wait! Thanks for such an amazing recipe." and "I made this one! It is everything it says it is, and then some. It's fantastic … to say this was a smashing success is an understatement!"
2. Perfect Pound Cake from Gluten Free Easily ~ gluten free, dairy free, vegetarian
Reader reviews: "Made your recipe today and oh my gosh, I AM IN HEAVEN! First REAL pound cake tasting pound cake I've had in 10+ years, literally!" and "Made this tonight for strawberry shortcake. Absolutely delicious! I substituted pineapple juice for the orange juice just because it's what I had. Fantastic! Definitely a repeat!!" and "I have just been placed on the FODMAP diet … when pinterest lead me to this recipe. I was about to give up on baking for myself when this baby popped out of the oven. Talk about heaven! Using my own basic flour blend of equal parts rice/corn/millet flours, it's just fantastic! Going to be using it as my base for all muffins and cakes from now on. Thank you so much from sharing!"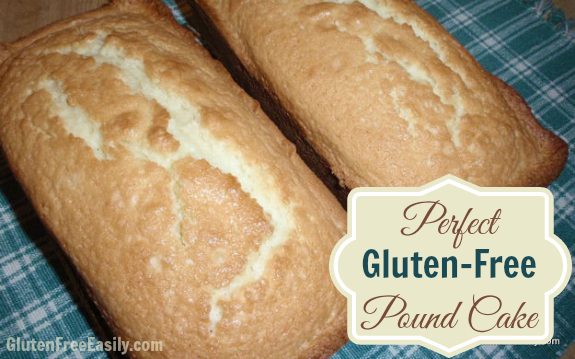 The number one gluten-free cake recipe is a winner all year long!
1. Cinnamon-Apple Cake from Gluten Free Fix ~ gluten free, grain free, primal, vegetarian, with dairy-free, paleo option (see reader reviews for one nut-free option)
Reader reviews: "I made this for Christmas morning, I had a couple friends over too, they absolutely loved it!! I did too, it's got a great balance of sweet and fresh, just delish!! " and "I used half buckwheat and half tapioca flour in place of the almond. It was very nice!" and "I have made this recipe so many times, but I haven't left a review, so here it is. We LOVE this! What a wonderful treat! The first time I made it for breakfast and served it as is. Since I have brought it to a couples book discussion (not for a gluten-free crowd), and everyone thought it was wonderful–came back for seconds, etc. When I brought it there I made the coconut milk caramel sauce to go with it so that it would seem more like a dessert. It was just the thing and perfect for autumn. By the way, I have tried it with apples, baking pears, and blueberries, and all were delicious. I have also added just a little nutmeg; if you like nutmeg it is a perfect addition!"
Final words … you don't have to bake all of the Top 10 gluten-free cake recipes but you should make at least one of them. Go Bake a Gluten-Free Cake!
Originally published September 20, 2014; updated March 10, 2022.