For affiliate links and as an Amazon Associate I earn from qualifying purchases.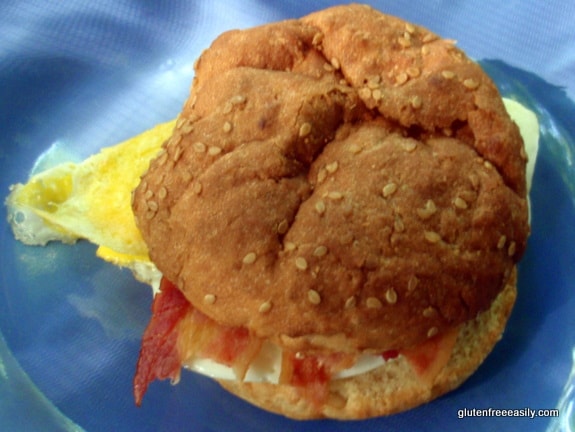 This post is linked to Gluten-Free Wednesdays.
UPDATE:  This giveaway is now closed. The winner is Renee of Beyond Rice and Tofu. Congrats, Renee! Thanks to all who entered this giveaway. Don't forget to check out the FreeFromGluten.com giveaway (open through Tuesday, July 12) and stay tuned for more reviews and giveaways that fit the gfe approach soon.
A while back I received an email from Dee Valdez, aka Gluten-Free Dee (you can find her on Facebook and Twitter), asking if I'd like to review complimentary Canyon Gluten-Free Bakehouse Hamburger Buns as part of a BBQ review. I'd heard some good things about these buns, so I said yes. A little bit later, more gluten-free products (again free of charge) were added to the review, all of them designed to make for a fantastic barbecue! Did they? Well, I can't tell you that exactly because that's not how I ended up eating them. When they arrived, I was headed on a six-day vacation with my girlfriends to Asheville, North Carolina. The day after I returned, Mr. GFE headed off on scuba diving trip with friends. While he was gone, some gluten-free blogger friends visited. Most were egg free so the buns were out and most of the other products didn't work with our dining plans. So here's my review, but it's a bit "piecemeal" and not really BBQ themed. Still I hope you'll find my feedback helpful.    
Canyon Gluten-Free Bakehouse recommends that their gluten-free, dairy-free, nut-free, and soy-free buns be eaten fresh soon after receipt. If that can't be done, then they recommend that they be frozen until use. They looked pretty amazing when I opened the box, but I was literally headed out for my trip. So I followed directions and immediately placed them in the freezer. When I returned and was home alone, I pulled out two buns to eat just letting them thaw at room temperature. (Note that after freezing and thawing, they won't look quite as impressive as they did fresh.) I think any gluten-free bread product should stand on its own merit. So first, I pinched off a piece of a roll and simply tasted it by itself with no topping and no condiments. I found the bun slightly sweet. The taste and the texture sort of reminded me of a sweet roll without the icing. Hey, that wasn't a bad thing at all. I quite liked these buns. I topped one half with almond butter and the other half with peanut butter, eating one for lunch and one for breakfast. Nice! Then I decided to use one bun to enjoy an old favorite, a fried egg sandwich. An egg fried in a little bit of coconut oil with some Zatar seasoning, plus two pieces of bacon on this bun. Oh my goodness! The only thing that would have made this fried egg sandwich better would have been if I'd been sharing it with Son. Fried egg sandwiches were always something we enjoyed when Mr. GFE was away on travel. The bun is really quite good! It's definitely the best gluten-free bun I've had thus far. You can read about all of Canyon Gluten-Free Bakehouse's products here, and see specifics on each product. The ingredients are a mix of whole grains (brown rice, sorghum, millet) and starches (cultured corn starch, tapioca flour, and potato starch), plus other ingredients like eggs, sesame seeds, and organic agave syrup. I plan on taking several buns with us this weekend to finally use for their primary purpose–hamburgers. I know Son will be delighted, and so will I. Update: We used the remaining buns this weekend for both gluten free (Son and myself) and gluten-full folks. All really enjoyed Canyon Gluten-Free Bakehouse buns and said they were very atypical of the usual gluten-free buns and breads.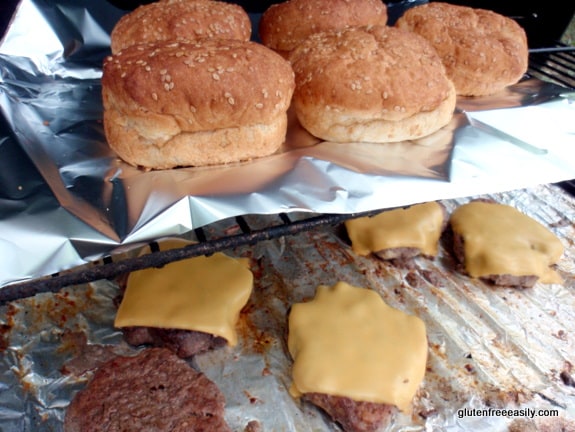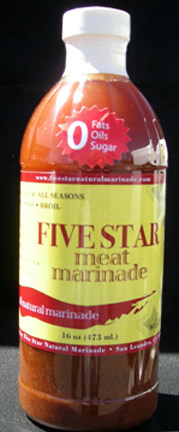 I'd never heard of Five Star All-Natural Meat Marinade before. But I really liked what the company's founder, Burt Amaral, told me about what was and wasn't in his product. That it was Burt's grandmother's recipe just made it extra special. First, you should know that when I make marinades at home, I like them to contain simple ingredients like oil, vinegar, sweetener (usually honey), and spices. Surprisingly, Five Star Marinade is even simpler and healthier. There are no oils or fats, no sugar, no MSG, and no preservatives. The only ingredients are: vinegar, salt, spices, paprika, and garlic. I wanted to broil some tilapia for my support group meeting the other night. I pulled out the Five Star Marinade (also designed for fish) and had marinated fillets in a relatively short amount of time. The fillets disappeared quickly once placed on the table and all of my members gave them two thumbs up! I'm looking forward to trying my other bottle of Five Star Marinade soon! 
Two gorgeous packages of treats arrived ready to eat from Ethel's Edibles… again, just as I was leaving for a vacation. They didn't seem like freezable products, so I just left them on the counter. So while I'll tell you what my impression of the Hot Blondies and Pecan Dandy Bars were, I'll admit that it's probably not a fair one since I didn't get to try them until a week after they arrived. Note that these treats have a grandmother connection, too. Owner Jill Bommarito said her grandmother, Ethel, was the inspiration for her recipes. Incidentally, Jill's motivation for creating gluten-free baked goods is that several of her close family members have celiac disease. My review? The Hot Blondies had good flavor, but were really crumbly. I'm guessing they would have been much better when eaten fresh. The Pecan Dandy Bars did not have a dryness problem. They are rich and delicious. They contained a LOT of butter and were definitely a square full of gooey goodness. Both treats were just a tiny bit gritty in my opinion, but I'm one who uses very fine rice flour when baking. One other factor that should be noted is that these treats contain Expandex, modified tapioca starch that is designed to enhance texture and appearance in gluten-free baking. I don't do well with Expandex so I only ate a small portion of these treats. In summary, my opinion of Ethel's Edibles might have been much more favorable if I'd eaten them as soon as they arrived and if they did not contain Expandex.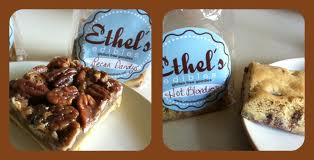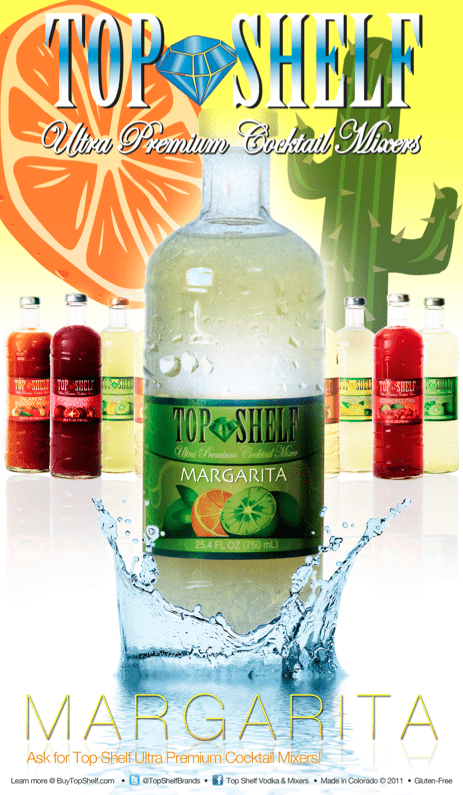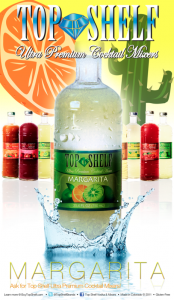 The only thing better than receiving alcohol, like Bombora and CooranBong vodkas, is receiving high quality mixers to make the mixing easier and the results a bit of tasty relaxation. Top Shelf Cocktail Mixers to the rescue! "Top Shelf produces only Ultra Premium Cocktail Mixers that are carefully balanced to deliver a crisp, clean, vibrant flavor. Our products contain real fresh fruit, vegetables and pure cane sugar." The founder also has a personal interest in sharing gluten-free products. He was diagnosed with celiac disease in 1997. I received three mixers to sample: Lemon Drop Martini, Margarita, and Pomegranate Martini. "We" sampled Lemon Drop Martinis when my gluten-free blogging friends were here. That meant that one friend kindly mixed a batch up using my CooranBong vodka, the others took a brief taste, and I drank the rest! That evening they decided to drink the beer that one friend had brought. I was very, very happy with my Lemon Drop Martini after I requested a tad more vodka in it. I found the same was true when a few days later I made a Margarita using the margarita mixer. In that case a little more tequila was needed to balance the citrus flavors of the mixer. Finally, I tried the Pomegranate Martini mixer. I've sampled some very fine pomegranate martinis in the past, both at the POM Wonderful Blogger Harvest Festival and at the International Food Bloggers Conference. Unfortunately, this mixer did not make a Pomegranate Martini that made the "fine" grade. It tasted more like fruit punch than a Pomegranate Martini. Even a tad more alcohol didn't do the trick when using this mixer. After I let the drink sit in the refrigerator until the next evening, I salvaged it by adding some orange juice, grenadine, and tequila—morphing it into a passable tequila sunrise, albeit one with some vodka as well. Overall, I think these mixers are really quite good. They come in beautiful frosted bottles and make cocktails simple to make. I'd love to try some of the other Top Shelf Cocktail Mixers—namely, Mojito, Cosmopolitan, and Apple Martini.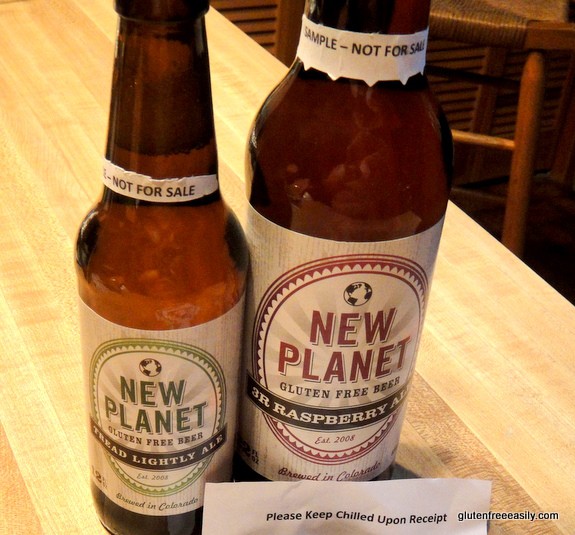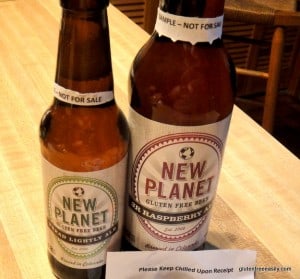 Not everyone likes cocktails though. Some, like Mr. GFE and some of my visiting blogger friends, prefer beer. Luckily, the BBQ review also included New Planet Beer. I've actually reviewed New Planet Beer before (read my New Planet review here). Although I'm not typically a beer drinker, I do really like New Planet. Their Tread Lightly Ale and 3R Raspberry Ale are lighter than most beers and very enjoyable. Their newest variety is Off the Grid Pale Ale. I'm taking that with us camping this weekend, so I can share with gluten-free Son. So sorry, but you'll have to wait on this post to be updated for that review! 
So here's the best part … you don't have to go on my reviews alone. Courtesy of all the participating manufacturers, one lucky gfe reader will get most of these same products to review! The exception will be the New Planet Beer. (Sorry, but law prohibits giveaways of alcohol in this manner.) Instead, the kind folks at New Planet will give away one of their cool t-shirts. Here's the complete listing of the products for the giveaway:  

Canyon Gluten-Free Bakehouse—Two 12-ounce packages with four buns in each. ($19 value, including shipping costs) 

Five-Star All Natural Meat Marinade—Two 16-ounce bottles. ($21 value) 

Ethel's Edibles—Two 14-ounce packages, three bars: one of Hot Blondies and one of Pecan Dandy bars. (over $16 value, incuding shipping) 

Top Shelf Cocktail Mixers—One 25.4 ounce bottle (makes 8 cocktails) of each of the following:  Lemon Drop Martini mixer, Margarita mixer, and Pomegranate Martini mixer. ($21 value) 

New Planet Beer—One t-shirt (in size of your choice; design offerings may vary). (over $20 value, including shipping) 

The giveaway will end Friday, July 8, at midnight Eastern. To enter you may do one or more of the following (maximum 4 entries): 

~ Leave a comment on which product(s) you are most interested in and/or share your experience with any of them. 

~ Tweet about the giveaway including @Shirleygfe in your tweet. Leave a comment here. 

~ Share the giveaway on your blog. Leave a comment here. 

~ Share the giveaway on Facebook. Leave a comment here. 

Hope everyone has a fabulous 4th of July weekend!