For affiliate links and as an Amazon Associate I earn from qualifying purchases.
This recipe for Knee Slappin' Good Blueberry Muffins from Heidi of Adventures of a Gluten-Free Mom is the last recipe entry for our March Muffin Madness event. I thought that sharing this much loved sweet muffin recipe would be a nice way to close out the event. Heidi's muffins are gluten-free, dairy-free, egg-free, corn-free, soy-free, xanthan/guar gum-free, and vegan.
Enjoy learning more about Heidi and her Knee Slappin' Good Blueberry Muffins and see the whole line-up of bloggers, blogs, and muffin recipes on gfe here.
Heidi is one of my dearest friends and I consider her blog one of the very best gluten-free blogs! I talk much more about Heidi in my earlier "adoption post" here on gfe.
Although Heidi has been on a blogging break for a while, please don't let that stop you from checking out her blog. She has so, so many amazing recipes—for both gluten-free adults and kids. She's known for kid-friendly recipes (she LOVES anything goldfish) and creating recipes that others think are impossible. Her "tell all" posts related to gluten-free living have helped many, many readers.
Here are just a few other recipes and posts of Heidi's that you should check out:
~ Ask Heidi:  Cheating on the Gluten-Free Diet (part of her Gluten-Free 101 Series)

~ The Best Mayo-Free Chicken Salad (I can personally vouch for this one … divine! even without the cherries)

~ Dermatitis Herpetiformis and Other Atypical Symptoms of Gluten Sensitivity

~ Gluten-Free Fritters (aka Förtchen, Futtjens, Ferdons, or simply Donut Holes) (this was Heidi's brilliant entry into my Home for the Holidays: Gluten-Free Style event a few years back)

~ Power Stick Breakfast Bars (I made these as Power Balls using coconut flour instead of powdered milk—fantastic energy treats!)

~ Reconstructing Goldfish Crackers:  Gluten-Free Style (think goldfish in every form actually)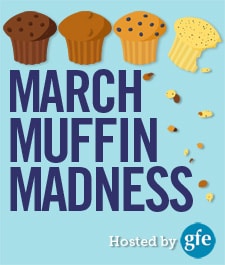 Heidi says: "I have never had a better blueberry muffin in my life.  Not with dairy, not with eggs and certainly not with gluten." Her readers left lots of rave comments—"delicious," "unbelievably wonderful," and "my sons request these"—when she first shared this recipe on her blog, so it's clear she is not the only one who was slapping her knee over just how good these muffins are!
Knee Slappin' Good Blueberry Muffins Recipe
Yield: 12
Knee Slappin' Good Blueberry Muffins from Adventures of a Gluten-Free Mom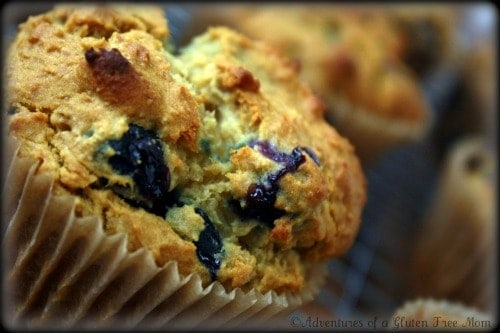 Heidi says: "I have never had a better blueberry muffin in my life. Not with dairy, not with eggs and certainly not with gluten."
Ingredients
1/2 cup Almond Flour (I highly recommend using Honeyville Blanched Almond Flour; I cannot guarantee the muffins will turn out as well with a different brand. See notes for nut-free alternative.)
1 1/2 cups Superfine Brown Rice Flour
1/2 tsp. Sea Salt
1 tsp Corn-Free Baking Powder
1 tsp Baking Soda
1/2 cup Agave Nectar (see notes)
1/4 cup Coconut Oil, melted
2 Chia 'Eggs' (mix 2 tsp ground white chia seed with 6 tbsp warm water, set aside for about 5 minutes until mixture thickens; see notes for more options)
1 tsp Corn-Free Vanilla Extract
1 cup Unsweetened Applesauce (I use Eden Foods Organic Applesauce)
1 cup fresh, Organic Blueberries (see notes)
Instructions
Preheat oven to 350° F and line a muffin tin with paper liners.
In a large mixing bowl, combine agave nectar and melted coconut oil. Beat on high speed until thoroughly blended.
Add in chia eggs and vanilla extract, beat well.
Meanwhile, sift together the almond flour, superfine brown rice flour, salt, baking powder and baking soda.
Add half of the dry ingredients to the wet mixture, blend well.
Add half of the applesauce, blend well.
Repeat with remaining flour mixture and applesauce.
Fold in blueberries.
Pour the batter into the prepared muffin tin and bake for 22 – 25 minutes. Check for doneness by inserting a toothpick or touching lightly on the center (the muffin will be firm to the touch).
Allow muffins to rest in the pan for about 10 minutes then transfer to a wire cooling rack to cool completely.
Notes
This is a thick batter and you can fill the muffin liners all the way to the top without fear they will spill over in the oven.Shirley here: Heidi's readers have also made many other substitutions successfully with this recipe. For example, one reader used sunflower meal/flour (which is finely ground sunflower seeds—you can make it yourself) instead of ground walnuts can be substituted for the almond flour. Honey can be substituted for agave nectar. Flax gel eggs can be substituted for chia gel eggs. Heidi says frozen blueberries can also be used; do not thaw to prevent your muffins from being "too blue."