For affiliate links and as an Amazon Associate I earn from qualifying purchases.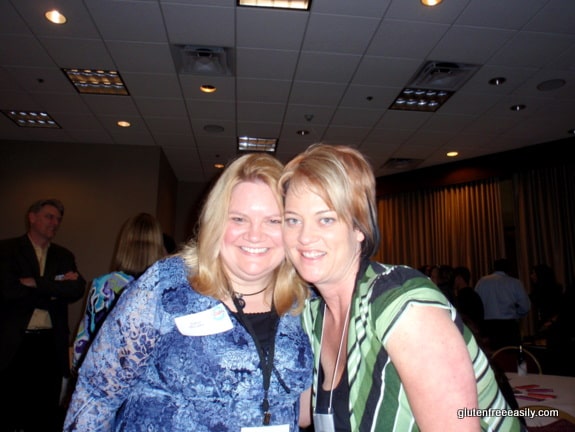 Andrea McCarthy (Rockin Gluten Free) and Heidi Kelly (Adventures of a Gluten-Free Mom) at the Gluten-Free and Allergen-Free Expo
This month I decided to adopt one of my dearest gluten-free blogging friends, Heidi Kelly, of Adventures of a Gluten-Free Mom for the monthly Adopt a Gluten-Free Blogger event. Adopt a Gluten-Free Blogger is a longstanding monthly blog carnival created by the lovely Sea of The Book of Yum. The intent of the event is to build community among gluten-free bloggers. It's always a great opportunity to share a favorite blogger and try out one or more of his/her recipes. This month the event is hosted by sweet and talented Zoe of Z's Cup of Tea. (By the way, I adopted Zoe a few months back.) Thanks for hosting, Zoe!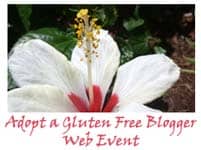 Now back to my adopted one … I am a huge fan of Heidi's (understatement), and I know with certainty that all of her readers, Facebook friends/fans, and Twitter followers are right there with me! I was a fan of Heidi's even before we met at the International Food Bloggers Conference (IFBC) last year in Seattle. Heidi has a very big heart and she believes in sharing much and often. Not only does she create sensational "knockoff" recipes and re-create challenging gluten-full recipes as gluten free on her blog, but she also is an avid and relentless researcher on topics associated with celiac disease and gluten issues. She always shares what she learns, and she also shares her and her family's health journey, as well as the "lessons learned" along the way. Sometimes—when she hasn't yet reached the actual lesson part—she asks questions of readers and online friends, initiating some very lively discussions. As Wendy (Celiacs in the House) has said in the past, Heidi has the most engaged followers who contribute to interesting, thought-provoking discussions you won't want to miss.
Did you know that Heidi had an article published in The Journal of Gluten Sensitivity last year? The article addressed atypical symptoms of celiac disease. Those are the types of symptoms that Heidi and many in her family have experienced. The article is only available by subscription to this publication (under the purview of Scott Adams and his celiac.com site), but if you're a reader of Heidi's blog, you've already read some of this info on her blog earlier. More recently, Heidi shared her complete personal story. I strongly encourage you to read Heidi's story and even share it with others. She includes data points in her chronological medical history to show the connection between gluten and her symptoms. Her story has inspired many of her readers to take action; e.g., pursuing celiac and gluten intolerance testing, going gluten free. Even Heidi's own sisters have decided to go gluten free after reading her post. Connecting all the dots can make the picture—and the road forward—pretty clear.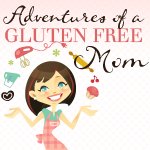 First, let me tell you about some of Heidi's recipes that I didn't make (but that you may want to). Son is now 23 and Mr. GFE (aka Carnivore Man) likes mostly manly food so I didn't make Heidi's very popular recipes like Goldfish Crackers, Lunchables (including Pizza Lunchables), Spaghetti O's, and Pop Tarts. Heidi's mom readers love these recipes because they can help make the transition to gluten free easier for their children. If the gluten-full versions of these products are what kids were eating before going gluten free, they are not too eager to eat naturally gluten-free foods or homemade gluten-free lunches. They simply may not be ready to be different from their friends. These recipes of Heidi's can help "bridge the gap." But Heidi also shares mom-tested tips on how to eventually get kids on board with whole foods. Another reason I didn't opt to try any of these particular recipes is that I didn't want to make anything substantial before I head off tomorrow with my girlfriends to Asheville, NC. (There will be a return trip to gluten-free Posana Café—woohoo!) I won't be back until the middle of next week and when I'm gone Mr. GFE eats out. Period. So there's no reason to fill the fridge or freezer to keep him adequately fed. (The restaurant across the street from us loves it when I'm away!)
Heidi also makes the adults in the family extremely happy with recipes like Crescent Cinnamon Rolls and Sopaipillas. And everyone will cheer for Ravioli—or Ravioli in its "super hero form"—Pizza Rolls! Note that many of these recipes that I've mentioned are even dairy free and egg free as well as gluten free. That makes them accessible to so many in the food intolerance community, another reason that we all cheer for and are so grateful to Heidi.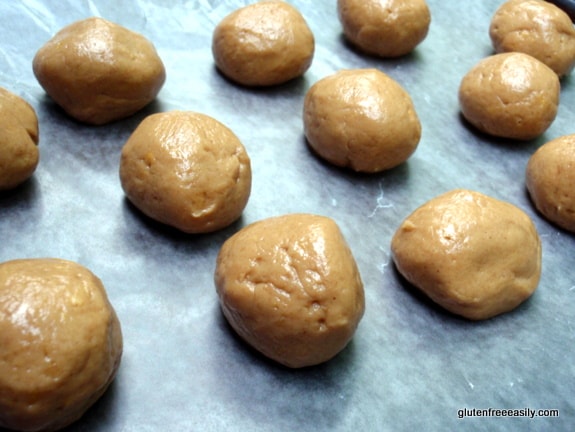 Power Truffles Before Freezing
But remember, I needed a simple recipe with no leftovers to speak of, ideally something that I could take on my road trip with the girls tomorrow morning. So I checked out Heidi's Recipes index and found her super easy Power Sticks. Designed to be breakfast bars in cylindrical form, this very easy recipe required only a few ingredients: peanut butter, honey, crushed gluten-free corn flakes (I used GFCO-certified Erewhon Corn Flakes, which are also organic, vegan, and soy free), and powdered milk. In place of the latter, I used coconut flour as I did not have a dairy-free powdered milk. Coconut flour is known for "power," too, specifically its powers of absorption of liquid. The only liquid in this recipe is honey, but apparently honey is too viscous to be dramatically absorbed by coconut flour. Still I used a lesser amount of the coconut flour than Heidi used of the non-fat dry milk powder. The coconut flour adds more protein and overall nutrition than the dry milk powder and is an easy way to make Heidi's recipe dairy free. And finally, I decided on making two-bite power "truffles" versus sticks. These truffles were very tasty as soon as I made them, but after I froze them, they were incredible. It took great restraint not to eat more than one after sampling. However, I wanted to save some of these truffles for breakfast this morning and the road trip tomorrow, so I had to tell myself, "Put down the Power Truffle!" Whimper. Imagine the delicious taste of peanut butter with the slight sweetness of honey and coconut flour. Add in the crunch of crushed corn flakes and you'll know what I'm talking about. Well, sort of. I honestly believe these have to be sampled to be fully appreciated. Don't be misled by the mild-mannered appearance of these truffles. They are somewhat like my Crustless Fudge Pie—Clark Kent in looks, but Superman in taste. If you're vegan, substitute agave nectar for the honey and you're good to go! I like that the kids can help make this "treat," too. What kid doesn't like crushing corn flakes with a rolling pin? (Or even a stressed adult for that matter. Rolling pin therapy is extremely effective.) I think using Erewhon Crispy Brown Rice cereal instead of cornflakes would make a tasty treat, too.  I have a friend who makes Buckeyes (similar to Heidi's stunning Dairy-Free Buckeyes) and adds crispy rice cereal; they're delightful. My adaptation of Heidi's recipe makes a dozen truffles, but how long they'll keep in the freezer is entirely up to you!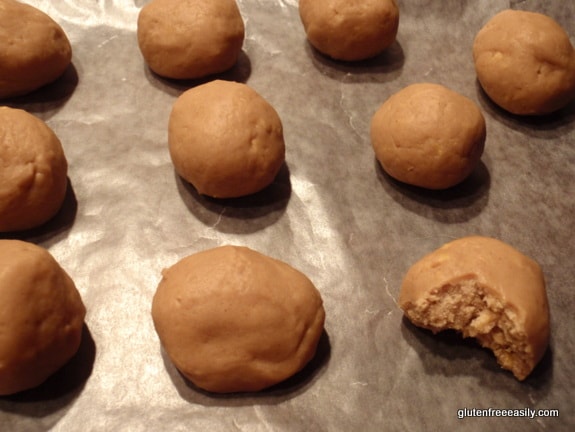 Power Truffles Right Out of the Freezer
Last summer I made Heidi's Amazing Cole Slaw for Mr. GFE. He is a huge cole slaw fan … if it's good!  He thinks good coleslaw is the signature of any great casual restaurant. For me to make cole slaw for him at home is a very special treat indeed. You see there's a story from long ago on this subject. I overheard Mr. GFE tell someone that I made "okay cole slaw." Well, you can guess where this is going … I didn't make cole slaw for him for over 20 years. Until I decided to try Heidi's recipe. But in fairness to Mr. GFE, I guess I should give you a little more history. I was not a cole slaw fan myself so I just bought the bottled cole slaw dressing. In retrospect, I can understand why he wasn't thrilled. I was all about homemade baked goods then, but not so much when it came to recipes I didn't personally care for. Anyway, fast forward to modern times where I tweaked Heidi's recipe a tiny bit by adding a few tablespoons of mayonnaise because Mr. GFE's preferences run to creamier cole slaw. He proclaimed the results as "good." I'll take good when he says it with that certain bright inflection in his voice, which lets me know that he really means what he's saying … but I'm not at all keen on an okay assessment. Heidi's Amazing Cole Slaw is very easy to make, especially when you start with bagged cole slaw mix. Sorry, I couldn't find my photo of her great cole slaw, but you can see Heidi's recipe and photo here.
Heidi's motto is "Where there is a will, there is a way!" She demonstrates that every day over at Adventures of a Gluten-Free Mom. If you'd like to get to know Heidi better (and you really should), please check out her About page while you're checking out her blog. Also, take a look at her recent Food Rock Star interview with Diane (The W.H.O.L.E. Gang). Heidi is indeed a food rock star and much more to those of us in the gluten-free community!