For affiliate links and as an Amazon Associate I earn from qualifying purchases.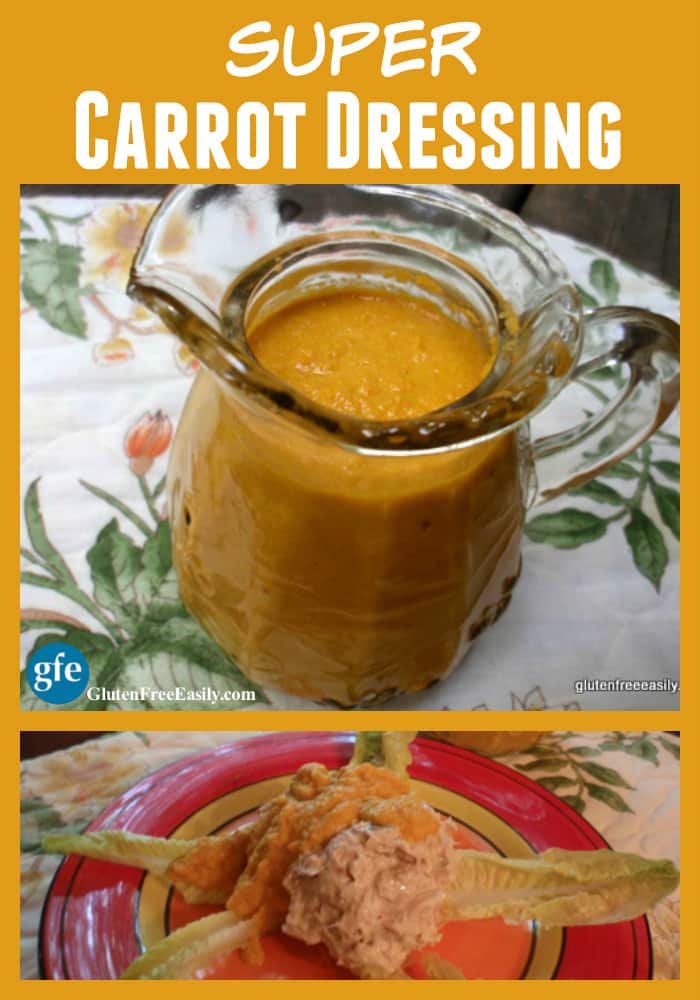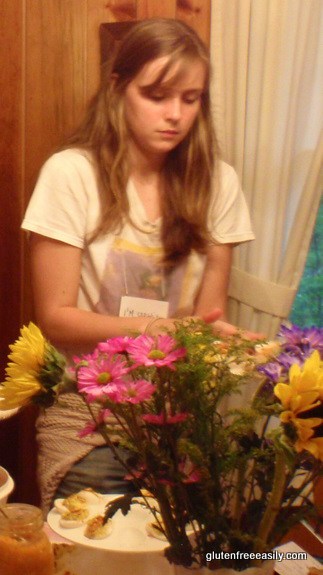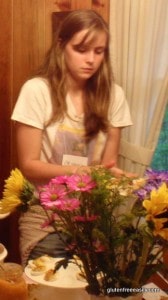 Another joy of our support group meetings is having visitors join us from time to time. One of our group's founding families, the Padovan-Hickman family, has a farm called Biota. DeLaura and Steve, and daughters, Tara and Maren, raise chickens, goats, and organic vegetables. A few months ago, they hosted an intern, Sophia Curran, from New York City. Sophia had a marvelous time while she was on the farm, even witnessing the birth of twin goats at Biota. (Read more on Sophia and see photos of the baby goats.)
Her experience was a rich and enjoyable one, so much so that she will be returning to Biota later this month. When she was here before, Sophia shared her lovely carrot salad dressing with the Padovan-Hickman family. They ate it almost daily, on "just about everything" they said. DeLaura is  the manager of our outstanding Farmers' Market (America's Favorite Farmers' Market for 2010 in the Boutique Category!) and she shared the recipe in the market's May newsletter.
With Sophia's permission, I'm sharing it with all of you. I enjoy Sophia's mildly sweet, very pleasant Super Carrot Dressing over a green salad, a cold salad (like tuna salad, which is shown in the photo), or even as a healthy topping for a baked Russet or sweet potato—"orange-on-orange" for the latter. I'm sharing this today over at Gluten-Free Wednesdays at Linda's (The Gluten-Free Homemaker). Linda's challenge this month is for everyone to Create A Gluten-Free Salad. Entries may include dressings as well. Hope you'll share your creations in that category this month each Wednesday over at Linda's. With the heat of summer here, I can never get enough cool and refreshing new salads. Enjoy!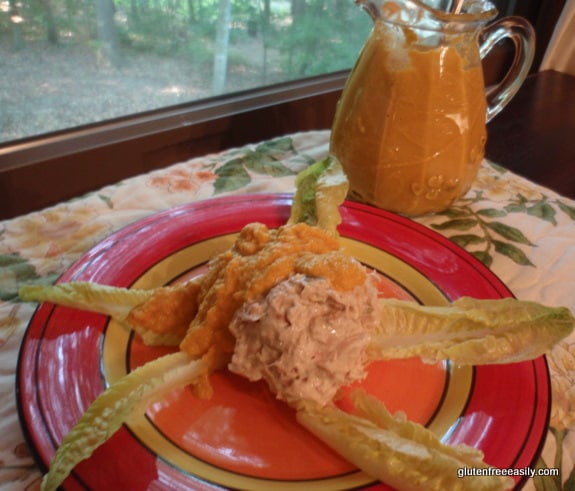 Yield: Makes about 2 cups
Sophia's Super Carrot Dressing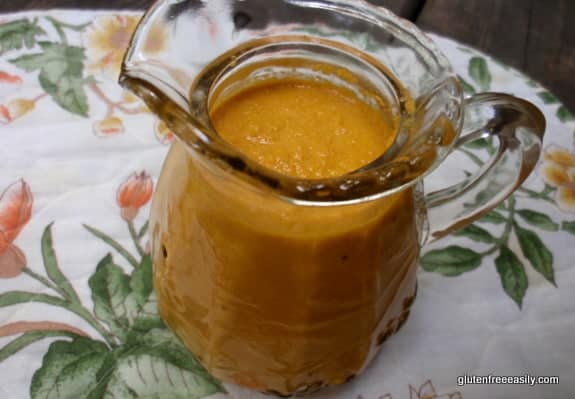 Recipe from Sophia Curran. Originally published in King George Farmers' Market newsletter
Ingredients
4-5 carrots
1 medium onion
½ cup olive oil (or slightly more if needed)
Gluten-free tamari (or gluten-free soy) sauce, about 1-2 teaspoons, to taste
Balsamic vinegar, splash (optional)
Water, if needed (small amount)
Instructions
Blend first three ingredients in food processor.
Add tamari sauce (or soy sauce) to taste. Blend again.
If desired and/or needed, a splash of balsamic vinegar and some water may be added for tang and thinning, respectively. Blend again until smooth.
Use as a topping for green salad, other cold salads, cooked greens, or whatever else appeals. Will keep several days in the refrigerator.
Notes
The amount of moisture in the carrots and onion will determine how much additional liquid you will need to add, if any. My food processor is ancient and does not chop or blend nearly as well as it should. Plus my carrots and onion were not super fresh or juicy, so I had to add additional liquid in the form of olive oil and water. For topping my tuna salad, the thicker blend worked fine. For a green salad, I'd suggest a thinner version of this salad dressing.