For affiliate links and as an Amazon Associate I earn from qualifying purchases.
With May being the month when Cinqo de Mayo is celebrated and also Celiac Awareness Month, I think that offering a Homemade Sangria recipe and postulating (again) on the need for support when one is gluten free just makes sense. I actually combined the two last night, making my friend Tavie's homemade sangria recipe for my support group's belated Cinqo de Mayo celebration. Yes, Cinqo de Mayo was on May 5 as the name indicates, but my group meets later in the month and we really wanted to focus on Mexican food with homemade tortillas and carnitas with all the fillings/toppings, plus much more.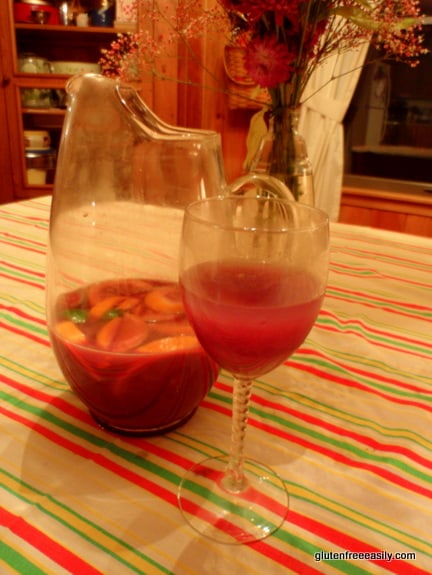 And yes, sangria is really a drink from Spain or Portugal, not Mexico. I know that. Sigh. But to repeat the words of a celebrity therapist do you want to be right or do you want to be happy? I choose happy. Of course, I could have gone for a classic margarita or a more nouveau version like this Avo-Rita that was just shared over at Endless Simmer. But I had that pitcher of sangria in mind—an easy way to serve and please a crowd.
So I put the call out on Twitter late the other night for sangria recipes. Liz (Hoosier Homemade) reminded me of her White Sangria recipe that she'd shared for our Holiday FoodFest event a while back. (Note that not all recipes shared in that event were gluten free, but the ones in Liz's post were.) Liz's white sangria looks lovely, definitely something different. However, when I was chatting with my friend, Tavie, about the menu for my group's meeting, I suddenly remembered how good her sangria is. I've enjoyed it many times!
Lucky for me it's a well-loved recipe with few ingredients … she was able to recite it from memory. It turned out that I had everything on hand except the burgundy. So I picked up a bottle on the way home. I must say that I was delighted to see that a large bottle of burgundy was only $7.  Sangria that's easy, delicious, and frugal … definitely my kind of recipe! And actually, it was everyone else's, too. Even the usual teetotalers in my support group were drinking this last night.
Sadly, in the flurry of activity with members making tortillas, chopping veggies, heating up their offerings, and more, I completely forgot to snap a photo. Well, until 10:30 last night. Luckily, there was a small amount left in the pitcher and in my glass, although I'd added some ice (no doubt another beverage faux pas) and mine was a bit watered down. Still, I needed to head to bed, so I just snapped quick photos "as is," on my then empty dining room table. Sorry for the harshly-lit, late-night photos with almost no sangria left in the pitcher, but I still think you'll get the idea just fine.
As far as the second part of this S & S equation, I'm always talking about the importance of support groups. That's not just because I lead one, but in my role as a support group leader, I see how the "support" buoys folks when they have yet to get their gluten-free "sea legs," so to speak.
We had three new members attend last night and I'm not exaggerating when I say they were thrilled they had joined us. They saw and ate all our wonderful real food and recipes made from real food, with a few gluten-free specialty products shared, too, and they immediately "got" the gfe approach. It's one thing to tell folks how to live gfe; it's quite another to show them, to let them see others follow the gfe approach, and to actually taste great, naturally gluten-free food! They truly understood how they could go forward living gluten free easily and well. While we were eating, several of us chatted with new members on eating out—good experiences, bad experiences, the "do's" and the "don'ts." Some newbies attend my meetings initially and then stop attending on a regular basis once they feel they've grasped the gfe approach and feel they can do it on their own. Others continue to participate in as many meetings as their schedules allow. It's all good, as the saying goes.
Even when my support group members are no longer attending meetings, there are very few folks who choose to stop receiving our support group newsletter. So they still like that "lifeline" of support and access to news in the gluten-free world. And who doesn't need a gluten-free friend or two or several dozen? I sure treasure mine.
Now this Homemade Sangria … this recipe might be your new "go-to" drink for summer events. While summer doesn't officially begin until June 21, Memorial Day weekend is always considered its kickoff so with that in mind, you don't have to wait long. If you're a stickler for that correct timing thing, again ask yourself is it important to be right or to be happy? You know which I choose. And homemade sangria is truly wonderful any time of the year … no need to look at the calendar!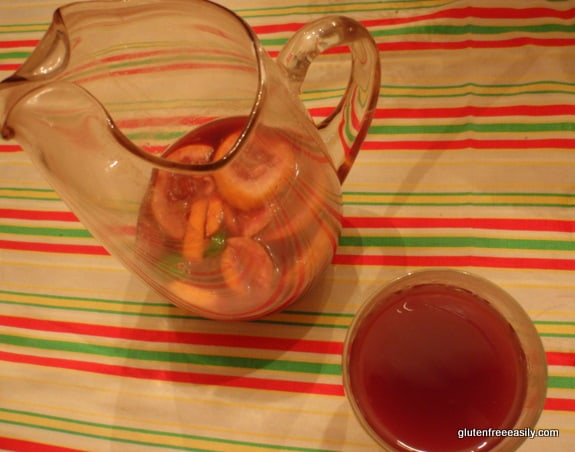 Now my friend Tavie likes to add a little special flourish to her Sangria. This development is relatively new in her sangria serving, so I haven't tried it yet, but will soon!
Homemade Sangria Recipe
Yield:
Homemade Sangria (with Something Special If You Wish)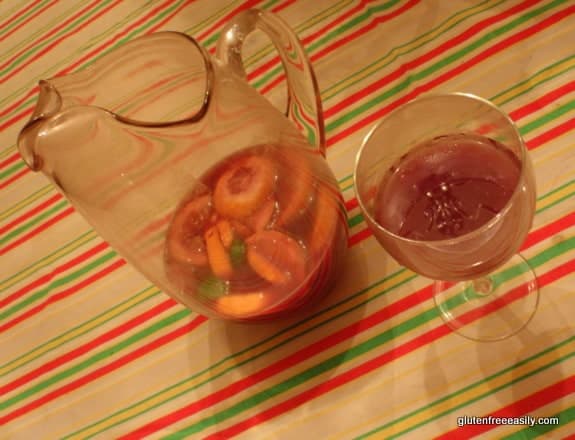 This wonderful sangria recipe comes from my long-time, good friend, Tavie Glassmire. 
Ingredients
Sangria
4 cups burgundy wine
2 cups orange juice
½ cup triple sec liqueur
¼ cup granulated sugar (I used coconut sugar; I think honey or agave nectar would work fine, too)
Sliced or cut fruit of your choice (I used orange and lime slices)
Something Special (Optional)
About 1 to 1 1/2 cups of fruit that you would enjoy eating, chopped or individual (e.g., chopped apple, chopped pears, individual grapes, chopped plums, chopped nectarines)
½ cup of peach schnapps
¼ cup of triple sec liqueur
Instructions
Sangria
Stir all together in large pitcher and chill until serving. Sangria may be served over ice if needed.
Something Special
Add fruit to medium-sized bowl. Mix peach schnapps and triple sec together and pour over fruit. Let sit a few minutes. Chill if preparing well ahead of serving.
When serving sangria, spoon some of this Something Special into individual glasses, if desired.