For affiliate links and as an Amazon Associate I earn from qualifying purchases.
Today I have the privilege of sharing another personal gluten-free story, The Beer That Saved My Belly. If you've been reading gfe for a while, you know that I am passionate about sharing personal gluten-free stories. Stories of diagnosis and recovery. It's often when individuals hear personal stories of celiac or non-celiac gluten sensitivity that it "clicks" that they, too, have the same issues.
We can diligently read a listing of symptoms and perhaps nod our head a time or two, but we can also be quick to dismiss the possibility if we don't have all of the symptoms listed. And most of us who are gluten free (after suffering from symptoms of gluten issues for years) know that gluten affects everyone differently. There is truly no "One Size Fits All" when it comes to how gluten affects us, so it helps to hear many stories to recognize that we may, in fact, have celiac or non-celiac gluten sensitivity.
The story I'm sharing today is that of Dr. Delise Dickard. Delise is a long-time friend and also a member of my support group. In a relatively short amount of time, Delise has become a relentless advocate for awareness on celiac/non-celiac gluten issues.
She recently participated in the Gluten-Free Labeling Summit in Washington, D.C., and met Dr. Alessio Fasano, director of the Center for Celiac Research and Treatment (now housed at MassGeneral Hospital for Children), in person there. Delise had previously interviewed Dr. Fasano as part of an excellent article she wrote on gluten sensitivity for our local newspaper prior to the Summit.
I applaud Delise for all her efforts and think you'll very much appreciate her story. You can read a little more about Delise in her bio before her story.
Dr. Delise B. Dickard, is a psychotherapist in private practice at Camellia Cottage, which she founded. She previously founded and directed Riverside Counseling. In addition to her doctoral degree in Counseling Psychology, she has earned a Masters Degree from Harvard University in dramatic arts and is an award-winning playwright. She was also the mental health columnist for our local paper, The Free Lance Star, where her writing included the perils and delights of learning to live gluten free.
My story of gluten sensitivity likely began in my twenties with gastrointestinal symptoms. Doctors chalked it up to stress for a while but eventually gave me my first official diagnosis—IBS. It was oddly comforting to have some label to cling to and my form of IBS was politely called "D type". "D" for Diarrhea.
As anyone with "D" type knows the problem is anything but polite, in fact, it is very disrespectful and can strike at the most inconvenient times. So I learned how to scope out the locations of restrooms much like people notice the exit doors upon settling in on an airplane. I also collected an arsenal of medications intended to save me from embarrassment when I was in various states of gastrointestinal distress.
I tried not to let it stop me from anything and, at age 25, took a four-month backpacking trip to Europe. Just to be digestively "safe" I stuck to a simple diet of wine (don't drink the water!), cheese, and bread. I laugh to think I missed the entire culinary experience of Europe and clung to bread – my worst choice.
I have a memory of being so sick in Bulgaria that I couldn't get out of bed. I was staying with a lovely family, but I was practically comatose. Had my own mother been there she would have naively fed me chicken noodle soup and saltines, but this mother came to my bedside with two huge bowls of food—one brimming with strawberries and the other filled with steamy boiled potatoes.
The last thing I wanted to do was to eat and this wasn't on my "safe" list. The berries were washed in Bulgarian water—OMG! I ate it anyway and I'll never forget how utterly delicious this pure food tasted. I always said, "That food healed me!" It was the best meal I had in all of Europe—maybe ever!
I recovered and I was able to go on with my trip. I had a marvelous time despite the fact that upon my return I could have written A Traveler's Guide to the Toilets of Europe.
By my thirties, I began developing what looked like rosacea. I had struggled with acne and rashes so this was no surprise. I just added heavy makeup to my growing bag of necessities.
Somewhere around 40, I began to notice white patches on my skin and was diagnosed with vitiligo, an autoimmune disease fondly called the "Michael Jackson" disease, so I added more makeup to my bag. Then Reynaud's Syndrome was discovered, so just another autoimmune disease had emerged.
I could still function at a pretty high level and got various graduate degrees and opened my private counseling practice in Fredericksburg. Then my mid-forties brought on a list of symptoms that caused doctors to look at my age (then 45) and say "perimenopause."
By the summer of 2010, I had become extremely sick. My biggest symptom (pun intended) was bloating. I had had cyclical bloating with my menstrual periods so everyone thought (again with my age now approaching 50) I was simply going into menopause.
I remember thinking: "If menopause is THIS bad then the entire population of women rounding 50 would be at home in bed!" But for two months I stayed bloated all of the time and felt so bad I could hardly function.
I felt like the doctors were just blowing me off. I needed to show how severe the bloating had become. I went to the emergency room twice and each time they immediately gave me a pregnancy test because I just looked pregnant. I even had one nurse pull me aside and smile knowingly as she said, "You know honey this can happen even at 48 … even with your husband's vasectomy…" After the negative pregnancy test, I didn't see HER again.
I had to buy clothes two sizes bigger thinking this was my "new normal." I tried to hide my stomach. But I finally decided I needed to show the extent of the bloating to my doctors. I took two pictures one day apart. In one I was 41 inches and in the other, I was 36. When I showed them what would happen in the course of three hours this did get attention. One surgeon simply said, "Wow, that's impressive."
So I hauled around my pictures in a huge medical file labeled "What is wrong with me?" I went to five specialists. I got all those horrific tests where you drink gallons of stuff. They stuffed cameras into all sorts of places cameras shouldn't be. I had exploratory laparoscopic surgery and hoped that the surgeon would find something that was wrong that could be fixed. He actually apologized to me when he told me I looked perfectly normal on the inside.
So I began to chart things: inches, diet, my cycle. The bloating seemed to come in random waves with pain so severe I couldn't function. I actually thought I might lose everything—my family, my friends, my practice. But I just couldn't accept this was my "new normal." I had to know what was debilitating me. The specialists each gave a different final answer: hormones, chronic IBS, adenomyosis (don't bother looking it up). The only proposed solution was a hysterectomy.
Just as I was ready to let them remove my perfectly normal uterus, I had an important day. I was feeling better. I went to lunch with my husband and had one frothy dark beer. It was, frankly, delicious. It was rare for me to have a beer for lunch and this one must have been loaded with gluten because in two hours I was swollen beyond belief.
I call it "The Beer that Saved My Belly" because after this beer my body "spoke" to the tune of about 7 inches of swelling. Thank goodness, I had a dinner date with my girlfriends. I remember dragging myself off the couch—refusing to let my huge belly pain interfere with my friendship.
So after all the specialists, various scopes, surgeries, and ER visits, I walked into the room with my girlfriends—tummy poking out of my coat. While one said,
"Oh my God, you look six months pregnant," the other said, "You have gluten intolerance!"
Well, thank heaven for girlfriends! That was it—I had my answer.
I went on the diet that night and I was very very strict. I lost one inch per day in my waist. I felt significantly better in about five days. But I continued to lose inches (not weight) until I lost a total of 9 inches in two weeks without exercise, calorie counting, or any weight loss.
So my "new, completely unglutened normal" stomach measurement is about 32 inches. Unbelievable. I felt like someone from one of those crazy ads-–"drop two dress sizes in two weeks!"
Of course, I tested if gluten was really my issue a couple of times with reliable bloating results. I also tested positive by the Enterolab stool test. I also learned that I should have had a celiac blood test before going gluten free, because now I may never know where I am on the spectrum of gluten-related conditions.
I have learned that I am extremely sensitive and still get accidentally "glutened" quite often. I'll know because three hours later all my uncomfortable symptoms return for a week. But still, I have not had an "intentional" crumb of gluten for over six months now. My body is healing and here is my list of improvements so far:
I feel great.
I'm back in clothes I wore five years ago.
My rosacea has cleared.
Various rashes are gone and, most astonishingly, the white spots of vitiligo are repigmenting. I'm wearing skirts again!
As challenging as it is for me to keep from getting contaminated, I am thrilled to finally KNOW I am gluten sensitive. I don't see it as a disease. I see my gluten sensitivity as the information I desperately needed to learn about my body. I've thrown out my IBS meds along with my heavy makeup bag.
Living gluten free has brought so much health and well-being back into my life. Who would have known that as I round the age of 50 that I would look and feel better than I have in many many years! In fact, now that I feel good again, I think I'm going to need another trip back to Europe. I hear they have really good strawberries and potatoes!
Shirley here:
Since this post, Delise has published a book sharing her complete story, Coming UnGlutened, which goes way beyond her personal gluten-free story: The Beer That Saved My Belly. You can read my review on gfe here. Spoiler alert: It's most definitely worth a read!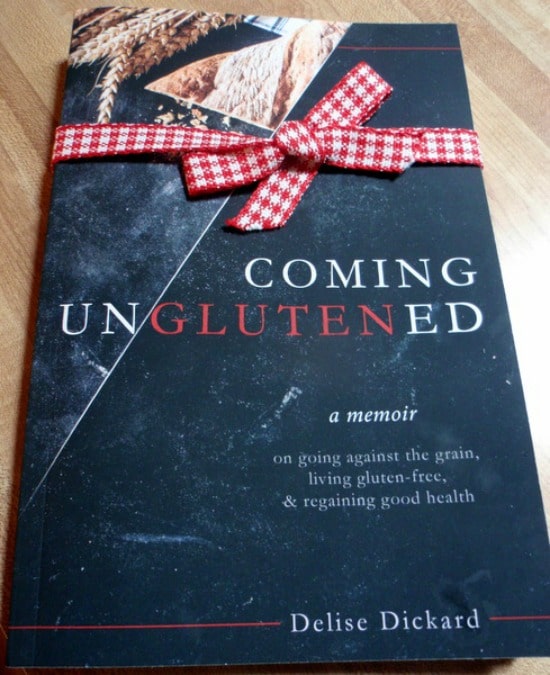 Here are some other very compelling personal gluten-free stories that have been shared on gfe:
Last, here's my guest post on celiac and non-celiac gluten issues over at Anali's First Amendment.
Originally published May 19, 2011; updated December 8, 2021.