For affiliate links and as an Amazon Associate I earn from qualifying purchases.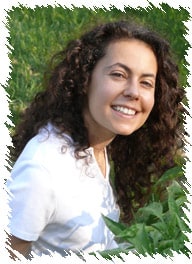 Today, I am honored to have Cheryl Harris join us here at gfe. Cheryl has been practicing as a registered dietitian and nutrititionist for the last 10 years. She is gluten free and lives free of several other foods as well. You may remember Cheryl from Wendy's (Celiacs in the House—update:   this blog is no longer in existence) inspiring 30 Days to 50 series. She was on Wendy's support team. Well, I met Wendy at the International Food Bloggers Conference (IFBC) and she's a true delight, but that's a discussion for another post (specifically, my delayed IFBC post). 
The important factor related to this post is that Wendy looks sensational and is continuing to do very well! Clearly, the lessons Wendy learned from Cheryl and others on her team have helped her greatly with her efforts to improve her health and take care of herself. After an initial faux pas on my part (mistaking Cheryl for another Cheryl—long story), Cheryl and I ended up emailing each other and I asked if she's be willing to speak to my support group. She graciously agreed and will be the speaker for our December meeting—woohoo! But why limit great info from Cheryl to just her presentation to my support group? And, even my members and I don't want to wait that long to hear everything she has to share, so I also asked if she'd be willing to do a guest post. Again, she graciously agreed, even with me suggesting the topic—inflammation.
Yes, I can be a little pushy like that. Inflammation is a topic that I have a lot of interest in because resulting inflammation is one of the reasons that eating processed gluten-free specialty products is not a wise choice for those of us trying to heal. Cheryl lives and works in Alexandria, VA providing nutrition sessions and classes on Celiac disease and other food intolerances.  She considers herself incredibly lucky, because she loves her work and the chance to help others enjoy healthy, safe and delicious  foods despite food restrictions.  You can learn more about Cheryl, her programs, and her approach at her sites: Harris Whole Health and Gluten-Free Goodness.

Shirley and I crossed paths a few months ago and I was delighted to discover a shared passion for healthy, gluten-free, "real food" eating.
When I started on a gluten-free diet many years ago, I was totally thrown for a loop.  Not only did I have issues with gluten, but I was already avoiding dairy, eggs, rice, corn, and citrus and limiting sugar because of food intolerances. Even as a dietitian, I felt like I was sinking fast.  This was before the days of support groups, blogs and a variety of great cookbooks.  And so…there were potato chips….spoonfuls of cashew butter with agave…and Pamela's Ginger cookies, too. I didn't even LIKE potato chips.  I was just frustrated, overwhelmed, depressed and struggling with a bunch of chronic pain issues and Lyme's, and so eating "healthy" in addition to eating everything-free seemed like a huge pile-on.   In retrospect, I just was trying to do too much with too little support.
I learned a lot more about my health risks.  I was considered pre-diabetic despite being underweight, and it was the huge cosmic kick in the tush I needed.  I realized it didn't matter what was average, normal, or what the food guide pyramid said.  I needed to be overwhelmingly eating food that would nourish my body, not only avoiding food triggers.  And even healthy foods, like nuts, seeds, good fats and agave needed to be in reasonable amounts…and getting out of bed didn't actually entitle me to a cookie (bummer).  The solution for me was pretty easy: just real foods.  Fruits, veggies, nuts, seeds, beans, fish, quinoa, herbs, spices…you get the program.  That was over 6 years ago.
Much of health (heart health, gut health, skin health, even mental health!) is dependent on inflammation in the body.  At the risk of making this a very long post, Inflammation in a nutshell:
Omega 3s, veggies, fruits, regular moderate exercise = good.

Sugar, refined flours, stress, too little sleep and too much food (even good foods!) = bad.
There are a few videos below giving gobs more info:

Reduce Inflammation: Consume More OMega-3 Fatty Acids

Stress Causes Inflammation: So Find Fun Ways to De-stress
Celiac disease (or Inflammatory Bowel Disease, Lyme's, Rheumatoid Arthritis, anything else ending in –itis, etc.) is an inflammatory process leading to the destruction of the villus layer of the small intestine.  Gluten intolerance usually involves inflammation as well.  And, of course, a disproportionate number of us have other food intolerances, osteoporosis, and other autoimmune diseases. All of us stand to benefit from a healthier diet.
So of course, those amazing almond flour cakes, and all the yummy recipes on my website, Shirley's, and others, are much, much healthier than the sugar and refined carb heavy choices at the grocery store.   And yet, I still have the conditioned dietitian cringe when people talk about their "good-for-you" brownies/fudge/cake that are "so healthy we should all eat them for breakfast" (slight exaggeration, but not much).  Why?  Because if we learned anything from the days of Snackwell cookies, when something is "healthy", most feel free to have larger portions, eat less mindfully, and enjoy them less, too.   And most of these healthier treats still pack a lot of calories.  Most Americans are simply eating too much, and excess calories lead to health risks, play havoc with insulin levels and encourage inflammation.  An ounce (1/4 a cup) of almonds has clear health benefits, but when we end up eating the 3rd or 4th almond flour cookie, it's easy to go way beyond that.  Nuts are nutrient-dense, and you're getting more protein, calcium, fiber, etc. then you would from a butter/white flour cookie.   That ALSO means they're way easier to overeat, especially when they're warm and luscious from the oven because they're also so darn tasty.  Let's put it this way.  If the average woman needs 1600-2000 calories a day, and you eat two of the almond cookies, that's about a quarter of your daily calories.  It works occasionally; it just doesn't on a nearly daily basis unless you're getting a lot of exercise.
Concentrated sweeteners play a big role in inflammation and health, too.  When we look at how we evolved, it gives us a good idea of the healthiest fuels for our bodies.  Way back in the day, most cave people had honey, but only when someone (a brave cave-teen, possibly?) grabbed a hive.   Even 200 years ago, honey, molasses and sugar were reserved for very special occasions.   It's hard to fit that into most foods on the shelves, where everything from cereal to sausages contain high fructose corn syrup.
At the end of the day, food is meant to nourish and be enjoyed.  So… when you have treats, enjoy and savor them, and space out the more decadent ones with lighter desserts such as ripe fruit, baked apples, poached pears, a grilled mango, a small piece of dark chocolate, a chocolate dipped strawberry, or a kiss from someone you adore.
Cheryl