For affiliate links and as an Amazon Associate I earn from qualifying purchases.
Welcome to the roundup for August Adopt a Gluten-Free Blogger, the "spread-the-blogger-love" event created by the lovely Sea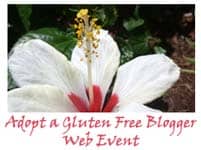 (Book of Yum). This month's adoption event was extremely successful. How successful? We had 20 adoptions—how exciting! Most were first-time participants, too. I love that! Let's meet the adoptees, those who adopted them, and "ooh" and "ah" over some recipes, shall we? Oh, incidentally, I loved how the recipes happened to follow the gfe approach!
Kim (Cook IT Allergy Free) adopted Nancy at The Sensitive Pantry (this site is no longer active). She made Honeyed Figs with Roasted Rosemary Goat Cheese. To those, I say yes, please! (And, so does Kim, in her sing-songy nursery rhyme voice; you'll have to read her post for the explanation.)
The other recipe Kim made was Doughnut Muffins. Gluten free and doughnuts don't often go together, but what if I tell you these doughnuts are gluten-free, dairy-free, egg-free, and vegan? All that said, Kim still received an "Oh, my goodness!" review from her husband. Then he grabbed a couple more of these doughnut muffins!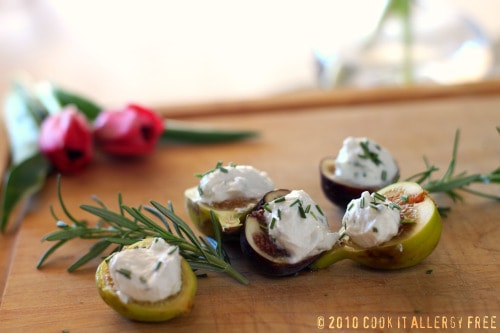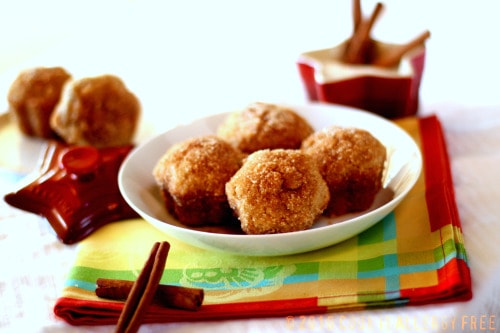 Valerie (City/Life/Eats) adopted Ricki at Ricki Heller. Valerie made several of Ricki's amazing recipes. There were Peas in a Creamy Curried Sauce with a side of Pudla. (I had never heard of Pudla before, but after seeing the photos and reading both Ricki and Valerie's reviews, pudla is in my future!) Valerie made Coconut Flour Biscuits, then sliced and filled them with coconut cream and blackberries—isn't that brilliant? If in doubt, look at the photo below.
Finally, there was Hail to the Kale Salad. From Valerie's description and photo, this recipe of Ricki's will make a kale lover out of anyone! Finally, another interesting part of Valerie's post on Ricki is how their paths crossed long ago, diverged, and intersected again when their health journeys took similar turns. Read and see all here.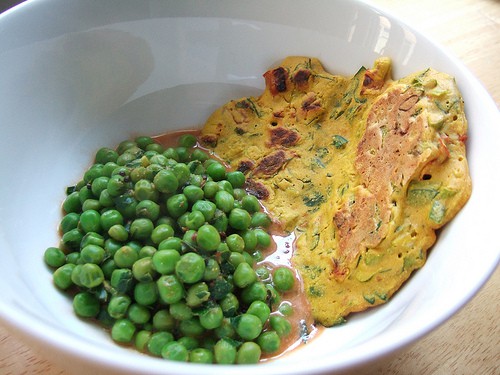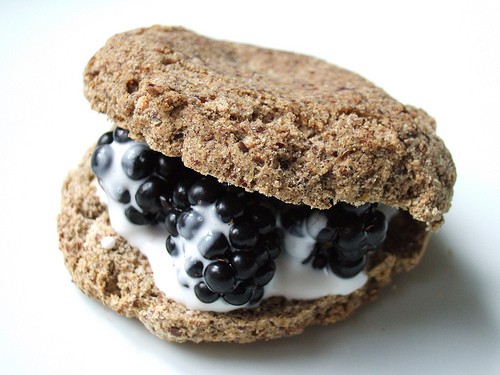 Hallie of Daily Bites (this site is no longer active) adopted Ali of Nourishing Meals. She opted for their Fresh Vegetable Curry and Whole Grain Flatbread. These two dishes make a beautiful and delicious, gluten-free vegan meal, as Hallie shows in her spectacular photos. Seriously, with one small touch, they transported me … I bet they will you, too. Take a look and tell me if it's strange that I wanted one of those fruity drinks with an umbrella in it after seeing Hallie's photos? Not to mention a view of a turquoise sea.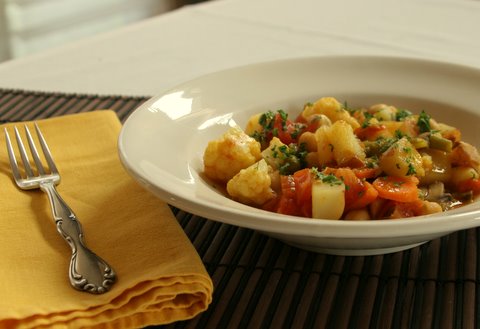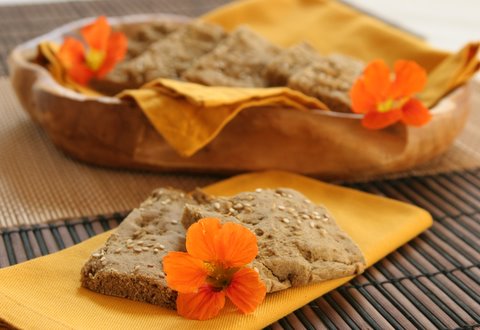 Zoe (Z's Cup of Tea) adopted Amy at Simply Sugar & Gluten-Free (this site is no longer active). She settled on Amy's Mushroom Fritatta. Zoe has become good friends with Amy over the last several months. A true friend remembers when you first met and all your interactions since; Zoe does and shares them in her post. She also noted that she had previously made two versions of Amy's Spinach Florentine Soup and a cupcake version of Amy's Angel Food Cake—Angel Food Baby Cakes. Read all about the Zoe-Amy connection here.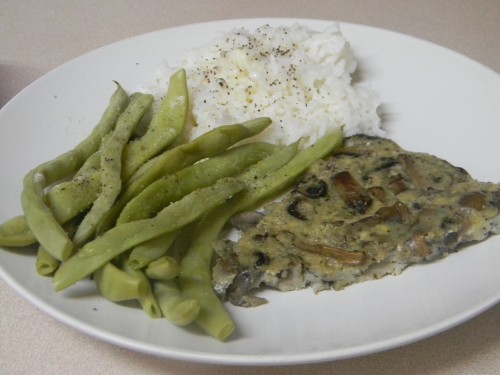 Tia (Glugle Gluten Free, now Tia's Kitchen and Garden) adopted Karina, the Gluten-Free Goddess. Be sure to check out her very entertaining, "tell it like it is" post. Oh, what did Tia make? Karina's Chicken Soup for Body and Soul. In comments here at gfe the other day, Tia stated that there really hadn't been true summer weather in her area, so it's certainly not too early for her to be making soup. And, Karina calls this "a gluten-free chicken soup to cure all ills …" Everybody needs that kind of soup, right? (If it will fix my computer and ISP issues, I'll gladly take a big bowl right now!)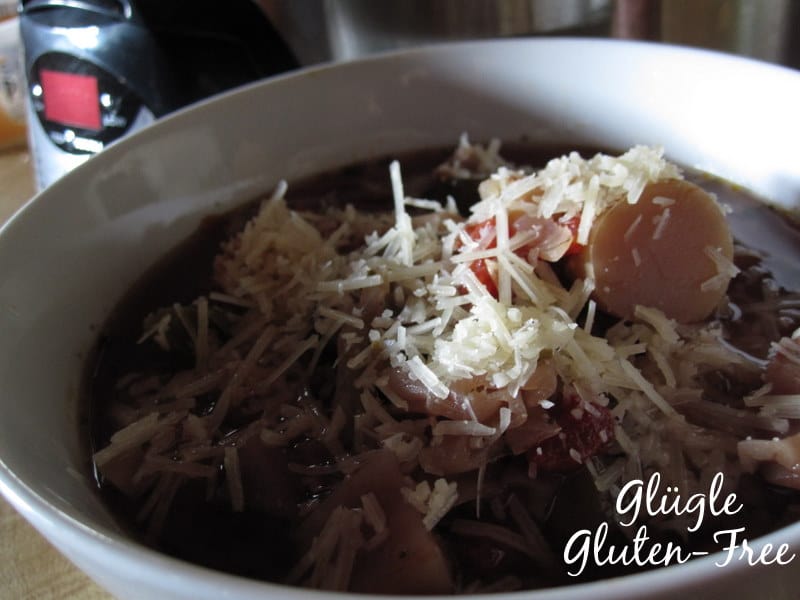 Maggie (She Let Them Eat Cake) adopted the aforementioned Zoe of Z's Cup of Tea. She made Mango Banana Popsicles. It's been quite warm here again so I could use one of these babies! These popsicles are both adult- and kid-friendly. s Maggie points out, these treats are made from only fruit—no fruit juice, dairy, or sugar added. They are also Specific Carbohydrate Diet (SCD) compliant. (You can read more via Zoe's SCD References and Resources page.)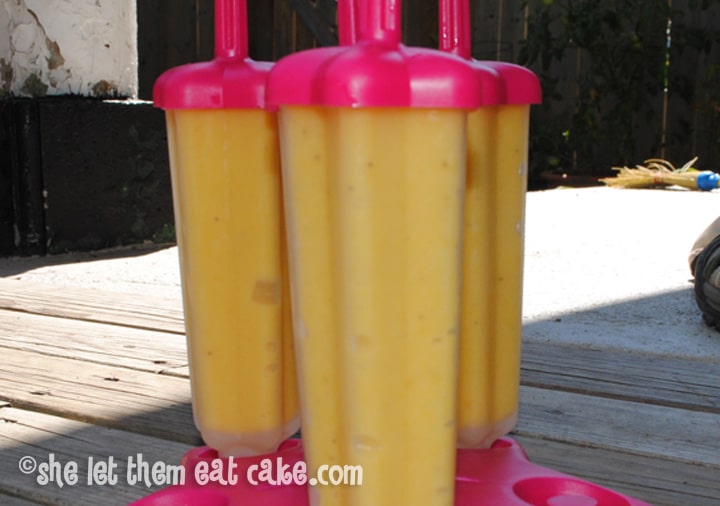 Amy (Simply Sugar & Gluten-Free) adopted Alta of Tasty Eats At Home. She made Quinoa Salad with Spinach, Raisins, and Feta. To paraphrase Amy, this dish brings together the best in nutrition, flavor, and texture. Plus, these ingredients make for a very pretty salad, too. I like quinoa, but I think Amy and Alta are quinoa masters; I bow to them. Their photos make even a doubtful quinoa newbie want to grab a fork and dig in!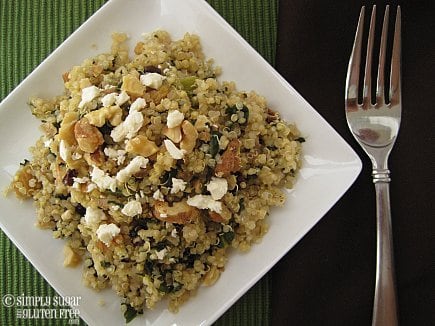 Wendy (Celiacs in the House) (this site is no longer active) adopted Jenn at Jenn Cuisine. Wendy wanted to make a very special birthday dinner for her husband. Jenn's Flourless Chocolate Torte and Salmon Cakes with Tomatillo Cilantro Pesto were on the menu. The fact that Wendy talked about the scrumptious Flourless Chocolate Torte first in her post, before the entrée made perfect sense to me. Looking at the photo of the torte topped with raspberry sauce (which Wendy made in her Vita-Mix), I'm sure you see the logic, too. Not that those salmon cakes aren't mouth-watering as well. (You know I'm a salmon girl!)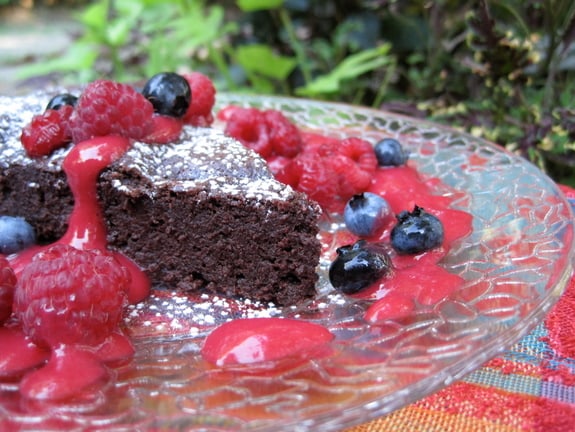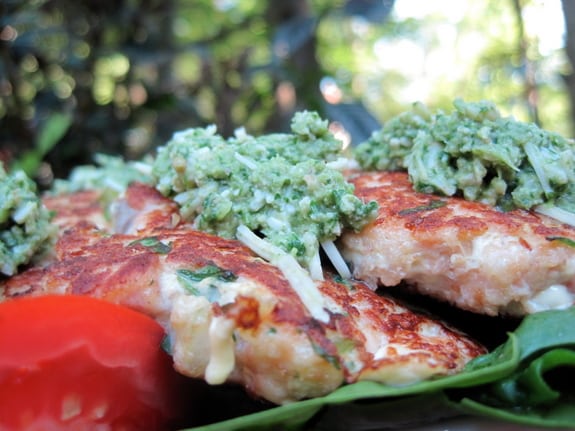 Alea (Premeditated Leftovers) adopted Linda, Gluten-Free Homemaker (this site is no longer active). She went for one of Linda's classic recipes and one of my favorite cookies—Snickerdoodles. The snickerdoodles got a rave review from Alea's son, as well as Alea herself. But, Alea didn't stop with that recipe. She also made Linda's London Broil, turning the leftovers into a nice stir fry the next day. Last, Alea made a recent recipe of Linda's, Brown Rice Salad. This is a dish that can be served warm or cold, but Alea loved it cold and plans to incorporate it into her regular lunch rotation. Unfortunately, Alea's adoption post is no longer available.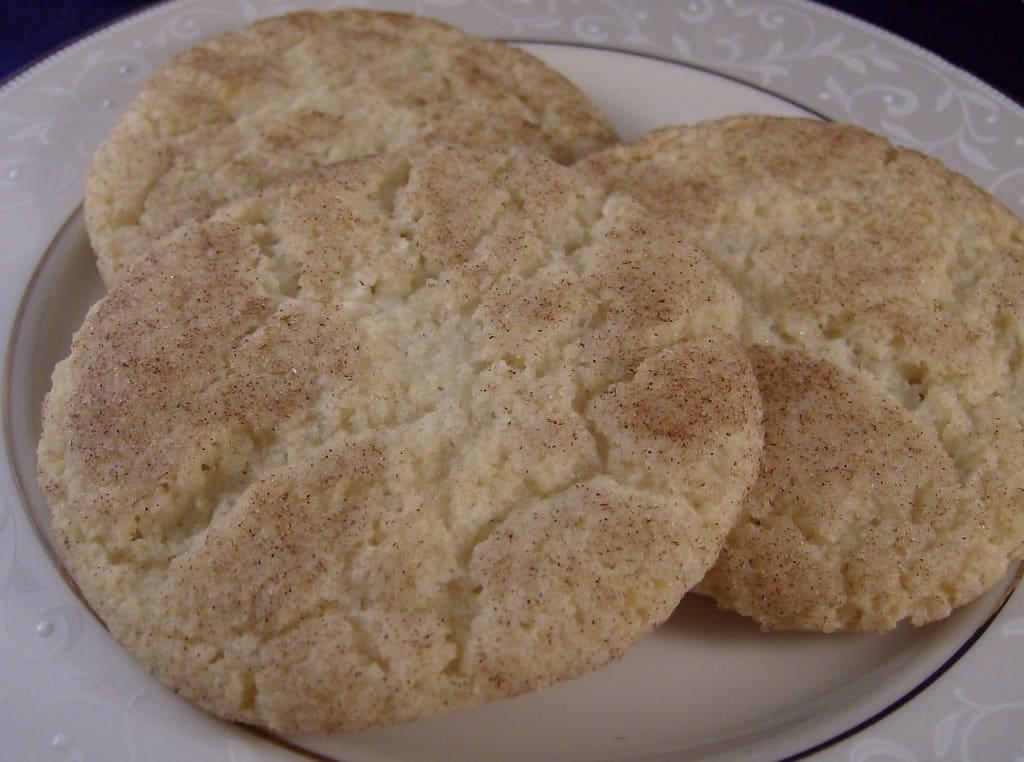 Heidi (Adventures of a Gluten-Free Mom) adopted Alexa (aka Lexie) over at Flo & Grace. First, Heidi served Lexie's Cinnamon Pomegranate Glaze on pan-fried pork chops with mashed yams. One of Heidi's sons really loved this glaze. You'll have to read her post to see just how much he loved it. Last, Heidi used Lexie's adorable nut butter and apple snack idea to create the Anti-Goldfish Cracker; how cool is that? Children and mothers everywhere will no doubt love this lunchbox treat inspired by Lexie and created by Heidi! See what you think about the Lexie-Heidi "collaboration" here.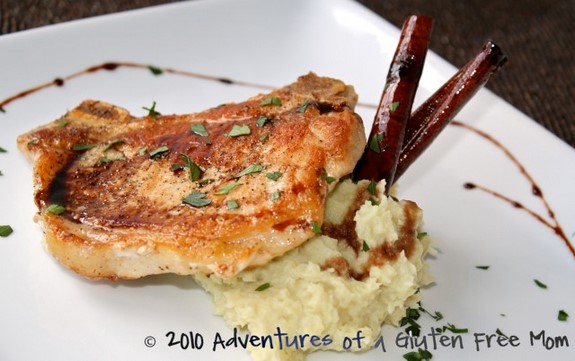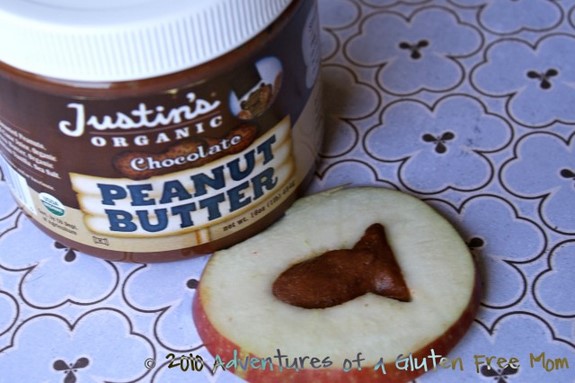 Alta (Tasty Eats At Home) adopted Wendy at Celiacs in the House (this site is no longer active). She adapted Wendy's Chickpea, Zucchini, and Quinoa Salad, substituting pecans for the chickpeas. Served with a sweeter dressing, but with a slight chipotle "kick" factor, Alta enjoyed this salad for dinner and then again for lunch the following day. As I said, Alta is one of the quinoa masters. A beautiful Wendy-developed and Alta-created quinoa salad. Who could resist it? Not me! Read all about her adoption of Wendy here.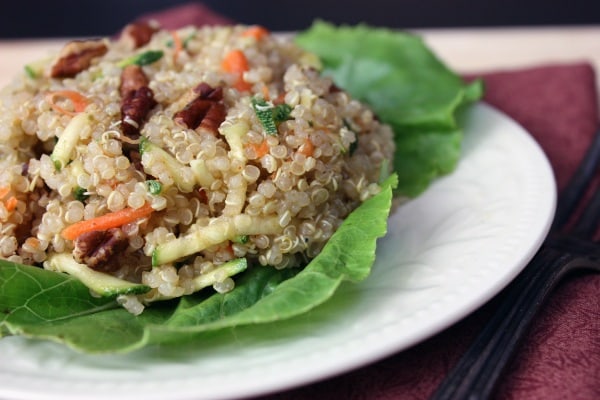 Lydia (At Home with Real Food) adopted Shauna of Gluten-Free Girl and the Chef (this site is no longer active). She reached back into Shauna's archives and pulled out a recipe from August 2005. Roasted Peaches with Brown Sugar and Basil, to be specific.
Originally, from the New York Times, this recipe is perfect for this time of year. I don't know about you, but I'm trying to imagine the melding of those two, very different flavors with the roasted peaches. Let Lydia tell you about it here. (Special thanks to Lydia for being a good sport regarding a rules clarification issue!)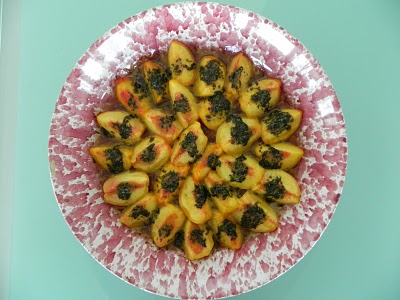 Ricki (Ricki Heller) adopted Cheryl of Gluten-Free Goodness. She made Cheryl's Cold Thai Rice Paper Rolls. These are the photogenic rolls that always say "FRESH" and "EAT ME"—clearly, in all caps. Although Ricki's rolls differed a bit from Cheryl's, as Ricki states you can pretty much add any chopped veggies and fillers you like. That's my kind of recipe! Both Cheryl and Ricki share simple tips on assembling rice paper rolls.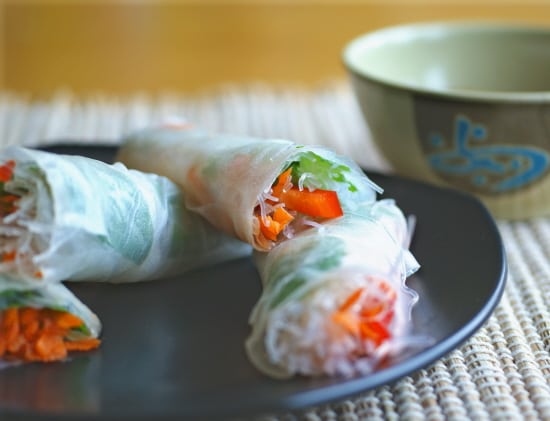 Thomas (The GFCF Experience) (this site is no longer active) adopted Vanessa, Celiac Princess. He made that one breakfast item that makes almost everyone swoon at its mere mention—scones. Vanessa's scones were Cinnamon Raisin Oatmeal.
What was the verdict on these scones from Thomas and his family? In a word … yummy. Thomas said even his finicky boy liked them, although his son would have preferred chocolate chips to raisins. Well, in my humble opinion, the young man does have a point!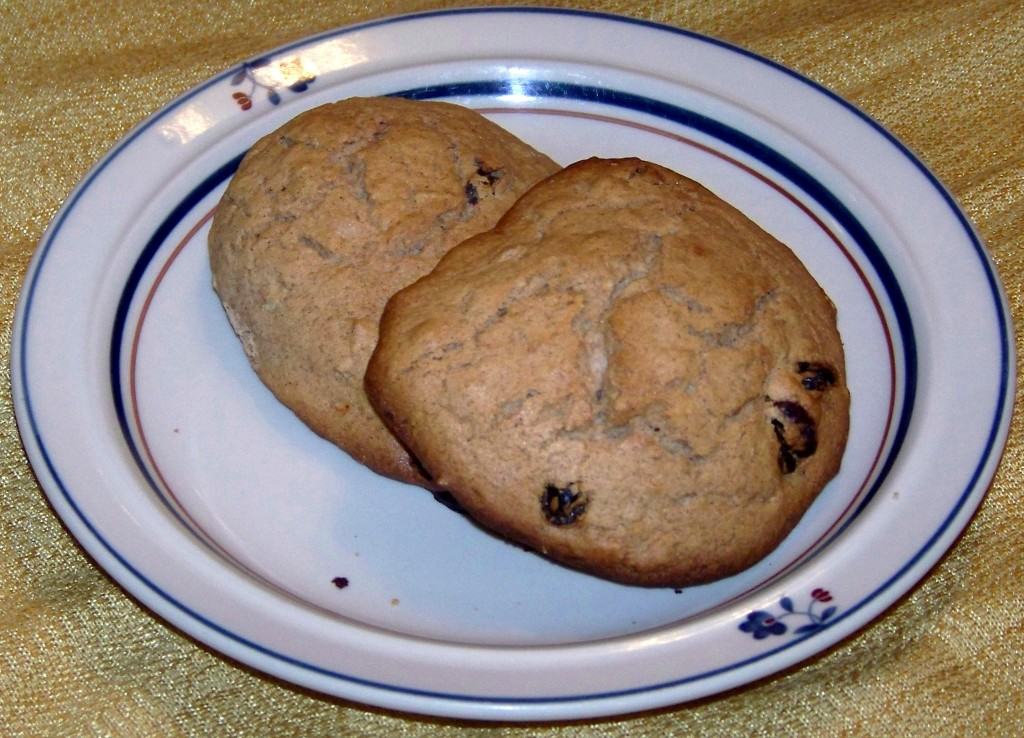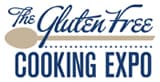 Jen (Gluten-Free Life with Jen) adopted Kelly, otherwise, known as The Spunky Coconut. She made Kelly's Banana Fruit Bread. In her post, Jen shares her introduction to several amazing coconut products, and vanilla crème liquid stevia as well. In case you don't know, this Jen is Jen Cafferty, the mastermind behind the Gluten-Free Cooking Expo. The next Expo event will be held at the end of April.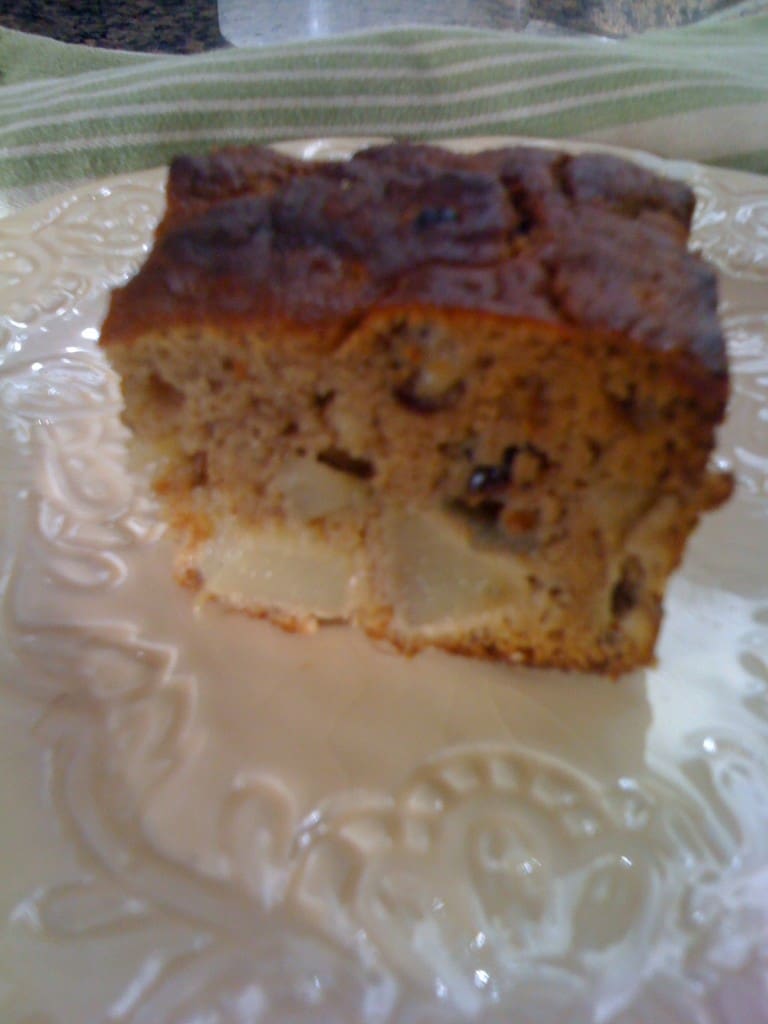 Kirstin (Our Gluten-Free Family) adopted Karina, the Gluten-Free Goddess. l Karina is well-loved (understandably so!) and was chosen by several bloggers. (Just FYI for next go-round though … each blogger is only supposed to be adopted once. We want to spread the adoption love!) Peanut Coleslaw with Lime and Cilantro was Kirsten's choice. I'm a recent convert to coleslaw myself and this non-standard version sounds and looks like a feast for the senses. Check out Kirstin's rendition of Karina's recipe here.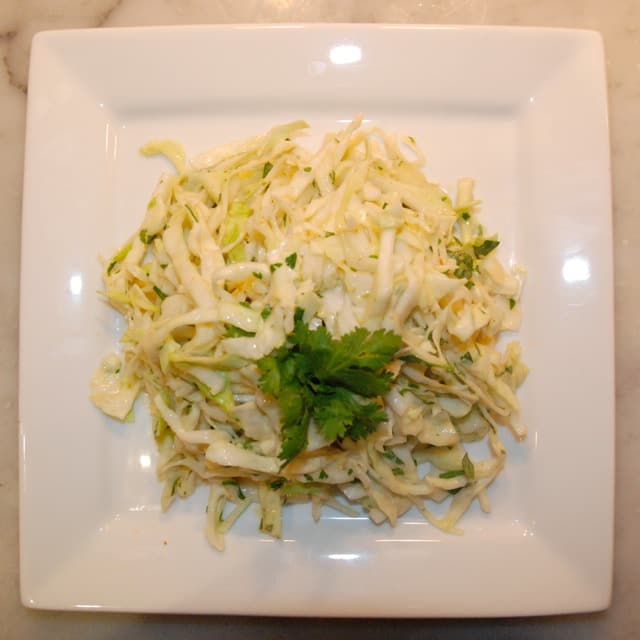 Tracee (Mrs. Ed's Research and Recipes) adopted Raj and Sonja of Flip Cookbook. She chose Sunset Gazpacho from their blog. If you think the name is lovely (as I certainly do), wait until you take a look at the photo below. So colorful and delicious looking. As Tracee explains, Raj and Sonja accommodate a gluten-free diet and an SCD diet, but with an Indian flair. Read more here in Tracee's post.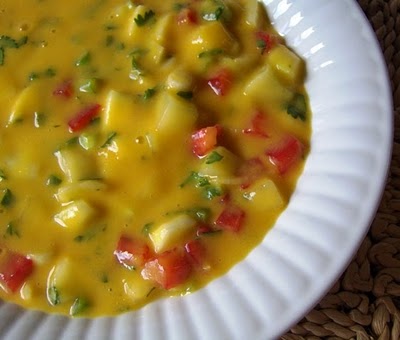 Kathleen (I Made Toast) adopted Jeanine of Baking Beauties (now Faithfully Gluten Free). Kathleen visits Jeanine's blog often and makes many of her recipes, including Chinese Chicken Balls for a Chinese Food Christmas Dinner. Okay, did anyone else just have a flashback to the movie, A Christmas Story? (Remember when the family ended up eating Chinese food for Christmas dinner?) I'm also suddenly thinking of PF Chang's chicken lettuce wraps. But, the culinary stars of Kathleen's post are brownies. There are Turtle Brownies, Nanaimo-Style Brownies, and Party Brownies filled with white chocolate chips and topped with chocolate icing piped in a lovely design.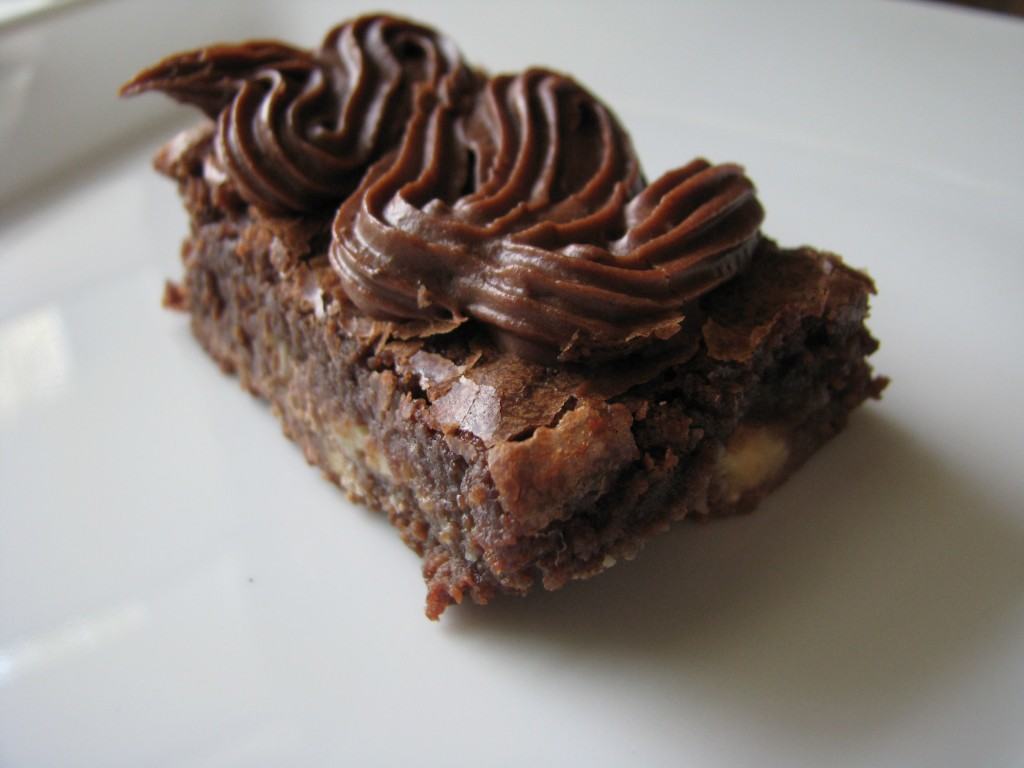 I adopted Iris (The Daily Dietribe). I used her considerable waffle-making expertise to make two waffle recipes. For breakfast, I adapted her Coconut Waffles to make Coconut Coffee Cinnamon Peanut Butter waffles. Yes, that's a mouthful … a wonderful mouthful! I also made Savory Waffles using that same basic recipe, with a secret liquid ingredient added.
Why make savory waffles? Because they make excellent artisan-like sandwich bread. In fact, I used two today as my bread for a tuna salad sandwich. Check out the recipes and read what else Iris has to offer.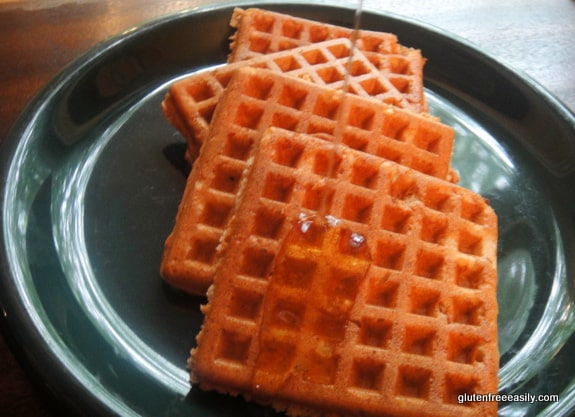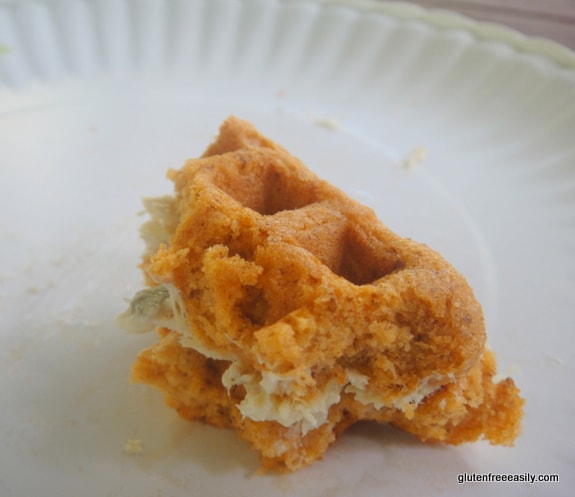 Finally, Iris (The Daily Dietribe) reciprocated and adopted little old me, Shirley, here at gfe—gluten free easily! She made my Banana Chocolate Chip Cookies. It's doubtful she had 27 bananas in the freezer when she started out—which I did when I posted that recipe—but, thankfully, you really only need about 2 ripe bananas. Her version looks better than mine and she says they are her new favorite—woohoo! And, this statement comes from a girl who swears she doesn't really like chocolate chip cookies. I know … that's just crazy talk, isn't it? (Just teasing, Iris!) Thankfully, Iris loved this take on chocolate chip cookies.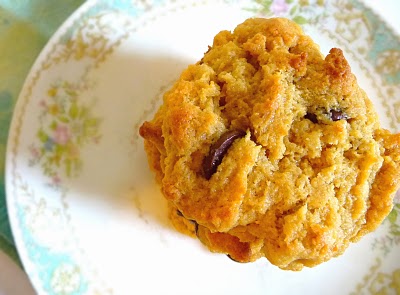 Be sure to check out all the adoption posts and leave a comment to let these bloggers know that their adoption reviews are appreciated! Please consider joining in for this event next month, too, whether you are a newbie or a veteran … blogger or non-blogger. Hey, maybe we'll even set a new adoption record!
Originally published September 8, 2010; updated March 3, 2022.