For affiliate links and as an Amazon Associate I earn from qualifying purchases.
There's nothing like setting a "firm" deadline and then missing it yourself. My apologies on sharing my adoption post two days late. Technical difficulties as they say, but still. Last night I was blogging by the light of the campfire and flashlight. Plus, I was alternating flipping Italian chicken, baked potatoes, and corn on the cob with typing. As long as I kept chatting with Mr. GFE and giving him a kiss and a hug occasionally, he didn't mind. But, alas, my wireless connection failed me and we went to bed and slept blissfully in the 49-degree chill. I'm on my mini-netbook with the teeny, tiny screen and very limited connectivity, so I hope this post and the pictures turn out okay. I'll make any needed corrections once I'm back at home. Now let's get to Breakfast Waffles, Sandwich Waffles, and Iris of The Daily Dietribe.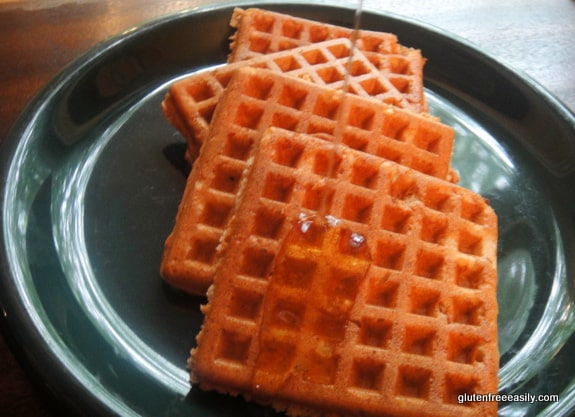 One of my favorite moments of the recent International Food Blogger Conference (IFBC) was when Shauna (gluten-free girl and the chef) talked about how she used her blog to share her writing … to share a story related to food, eventually leading to a recipe. She said that some readers "complained" and said that they just wanted the recipe. She said, "to which I reply, well, just scroll down and get the recipe." Most of the audience chuckled appreciatively. Touche, Shauna! While not all of us are as "wordy" as others, I think most of us can agree that it's more than a recipe that we expect and look forward to when we read blogs. What does that have to do with the Adopt a Gluten-Free Blogger event and Iris of The Daily Dietribe?
Well, I want those stories. I want those connections. Adopt A Gluten-Free Blogger is a wonderful way to make those connections. If I just wanted a recipe, I'd go to a recipe aggregator site and get a recipe. Such sites have their value and I've certainly done that from time to time when looking for something specific, but typically I'm reading blogs daily that tell me about the background of a particular dish, posts that inspire me and make me want to make a recipe. And, honestly, sometimes I am not even interested in the featured recipe, but I always want the story. I'm not saying that every blogger has to be as wordy as I am for me to read their blogs; that's certainly not the case, but I do like getting the story.

Iris has been graciously sharing her story with us, her faithful readers for a while. Hers is a compelling story, like so many of ours are. It's one that has evoked all types of emotions in me. I've sympathized, cheered, reflected, admired, and much more. Now Iris is making a big, big change in her life. A positive change for herself—and a huge commitment—and one that we'll all benefit from as she continues to blog. She's relocating from the East Coast to the Northwest to attend Bastyr University to get her masters in nutrition. I applaud her in this endeavor. Getting a degree in nutrition is a pursuit that I actually considered, albeit briefly, after going gluten free and becoming a support group leader, so I will live a bit vicariously through Iris' efforts while I am cheering her on.
Some of my favorite posts written by Iris are ones that make me think and feel, like To All Chronic Pain Sufferers (republished at Huffington Post), An Open Apology to All My Weight Lost Clients (republished at her new site; Iris used to be a weight loss counselor), If I Lose Five Pounds I Will Become A …, How Do YOU Change the Way You See Yourself? and Lessons in Self-Care. I think most of us struggle with that last one, taking care of ourselves. What does all that have to do with being gluten free? Well, on the surface, it would seem like there's not a relationship but there are many issues tied to weight (too much, too little), health, and self-care that can related to celiac and non-celiac issues. There are vitamin/mineral deficiencies due to malabsorption for one thing. Are you craving a, b, and c, because you are deficient in x, y, and z? is your depression caused by gluten issues? it's the number one symptom), there's adrenal fatigue (did we burn out our adrenals by trying to do too much? pushing ourselves to stay up to make two dozen cupcakes for Susie's class party Or did our gluten issues cause the adrenal fatigue? Perhaps we were co-conspirators. And, of course, there are many more inter-relationships, so to speak.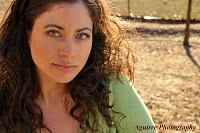 We're all on a path to health and happiness, and I appreciate those who share their stories. They always enlighten and help me on my own path. What comes through in all of Iris' posts is that she's a gentle and caring soul. Penny De Los Santos, the renowned photographer of National Geographic and Saveur fame, shared many people pictures at IFBC. Penny is clear that one is making pictures, not taking photos. She talked about how much expression can be in one's face. How much of one's life story resides there. I see that in Iris' picture and in her blog. She's sweet and beautiful, in looks and spirit. She said in her adoption post of me (yep, a double, reciprocal adoption, if you will) that she considers me a good friend; I enthusiastically send that sentiment back to her.
Now let's get to the food at The Daily Dietribe. Iris shares a wide variety of dishes and they always look great to me. Some are intriguing recipes that I would not have thought of making on my own, but when I see them I want to make them. However, deciding what to make for this adoption came down to what I had on hand as I had not been grocery shopping since returning from IFBC. I had recently purchased some quinoa flakes though, and I've been wanting to try them so I searched for quinoa flakes over at Iris' blog. I found her gluten-free, dairy-free, and sugar-free Blueberry Cobbler recipe, which looked heavenly, but I didn't have blueberries or any other fruit to substitute. So I moved on to other ideas.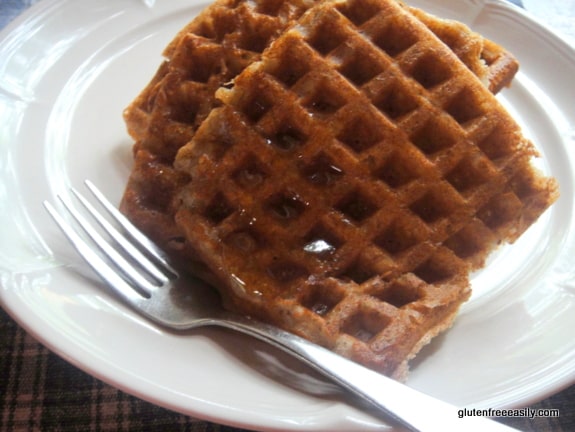 In a few minutes, my choice was obvious. Waffles! Iris is a self-professed waffle lover and one might say a waffle queen (although I'm not sure what she'll think of that distinction). She's even made waffles that taste like waffle fries. Remember those? But you don't have to go to a Waffle House to get them and her Sweet Potato Waffles are a pretty healthy way to enjoy that taste! I say that because she has many waffle recipes on her blog and just recently shared a tutorial: How to Make Gluten-Free Waffles: A Beginner's Guide.
Her Coconut Waffles (gluten free, dairy free, and sugar free)  caught my eye. They called for coconut milk, which is my "go to" non-dairy milk of choice most of the time. There were a few other ingredients that I did not have though—namely, applesauce, pineapple, and pineapple juice (I had used the last of my diced pineapple and its juice in a green smoothie earlier in the week).
For the flour mix, I used a combination of my usual flour mix (Asian white rice flour and cornstarch, one cup) and brown rice flour (3/4 cup). (For those who don't eat rice,  sorghum or millet should work fine in Iris' recipe, too.) I planned to use coconut milk, but I wanted to use another liquid in place of the pineapple juice. Diane's Friday Foodie Fix—Coffee—came to mind. I don't drink coffee … well, true coffee anyway (more in a moment) … and I don't plan to start. Giving up caffeine (other than chocolate, let me make that clear) was one of the most difficult things I have ever done, probably second to giving up gluten. But, I do like the flavor of coffee when added to foods. For example, I love coffee ice cream. I've had barbecue made with espresso that was "to die for." I can still remember the richness and complexity in every bite of that barbecue (another advantage of eating with no bun in my opinion). We keep some basic coffee on hand for guests who do indulge, so I brewed some decaf coffee and when it had cooled to room temperature, I added ¼ cup of it to the batter. I also used honey instead of agave nectar in the recipe. (We always have honey on hand, of course.)
Finally, I wanted to add a little something else to take the place of the applesauce and add a little fat to the mix. Diane had purchased several individual packets of Justin's Nut Butter for our flights to/from Seattle. I ended up loving these nut butters. One that I hadn't tried yet was cinnamon peanut butter. So I squeezed out the contents into the mix as well.  Maybe it was an intuitive thing, because back in the day, I used to love the International Coffees made by General Foods. Café Vienna  was my favorite. (However, just looking at the gobbledygook ingredients, I'm pretty sure I wouldn't drink any of those today.) But Café Vienna had a cinnamon flavor and provided a nice hot tasty drink at the time. (In fact, it's called a coffee drink, not coffee for you coffee purists out there.) So I made these Coconut Coffee Cinnamon Peanut Butter Waffles, expecting a good, basic waffle perhaps with a little special flavor. But, wow … the waffles that resulted totally delighted me. The outside was crispy, but still tender and while the waffles had just a bit of a chewy texture from the flax seed and brown rice flour, they were both light and flavorful in taste. With a little honey drizzled on top, they made for a breakfast that made me smile. With a slice or two of bacon on the side, I probably would have done a back flip! (Note: I didn't eat all the waffles shown in the photo. I pulled out the ones in the back and froze them on a cookie sheet, before placing them in a Ziploc bag. Now I can easily pull out one or two as needed later.)
I could have stopped there and been pleasantly satisfied with my waffle-making adoption experience, but I had another idea in mind. I wanted to make sandwich waffles. Some folks just use their basic gluten-free waffle recipe or gluten-free waffles from Van's or Trader Joe's for that purpose. But, I wanted a different kind of waffle. I wanted a true Savory Waffle. So I replaced most of the liquid ingredients with V-8 juice. (Tomato juice would work well, too, but Mr. GFE drinks V-8, so we always have that on hand.) I skipped the applesauce and the honey and added a tablespoon of Dijon mustard. (I used the same brown rice flour, white rice flour, and cornstarch mix I'd used previously, but, again, I'm convinced sorghum or millet would work well in Iris' basic recipe, too.) These ingredients made for a batter that had an orange hue. The resulting waffles were dense and delicious. Very bread-like. Artisan bread-like. If I'd pondered my version more, I might have added onion powder and some crunchy seeds, like sunflower seeds. And, some herbs. Oh, the possibilities … but let's get to the waffle sandwich review.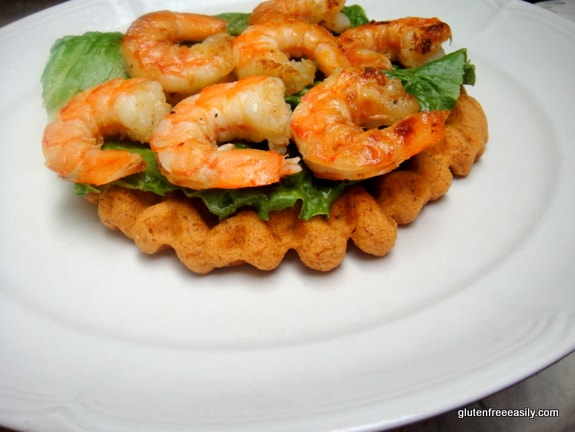 For my first waffle sandwich, I used a round waffle, which I'd made from spreading the little bit of leftover batter in the center of the waffle iron. Open faced and topped with Romaine lettuce and several grilled shrimp, this sandwich was oh, so good. It worked perfectly for handling because of the natural fold in the middle. I froze the rest of the waffles as I suggested above. Then as we were heading to our mountain/river property to camp, I pulled out two of the frozen waffles and placed them in a container in our food box. Mr. GFE likes to stop at a little country store about half way to get ice and supplies. The store has a deli, so he always likes to get a sandwich. The owners/staff are very attentive to my needs and I order chicken salad, which comes on a bed of lettuce. Usually I eat it like a salad with a fork, but today I made a waffle sandwich–woohoo! Take a look.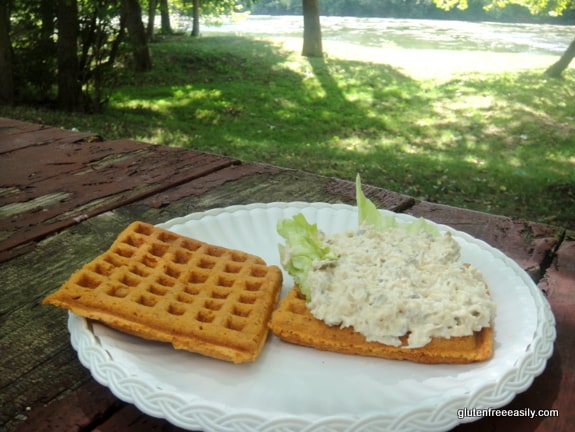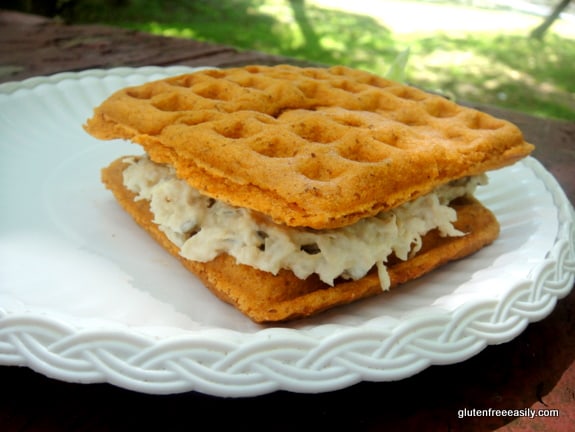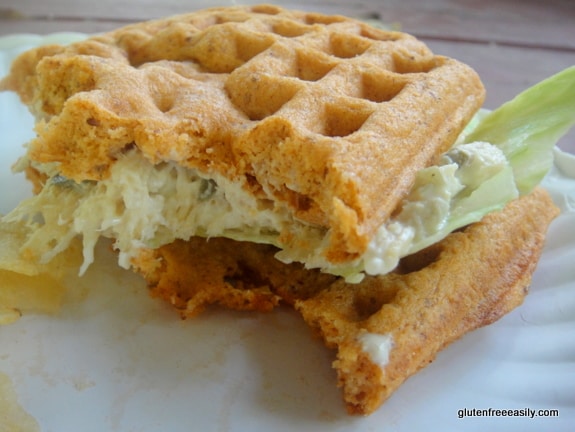 The waffles had thawed perfectly; they weren't soggy in the least bit. And, the overall sandwich effect … okay, this was THE best sandwich ever. Okay, maybe not ever, but pretty darned close. Watch out Rudi's and Udi's, Iris and I might be bringing our savory waffle bread to the marketplace! In the mean time, use Iris' recipe and get creative so you and your whole family can enjoy some delicious waffle sandwiches. And, of course, check out Iris' blog … you won't be disappointed. The Daily Dietribe feeds your stomach and your mind.