This post may contain affiliate links. If you purchase through them, your cost will stay the same, but gfe will receive a few cents for every dollar spent. Thanks for supporting gfe!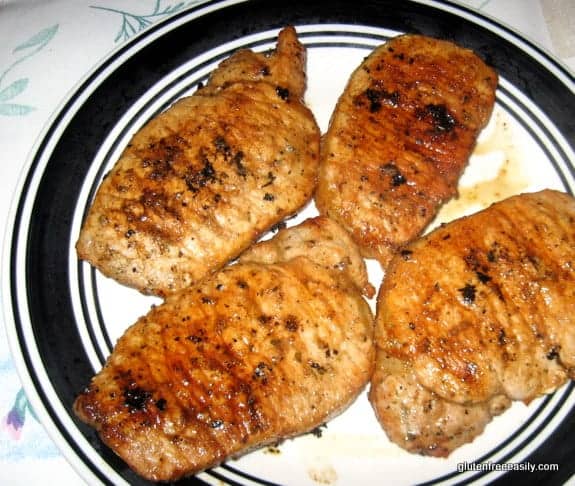 When I was heading to the International Food Bloggers Conference this past week, I wasn't sure that I'd be able to pull off an entry to Go Ahead Honey, It's Gluten Free! carnival this month. I had forgotten to plan ahead for my post and I was running out of time. However, I've been participating in this fun roundup initiated by Naomi Devlin (Straight Into Bed Cakefree and Dried) for a long time now and didn't want to miss it. So I was relieved when I saw that this month's host, Chandice, of Gluten-Free Frenzy, had selected Barbecue Bash as her theme. I had a recipe—with photos—that I'd been wanting to share, which fit the bill well. And, thankfully, Chandice was gracious enough to let me join in despite delays due to all kinds of technical difficulties, including my blog being down for about 24 hours–aaargh.
Now what most folks call a barbecue, we call a cook-out in our area. Or at least both my families do. When we say barbecue, we actually mean pulled pork. As in, "let's stop at that barbecue place," or "I'm fixing barbecue for dinner." We never say "let's barbecue" or "how about shrimp on the barbie?" Well, unless, we're doing our Paul Hogan (Crocodile Dundee) imitation anyway, and that would inevitably also evoke the "big knife" quote, too, but I digress.  So the term barbecue means pulled pork to us, but I never say I'm serving pulled pork. Confused? I understand. Really, I do. But if you're interested, my pulled pork recipe is here. (It's a slow cooker recipe with just three ingredients, and it's well loved by my family and friends.)
But let's get back to my guess on what barbecue means for Chandice's roundup. I'm thinking in cook-out terms—anything that one can grill. As far as pork, which is my husband's absolute favorite and I don't turn my nose up at it, there are a number of outdoor methods and cuts. One can go whole hog, so to speak … dig a hole, fill it with coals, and slow cook a pig starting in the wee (or is it wee wee?) hours of the morning. We call that a pig roast or a pig pickin' event. It usually reserved for summer holidays or major celebrations, like weddings. Now if I grill a pork tenderloin, I call that cook-out fare. However, most often, I tend to go for pork that cooks up  more quickly when grilling. This recipe is another favorite in our household. It's one of many recipes here at gfe that's naturally gluten free, plus naturally dairy free. If you use an alternative like coconut/palm sugar instead of the brown sugar, it's also refined sugar free.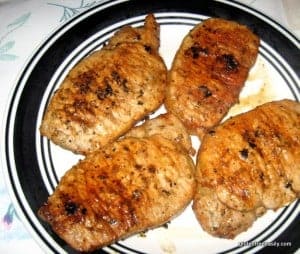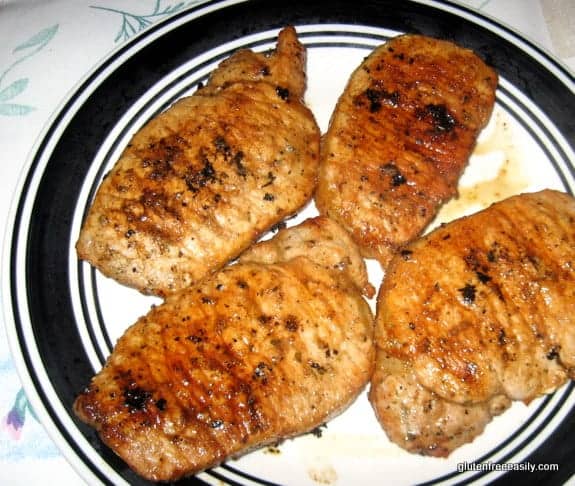 Print
Zesty Marinated Pork Chops
Ingredients
2 tsp onion powder
1 tsp oregano
2/3 cup olive oil
½ cup lemon (or lime) juice
½ cup soy sauce or tamari (gluten free, like this one or this one; or soy-free coconut aminos)
2 tbsp brown sugar (or alternative, like coconut/palm sugar)
dash of black pepper (I used fresh ground)
4 – 8 pork chops
Instructions
Combine all ingredients in a glass pan (or Ziploc bag) large enough to allow adequate marination. Marinate pork chops overnight for optimum flavor; turning at least once. Discard marinade.
Grill pork chops on medium-high heat about 10 minutes on each side. Thicker pork chops may take an additional 5 to 10 minutes.
Notes
Marinating the pork chops overnight will definitely yield the best flavor, but I have marinated my pork chops for as little as an hour before and have still been pleased with the results. In cooler weather, I have also baked mine in the oven versus grilled them. I preheated my oven to 425 degrees Fahrenheit and baked the pork chops on a lightly greased baking sheet for about 10 minutes on each side. I tested for doneness by cutting a tiny corner off of one pork chop to taste. As stated above, thicker pork chops may take an additional 5-10 minutes. Both bone-in pork chops and boneless ones work equally well.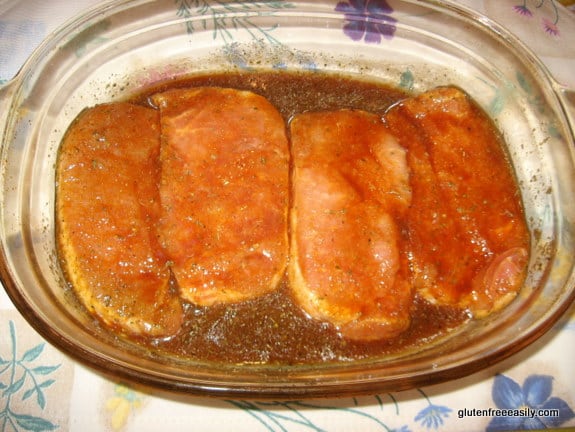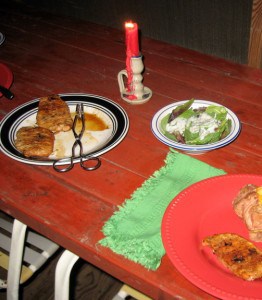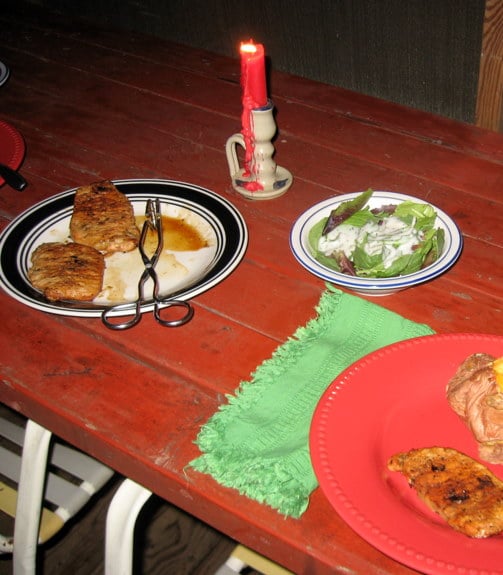 Add a great salad and a veggie, like corn on the cob or a baked potato (or pan-baked potatoes), and you have a terrific meal … and your own little barbecue bash!  (Or rustic candlelight dinner on the screened porch perhaps.) With Labor Day this weekend, this could be a good time to try this recipe.