For affiliate links and as an Amazon Associate I earn from qualifying purchases.
Today I have the honor of sharing my good friend Ginny Ryan's story. It's a bittersweet honor because sharing and reading a personal gluten-free story can admittedly be emotional. Telling one's own gluten-free story can be cathartic and helpful but, yes, it's also emotional—it can even be painful—as one has flashbacks of all one went through and re-lives all the misdiagnoses. But I'm convinced that it's largely in the sharing of these stories that individuals recognize their symptoms and demand the right diagnosis from their physicians.
Some of you in the gluten-free community might know Ginny by her nickname and Twitter handle, Irish Heart. She first shared this post on her personal Facebook page and I asked her if I could share it with you all. I'm so glad she agreed and I'm so grateful to her for being willing to share her personal story of celiac disease.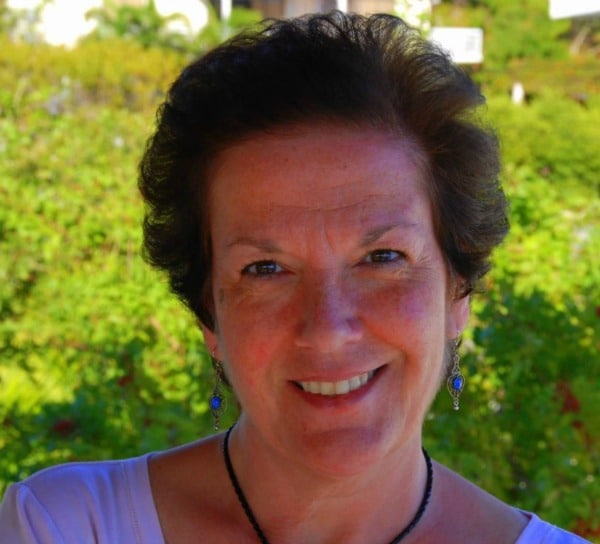 Celiac has many "faces" and doctors don't know them and/or refuse to acknowledge celiac as a reality. Many of us suffer for years, if not decades, with these symptoms before we finally get a diagnosis from a knowledgeable physician, or we find the gluten-free living solution on our own.
Please read Ginny's personal gluten-free story and share it with anyone you think it might help. Now I'll turn the floor over to Ginny.
Ginny's Personal Gluten-Free Story
We're a nation in love with wheat. We love our gluteny goodies: bagels, donuts, pasta, croissants, pizza. cookies. It's also why we are often fat and sick and in pain. But the doctors will tell you there's nothing wrong with you. At least, nothing a pill won't "cure" anyway.
So they load us up with acid reflux meds, blood pressure pills, heart medications, cholesterol-lowering drugs, pain medications, anti-anxiety meds, sleeping aids, migraine medications, Lyrica for nerve pain and various anti-depressants … and send us packing.
When you say, "But, these are not helping, doctor; they are making things worse!", they make you feel as if you're crazy and in need of psychiatric care. It must be "all in your head".
As I was dying a slow death for nearly three years, I wrote in my journal many times: "I am forgetting things and it scares me. I feel so sick, tired, and I am in horrid pain. I BURN from head to toe. I cannot sit, stand, walk or lie down without excruciating pain. I am jumping out of my skin. What the hell is going on? I'd rather be dead than live like this!"
And I cried a lot because of the bone/joint and muscle pain and burning nerve pain. I screamed to the walls, "Why can't they help me?" Doctor after doctor after doctor.
I lost count of how many times my husband patiently drove me to appointments and then held me in his arms as I cried bitterly out of frustration and disappointment after every one of them. We'd been dismissed once again. I even tried homeopathy, biofeedback, months of myofascial release, acupuncture, even rolfing (look that up)—out of sheer desperation.
I would do anything to make the pain stop, but NONE of it helped. Thousands of dollars spent on nothing.
"Eat MORE whole grains—you need fiber!", I was told by the GI's Nurse Practitioner … So, I did.
And my brain fritzed and my nerves fried and I went downhill.
MRIs, EKGs, EMGs—all normal. (but those tests do not find small nerve fiber neuropathy, which 16% of celiacs have)
My bones and joints and skin burned like mad.
Approximately 37 million Americans have arthritis (12%)
I was told I had GERD and IBS for 12 years.
Approximately 60 million Americans–20%–have IBS and chronic digestive problems and 120 million get heartburn (40%)
I wonder how many people are given a Fibromyalgia syndrome or Chronic Fatigue Syndrome diagnosis … and quite possibly left undiagnosed for celiac? My new GI doctor and I have discussed this and we speculate … possibly millions??
Approximately 4 million Americans—1.5%—have "FMS" and between 30-60 million have severe fatigue 10-20%.
I wonder how many people are in mental health wards because their brain function was affected by celiac. I did not even tell people half the stuff I was experiencing for fear they would think me completely mad.
Approx. 30 million Americans suffer from depression—10%.
Later, when a few other celiacs told me they also had these same bizarre symptoms—burning skin, walking sideways, tinnitus, hallucinations, vertigo blurred vision, ataxia—I felt validated. And sad for them because they were told they were "making it up" (One friend was told she had Munchhausen syndrome and there was "nothing wrong" with her celiac son either. She later committed suicide because she never got past the PTSD she acquired before her diagnosis. That still breaks my heart.)
Neurological symptoms affect up to 10% of celiacs.
I suspect the dozens of doctors I saw thought I was just a crazy, menopausal woman.
I am pretty sure they thought I was making things up. I had many of them give me the pat on the back and the suggestion that I needed to do volunteer work or seek counseling.
Really? Who "makes up" a 90 lb. weight loss?? hair loss? vitamin deficiencies? dehydration? migraines?
45 million Americans get headaches (15%) and 28 million get migraines (9%)
I had blood sugar irregularities, found myself sometimes gasping for breath and was given an asthma "puffer" and my heart raced and pounded and skipped beats like mad (but my EKG and holter monitor results were normal—repeatedly)
16 million have diabetes (5%)
12 million have chronic bronchitis (4%)
17 million have asthma (5.5%)
61 million have cardiovascular disease (20%)
Do you think these numbers mean anything?
Yes, me too. And I am going to say it: We're a nation of sick people because of the medical profession's inability to recognize Celiac Disease (and Non-Celiac Gluten Intolerance) for what it is.
"The prevalence of celiac disease in the United States has been estimated to be as high as one in 133 individuals. At the same time, only one in 4,700 individuals has been diagnosed with celiac disease. The average delay in diagnosis for a person with symptoms is 11 years. On average, a child will visit eight pediatricians before being diagnosed with celiac disease."
Celiac is the result of genetic and environmental factors.
Celiac is a beast that is bigger than anyone in the health care profession wants to admit.
And for the life of me, I cannot understand why.
Doctors told me:
You're just sad, anxious and depressed (not my personality at all)
You're stressed out (ya think? because you are not helping me and I am in pain!)
You're anorexic (me? I was FAT! but, then I wasn't. Oh, how I used to love food.)
You're just grieving (my beloved Dad had just died)
You have a thyroid mass that needs to come out (no, I did not)
You're menopausal (I had a hysterectomy years ago, doc)
You have Fibromyalgia (nope, that's a wastebasket diagnosis, much like "IBS")
You have Spondyloarthropathy —take Methotrexate (definitely not… and what? no way!)
MS? Lupus? Lyme–and maybe 10 other possible diseases?
No, I don't!!! (I said to myself).
I heard "take these drugs—see you in six months". I tried all of them because the doctors "said so" and I had horrible side effects from them. I heard "Get a scooter & accept your fate!!" (no, I won't, I said.)
And I heard this one too: It's "idiopathic".
No, it isn't. It had a REAL CAUSE. GLUTEN and CELIAC DISEASE.
I had to undergo extensive dental work, several surgeries, lost my gall bladder and I have a few AI issues—osteoarthritis and osteopenia among them—and the constant joint/muscle, connective tissue, back and neck pain I suffer has resulted from YEARS of being undiagnosed. (but I am getting better OFF gluten and with physical therapy and massage therapy).
I am childless because no one thought to test for that when I kept miscarrying over and over and infertility treatments failed.
With 25+ years of misdiagnoses comes a lot of collateral damage.
But I am alive and I try to reaffirm to others who are seriously ill and losing hope that it is not "all in your head".
You are not crazy. I believe you.
And it is essential that doctors LOOK at all these symptoms and see that it could be Celiac because left undiagnosed, more AI diseases may well develop and the chances of death from celiac is very real.
"Untreated celiac disease can be life threatening. Celiacs are more likely to be afflicted with problems relating to malabsorption, including osteoporosis, tooth enamel defects, central and peripheral nervous system disease, pancreatic disease, internal hemorrhaging, organ disorders (gall bladder, liver, and spleen), and gynecological disorders." Additionally, "Increased mortality rates in those with celiac disease are due to an increase especially, but not exclusively, in intestinal lymphomas. Also, other gastrointestinal cancers seem to be more frequent and contribute to an increase in the death rate for those with celiac disease."
However, the good news is…if you are diagnosed and go on a gluten-free diet, your chances of this happening go down to the same rate as anyone else! And since my diagnosis and starting a GF diet, I take absolutely no medications, except a small dose of levothyroxine. Thyroid disease is often a co-morbid diagnosis with celiac.
Those "few dozen meds I would have to take for the rest of my life"? Hogwash. The "Hoveround" they suggested I get? Baloney. I own a bike.
Doctors need to stop symptom treating and start identifying the underlying cause. It's just that simple.
Oh, we need Celiac Awareness alright. We need it in the medical community most of all.
————————————————————————–
Sources:
Dr. Stephen Wangen, Healthier Without Wheat
Marios Hadjivassiliou, MD, Neurologist at Royal Hallamshire Hospital in Sheffield, England
University of Chicago Celiac Disease Center
Other Gluten-Free Personal Stories You May Wish To Read
~ The Beer That Saved My Belly
~ The Down and Dirty on Celiac, Paleo, and Crossfit
~ Gluten and Migraines … Chrissie's Story
~ My Journey Back to Healthy Living
~ When Giving Up Gluten Is Not Enough
Originally published May 25, 2017; updated March 22, 2022.