For affiliate links and as an Amazon Associate I earn from qualifying purchases.
Recently I shared The Five Stages of Loss of Gluten in a friend's gluten-free living series that she hosted for Celiac Awareness Month. The following post on Grieving Gluten is a slight revision—but very important revision—of my original post based on some valuable input from another friend, Heather (formerly of Gluten-Free Cat).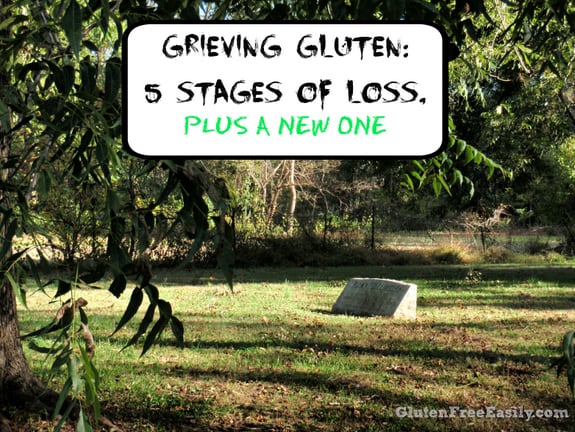 If you're gluten free, did you experience The Five Stages of Loss of Gluten after your diagnosis? Many people admit they have gone through these stages. As a celiac/gluten intolerance support group leader, I see my members go through these stages. Readers email me and tell me they have gone through (or are going through) them and yes, I experienced them to some degree myself.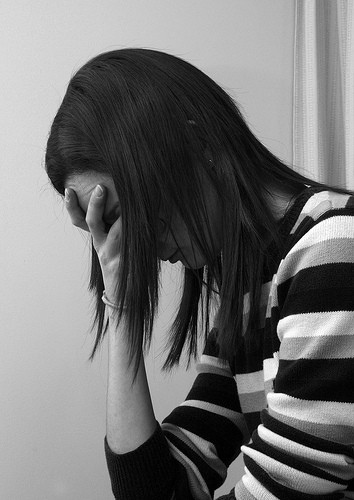 Dr. Elisabeth Kübler-Ross, a psychiatrist, shared her Kübler-Ross Model, commonly known as The Five Stages Of Grief, in her book On Death and Dying. She developed this model after working with more than 500 dying patients. Kübler-Ross concluded that folks coping with grief and loss go through five distinct stages.
It's important to note that she stated that not every individual who experiences such loss will go through all five stages or even go through them in the same order if they do. Individuals are unique and so are their responses to loss.
Kübler-Ross concluded that some individuals may simply get stuck in a stage. She also said that individuals could go back and forth between stages, experiencing a "roller coaster" effect, before they completely work through all the stages and "move on."
Over time, the stages have been applied to other areas of life besides grief due to loss of a loved one … loss of a limb, loss of a job, or any other major life disappointment or trauma. In my experience, these stages really apply to many life challenges. Let's talk about how they apply to a diagnosis of celiac/gluten intolerance/non-celiac gluten sensitivity and the loss of gluten, an ingredient that is, in fact, a huge part of the Standard American Diet.
The Five Stages of Grieving Gluten
1. Denial
"No, this is not the right diagnosis. Who ever heard of gluten anyway? Isn't that what those stars give up when they are trying to lose 20 pounds? I have to give up wheat, rye, barley, and oats? But I eat McCann's oats … they're so healthy for you, and now they say they're "contaminated"! Contaminated? Who uses that word? Bring out the white HAZMAT suits. Geez. Gluten simply cannot be the cause of my issues. This diagnosis is wrong."

"I've had no medical problems at all other than my skin issues or bathroom problems, but everyone in my family has those. I can control them with my prescriptions. I think I'll go to another doctor."

"I've had anemia (or insert other symptoms/conditions, like osteoporosis, depression, and more) for years; it runs in my family."

"How can taking gluten out of my diet fix these issues? It just doesn't make sense. I've never had a food allergy or food intolerance in my entire life."

"I didn't react to foods like pizza and baked goodies when I was pregnant. If I am gluten intolerant, how is that possible? I don't think this doctor is right. The test results must be wrong."
2. Anger
"Pretty much everyone else I know can eat whatever they want. Why should I have to give up pizza, beer, sandwiches, and cookies?"

"This is a screwed up diagnosis."

"Patti says it could be worse. She says that I could have cancer instead. At least my condition is treatable by diet, she says. Yeah, right. That's easy for her to say. She can still eat whatever she wants."

"Eating gluten free is impossible unless one just stays home and eats crappy packaged gluten-free food all the time!"

"I've been living with a diagnosis of IBS for 20 years and all along it's been gluten! Not once was gluten suggested as the cause of my problems. I was even referred to a psychiatrist. That doctor really needs to know she was wrong!"
3. Bargaining
"I've been eating gluten this long. I'll just eat whatever I want over the weekend and start on Monday."

"My granddaughter's wedding is next month. It would be wrong for me not to enjoy that cake with the rest of the family. A piece of cake can't kill me. I'll go back to eating gluten free after Jill's wedding."

"I'll just have a tiny bite of Mary's order of Tiramisu this one time when we all go out to dinner at Angelo's, and then I'll be 100% gluten free from that point on."
4. Depression
"There's nothing I can eat if I go out. I'll just stay home. This life SUCKS."

"This is worse than anything I could have imagined. My life will never be the same again."

"I have now become a social outcast. None of my friends, or even my family, want to deal with my food issues."

Kubler-Ross says this is the time that the person understands that the situation is real; it's not going to change. She states that the individual gets very quiet and disconnects from others. The tendency is for their loved ones to try to cheer them up, but individuals in this stage should be mostly left alone. If they come to you, you can be supportive and hopeful, but otherwise, let them grieve.
5. Acceptance
"Okay, this is going to be okay. I can still eat steak and lobster when we go out for my birthday every year."

"Barbara made some flourless peanut butter cookies for me that tasted great. She said they were so easy. I can make those for myself any time."

"Wine is gluten free!"

"I can still go on the beach trip with the girls. I'll bring some of my own food and help them choose meals that are naturally gluten free. I can even be the grill chef to make sure my food is kept gluten free."

"I'm really starting to feel much better. I actually think that my doctor got it right this time!"
This is the stage where Kubler-Ross says the person comes to terms with the loss. They can "move on."
In the first iteration of the original of this post, I shared a mix of feelings under "Acceptance" … "okay, I can deal" and "this is going to be okay" type sentiments to statements showing some excitement about being gluten free. However, after I submitted my post, the ending didn't feel quite right. Heather came to the rescue with the following comment that included her experience and her personal "take" on the stages:
1. Denial: I have no symptoms! Why would I spend $450 to get tested?
2. Anger: Why does this have to be genetic?
3. Bargaining: NO bargaining at all. I completely intended to have a cookie after 30 days of gf living just to prove the diagnosis as wrong. But I felt SOOOOO much better with gf eating and had a few accidental glutenings that put me out. I realized I could never intentionally hurt my body and eat gluten again.
4. Depression: Oh, the things I will never eat again. Sniff. (Um, no. SOB!)
5. Acceptance: Can we rename this as EMBRACEMENT? My life is so much richer after my diagnosis!!!
My reply to Heather was that I didn't feel we needed to replace Acceptance with Embracement. Instead, I felt Embracement should actually be the final stage of grieving gluten, a sixth stage for those of us who go gluten free.
The Final Stage of Grieving Gluten
6. Embracement
"This list of things I can eat is pretty amazing actually."

"This is the healthiest I've eaten in my life. What a gift it is to go gluten free."

"I love knowing what is in the food I'm eating."

"I'm going to share my gluten-free way of living with everyone I know because it's just fantastic on so many levels!"

"Naturally gluten-free, flourless cookies and cakes are awesome. Plus, crustless pies are amazingly good and so easy to make!"

"I've seen so many health issues go away since I've gone gluten free, that I've forgotten some that I used to experience. It's incredible. I am so happy to be gluten free now!"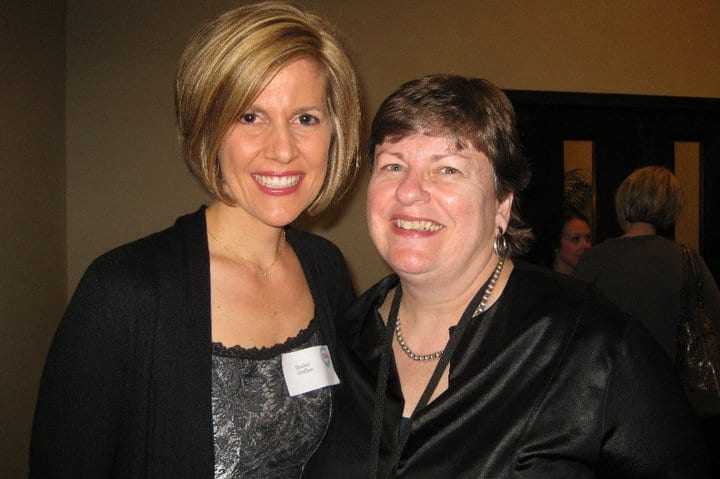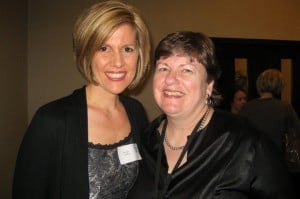 Heather and I at the Gluten-Free and Allergen-Free Expo in May (photo courtesy of Heather)
As far as my own experience with finding out about gluten, I only experienced Denial in the sense that I didn't get better immediately by going gluten free. It was only when I took other foods out of my diet that I began to improve. Still, it took time. So my Denial was more in the sense of questioning if the total answer had been found for me.
My Anger was real I suppose, but it felt more like being overwhelmed and it didn't last long, although I did feel anger towards all the doctors who had treated me, taken out organs, etc. and had not correctly identified the source of my problem. Honestly, anger at lack of diagnosis for so many still spurs me on today. I really, really wanted to feel better and knowing there was an answer to my health problems was actually a huge relief for me.
I think I largely skipped Bargaining because I had a transition period. My doctor advised me to eat anything I wanted with gluten in it until I took the gluten sensitivity test and then NO gluten. Period. (Side note: This test is controversial. I later was determined to have celiac genes. I could not be tested for celiac using the "gold standard testing"—celiac blood panel followed by an endoscopy of the small intestine with multiple biopsies taken) as I'd already been eating gluten free. One must be eating gluten to get accurate results on the gold standard testing.)
I squeezed a lot of gluten into what turned out to be 5 days. Then I never knowingly ate gluten again. It's not that I'm a saint, but again, after a lifetime of medical issues, I wanted to get well as soon as possible. Ironically, another doctor told me that my gluten detoxification was probably far worse because of all the gluten I ate during those 5 days, but I do think that period allowed me to skip the Bargaining phase and for that I am grateful.
I did experience some Depression. I had to come to terms that this was going to be my life and that my favorite gluten-full recipes would not be made again. (Or so I thought; read on.) I was a big baker and my attempts at early gluten-free baking were not successful. I also liked to entertain so I was definitely down until I figured out my gfe approach.
Once I focused on real food and meals that were naturally gluten free, I was definitely in the Acceptance stage. Still, there was something missing. Yes, I was feeling significantly better and I was beyond grateful for that, but I didn't have that spark for life that I used to have.
Finally, I started baking again. Successfully! I began making flourless and crustless recipes often. I started using a very simple (only two ingredients!) gluten-free flour mix when flour was needed in a recipe. And I found it far superior to the gluten-free flour mixes that I had purchased.
I began converting old family recipes to gluten free and again, I was having great success. Not only was I thrilled, but my family and friends were, too. I was now using only a handful of gluten-free specialty items and my gfe approach was born.
Suddenly living gluten free was not only "doable," but it was very enjoyable. In fact, it was exciting!
I focused on real, whole foods more than ever. I learned to like new foods. I gained a new love of whole foods that I'd enjoyed previously and learned to prepare them in new ways.
When I went out to eat, I focused on the naturally gluten-free foods I could eat—foods like healthy and delicious salads, perfectly grilled steaks, tasty steamed seafood, a simple baked potato, and safely steamed vegetables. That's when I really experienced Embracement.
Many of us know that the harder we fight something, the more difficult the situation can become. I, and many others who have embraced gluten-free living, often get very frustrated by the bombardment from the media on how hard the gluten-free diet is.
It's as if the world is stuck on Stages 2 and 4—Anger and Depression. And to make matters worse, "the world" (the equivalent to the ubiquitous "they," if you will) is not even eating gluten free, so what do they know? And why do they care so much? But that's another post.
If you say something long enough, people believe it. And we all know that anything negative seems to grab a lot more attention and get shared much more than "good news" stories. Therefore, many gluten-free folks join in on the chorus of how hard living gluten free is, usually before they've given gluten-free living a fair shake so to speak. They don't move on to focusing on all the fabulous foods one can eat if gluten free. That is unfortunate because it keeps them from eventually reaching the "new," final stage of Embracement.
The ongoing negative focus by the media was the main driver behind Diane Eblin's (The WHOLE Gang) 30 Days to Easy Gluten-Free Living—an event she hosted and participated in with 30 other gluten-free bloggers. You can see the complete listing of posts here; you'll find all of them helpful in working through the stages of loss of gluten.
If you are stuck in one of the earlier phases, read Diane's series and reach out to the gluten-free community via blogs, Facebook, Twitter, gluten-free forums, your local support groups, and other local and national gluten-free events. The support is there and it's incredible. Seek out whatever help you need.
Maybe we can start moving past some of these stages here today. Where are you now in the stages of loss of gluten? Will you share your own stages like Heather did above?
Is there any single thing that helped you move from one stage to another? Are you stuck in one stage? Do you know why you're "stuck"? Do you even feel these stages are valid when applied to living gluten free?
Please share all in the comments. Take that first step so that ultimately you can reach the final stage of Embracement and flourish!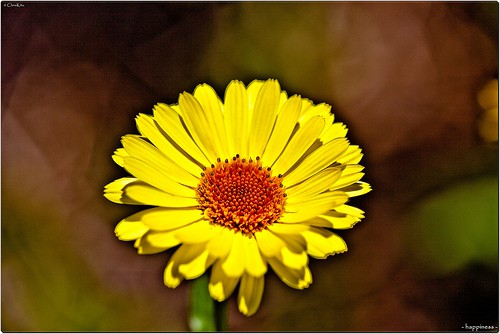 For more discussions on feelings of loss and ideas on moving forward, check out the following posts:
~ They Just Don't Understand: Dealing with Gluten-Full Friends and Family … Part I: Categorization) and Part II: Strategies for Dealing with Gluten-Full Friends and Family
~ Mary's post on Feeling of Loss (Gluten-Free Spinner)
~ The Emotional Side of Gluten Free (Gluten-Free Respect
Originally published June 14, 2011; updated January 25, 2023.