For affiliate links and as an Amazon Associate I earn from qualifying purchases.
I have a confession. If I had been diagnosed with celiac disease, I could have been a celiac snob. In fact, it's highly likely I would have been a celiac snob.
Some gfe discussion posts address "prickly" topics. I usually have them in my head for months, sometimes years (as is the case for today's post) and then I finally start writing them, working on them "here and there" long before they get published, sometimes delaying their publication because I just can't get my words to feel right and/or I'm not sure I'm ready for the actual discussion that will ensue.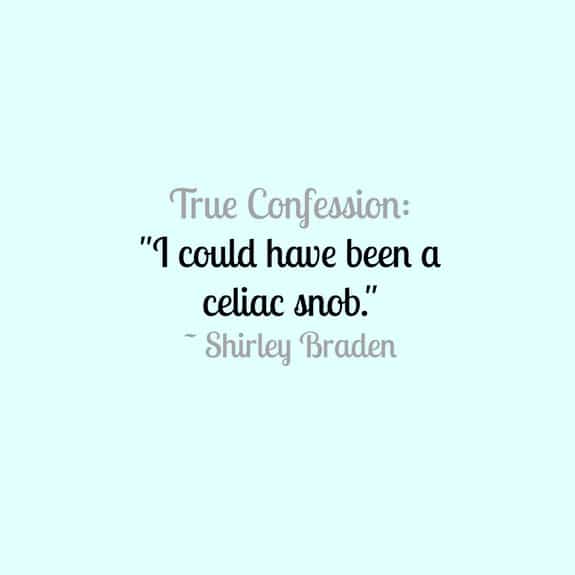 This post is such a post. I generally work on my discussion posts until they are nice and coherent with a smooth flow, and some do eventually come together fairly nicely, but, sadly, some never do. This one is one of the latter. I don't consider it in final form and I don't consider it polished and ready to go, but I feel that I just need to finally publish it. That's especially true considering all the publicity in the last week or so on gluten sensitivity not being "real."
So I have to go forward with this post, even though it's unbelievably long. A topic like this one can't be discussed in 500 words or less. I appreciate you taking the time to read my ramblings.
If you've seen the recent media hype on non-celiac gluten sensitivity, the naysayers have been having quite a field day in the media, haven't they? I won't talk too much about that and won't even link to these ridiculous articles except to say that the study cited in these numerous poorly written and incendiary articles was a very small study (37 individuals) and the research is ongoing. The study being cited as proof that only celiac is "real" actually was published early last year. In my opinion, Mark Sisson of Mark's Daily Apple has the best response to date   on the study and all the articles. And by the way, have you ever noticed how small studies are disregarded when they don't agree with others' beliefs and agendas, but exalted when they do?
There's much more that can be said on this topic, but experts like Dr. Alessio Fasano state emphatically that non-celiac gluten sensitivity does exist. If you're not familiar with Dr. Fasano, he's the chief of MassGeneral Hospital for Children's Division of Pediatric Gastroenterology and Nutrition and director of the hospital's Center for Celiac Research. He is one of the world's foremost experts on celiac disease and gluten issues other than celiac, which he calls gluten-related disorders. We have him to thank for the landmark study in 2003 that established the incidence of celiac disease and now he's working on developing a testing protocol for non-celiac gluten sensitivity that will be recognized by all.
Let's Get Back to That Celiac Snob Thing …
When I spoke at the Canadian Celiac Association Conference in Toronto last June on Emotions in Motion: Psychosocial Effects of Gluten Issues, there was a question from the Q & A session afterwards that addresses exactly what this post is about, although I had started writing this post long before my presentation. I had not addressed celiac snobbery in my presentation, but the attendee's question and follow-up discussion showed that celiac snobbery is indeed an issue for many. One of the audience members said:
"I was never tested for celiac disease, but I can't eat gluten at all. How do I deal with others who have celiac disease who look down on me and don't believe that my gluten-free needs should be taken seriously?"
I felt my face flush and my blood start to boil a bit when I heard her words. Not because I was offended by her question. No, that was not it at all. I felt a rush of emotions and an immediate churning in my gut, because I knew exactly where she was coming from. And so did lots of members of the audience. There were many nods and murmurs from other members of the audience. They understand. They'd been there. We'd been there.
Other individuals who had been diagnosed with celiac had dismissed their concerns and said things to them like, "at least you don't have celiac" or "I have celiac disease so I really have to be concerned." In any discussions, these others were likely to include terms to describe themselves like I'm a "biopsy-proven" celiac, "real deal celiac," "card-carrying celiac," "bonafide celiac," "seriously celiac," "full-blown celiac," or "gold- standard diagnosed celiac." Or I have "legit celiac disease" … and the list goes on. Those are all descriptions I've heard or read online, ones that many who have celiac disease like to beat others over the top of the head with.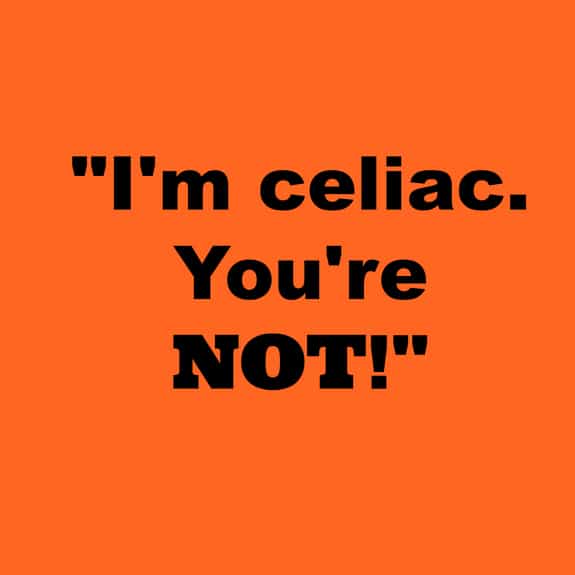 The doctor of a friend of mine, a holistic practitioner, gave my friend a "de facto" celiac disease diagnosis. The doctor's diagnosis was based on a supervised elimination diet, the friend's particular array of symptoms, and the friend's very positive response to the gluten-free diet (including a disappearance of other issues experiences for years). This friend, who is well known in the gluten-free community, says "they" are celiac, despite having no traditional testing of any kind. Was this friend's doctor right? Probably. Admittedly, close gluten-free friends and I will hear symptoms of friends and family and pronounce our own "celiac" diagnosis. These friends and family of ours might go down the same road with a doctor as my well-known friend, but the word "celiac" might never be used or they might be told they are "simply gluten sensitive."
Note that I am not bringing up this friend's history because "they" discriminate against those with non-celiac gluten sensitivity in any way. They are an advocate to all who are gluten free. I just want to share the different paths that folks go down and the different labels they receive based on their doctors and their own labels.
There are actually many others in the gluten-free community who call themselves celiac, but are not "gold-standard celiacs." Some had no testing of any kind as cited in my friend's case above. Others had a positive blood panel, but didn't choose to go through with the biopsy or couldn't go through a biopsy due to cost or circumstances at the time. Others were given a celiac diagnosis after the blood panel only. Most individuals who had a positive blood panel, but negative biopsy don't even call themselves celiac because they've been told by their doctor that they don't have celiac, that such a diagnosis would not be accurate without a positive biopsy. And that's true even when these individuals also have seen their symptoms resolve on a gluten-free diet.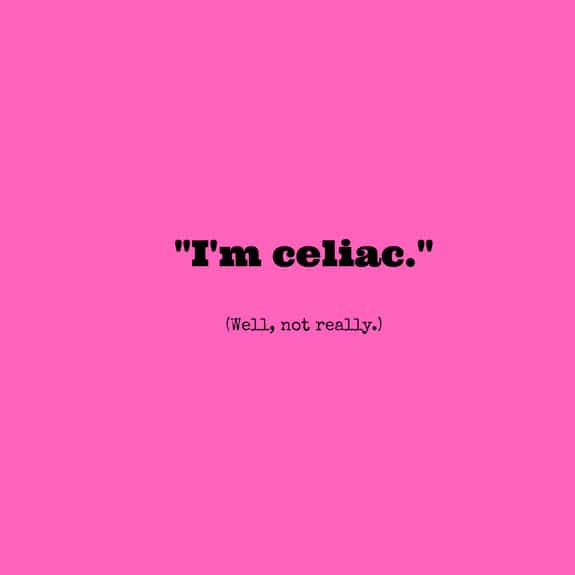 Does all this matter? Clearly, it does, when the labels are being used inconsistently and in a discriminatory, ostracizing way by some. When anyone has medical issues caused by gluten—whether they have been diagnosed as a gold-standard celiac or not—needless to say I'm thrilled for them when they adopt a gluten-free diet. But I really wonder about the labeling that we're using in the medical community, how fair it is, how accurate it is, and whether it truly serves the best purpose in the long run. One person is calling himself/herself celiac with no testing at all while another calls himself/herself non-celiac gluten sensitive and, quite frankly, gets treated badly and just catches overall crap for not having a "bonafide" celiac diagnosis.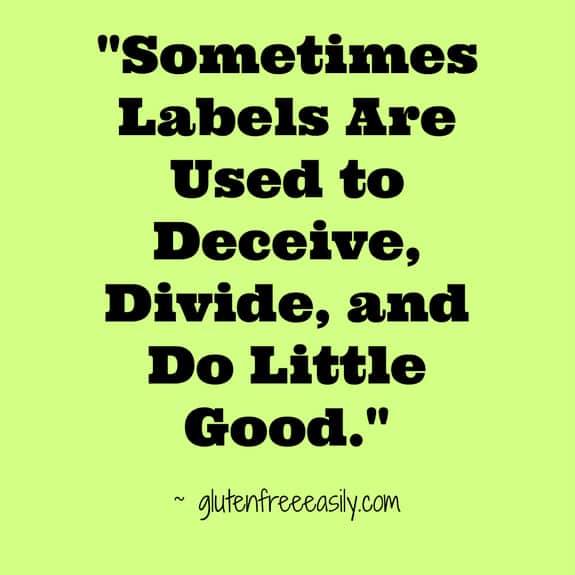 I honestly feel like our current labels for gluten-related disorders (Dr. Fasano's term)—and how they're perceived and used—deceive, divide, and do little good. Others like Dr. Rodney Ford use different terms, their own terms. His term, "gluten syndrome," is designed to be all encompassing with issues related to gluten. But use that term and people look at them like they're bonkers. "Gluten syndrome? There's no such thing they say."
My friend Tom Malterre, MS, CN, of Whole Life Nutrition,  says:
"Celiac disease is gluten sensitivity that has progressed to villous atrophy sufficient for the gold standard diagnosis."
Think about that a minute. Yes, everyone who has celiac disease is gluten sensitive, but their disease has progressed to the point that there's enough intestinal damage to test positive via biopsy and meet the gold-standard diagnosis. However, the catch here  is that many who are gluten sensitive will never develop celiac disease.
If you're a celiac snob, you think "Ah ha, got you!" But the medical professional experts in the gluten-free community will also tell you that so many of their patients who are non-celiac gluten sensitive come to them far more ill than their patients who test positive for celiac. What does that mean exactly? Does it mean that our current testing is lacking? Does it mean that our current definitions of gluten-related disorders are lacking?
One mom stated online in regard to her very ill daughter that:
"They couldn't diagnose her with celiac because her villi weren't damaged enough."
Yet when her daughter went gluten free, all her health issues disappeared. I have some members of my gluten-free support group who fit the same category of having villi that were not damaged enough for a celiac diagnosis. One learned of a note in his medical file—"patient shows partial villous atrophy"—from his previous gastroenterologist only when he went to another doctor years later and finally, thankfully, got a celiac diagnosis. Another one of my support group members was told by her gastroenterologist that she had "some villous atrophy, but not enough to constitute celiac disease." What was her doctor's advice?
"Eat gluten until you have diarrhea and then cut back on gluten."
Yes, that was the advice to one of our support group members from a local gastroenterologist.
Is that crazy talk or what? Some would consider it malpractice. Others would say that her doctor is appropriately following the guidelines for celiac disease diagnosis today. Dr. Tom O'Bryan says celiac testing is not very accurate unless there's total villous atrophy. In those cases, he says, "it's very accurate."
So What Did I Say in Response to the Question at the CCA Conference?
I immediately acknowledged that I knew exactly what she was talking about. Then I asked for a show of hands of folks in the audience who were gluten free but did not have a celiac diagnosis. I followed that question up by asking how many of those folks had experienced what this attendee was referencing. The majority of folks in attendance did not have a celiac diagnosis and most of them indicated that they had experienced a similar, disheartening lack of support and "approval."
I told the attendee and the audience that I had never been officially diagnosed with celiac disease either. I explained that after a lifetime of issues, I had been diagnosed with non-celiac gluten sensitivity and directed by my doctor to immediately go on a gluten-free diet versus undergoing gold standard celiac testing and waiting to see if I tested positive by those standards. I explained that my doctor at the time, who had been diagnosed with celiac disease via the "gold-standard" testing herself, felt that I was so ill that there was no time to waste. My doctor also felt that celiac testing was very inaccurate and the parameters for a diagnosis so narrow that I should not wait to see if I *might* test positive.
I told her and the audience added that I had later had celiac gene testing done and determined that I did have celiac genes and it was clear from the changes in my health and the results when I get "glutened" that gluten-free living was the right health choice for me—with or without a gold-standard celiac diagnosis. I also admitted that I was glad that I had not been diagnosed with celiac disease, not because I thought that a celiac diagnosis would indicate that my gluten issues were more serious than they are without a celiac diagnosis, but because I *might* have become a celiac snob had I received that definitive diagnosis.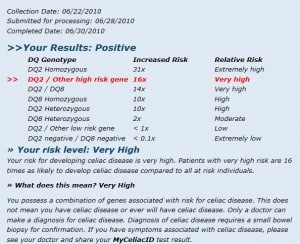 You see for many years, I was more of a "black and white person," per se, and bought into everything that my doctors and the medical community said even though it was inaccurate. I believed that I had irritable bowel syndrome or a nervous stomach because that's what I'd been told. I believed that my health issues ran in the family. I believed that stress was often the main cause of my issues. Many of you reading have been down the same road and led to believe the same things only to learn later that you had celiac disease or serious gluten issues without celiac disease, now referred to as non-celiac gluten sensitivity.
I'll admit that I have never been crazy about the term non-celiac gluten sensitivity. Understatement. First, there's the "non-celiac" part. Hey, you're not part of our group. Second, there's the "sensitivity" part that bothers me. It implies that our gluten issues are benign, minor, that there's some level of tolerance, that we're simply sensitive to gluten. In other words, the presumption is that if we eat a little gluten, it's not a big deal. For most of us who do not have a celiac diagnosis and by default have received the non-celiac gluten sensitivity label, this presumption couldn't be further from the truth.
I advise anyone who has ANY gluten issues not to eat gluten in any amount. Ever. Personally, I cannot tolerate even small amounts of gluten. I react to far less gluten than the FDA has approved to be allowed in products that exhibit a gluten-free label. (The FDA law of less than 20 parts per million in any product labeled gluten free goes into effect August 2014.) But not everyone notes their own reactions to gluten and our bodies can be reacting without visible symptoms. But that's a discussion for another day.
I told the audience that part of the issue with not being taken seriously and being supported when living gluten free without a celiac diagnosis was that the term "gluten free" has become a media buzz word. Journalists, comedians, and other celebrities are using the term gluten free as the word "du jour" to get attention and readers/viewers.
"Gluten-free mostly" or "gluten free when I want to be" tends to describes many of the celebrities' eating plans. Most of you reading know what I'm talking about. Many tv shows and movies have at least one mention of "gluten free" now—and they're not usually positive mentions.
We need to focus on facts though. Listen to Jules' (GF Jules) interview on The Gluten-Free Voice with Dr. Fasano and hear his thoughts on the study I mentioned earlier, including some important data on that study that hasn't been widely shared, as well as his statements on the differences between celiac and non-celiac gluten sensitivity, and much more. The show is definitely worth a listen!

A Little Bit More on The "Gluten-Free Diet Du Jour" Causing Us Issues
On one of our many trips, Mr. GFE and I met reader friend Dena for dinner a few years ago. We had a delicious and safe gluten-free meal and ended up chatting with and thanking the chef on the way out. He told us that he regularly has folks come in and order a gluten-free meal and then order a gluten-full beer to go with their meal. Yes, you read that correctly. And these folks do this knowingly. By choice. The restaurant staff determined this was the case when they made further inquiries concerned that the diners were not up on their gluten knowledge and unknowingly consuming gluten. Oh, no, they were told, "I want a gluten-free meal, but I am fine with drinking gluten beer. I am not that sensitive." Grrrr.
The chef expressed his frustration in going to great lengths to prepare safe, gluten-free meals in a "dual" kitchen for folks who end up not even needing a gluten-free diet. We totally understood his frustration. The fact is these types of folks who don't eat 100% gluten free "muddy the waters" for the rest of us and making dining out less safe. Just last week I was told by a restaurant with a gluten-free menu that they would handle my food differently since they knew I "truly needed to eat gluten free." So the "gluten-free menu" at that spot doesn't really mean gluten free.
My final statement to the attendee and the audience at the conference was, "We need to realize that we are all in this together and we should be supporting each other versus questioning our diagnoses." And I believe that wholeheartedly. We all need gluten-free friends. Folks who get our issues, who know how to feed us, etc. Let's make more of these friends and support each other and let the medical community figure out the rest.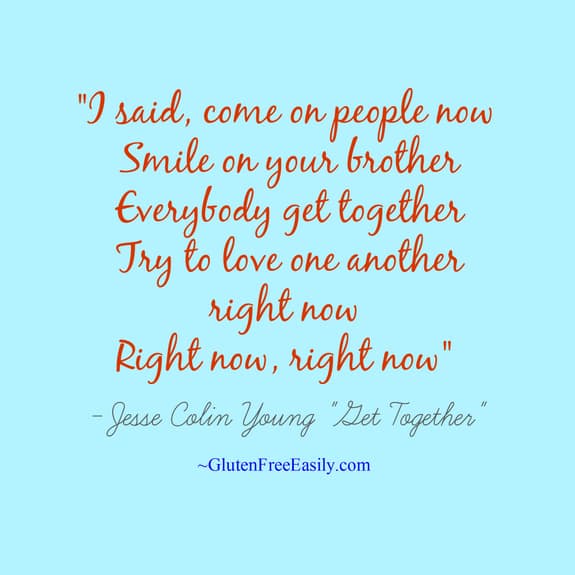 I don't want to get into a discussion on folks advising others to go back to eating gluten to see if they actually have celiac. To me that's even more "crazy talk" and that's not what this discussion is about. Today's discussion is about acknowledging that there are folks eating gluten free for health reasons without a celiac diagnosis and they deserve the same acknowledgement and respect as those who have a celiac diagnosis.
Others call themselves celiacs although they've never gone through testing, in some cases, they've had no testing at all. Sometimes these are folks who have a family member who has been diagnosed with celiac disease and they see they have the same symptoms and call themselves celiac. Who knows if they are truly celiac or not? Do we care? We do care if they are not taking their gluten issues seriously and continue to eat some gluten. As I already stated, these part-time gluten-free folks confuse matters for the rest of us, plus they're undermining their own health.
Have I ever stated that I have celiac disease? No, but if restaurant servers or others in passing assume that I have celiac disease, I don't correct them and go into my medical history. It's easier to leave it at that. The end result is the same. I need truly gluten free food or I will get ill.
What happens when celiacs, particularly celiac snobs, have a child who does not test positive for celiac, but clearly does not thrive while eating gluten? Being a mama bear can change the whole dynamic and perception of who should be gluten free and whether one needs a celiac diagnosis. Does it make sense that a mom is celiac, and one child tests positive for celiac, but the other is "only" considered gluten sensitive because s/he continues to test negative for celiac? How many times have you seen that? Being a gluten-free support leader and active in the gluten-free community, I've seen it A LOT.
Remember that celiac testing only offers a negative result at that point in time. The family members of many celiacs I know are tested at least every other year via blood panel to see if they have developed celiac because of the high incidence of celiac in families as it is a genetic autoimmune disease. If the child received a negative blood panel after their mom or dad was diagnosed as celiac, were they told "okay, that's it, you don't have celiac. You're good for the rest of your life!" Yes, unfortunately, some have pretty much been told that, but celiac disease really doesn't work that way.
Yet, folks are being told that if they have issues with gluten, but don't test negative for celiac disease that they have non-celiac gluten sensitivity. And the implication is that this diagnosis is forever. Really? I don't think so. How many people do you know who had problems for years, even testing negative for celiac more than once before they were diagnosed as celiac? Obviously, this is not a "black and white" topic at all.
Okay, readers, what are your thoughts? Are you a gold standard diagnosed celiac? (If you have been diagnosed celiac but did not test positive on the blood panel AND biopsy, please tell us more details of your diagnosis.)

If you are gold standard-diagnosed celiac, do you take the needs of others who eat gluten free for their health, but don't have a celiac disease, seriously? NOTE:  I'm not talking about others how eat gluten free depending upon the direction of the wind that day; e.g., some Hollywood celebrities. I don't take them seriously either.

If you have not been diagnosed with celiac disease, but are eating gluten free for health reasons, please tell us why (briefly or with as much detail as you'd like to share).

If you are gluten free without a celiac diagnosis (and you don't call yourself "celiac"), have you felt looked down upon by other celiacs or celiac organizations? Do you hear the word "celiac," "celiac," "celiac," from some organizations until they want your donations and then suddenly it's all about "gluten free" vs "celiac"? I have certainly seen that occurrence year after year. Some organizations have even admitted off the record that celiac disease is what gets the attention and the dollars.

Thank you for being willing to take part in this important discussion!