For affiliate links and as an Amazon Associate I earn from qualifying purchases.
It's Day 3 of sharing gluten-free muffin recipes for March Muffin Madness (MMM) and today's recipe for Gluten-Free Pineapple Coconut Muffins comes from Kim of Let Them Eat Gluten-Free Cake.
This recipe looks like the muffin equivalent of warmth and sunshine to me! But let's talk about Kim Thomas and her site for a moment.


I first "met" Kim in 2020 when I discovered her amazing gluten-free Hot Cross Buns and reached out to see if she'd allow me to include them in my collection of the Top 40 Gluten-Free Hot Cross Buns. Kim graciously said yes to that request and generously allowed me to share any of her recipes in my gluten-free recipe collections.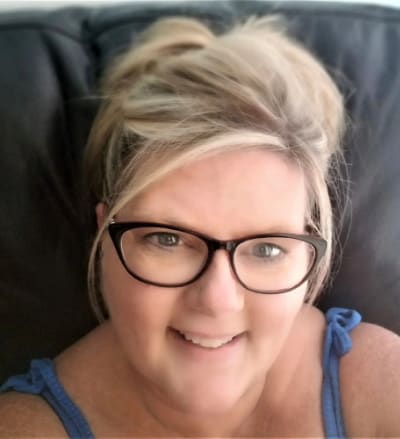 I've kept up with Kim and her outstanding gluten-free creations via her blog, Facebook, Instagram, and Pinterest ever since.
Kim is extremely conscientious and dedicated when it comes to creating her gluten-free recipes. Some of her most popular recipes are her bread recipes and most of us know that making successful gluten-free bread is never an immediate slam dunk.
She makes recipes over and over until they meet her very high standards. She also tests them with various ingredients—both to determine which options work best but also to share substitution options for those with additional food intolerances.
When she shared her gluten-free Challah recipe, she shared:
"I've been working on perfecting this gluten-free challah bread for at least a few years now. When I get an idea in my brain, sometimes it's really hard for me to let it go. But through all my trials and failures, I have to keep posting successful recipes or you'd never see a thing from me! That's why it often takes me many, many months (or years even) to create a new bread recipe."
One of the most helpful ways that Kim teaches her readers to make successful gluten-free bread and other recipes in the complicated category—as well as share other information that is better explained "in person"—is via her videos.
She shares her videos in her recipes, on her Facebook page, and via her YouTube channel. I will confess that I'm not always a fan of videos because I can usually simply read instructions and know what to do but Kim's videos are very worthwhile. Especially when she's sharing bread recipes.
Some of her gluten-free bread recipes that have caught my eye are her Challah, Crusty French Rolls, English Muffin Bread, Multigrain Seeded Bread, Olive Garden-Style Breadsticks, and Potato Cheddar Bread.
But there's plenty more to check out on her site as well. Apple Dumplings, Flaky All-Butter Gluten-Free Pie Crust, White Chocolate Raspberry Cheesecake, and She Crab Soup to name just a few!
And now for Kim's muffin recipe for MMM …
Gluten-Free Pineapple Coconut Muffins Recipe
Kim said she was inspired to create these muffins after her mom raved over Pineapple Coconut Mini Muffins (gluten-full muffins) that she had purchased at Aldi. Kim decided to make her gluten-free version as jumbo muffins but gives us the option of making this recipe as jumbo muffins, regular muffins, or mini muffins.
From Kim:
"Oh, how I wish I could actually be in Hawaii (or anywhere tropical) eating these pineapple coconut muffins right now! I bet you do, too, unless you're one of those people who likes cold, dreary weather. In which case you must be from a different planet, haha!
Enjoy a bit of the tropics with these gluten-free pineapple coconut muffins, filled with tropical flavors and covered with a coconutty crust. They're bright and flavorful with a nice toasted coconut topping and might just be my favorite muffins so far!"
Yield: 7 jumbo muffins, 12-14 regular-sized muffins, or 24 mini muffins
Gluten-Free Pineapple Coconut Muffins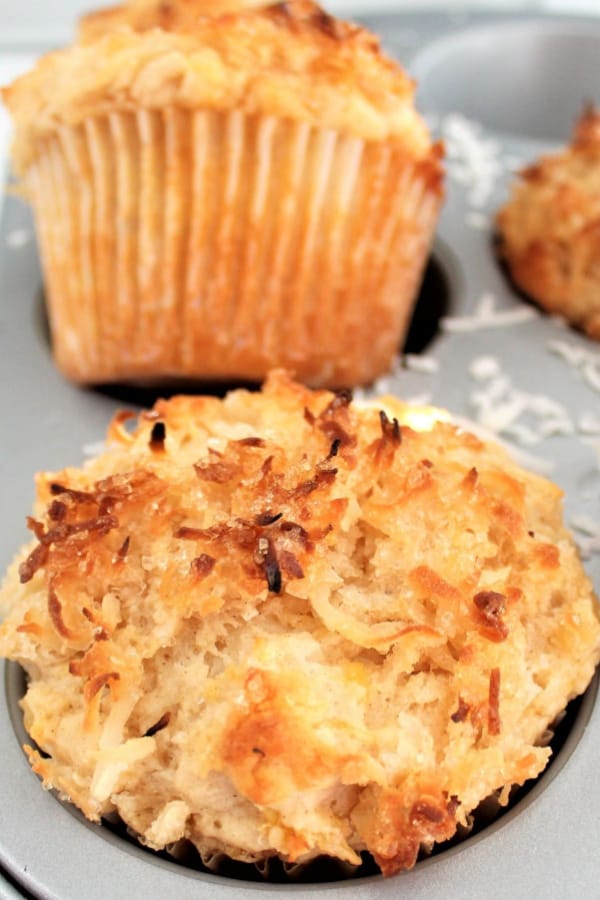 Kim says: "Want to escape the cold and get a bite of the tropics? Gluten-free pineapple coconut muffins will at least take you away using your taste buds!"
Ingredients
Muffin Batter Ingredients
3 cups (420 g) Kim's gluten free flour blend (a store-bought blend may be used, but has not been tested)
4 tsp (16 g) baking powder
½ tsp salt
1 tsp ground cinnamon
¼ tsp ground nutmeg
½ cup (100 g) granulated sugar
1½ cups (360 ml) buttermilk (dairy-free milk mixed with 1 tbsp vinegar may be substituted)
½ cup (120 ml) canola, vegetable, or melted coconut oil
2 large eggs, at room temperature
1 tsp vanilla extract
1 20-ounce (567 g) can crushed pineapple, drained, reserving 2 tbsp of the juice
½ cup (46 g) sweetened shredded coconut
Coconut Crunchy Topping Ingredients
½ cup (46 g) sweetened shredded coconut
½ cup (100 g) brown sugar
reserved 2 tbsp pineapple juice
Instructions
Preheat the oven to 425° F. Line muffin tins with paper muffin liners and then spray them with nonstick spray. Set aside.
In a large bowl, whisk together the flour, baking powder, salt, cinnamon, and nutmeg.
In another bowl, whisk together the eggs and sugar. Add the buttermilk, oil, and vanilla and whisk well.
Make a well in the dry ingredients and pour the wet ingredients in the well. Top with the drained pineapple and coconut and use a spoon to gently mix everything together. Don't overmix. Let the batter rest while you make the topping and your oven preheats fully, at least 5 minutes.
In a small bowl, mix together all the topping ingredients.
Scoop the muffin batter into the prepared liners, filling all the way to the top. Top each muffin with about 1 tbsp of the topping for jumbo muffins, ½ tbsp for regular-sized, and 1 tsp for mini muffins.
Bake at 425° F for 5 minutes, then reduce the temperature to 375° F. For jumbo muffins, bake for an additional 25-30 minutes. For regular-sized muffins, bake for an additional 15-20 minutes, and for mini muffins, bake for an additional 10-12 minutes.
Cool on a wire rack.
Notes
Muffins can be kept at room temperature for a few days, well covered, or can be frozen, well wrapped, for up to 3 months.
Today's MMM Prizes
All giveaways are now closed. Thanks to all who participated!
~ Cookbooks
~ The Everything Gluten-Free & Dairy-Free Cookbook: 300 Simple and Satisfying Recipes without Gluten or Dairy (one winner; sponsored by gfe) ~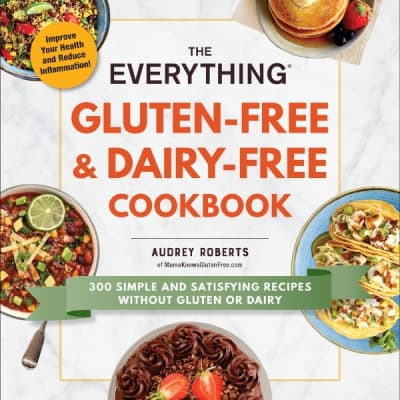 This cookbook from Audrey Roberts, aka Mama Knows Gluten Free, is an Amazon bestseller. It has an overall 4.5-star rating and almost 4,000 reviews from folks who love it! Her cookbook readers repeatedly share the highest compliment a gluten-free cookbook author can receive—that they make the recipes (in all different categories) over and over because their whole family loves them, including the gluten-full members. The word "winner" appears repeatedly in the reviews!
~ Gluten-Free Cooking for Two: 125 Favorites (one winner; sponsored by gfe) ~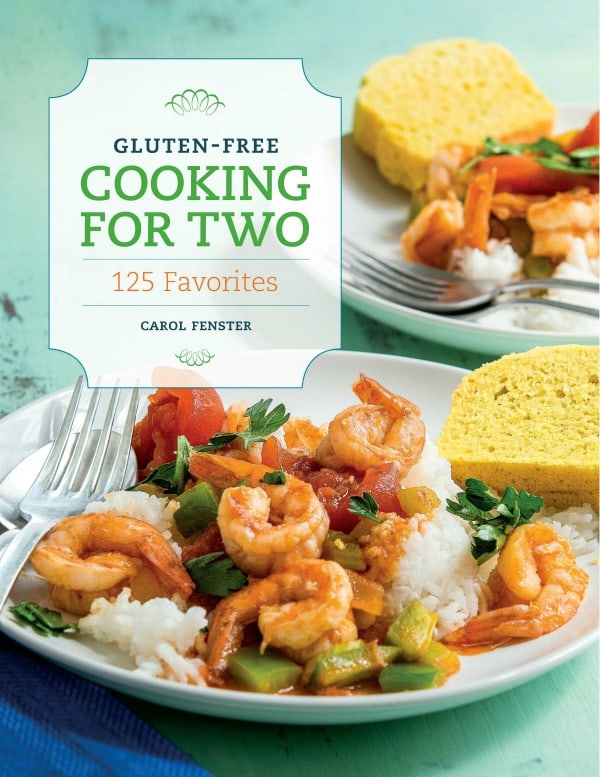 This is Carol Fenster's latest cookbook and one of my favorites! So many others love it as well. Carol created this cookbook so we could easily make delicious meals as singles or couples but so many readers—even singles and couples—have enjoyed them so much that they end up doubling or tripling them. One of the most popular recipes on gfe comes from this cookbook. Another wonderful recipe, a muffin recipe that made only 4 muffins and had four flavor variations, was featured in a previous MMM event. Just a few examples of what's included in this great cookbook!
~ Latin American Paleo Cooking (one winner; sponsored by Page Street Publishing) ~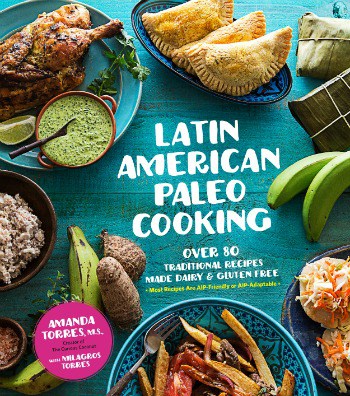 I've talked about this cookbook from Amanda Torres of The Curious Coconut previously on gfe but it's definitely worth sharing again! This is a stunning cookbook with recipes with photos that practically beg you to make them.
Amanda wrote this cookbook with the help of her Puerto Rican mother-in-law, Milagros. That's not only a sweet fact, it's also one that tells you that this book offers authentic and totally delicious recipes!
If you follow the Autoimmune Protocol (AIP), you'll be delighted to know that almost all of the recipes are AIP friendly as written or have an easy AIP adaptation.
~ Ingredient
~ Baker's Angel Flake Sweetened Coconut (2 pack; 7-ounces each bag) (one winner; sponsored by gfe) ~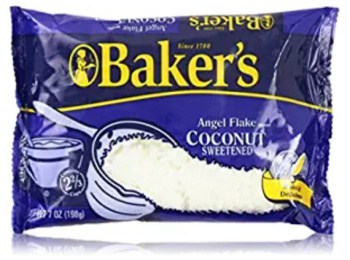 This is the fluffy sweet coconut my mom always used in recipes, I use in my Crustless Coconut Pie, and Kim uses in today's Pineapple Coconut Muffins. And I bet you can find even more delicious ways to use it!
Grand Prize Giveaway
All giveaways are now closed. Thanks to all who participated!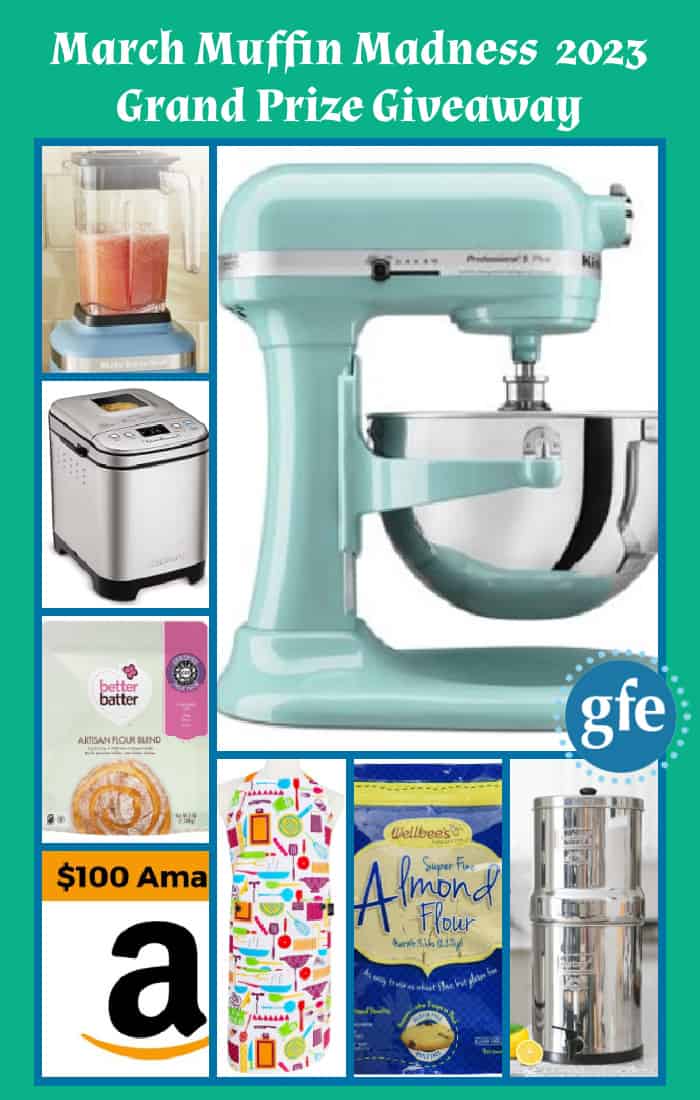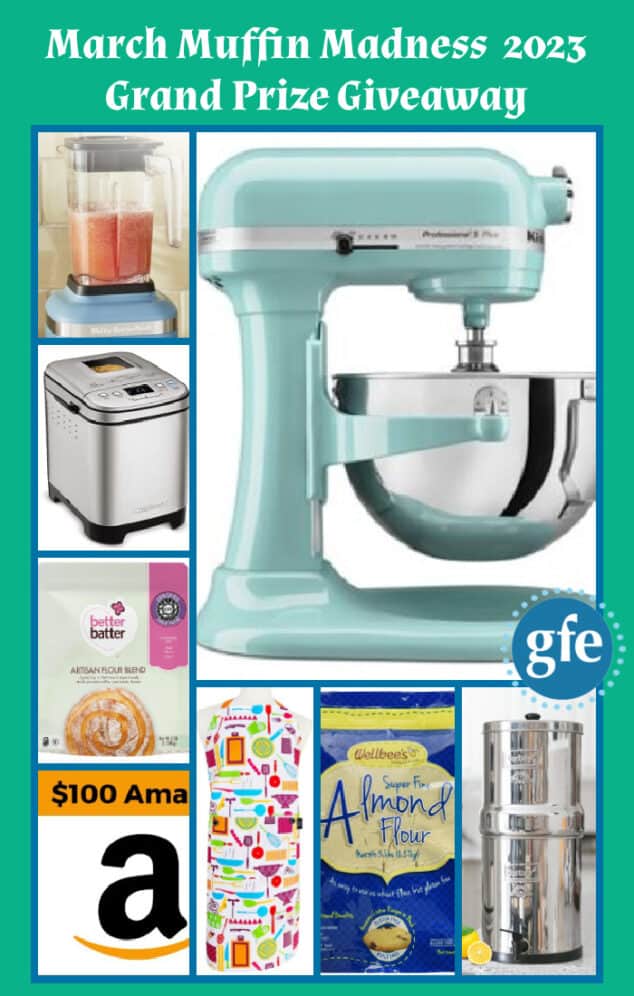 a Rafflecopter giveaway
Originally published March 15, 2023; updated April 8, 2023.