For affiliate links and as an Amazon Associate I earn from qualifying purchases.
Yes, it's all about gluten-free Hot Cross Bun recipes today because here we are at Palm Sunday with Good Friday—also known as National Hot Cross Bun Day in some circles—coming up quickly. By the way, other sources say that Hot Cross Bun Day is September 11.
I say that one day—or even two days—is not enough to celebrate the wonder of Hot Cross Buns. So, I've updated this roundup of recipes once again to ensure you have all the best recipes to chose from. Not only as far as flavors (yes, there are different flavors of these classic buns!) but also as far as allergen-free choices because some of us need more than "just gluten free."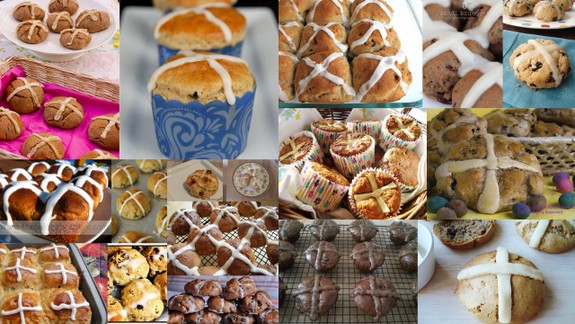 Hot Cross Buns are one of those seasonal items that get folks very excited because they're so delicious and also because they usually only make their appearance during a very short period of time. It's very, very special to enjoy a delicious Hot Cross Bun, but those of us who are gluten free can't just run down to the corner bakery and pick up a package of hot cross buns as most people can. We require terrific gluten-free recipes from equally terrific gluten-free recipe creators to make our gluten-free Hot Cross Bun recipe dreams come true!
I love that in addition to gluten-free Hot Cross Bun recipes with traditional flavoring, there are also gluten-free Hot Cross Buns with apple cinnamon, blueberry, chocolate, and double chocolate flavoring! You can see some of these recipes in the collage below.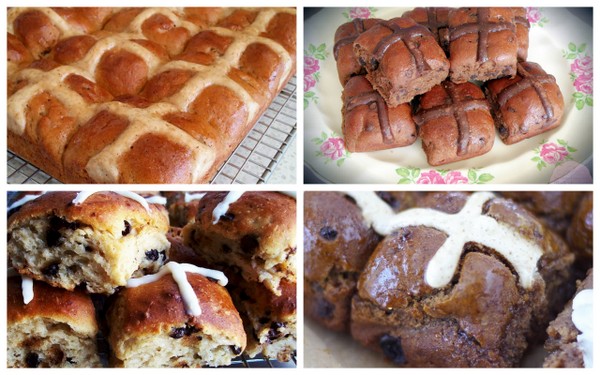 With all these recipe and flavor choices, I kind of feel the same way about Hot Cross Buns as I do about Pumpkin Pies. It would be a shame to only make them once a year! Go ahead and take a look and see which recipes work best for you. Enjoy! Now … and later.
Carol Fenster is one of the most well-known, beloved gluten-free chefs and cookbook authors. Carol's most recent cookbooks are Gluten-Free Cooking for Two and 125 Gluten-Free Vegetarian Recipes. You can find Carol and her gluten-free Hot Cross Buns recipe over at Carol Fenster Cooks. This recipe can be made simply gluten free or gluten free and dairy free.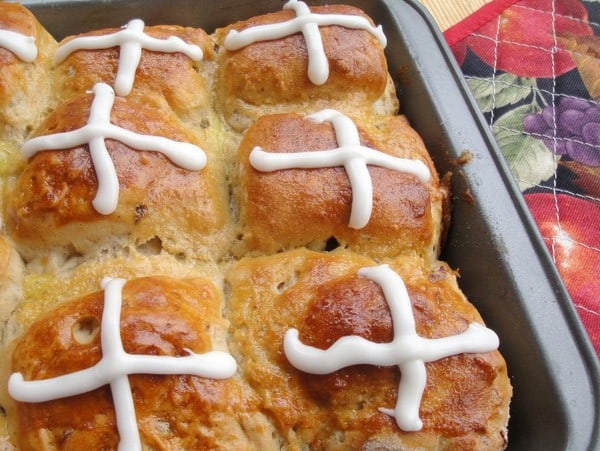 Pete and Kelli at No Gluten, No Problem just shared their Hot Cross Buns recipe. They had other Easter traditions like Polish sweet bread ("mock cake") but were prompted to create this particular gluten-free recipe by their Facebook readers. They even offer the slight adjustment they had to make for the higher altitude in their Colorado location. Pete and Kelli are the authors of Gluten-Free Family Favorites, Artisanal Gluten-Free Cooking, and Artisanal Gluten-Free Cupcakes, thus far. Pete also co-authored The Gluten-Free Edge—a "must have" resource book, which also includes 50 recipes—with Melissa McLean-Jory (Gluten Free For Good).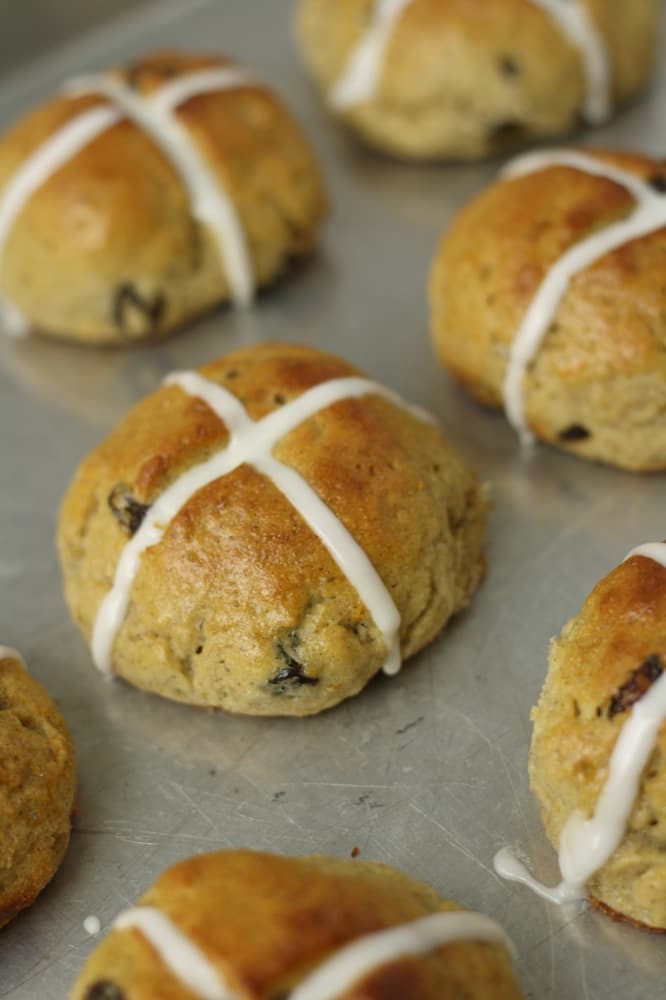 Kim of Let Them Eat Gluten-Free Cake uses her Ultimate Gluten-Free Cinnamon Roll Dough to make her Hot Cross Buns. As she says, "To me, they're a lot like a cinnamon roll in flavor, just not all rolled up. I like to eat these warm, split open with butter in between." Just like shown below.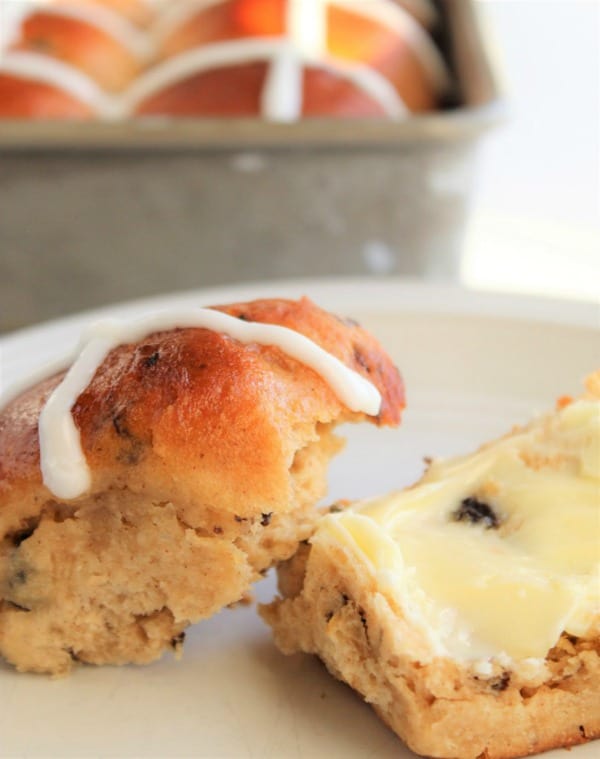 Caneel at Mama Me Gluten Free was unhappy with her early attempts at Hot Cross Buns, but she achieved success when she used the same flours as she uses in her yeast bread recipe. She says the resulting Hot Cross Buns come close to recreating her Mom's originals from The Joy of Cooking recipe. We all want to make successful gluten-free versions of our Mom's beloved recipes, right? Caneel used the muffin tin approach for the version shown in this photo.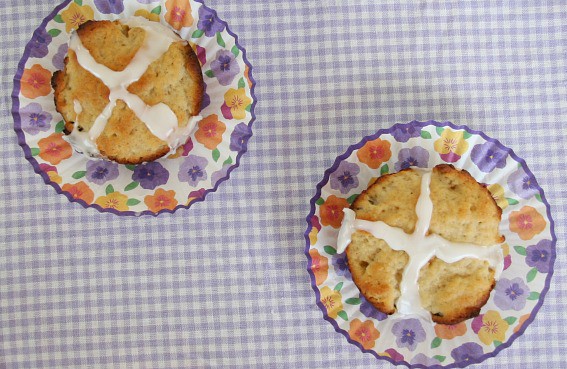 Debra and "The Professor"—the husband-wife team at Smith Bites—researched, collaborated, and tested recipes over a three-month period to create a gluten-free version of Thomas Keller's Hot Cross Buns from his latest cookbook, Bouchon Bakery. Debra seriously doubted whether she could accomplish the task, but she did! Her summary of these Hot Cross Buns: "Soft and tender, speckled with plump, vanilla-laced fruit and dressed in a cinnamon-cardamom icing, these gluten-free buns have the perfect balance of sweetness – Chef Keller uses the word 'beguiling' to describe them and he's exactly right."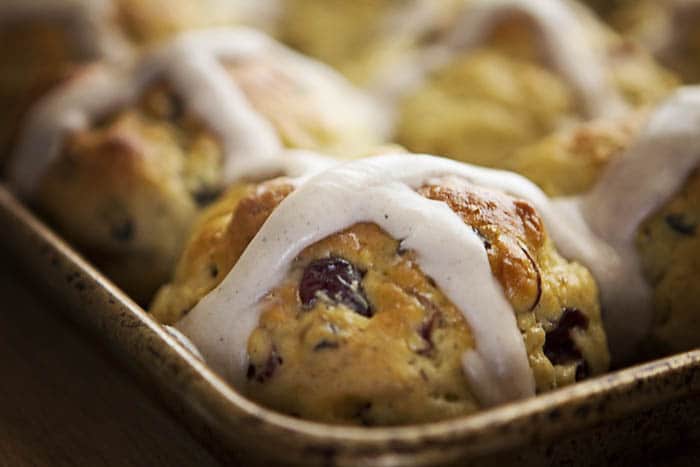 Jo at Quirky Cooking uses brown rice, basmati rice, sweet rice flour (also known as glutinous rice flour, but don't worry, it's gluten free), tapioca starch, Rapadura (or xylitol), and other ingredients using her Thermomix to make her Hot Cross Buns. Jo instructs you on how to make them in a muffin tin or by using the traditional method. Read comments to see how her readers made xanthan gum-free, egg-free, etc. adaptations as needed. Readers gave these Hot Cross Buns rave reviews. Jo has a gluten-full Hot Cross Monkey Bread recipe, but she says that her gluten-free Hot Cross Bun dough can be used instead. And she's working on a grain-free Monkey Bread recipe right now!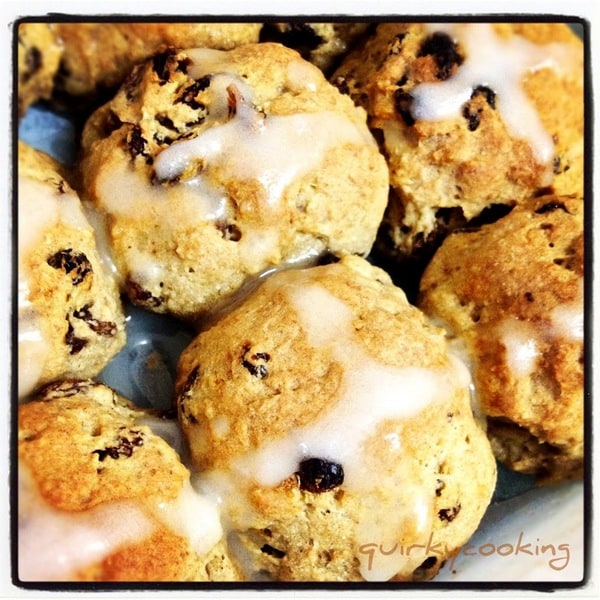 Vicky of Gluten Free SCD and Veggie made gluten-free, grain-free, dairy-free, refined sugar-free, Specific Carbohydrate Diet (SCD)-compliant Allspice Hot Cross Buns. Yum … allspice provides such lovely flavoring! Note that Vicky also offers an egg-free option for this recipe, but that version is not SCD compliant. With the egg or not, I believe this recipe also qualifies as paleo.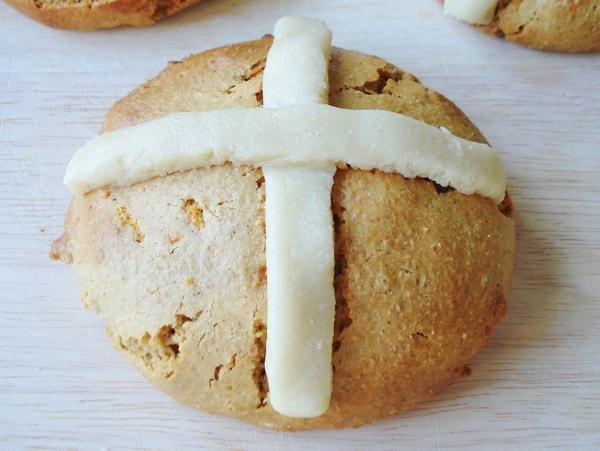 Angela (Angela's Kitchen) made these gluten-free, dairy-free Hot Cross Buns and offers an easy egg-free option. She shares step-by-step photos and even tells you how to easily turn your oven into a steam oven for all your gluten-free bread baking.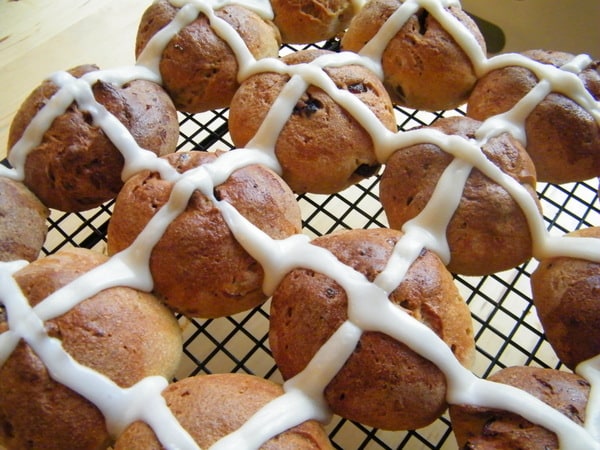 Jeanne, the author of Art of Gluten-Free Baking (and her acclaimed cookbook Gluten-Free Baking for the Holidays), has improved these Hot Cross Buns more than once. It's so nice to see a blogger/cookbook author continue to improve an already wonderful recipe. One of Jeanne's readers commented that she likes to pipe an upward spiral (versus the traditional cross) to represent ascension on the buns she makes.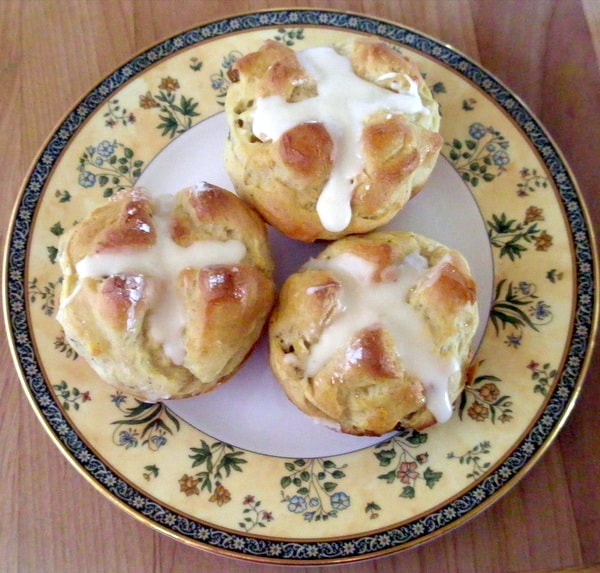 Rebecca of Strength and Sunshine created a gluten-free, sugar-free, dairy-free, egg-free, and vegan version of Hot Cross Buns. I love that her recipe makes six buns. The perfect number of buns!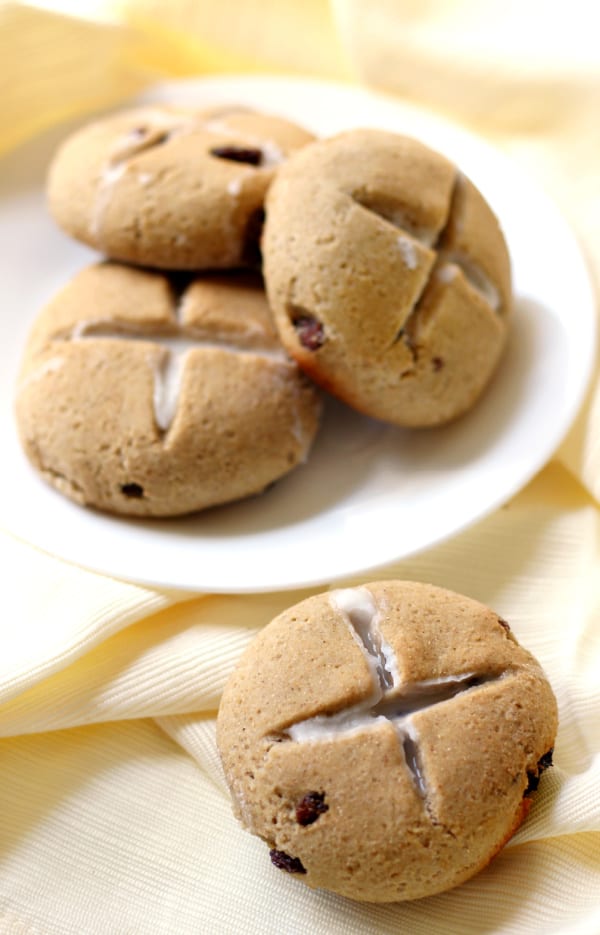 These gluten-free, dairy-free Hot Cross Buns come from GF Jules. I love how Jules tells you how to make these buns on Easter Sunday: "A great thing to whip up before church, set aside to rise, and bake as soon as you get home for a hot, crossed bun experience the whole family will love!" Jules is the author of several gluten-free cookbooks (her latest is Free for All Cooking) and also a very helpful guidebook, The First Year: Celiac Disease and Living Gluten-Free: An Essential Guide for the Newly Diagnosed.
Linda, Gluten-Free Homemaker, is well known for her excellent homemade gluten-free bread! She was inspired to make Hot Cross Buns when she saw a recipe over at Without Adornment. Linda's recipe can be made with or without dairy ingredients. Check out Linda's ebook, How To Be Gluten Free.
Linda said she was inspired by Christine, aka "Bean," at Without Adornment. Christine created a recipe for gluten-free, dairy-free, egg-free, vegan, and refined sugar-free Hot Cross Buns. And guess what … Christine was inspired by Jeanine at Faithfully Gluten Free! Don't you love how all of us help each other in the gluten-free community? One good recipe inspires another!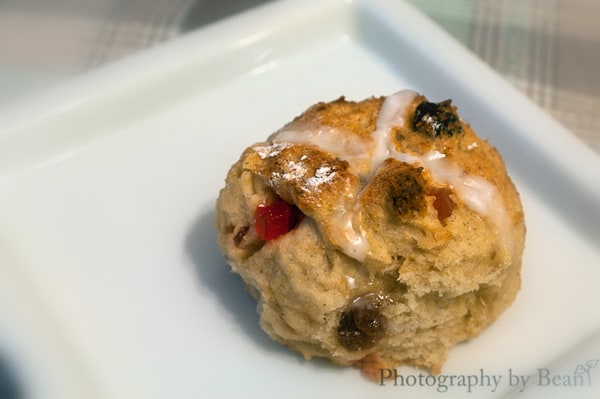 And here are Jeanine's beautiful Hot Cross Buns. Her recipe is gluten free, dairy free, and egg free. You'll want to check out the other photo on her blog that shows a cross section of one of her Hot Cross Buns! Jeanine has a new "baby," a brand new book called The Everything Guide to Living Gluten Free. This book is exactly what it says it is!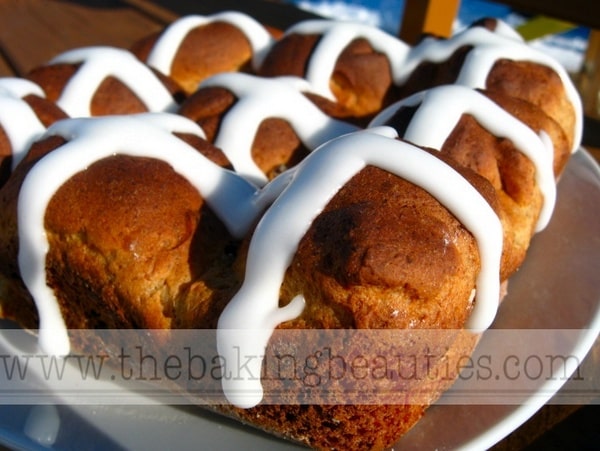 Vicki of The Free from Fairy says that she makes her gluten-free Hot Cross Buns without sugar-laden fruit but she does use spices and orange zest. Her Hot Cross Buns are also dairy free and refined sugar free. One reader said: "I was amazed at the texture they came out with and the flavour is yummy, thank you very much for the recipe."
Vicki also has a recipe for gluten-free, vegan
Hot Cross Bun Rolls
. With a chocolate factor! She says: "These vegan hot cross bun rolls are soft and delicious with chocolate that oozes out with each mouthful. Rather than the traditional bun shape I decided to make them as rolls, much like a cinnamon roll. Only an Easter version." What's not to love? Incidentally, you might also want to check out Vicki's
Hot Cross Bliss Balls
. Michelle of
My Gluten-Free Kitchen
used Zante currants in her
Hot Cross Buns
and I really like her explanation on why she liked those more than raisins. Her recipe is gluten free and dairy free.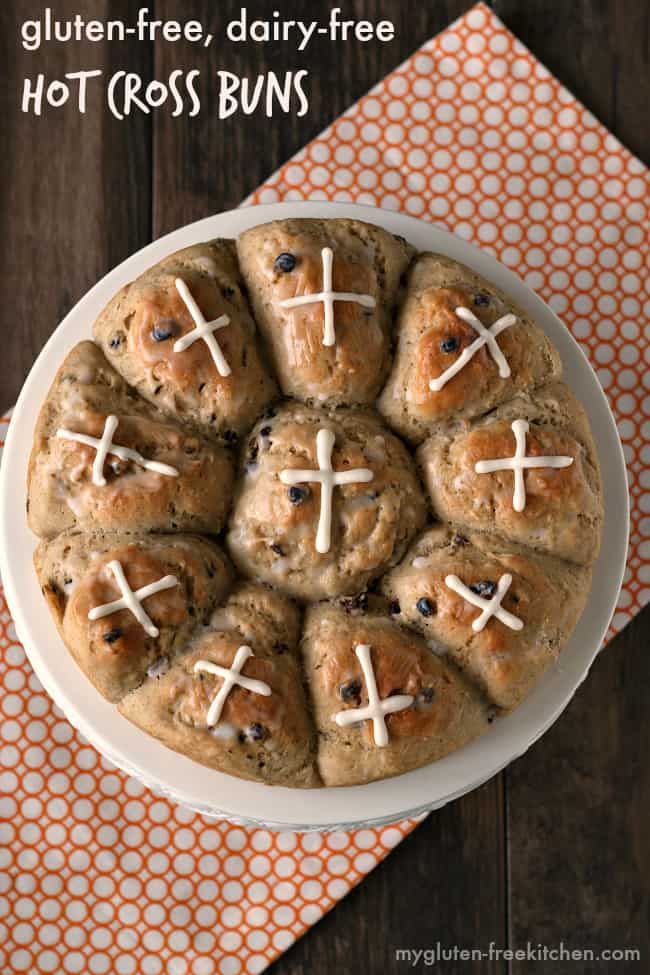 Sandi Bruegger of Sweet Nothings in the Kitchen won the grand prize in the So Delicious Dairy Free Recipe Contest contest hosted by Go Dairy Free with these Gluten-Free Hot Cross Buns with Cashew Cream Cheeze Icing! These buns are not only award winning, gluten free, and dairy free but they're also egg free and vegan.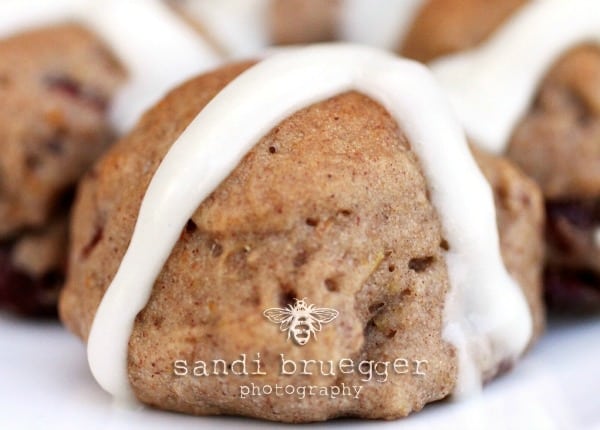 Lisa at Pocketfuls created these Almond and Honey Hot Cross Buns. They're gluten free, grain free, dairy free, egg free, and yeast free. Still they look amazing, don't they? Plus, one big advantage of yeast-free baking is no waiting for the dough to rise!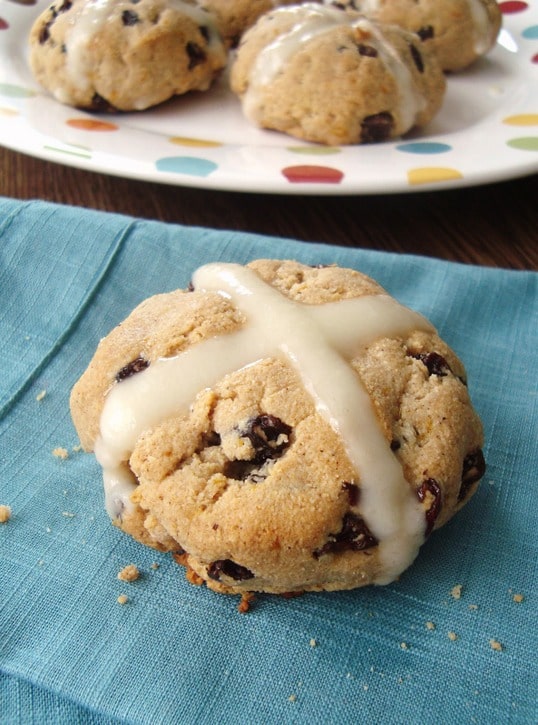 Sarah, The Paleo Mom, made these lovely Hot Cross Buns. She uses muffin tins. Her recipe is a variation on her paleo yeast bread. You can even use your bread machine for the dough cycle and then spoon the dough into the muffin tins. And I love how she uses the water from simmering her fruit zest for the recipe to add to her homemade kombucha later! See all Sarah's books here.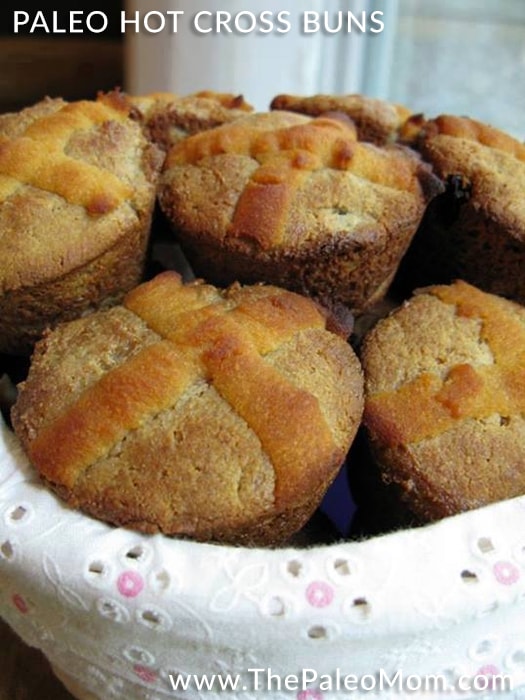 Gretchen at Kumquat also makes her Hot Cross Buns more like muffins … beautiful delicious little muffins of "tender, yeasty bread" with "fragrant cinnamon, raisins and a hint of orange." I wanted to reach through the screen to get one! FYI: Gretchen has a new cookbook out … Fast and Simple Gluten-Free: 30 Minutes or Less to Fresh and Classic Favorites. (Follow the link to get her recipe for Grilled Ribeye with Orange-Balsamic Glaze right on the same page with her book.)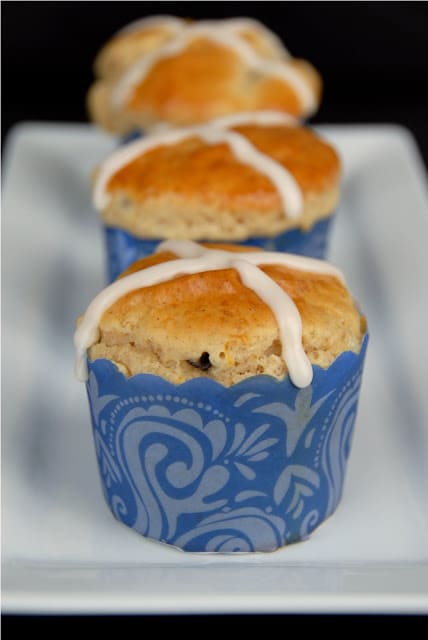 Audrey of Unconventional Baker makes Plantain Hot Cross Buns. They're not only gluten free, but also yeast free, gum free, refined sugar free, and vegan.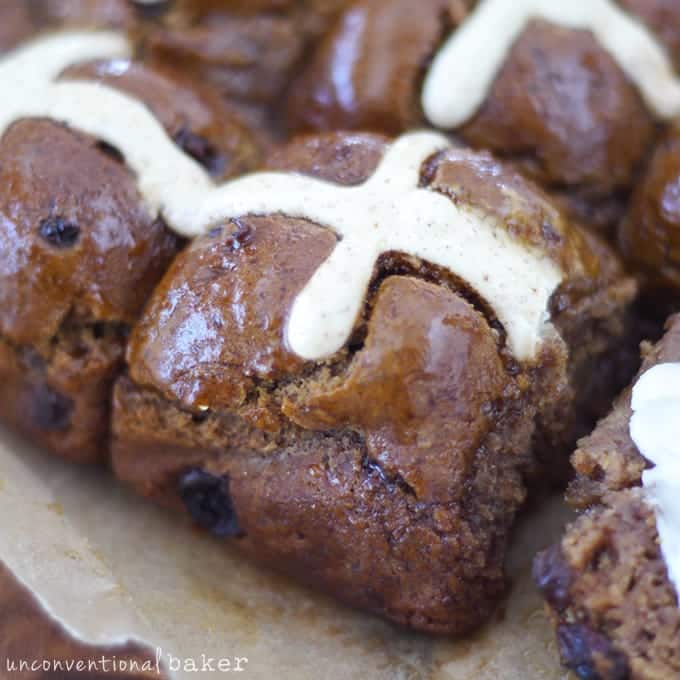 Audrey also made Raw Hot Cross Bun Cookies. Don't they look great?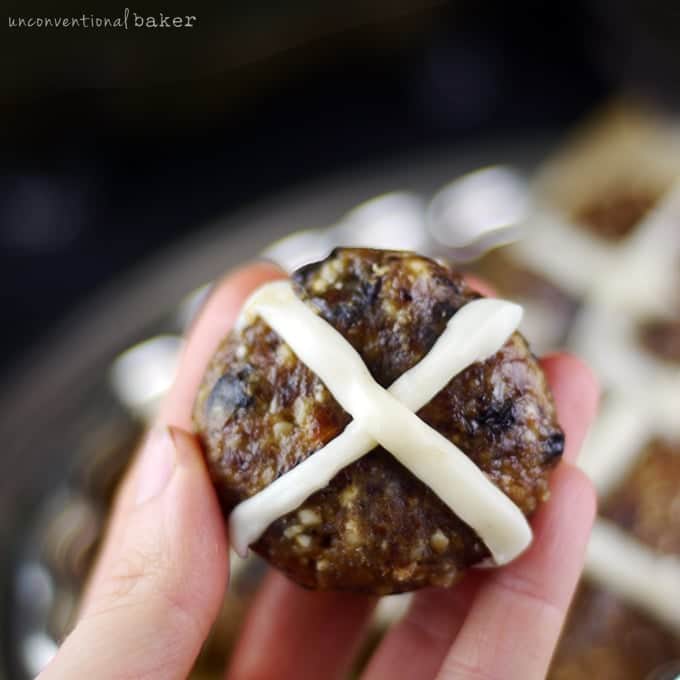 Vicky of Gluten Free SCD and Veggie not only made the Allspice Hot Cross Buns shown earlier, but she also made these Hot Cross Carrot Muffins that are SCD compliant. These are such a healthy version of Hot Cross Buns. Can you guess what veggie is used to form the crosses?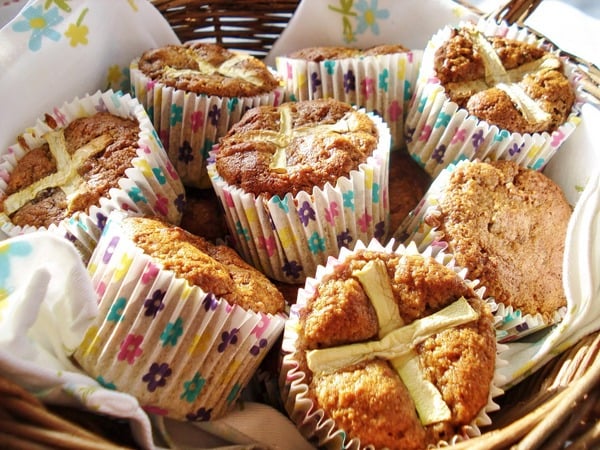 Some of you love the combination of Apple and Cinnamon, and I do, too. It is definitely a classic and favorite combo for sure! Well, Jeanne of Art of Gluten-Free Baking accepted the challenge to re-create her friend's recipe for Apple-Cinnamon Hot Cross Buns as gluten free for another mutual friend. Aren't these lovely? Jeanne says they have "an appley-cinnamon sticky glaze on top that puts this recipe right over the edge." Butter is used in the recipe, but I am guessing that non-dairy butter could possibly be used instead.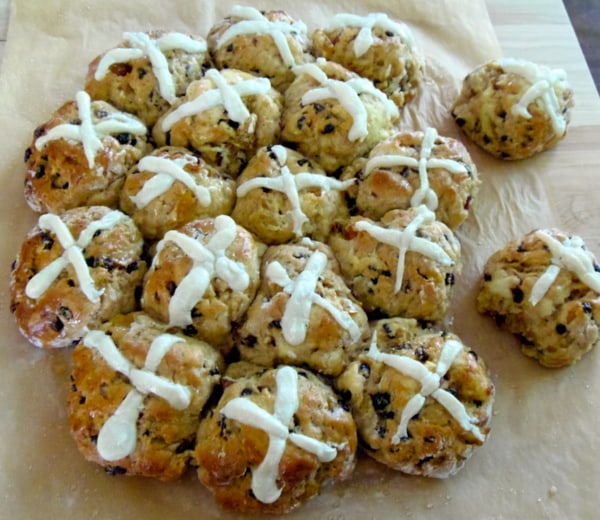 Kylie (The Gluten & Dairy Free Bakehouse) offers four different versions of Hot Cross Buns. Yes, four! (Note that this blog is no longer active so I've included links to her recipes by using the Wayback Machine web archives.) First, there are her Traditional Hot Cross Buns. Kylie shared on Facebook: "The kitchen smells amazing!! My Traditional Hot Cross Buns have just come out the oven. I brush over a sugar spiced glaze, which adds another depth of flavour and deliciousness."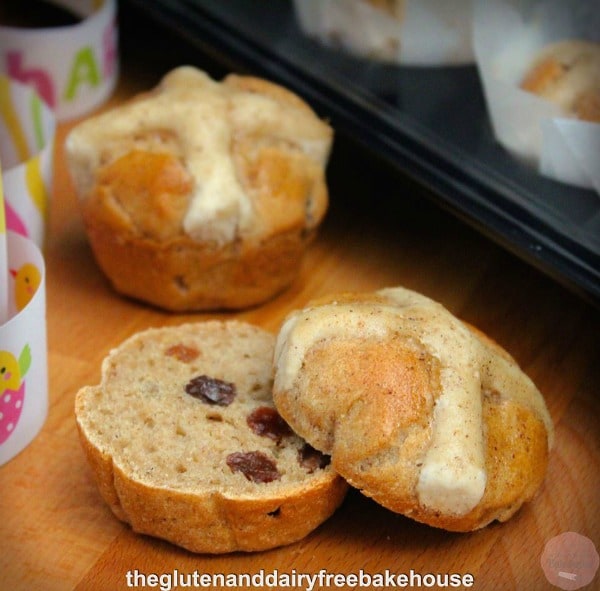 Then there are her Cinnamon-Apple Hot Cross Buns. She says, "The apple makes the buns lovely and moist and the texture is soft and fluffy. They have just the right amount of spice and sweetness, topped with a delicious sugar spice glaze." She adds that they freeze well, with no sogginess after being defrosted and reheated. Sounds like a great way to ensure that these Hot Cross Buns are eaten more often than at Easter!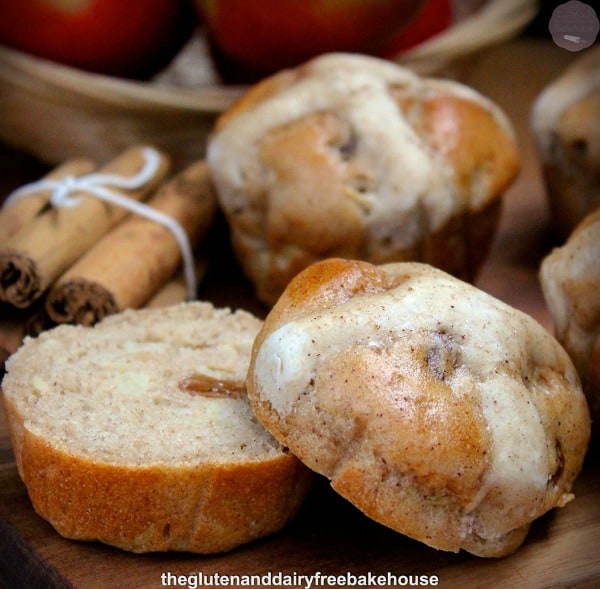 Last, she offers not one, not two, but three chocolate versions: Chocolate Hot Cross Buns, Double Chocolate Hot Cross Buns., and Double Chocolate Ginger Hot Cross Buns. These are all standout Hot Cross Buns, don't you think? The crosses are made with chocolate paste and then the buns are glazed. The double chocolate versions are a bit different—with both containing chocolate chips and the ginger version using candied ginger as well.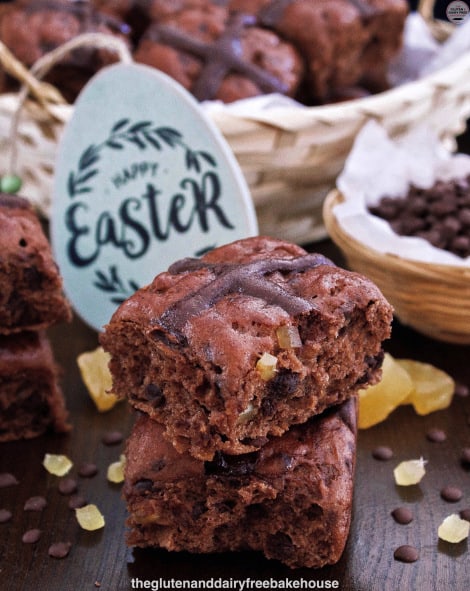 Kylie says her family enjoys all her hot cross buns, but "the boys' favourites are definitely the chocolate ones."
Jeanine of Faithfully Gluten Free took inspiration from her Hot Cross Buns in creating Hot Cross Scones. She said that she "incorporated the flavour of these Easter buns into gluten free Hot Cross Scones. Scones are really easy to make, and can be ready to eat in under 30 minutes." Brilliant! (Incidentally, you might want to also check out Jeanine's Peppernut Buns—"sweet yeast buns with warming spices, including black pepper.")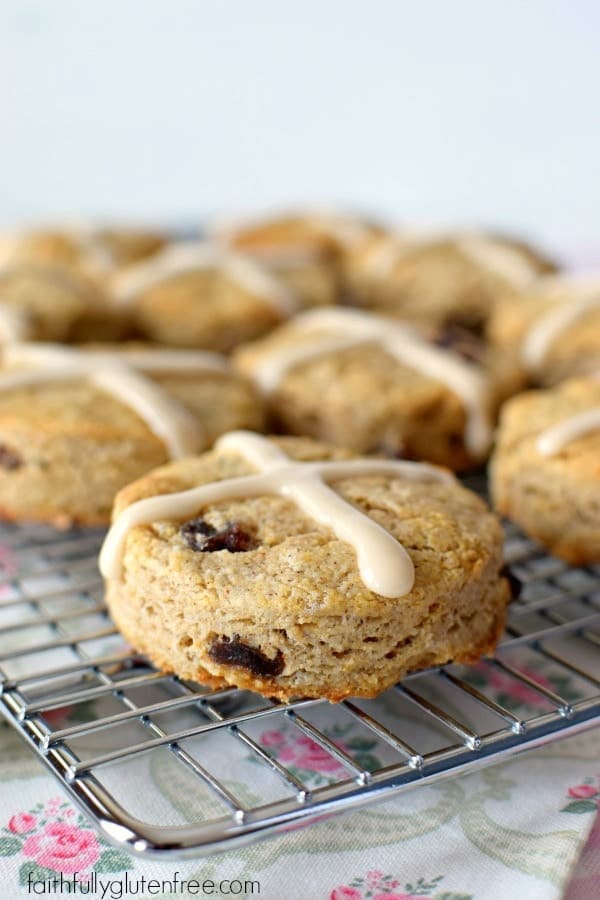 Arman of The Big Man's World gives us a microwave, single Hot Cross Bun recipe, which is the perfect number for many of us! I appreciate not only his recipe, which is gluten free and paleo (although he also shares a gluten-free and vegan version), but also the information he provides on Hot Cross Buns in Australia.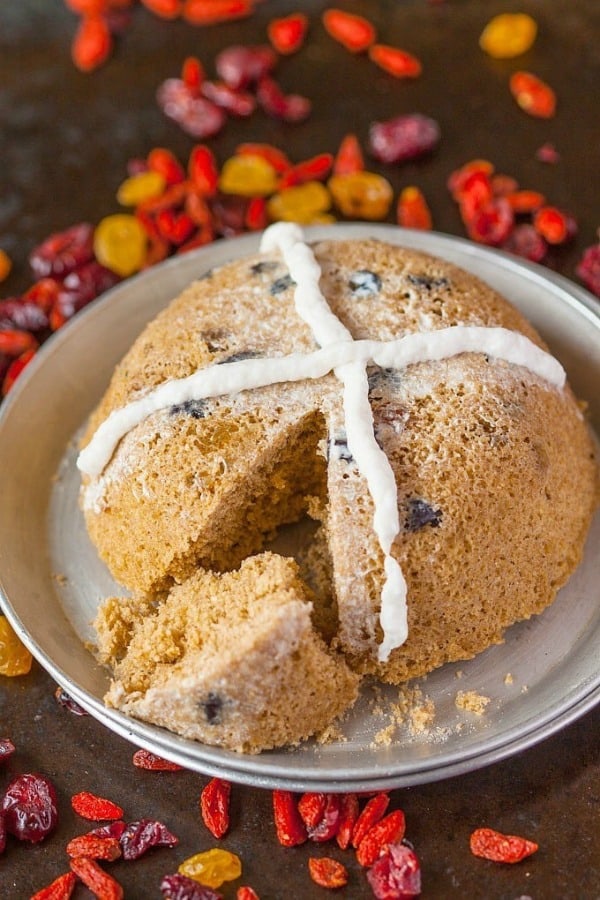 I hope this roundup shows you that the gluten-free Hot Cross Bun possibilities are endlessly delicious! Happy Easter!
Originally published March 20, 2013; updated September 11, 2021.