For affiliate links and as an Amazon Associate I earn from qualifying purchases.
It's Day 2 of sharing gluten-free muffin recipes for March Muffin Madness (MMM) and today's recipe for Gluten-Free Banana Streusel Muffins with Flaxseed comes from April J. Harris.
April is a sweet and talented blogging friend across the pond in the U.K. She recently celebrated her 20-year blogging anniversary, which is pretty remarkable. Congratulations, April!

April is such a positive, lovely spirit and I always enjoy what she has to share, whether she's sharing recipes, trip reports and travel tips, or lifestyle info on her blog. (I also follow April on Facebook, Instagram, Twitter, and Pinterest.)
One of the main reasons that I visit April's site is the Hearth and Soul event that she hosts. I think I actually met April years ago via Hearth and Soul, when she was a participating blogger just like I was, long before she took the helm as the host. She's done a fabulous job with this event!
"The Hearth and Soul Link Party welcomes family-friendly blog posts about anything that feeds the soul. Things that feed the soul may include (but are not limited to) recipes, decorating, crafts, family, home, DIY, organization, travel, book reviews, the arts and self-improvement." Check out this month's event here.
This event allows me to share gfe recipes and other posts and see what others are sharing. It really is an enjoyable kaleidoscope of so many things that are worth checking out.
I especially love April's Hearth & Soul event highlights from participating bloggers from the previous month as well as her own contributions. Sometimes she reminds me to check out her travel posts that I may have forgotten about or just had not gotten to yet. If you're a Downton Abbey fan, you'll definitely want to read about her experiences at Highclere Castle, which as she reminds us is "the real Downton Abbey."
Today's Banana Streusel Muffins with Flaxseed are gluten free—as are all of the recipes in March Muffin Madness—but not all of April's recipes on her site are gluten free. April has no reason to live gluten free herself but many of her recipes are naturally gluten free, some she has created to be gluten free for her gluten-free readers, and others are easily made gluten free.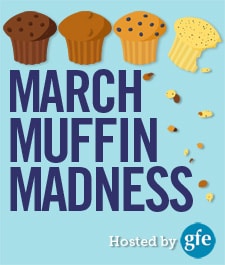 For example, her Coconut, Date, and Cherry Christmas Squares are naturally gluten free and perfect Christmas cookies. In fact, I included them in my latest Christmas cookie and bars roundup, 30 More Gluten-Free Christmas Cookies You'll Want To Make Right Now!
She created her Chocolate Mocha Cake recipe to be gluten free. I was so happy to add that beauty to my roundup of gluten-free chocolate cakes.
Her Quick and Easy Homemade Chicken Noodle Soup is not gluten free because of a small amount of wheat-based flour and gluten-full pasta but April shares the simple gluten-free options. So, I shared her recipe as part of my chicken noodle soup recipe collection here.
As I've shared in the past, we don't have to limit ourselves to using websites (and cookbooks) that are solely gluten free to find wonderful recipes that are safe "as is" or can easily be adapted. And today's great cookbook offerings are also along those lines!
And now I'll turn the floor over to April for a bit:
"Thank you, Shirley, for inviting me to be a part of March Muffin Madness!

If you love muffins as much as I do, then you will love my Gluten-Free Banana Streusel Muffins with Flaxseed.

Whether you make them with the streusel topping for a treat, or without for a healthier option, these Banana Streusel Muffins with Flaxseed are wonderful for breakfast and snacks.

If you do not like pecans, feel free to substitute your favourite nuts instead. For a nut-free version, omit the nuts from the streusel and add the same amount of raisins or other dried fruit to the muffin mixture.

Here is the easy recipe!
Gluten-Free Banana Streusel Muffins with Flaxseed Recipe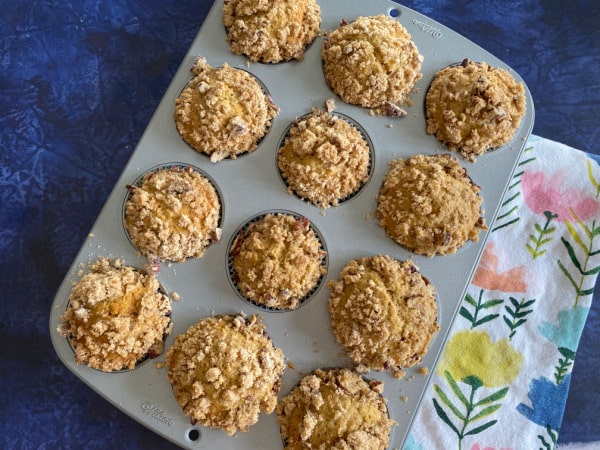 Yield: 12 muffins
Gluten-Free Banana Streusel Muffins with Flaxseed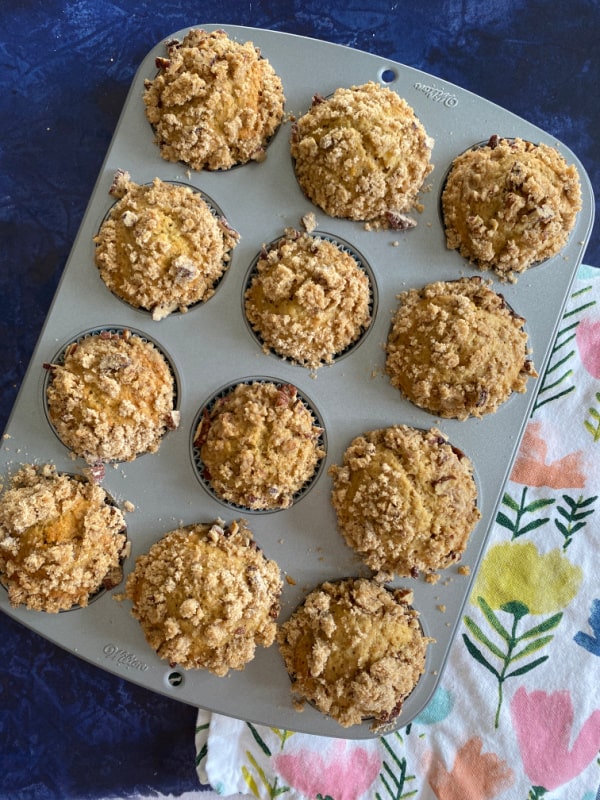 April says: "If you love muffins as much as I do, then you will love my Gluten-Free Banana Streusel Muffins with Flaxseed. Whether you make them with the streusel topping for a treat, or without for a healthier option, these Banana Streusel Muffins with Flaxseed are wonderful for breakfast and snacks."
Additional Time
15 minutes
Ingredients
Streusel Ingredients
3 tablespoons cold butter, cut in small pieces
5 tablespoons gluten-free 1-to-1 flour mix
4 tablespoons sugar (preferably Demerara sugar, also known as Turbinado sugar)
¼ teaspoon ground cinnamon
¼ cup finely chopped pecans (can substitute other nuts; omit for a nut-free version)
Muffin Ingredients
3 very ripe bananas, peeled and mashed
½ cup (125 ml) mild olive oil or other mild vegetable oil
2 large eggs
2 tablespoons plain yogurt or sour cream (light or low-fat varieties are fine)
1 teaspoon gluten-free vanilla extract
1 and 2/3 cup (222 grams) gluten-free 1-to-1 flour mix
2 tablespoons milled ground flaxseed (also known as flax meal)
1 teaspoon gluten-free baking powder
½ teaspoon baking soda
½ teaspoon salt (omit for low-salt diets)
¾ cup pecans, roughly chopped (You can use any other nuts that you prefer instead of pecans, or you can substitute raisins or other dried fruit for a nut-free version.)
½ cup white granulated sugar
1 teaspoon ground cinnamon
Instructions
For the streusel:
Cut the flour mix into the butter using a pastry blender or two knives until the mixture resembles coarse crumbs.
Add the sugar, cinnamon and ¼ finely chopped pecans and stir lightly with a fork. Set aside.
For the muffins:
Preheat the oven to 350°F (180°C or 170° for a fan oven). Line a 12-cup muffin pan with paper liners.
Beat the oil and eggs together in a medium bowl or jug.
Add the vanilla extract and yogurt (or sour cream) and beat until thoroughly combined.
Stir in the mashed bananas and set the mixture aside.
In another, larger bowl, mix the flour, flaxseed, sugar, cinnamon, baking powder, baking soda, salt and ¾ cup chopped pecans together.
Add the oil and egg mixture to the flour mixture and stir until just combined.
Divide the batter between the muffin cups.
Sprinkle a bit of the streusel over each muffin.
Bake for 20 to 25 minutes or until a skewer inserted in the centre of the muffins comes out clean. It's a good idea to watch the muffins after 15 minutes as oven temperatures can vary.
When the muffins are done, remove them from the oven. When they are cool enough to handle, remove the muffins from the pans and cool on a wire rack.


Notes
These Gluten-Free Banana Streusel Muffins with Flaxseed are delicious warm or at room temperature. They will keep for up to 3 days in a sealed container at room temperature or freeze for up to 2 months. Thaw completely and reheat gently before serving. The streusel topping reheats best in a regular oven.
Today's MMM Prizes
All giveaways are now closed. Thanks to all who participated!
~ Cookbooks Giveaway
~ 101 Greatest Soups on the Planet: Every Savory Soup, Stew, Chili and Chowder You Could Ever Crave (One winner; sponsored by Page Street Publishing)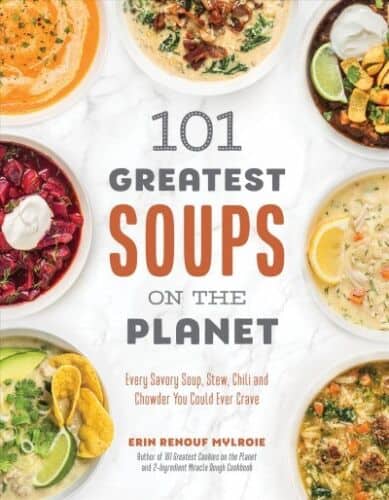 I'm a big soup lover so when Page Street Publishing asked if this cookbook was one that I wanted to share for MMM, I readily agreed! This cookbook by Erin Mylroie has only been out since mid-December and it's getting raves.
The recipes in this cookbook are not all gluten free but they all can be made gluten free. When gluten-full flour is called for, the author recommends subbing in sweet rice flour. If you're grain free, I'll share that I've had good luck subbing in sifted coconut flour in such cases. (Usually, a smaller amount is needed because coconut flour is so absorbent when it comes to liquids. Important: I always sift coconut flour before adding it to any recipe because sometimes there are small clumps in coconut flour and I learned the hard way that they do not go away after being mixed with other ingredients.)
The author also says that it's easy to make her soup recipes dairy free if needed. Cashew cream, vegan sour cream, vegan cream cheese, and vegan butter are some of the ingredients that she suggests. If you do coconut, I'm also a big fan of full-fat canned coconut milk as a dairy-free alternative. I use it in place of dairy milk and whipping cream. The thick "cream" at the top of a can be used when a thicker consistency is needed.
~ The 100 Best Curries for Your Instant Pot: The Most Delicious, Authentic Indian Recipes Made Easy (One winner; sponsored by Page Street Publishing)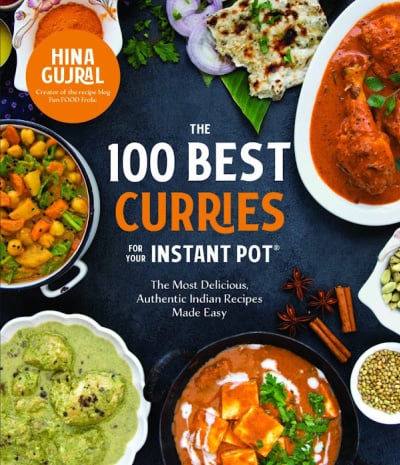 I know many of you will be excited by this recently released cookbook by Hina Gujral, Instant Pot pro and creator of Fun FOOD Frolic, simply by the title alone. "Good" curries get folks interested. The "best" curries really make folks pay attention. Use the "Look Inside" feature and then read the reviews on Amazon and you'll be even more excited!
The gluten-free recipes in this cookbook are clearly identified and other recipes are easily adapted. Plus, there are so many recipes that are dairy free, vegetarian, or vegan as written.
Hina's curries go from essential comforting classics to reimagined dishes. Whip up a creamy, restaurant-style Butter Chicken or a Garlicky Butternut Squash Dal for dinner. Or if you're hungry for something completely different, try a flavor-fusion recipe such as Parsi-Style Chicken and Apricot Curry. Vegetarian meals include meals like South Indian–Style Pineapple Curry and Kale Mushroom Matar Malai.
The Instant Pot makes these recipes accessible to everyone, bringing you the authentic Indian flavors you know and love without hours of simmering. The quick, easy, and delicious combination for curries is a win, folks!
~ Ingredient Giveaway
~ Spectrum Essentials Organic Ground Premium Flaxseed (24 ounces) (One winner; sponsored by gfe)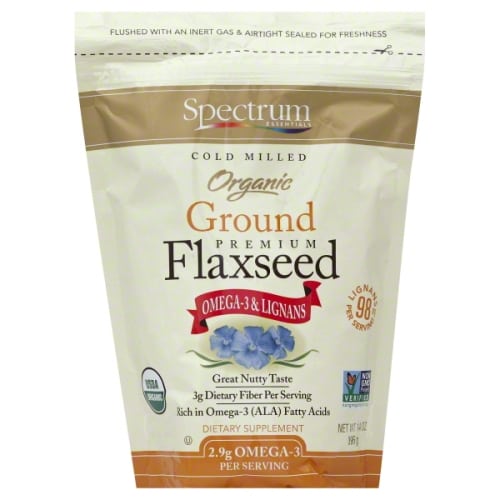 ~ I've been using this brand of ground flaxseed, aka flaxmeal (or flax meal), for years. It's an excellent product.
"Spectrum Essentials Organic Ground Flaxseed are premium quality organic seeds that have been carefully selected for their nutritive content. Our brand uses a proprietary cold milling process that finely slices the seed, rather than crushing it, thereby preserving the nutrients you love. This super seed is a rich vegetarian source of Omega-3 ALA fatty acids that supports heart health and digestive balance. This product is USDA-certified organic and non-GMO project verified.
Ground flaxseed can be added to recipes for additional nutrition or flavor.
A go-to egg substitute is a flax gel "egg," also called a flax slurry (which is simply a mix of 1 tablespoon ground flaxseed and 3 tablespoons of very hot water—I like it boiling hot—stirred, and then allowed to "gel" before adding to the recipe). Flax gel eggs usually do work really well in recipes that call for one or two eggs, not all recipes but most. (Some egg substitutes work better than others in certain recipes.)
You can buy whole flaxseed and grind it to create your own flaxmeal, if you like, but you're not going to end up with the same quality flaxmeal. You'll want to refrigerate your flaxmeal immediately after opening it to keep it fresh and ready for baking. Then you can make delicious recipes like April's Gluten-Free Banana Streusel Muffins with Flaxseed immediately!
Grand Prize Giveaway Reminder
All giveaways are now closed. Thanks to all who participated!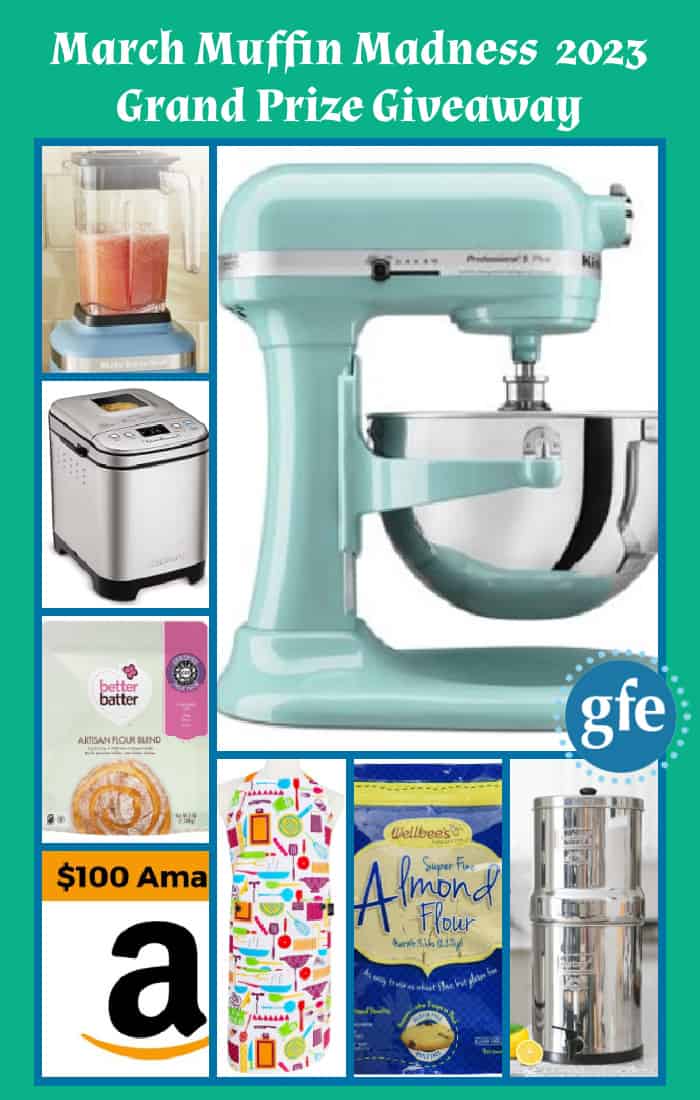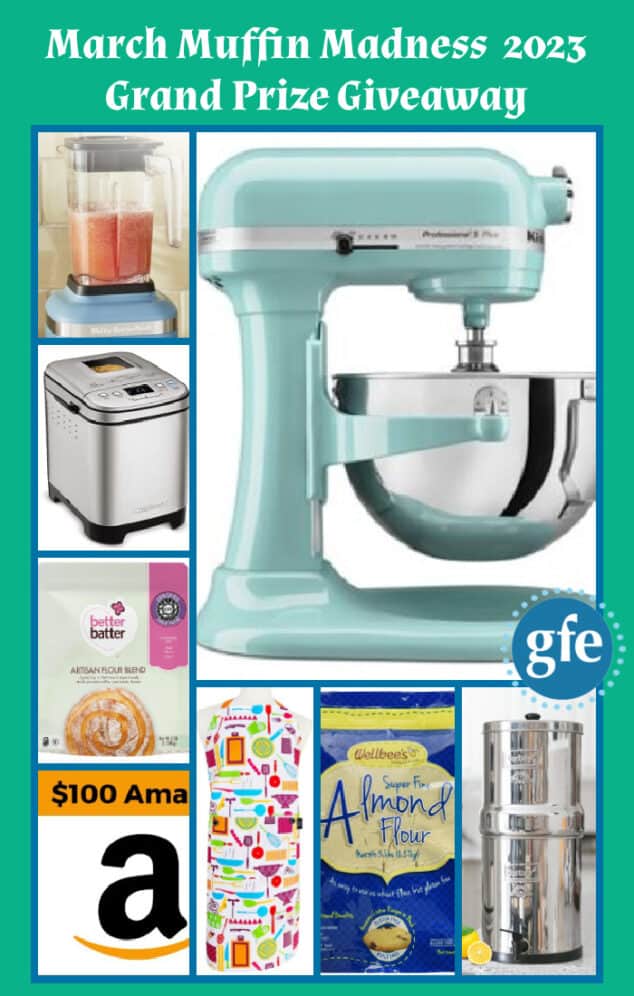 a Rafflecopter giveaway
Originally published March 14, 2023; updated April 8, 2023.